Gadgets are a very important part which makes our life simpler and comfortable. We can't afford to live without gadgets these days. Smartphones and some other gadgets are considered as an essential part of our life and now few designers have been launching the modified version of these gadgets as most expensive gadgets. This list features tech gadgets, electronic gadgets and there is no question that all these are so cool. There are a few gadgets that are too expensive for a middle class person. Actually, this list is for rich guy who have enough money to spend. Scroll down and read more about the most expensive gadgets in the world.
10. Stax SR 009 Earspeakers
Photo credit: Flickr
When it comes to headphones, there are many other successfully established headphone brands. Stax SR 009 is also considered a most outstanding transducer in the world. It is like a masterpiece in which you will hear every little detail. Stax developed its design so it should be called as earphone and not as a headphone. This earphone can handle frequency response from 5 Hz to 42,000 Hz and you can have one of this in approx $4500. Plus, you need an amplifier of around $2000 to power this.
9. McLaren Bicycle
Photo credit: Wired
It is very hard to believe but professional cyclists can spend thousands of dollars for a modified cycle. With the increase in popularity of bicycle, it is difficult to choose the right one for you. McLaren and S Works designed an astounding bicycle worth about $18,000. This bicycle is made up of carbon fiber. It is a limited edition bicycle and only 250 units will be made.
8. MWE 200 PC Workstation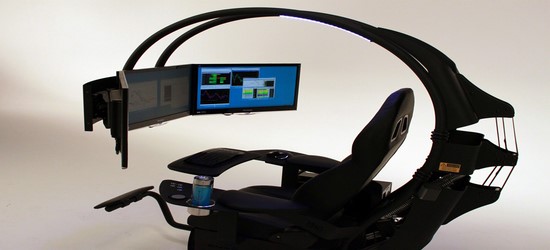 Photo credit: Anandtech
You might have a big screen but you don't have a computer workstation. MWE Lab designed an emperor 200 PC workstation which makes working easier. It features three big screens, one touch screen, electric powered seat, LED lighting system, inbuilt Xbox 360 and PS3 and a light therapy illumination system. These workstations are made according to customer requirement and the starting price began at $45,000. You can also modify it according to your requirements.
7. Megatrend MKIII Speakers
Photo credit: SiliconIndia
Megatrend MKIII Speakers are seven feet tall and around three feet wide. They look like a wall of speakers and each of them features 24 eight inch woofers and a ribbon tower for the high end sound. The Megatrend MKIII is considered the best speakers for the rich gadget geeks. This is a real giant speaker which you can get in $80,000.
6. Dodge Tomahawk
Photo credit: Wikipedia
The Dodge Tomahawk is the world's fastest bike introduced by the Dodge Viper in 2003. The top speed was estimated as 650km/h but later revised to 480 km/h. The bike is equipped with the 8.3 L V10 engine which gives it a power of around 500 HP. It has only two speed manual transmission and can accelerate to 100 km/h within 2.6 seconds. The bike has 4 wheels that provide more stability and available at a price of $555,000.
5. Luvaglio Laptop
Photo credit: Luvaglio Official
Luvaglio was founded in 2005 by Rohan Sinclair Luvaglio and headquartered in a small office in West London. The company received a significant attention by launching a laptop worth one million USD. The luxury laptop equipped with 17″ inch LED display with interactive cleaning feature, Bluray drive, in built USB memory and MP3 player. The Luvaglio PC makers decline to reveal further details about the company profile system and laptop features. It has a unique feature which consists of a diamond encrusted powered button.
Recommended: Most Expensive Laptops in the world
4. Diamond Encrusted iPad
Photo credit: VillageVoice
A normal iPad come in few hundred dollars but this is a diamond encrusted iPad worth $1.2 million. This iPad is engraved with 18 carat gold and 300 carat diamond. The world's most expensive iPad is encrusted with Camael diamonds. The home button in the front and the Apple logo is made of black diamonds. You can also customize your iPad with whatever gems you like to put in it.
3. Hart Audio System
Photo credit: Hartaudio Official
The Hart audio system made the world's most expensive music system in 2012. The price varied from $64,000 in bronze to $300,000 in silver to $4.7 million in gold. They have made only a pair of gold speaker, five pairs of silver speakers and 99 pairs of bronze speaker. All the speakers are handmade and would take over 200 hours to make one pair of speaker. They provide clean and super-efficient sound without cabinet noise.
2. iPhone 5 Black Diamond 15
Photo credit: NDTV
How much would you pay for an iPhone? Stuart Hughes designed a beautiful headset of iPhone 5 which took over nine weeks to build. He re-creates the chassis with solid gold and 600 white diamonds. The logo on the back side has 53 diamonds. If you want to purchase it, it is available at Stuarthughes.com for 10 million pounds. He also made a 24 carat gold iPhone 5 which starts at $4000 and a rose gold iPhone which cost you around $5300.
1. Chopard 201 Carat Watch
Photo credit: Richtigteuer
Chopard is a Swiss based luxury watch company which is also known for their jewelries, perfumes and eye wear since the 19th century. They build one of the world's most expensive watches worth $25 million. This watch features 874 different types and colors of diamonds and it was last sold in the year 2000. It has 3 heart shaped, 289 pear shaped, 139 round color diamonds and 443 natural fancy intense yellow diamond. It has a unique design and has a spring loaded mechanism that allows the diamonds of the watch to open up like petals of a flower.