The Pokemon Trading Card game, or Pokemon TCG, remains one of the most popular offerings of the Pokemon franchise. As of March 2022, the game has sold more than 43.2 billion cards worldwide.
Today, collecting Pokemon cards is not just a hobby for die-hard Pokemon fans but also a way to make hefty profits. Many speculative fans buy or accumulate Pokemon trading cards from collectors and other sources, hoping to make a profit as their value increases over time.
The year 2021 saw an unprecedented surge in Pokemon card sales, which resulted in a massive increase in their valuations. The Pokemon card buying frenzy was so evident that the company had to produce a record 9 million copies in a year to meet demands.
The trading cards, which were not so expensive in the past, sold for large sums of money, while the valuations for rare cards became unimaginably high.
Here, we have mentioned the 13 most expensive and rare Pokemon cards in existence.
13. Espeon and Umbreon-Gold Star Pop Series 5
Value: $22,100 (Espeon) | $20,000 (Umbreon)
PSA Grade: Gem-MT 10
Gold Star Pokemon cards are very rare and hard to find. The chances of getting a gold star card out of a TCG booster box is one, or at best, two. As a result, these cards are highly sought-after and quite valuable.
For those who are unaware, Gold Star Pokemon cards feature alternately colored or shiny Pokemon similar to Shining Pokemon cards. Such cards are easily identified by a gold star next to the Pokemon's name.
Perhaps the most sought-after gold star cards are that of Eevee evolutions since they were exclusively awarded to the participants of the Pokemon Player Club in 2005. Out of all Eevee evolutions, Espeon and Umbreon gold star cards are extremely rare due to their insanely high EXP requirements.
The participants had to earn a massive 40,000 XP for a shiny Espeon card and 70,000 XP for an Umbreon card. Both the gold star cards mentioned here are Mint 10 graded by PSA.
The highest amount paid for an Espeon-gold star is $22,000, and for an Umbreon card is $20,000. While the cards are printed in English, the Japanese versions are believed to be far more rare and valuable.
12. EX Deoxys Rayquaza – Holo #107 Gold Star
Value: $45,100
PSA Grade: Gem-MT 10
The thirteenth most-expensive Pokemon card on our list belongs to the legendary Pokemon Rayquaza. It is perhaps one of the most popular Pokemon ever created. The card in question is EX Deoxys Rayquaza-Holo Gold Star.
EX Deoxys is the eighth expansion of the EX series of Pokemon cards featuring third-generation Pokemon [including Pokemon-EX and Pokemon * (star)]. Rayquaza-Holo Gold Star is a colorless-type basic Pokemon card illustrated by Masakazu Fukuda. It was first released in 2005.
According to PSA, about 29 Gem 10 grade cards are in existence. Before 2019, these Mint-graded cards were sold for anything between $6,000 and $8,000. However, their value increased drastically in 2020.
The highest amount paid for a Mint 10 EX Deoxys Rayquaza – Holo card is $45,100. The card was sold in an online auction in December 2020. Although these Rayquaza cards are not particularly rare, what makes this particular card valuable is its condition. Un-opened, mint condition Ex Deoxys cards are getting rare every year.
11. 1999 Tropical Mega Battle NO. 2 Trainer
Value: $50,300
PSA Grade: Authentic
While No.1 Trainers are undoubtedly among the most sought-after Pokemon cards in the world, there is a craze for certain No.2 Trainers cards that makes them extremely valuable. The Pokemon card in question is the 1999 No.2 Trainer, which was awarded to a small number of winners during the Tropical Mega Battle Championships in 1999.
The 1999 Tropical Mega Battle is a precursor of the Pokemon annual World Championships, in which players from all across the globe compete against each other.
Often considered a hard-to-find Pokemon card, the Tropical Mega Battle No.2 Trainer has rarely appeared in open auctions. Despite being in rough condition, as compared to other valuable cards on this list, this No.2 Trainer was able to fetch more than $50,000 in an auction due to its extreme rarity.
The card feature an illustration of an Exeggutor with the logo of the Tropical Mega Battle tournament in the background.
10. Tropical Wind – Tropical Mega Battle
Value: $65,100
PSA Grade: Gem-MT 10
The 1999 Tropical Wind is a trainer Pokemon card awarded to the participants of the Tropical Mega Battle Tournament that took place in Honolulu, Hawaii.
Initially, a total of 576 copies of the card were handed out. The cards feature a Psyduck along with two other Pokemon on a hammock. Later, ten additional copies were randomly awarded through a lottery. These additional copies have a slightly different illustration featuring a Jigglypuff. Out of those ten Tropical Wind trading cards, five have been graded near mint 8 or above by PSA.
In October 2020, a perfect mint condition copy of the Tropical Wind was sold on eBay for a record $65,100. A few other Tropical Wind cards have also been sold at different auctions.
In 2017, a mint 9-grade copy was sold in an auction for $2,800. After three years, another copy was sold for a staggering $10,000. Tropical Wind cards are expected to fetch more money in the future.
9. University Magikarp (Tamamushi University Prize)
Value: $66,100
PSA Grade: Gem-MT 10
This rare Magikarp Pokemon card might seem ordinary and can easily be overlooked, but it is one of the most valuable collectibles the game has to offer.
As the name suggests, the card was first awarded to the winners of Tamamushi University Hyper Test – a promotional event for an educational magazine in March 1998.
The participants were required to answer questions for the magazine. Those selected were invited to a tournament where they could win a Magikarp card. Originally, about one thousand of these Magikarp cards were meant to be given out. However, less than a hundred intact copies are known to exist today.
The Professional Sports Authenticator, or PSA, has graded 64 University Magikarp cards, out of which about 44 are Mint 8 grade or above. According to PSA, only three Mint 10 grade University Magikarp cards have been sold in public auctions so far.
In 2018, a Mint 10 copy of the University Magikarp card was sold for $10,095. Two years later, in 2020, another card was sold for $50,100. As of now, the highest amount paid for this Magikarp trading card is $66,100.
8. 1999 Secret Super Battle No.1 Trainer
Value: $90,000
PSA Grade: Gem-MT 10
With only seven copies, the 1999 Secret Super Battle No.1 Trainer card is perhaps one of the rarest Pokemon cards in existence. As the name suggests, these cards were awarded to winners of regional tournaments and served as an entry pass to the Pokemon Secret Super Battle Tournament held in Tokyo.
The card feature a silhouette of Mewtwo alongside the official logo of the game "Pocket Monsters Trading Card Game." The artwork is done by Hideki Kazama.
One of the 1999 No.1 Trainer cards appeared in an auction in 2020 and was sold for $90,000, making it one of the ten most expensive Pokemon cards of all time. The same auction featured another super rare Pokemon card – a first-edition Shadowless Charizard.
Out of seven, six 1999 Secret Super Battle No.1 Trainer cards are graded perfect Mint 10 condition.
According to Heritage Auctions, the 1999 No.1 Trainer card is a 'Holy Grail' of the Pokemon Trading Card Game and one of the most sought-after cards. What makes the card more valuable is its perfect condition. It has a PSA grade of Gem-Mint 10.
7. 2006 Pokemon World Championships Promo No. 2 Trainer
Value: $110,000
PSA Grade: Mint 9
This particular No.2 Trainer card was given out to a runner-up of the 2006 Pokemon World Championship held in California. In order to obtain a No.2 card, the player must enter the tournament by gaining enough points and then reach all the way to the finals.
With just three copies, the 2006 No.2 Trainer card is without a doubt one of the rarest and one of the most sought-after Pokemon cards in existence.
The card features an illustration of Pikachu holding a silver trophy in a holographic design. Moreover, there is a customary 'Pokemon World Championships' logo at the bottom right corner of the card.
In February 2021, a Mint 9 copy of the 2006 Pokemon World Championships No.2 Trainer appeared in an auction. It was sold for a hefty $110,000, making it the seventh most valuable Pokemon card.
6. 2000 Pokemon Neo Genesis 1st Edition 9 Lugia Holo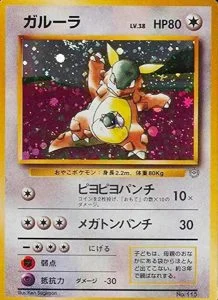 Value: $144,300
PSA Grade: Gem MT-10
Lugia is perhaps one of the most powerful and hard-to-find Pokemon in the franchise. This dragon-like Pokemon is the game mascot for Pokemon Silver, SoulSilver, and Pokemon XD: Gale of Darkness. Lugia is the only Pokemon that can learn Aeroblast and is rarely ever seen. Thus, it is sensible that its TCG card is also popular and extremely valuable.
The Pokemon card in question is 2000 Pokemon Neo Genesis 1st Edition Lugia-Holo. Neo Genesis is the first main set of Pokemon cards to introduce 2nd generation Pokemon in the game in 2000.
There are about 45 PSA Gem-Mint 10 graded and 461 Mint 9 condition Neo Genesis Lugia-Holo cards in existence. Only three copies are rated BGS 10 Pristine from Beckett Grading Services.
Due to its immense popularity, the 2000 Neo Genesis 1st Edition Lugia-Holo cards usually fetch high prices at auctions. In November 2020, a PSA Mint-10 copy of the Pokemon card was sold for $129,000.
It remained the highest-ever amount paid for the rare Lugia card until a BGS 10 Pristine graded copy was reportedly sold for more than $144,000 in May 2021.
5. Kangaskhan-Holo Family Event Trophy Card
Image Courtesy: PWCC
Value: $150,000
PSA Grade: Gem-MT 10
The 1998 Kangaskhan-Holo Family Trophy card is another rare and one of the most valuable Pokemon trading cards ever produced. This Pokemon trading card first appeared in 1998, being awarded to the winners of the 1998 Parent/Child Mega Battle tournament in Japan.
As the name suggests, the teams were made up of parents and children. Teams that were able to achieve a maximum number of victories were awarded this card.
What makes the promo card more unique is the choice of its Pokemon mascot – a Kangaskhan with a baby in her pouch fighting together, emphasizing family bonding. It fits perfectly with the tournament theme.
This copy of the Kangaskhan-Holo Family Trophy card was sold for $150,000 in October 2020. According to Pokemon auction firm PWCC, only three copies of the card have been publicly sold ever since its first appearance, while the October 2020 auction was the first PSA Mint 10 graded copy.
4. Black Star Ishihara Signed GX Promo
Value: $247,230
PSA Grade: NM 7 (Near Mint) | Signature Grade: 9
The Black Star Ishihara GX Promo card is extremely rare and one of the most expensive Pokemon cards you can have. What makes the card really special and unlike any other TCG card is that it doesn't feature a Pokemon but rather an artwork of Tsunekazu Ishihara, the founder and President of the Pokemon Company.
Mr. Ishihara has been directly involved in the development of the Pokemon Trading Card Game and other popular spin-off products such as Pokemon Go. Only a few of these cards exist as they were given out to a handful of employees and friends back in 2018 on Ishihara's 60th birthday.
The card is so rare that just eight of its copies have been accessed by PSA. Only one of those cards has received a perfect Gem MT-10 grade.
This particular Black Star Ishihara card is, however, far more valuable. The reason? It is the only card with Ishihara's signature on it. Moreover, the card is in near-mint condition, making it even more expensive. It was sold for nearly a quarter of a million ($247,230, to be exact) in April 2021.
The ability 'Red Chanchanko' refers to a traditional Japanese dress worn on 60th birthdays. It blocks the effects of any attacks against Ishihara. Its GX move, on the other hand, allows you to make 60 coin flips and take a present for each turn.
3. 1998 Blastoise Commissioned Presentation – 009/165R Galaxy Star Holo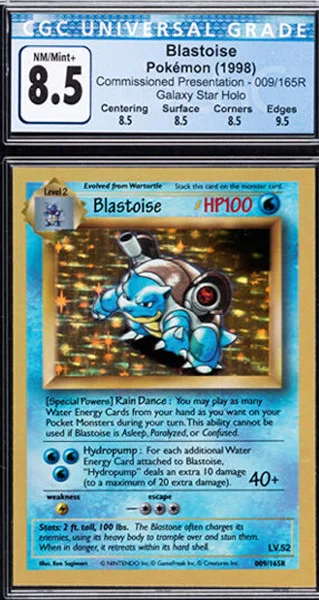 Image Courtesy: Heritage Auctions
Value: $360,000
CGC Grade: NM/Mint 8.5
As it stands, the third most expensive Pokemon card is a Blastoise presentation card, first released (internationally) in 1999. With just two copies in existence, it is perhaps the rarest of Pokemon trading cards.
These ultra-rare Blastoise cards were produced by Wizards of the Coast, the original publisher of the Pokemon TCG game in the United States.
The idea was to design and create a presentation card to persuade Nintendo executives to start marketing Pokemon trading cards in the United States and other international markets. The design work for the card was done by Ken Sugimori, the legendary artist and designer for the Pokemon company.
After their initial display, both the cards were not seen in public for years until one of them appeared in an auction in 2021. What's more surprising is that the card is in mint condition, making it even more valuable. It was sold for a hefty $360,000.
The whereabouts of the other Blastoise Commissioned Presentation card remain unknown.
On the day of the Blastoise card sale, a booster box of the first-edition Pokemon card was also auctioned off. The booster box contained 396 total cards, with the original 102 cards from the first TCG expansion set. It was sold for $408,000.
2. 1999 1st Editon (Shadowless) Holographic Charizard
Image Courtesy: PWCC
Value: $420,000
PSA Grade: Gem-MT 10
This Charizard trading card is a part of the Base set or the very first set of Pokemon cards released in 1999. It is currently the second most expensive Pokemon trading card after being sold for $420,000 in a PWCC Marketplace auction in 2022.
The are many aspects of the card that makes it unique and far more valuable than any other Charizard Pokemon card in existence. Not only this Charizard card is a rare holo or shiny version Pokemon card, but it is also shadowless – meaning there is no shadow behind the Pokemon art, which makes the card even rarer and special. This was due to a printing mistake.
This shadowless holographic Charizard Pokemon card is in excellent condition and has a perfect PSA grade of Mint Gem 10. It means the card is one of the only 121 known PSA Mint 10-grade Charizard trading cards in existence.
According to PWCC, the card was one of the cleanest copies without any usual whitening and imperfections with the holo, adding to the value of the card.
As a fan favorite Pokemon, Charizard is considered one of the most sought-after Pokemon cards. The value of rare Charizard cards is known to increase gradually over the years. Thus, Pokemon fans and collectors are always attracted to these cards.
1. Pikachu Illustrator
Current Value: $5,275,000
PSA Grade: Gem-MT 10
The crown of the most expensive (and the rarest) Pokemon card belongs to Pikachu Illustrator. These Pikachu cards were originally given out to the winners of multiple contests organized by CoroCoro Comic magazine in 1997 and 1998. There are about 41 such cards in existence.
The Pikachu artwork on the card is done by Atsuko Nishida, the original creator of the most beloved Pokemon.
The card in question is the only PSA Gem 10 grade Pikachu Illustrator in existence. It was recently bought by online celebrity Logan Paul in a private sale in 2021.
This purchase was not announced publicly for almost a year until March 2022, when Logan made an entrance to a wrestling event showcasing it by wearing it around his neck. The reported value of his purchase is jaw-dropping $5.2 million ($5.275,000 to be exact), way more than the combined value of all other Pokemon cards on this list.
To make the transaction, Logan Paul traded his PSA Grade 9 Pikachu Illustrator (valued at $1,275,000), which he bought earlier with an additional $4,000,000.
More To Know
Where to Buy Pokemon Cards?
There are several ways you can buy Pokemon trading cards. If you're looking for high-value rare cards that can be resold for profit, then you can check out online stores such as TCGplayer and Troll and Toad.
But if you're looking for Pokemon cards just to have fun and something you can find at low cost, there are a number of options from where you can buy them.
It includes – GameStop, Best Buy, and other wholesale chains such as Costco and Sam's Club. You can also find a good selection of Pokemon cards and binders in the online stores of Walmart and Target.
Another great place to buy Pokemon cards (and other items) is the authorized stores known as the Pokemon Center. Here, you can find all sorts of exclusive Pokemon cards, packs, and collector's chests.
Can I play the Pokemon Card Game Online?
Yes, Pokemon TCG has an online version (TCG Online) which allows you to enjoy the iconic card game on your PCs and iPads.
TCG Online has several modes and options. It allows you to battle against computer-controlled opponents in the Trainer Challenge. Test your skills against your friends or challenge random players from around the world in Versus Mode. It is a free-to-play game.
You can collect new cards and trainer tokens by completing daily challenges and defeating AI opponents. Its in-game trading system allows you to expand your collection and make your own customized Pokemon card deck.
Best Pokemon Card Binder For Your Collection
You'd definitely want to keep your hard-earned collection of Pokemon trading cards in a safe place. Perhaps the best way to do it is to get a Pokemon card binder.
A reliable card binder makes sure that your Pokemon card collection remains in the mint collection for as long as possible. Below are some Pokemon card binder options you can choose from.
Vault X Premium eXo-Tec 12-Pocket Binder
TopDeck 500 Card Pocket Binder Pro
D DACCKIT Carrying Case Binder
Ultra PRO Pikachu 9-Pocket Premium Pro Binder
TCGames Card Binder
Read More