Rolls Royce was established in 1904 and started producing cars two years later in 1906. Since then, the company has gradually earned the reputation of making some of the most luxurious and expensive cars.
You may find it surprising that Rolls-Royce Motor Cars, the company that currently manufactures all Rolls Royce cars, has no direct connection with the original company. It was established by BMW AG in 1998 after acquiring brand licensing, including the famous logo and the 'Spirit of Ecstasy' ornament from Rolls-Royce Holdings plc.
The direct successor of the original Rolls Royce company is actually another British auto manufacturer Bentley Motors Limited, which is owned by Volkswagen AG.
Under BMW, Rolls-Royce has produced a line-up of limousines, coupes, and an SUV. Its current range of offering includes Cullinan, Phantom, Ghost, Wraith, and Dawn.
What is the Most Expensive Rolls Royce?
You can buy a brand new Rolls-Royce Cullinan for about $300k, that's the lowest you can get to own a Rolls Royce (RR Ghost is slightly expensive). But, what about the most expensive car?
With a price tag of $28 million, the most expensive Rolls-Royce ever built is the Rolls-Royce Boat Tail. First launched in 2021, the Boat Tail is a bespoke creation inspired by the coachbuilder tradition of the early 20th century.
An interesting thing about this car is that Rolls-Royce will produce only three units, two of which have already been launched.
Below is our list of the 9 most expensive Rolls Royce, including the Boat Tail.
Before we move on, we must explain a couple of terms that you'll find throughout the article.
Bespoke: In the auto industry, the term bespoke means exclusive or tailor-made.
Coachbuilder: Coachbuild or coachbuilder is the British term for custom body. A coachbuilder is a firm that manufactures bodies for passenger vehicles.
9. Rolls-Royce Phantom Dragon Edition – $1.2 Million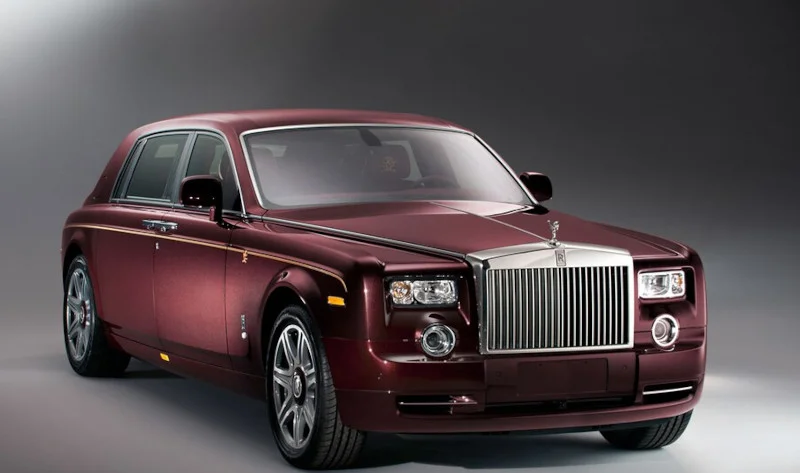 Rolls-Royce Phantom Dragon
In 2011, Rolls-Royce launched a special edition of Phantom called Dragon Edition to be exclusively sold in China only. A Phantom Dragon Edition cost buyers about $1.2 million, making it one of the most expensive mass-produced Rolls-Royce. The car is quite distinct from the standard Phantom at least in looks.
Perhaps the most noticeable difference is a hand-painted gold dragon on each side of the front fender. This Chinese mythical creature is also hand-stitched on headrests and cushions for rear passengers. The car is only available in red as it is the color of good luck in Chinese culture.
With this custom-made car, Rolls-Royce intended to increase its sales and attract more customers in China and surrounding regions. It proved to be a brilliant strategy as the company reportedly sold out the bespoke luxury car within two months of its launch.
Due to the Phantom Dragon Edition sales frenzy, China became the biggest market for Rolls-Royce in 2011, replacing the United States. The company also recorded the highest sales in its more than a century-long history that year, delivering 3,538 cars worldwide.
On a side note, China has become an important market for luxury automakers. It is the second biggest market for brands such as Bently, Rolls-Royce, Maserati, and Lamborghini.
8. 2019 Rolls-Royce Cullinan Armored – $1.5 Million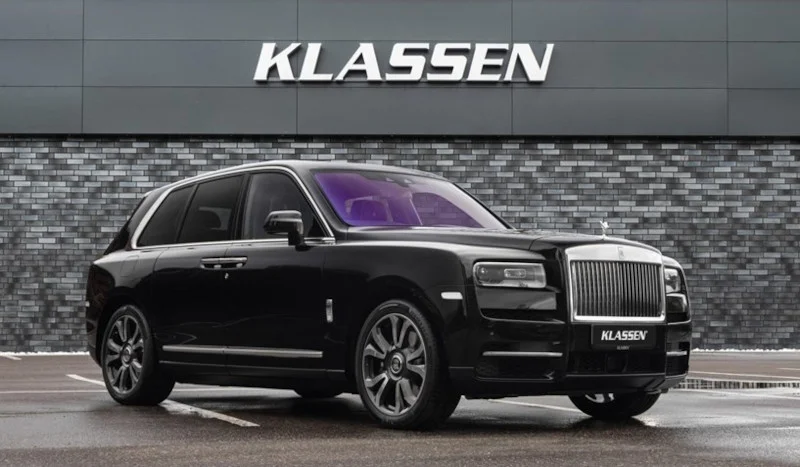 Armoured Cullinan | Image Courtesy: Klassen
Engine: 6.75 L twin-turbocharged V12
The Roll-Royce Cullinan is the first all-wheel drive (4WD) vehicle launched by the British luxury automaker. It was named after Cullinan Diamond, the largest rough diamond (gem quality) ever found on earth.
As an ultra-luxurious SUV, Cullinan offers both sturdiness and comfort. The exterior design of Cullinan is largely based on the Rolls-Royce Phantom (8th generation). Cullinan features a 'viewing suit,' which includes a pair of leather camping seats and wooden appliances in the luggage compartment. It is often referred to as the most luxurious SUV.
The car is powered by a twin-turbo V12 engine generating 563 hp at 5,000 rpm and has a top speed of 155 mph.
In the United States, the starting price of a standard RR Cullinan is just over $350k. While its variant, the Black Badge Cullinan, with carbon fiber interiors, costs almost half a million dollars.
However, the most expensive Cullinan you can get is an armored version reinforced to protect occupants from bullets and explosions. An armored Cullinan cost anywhere between $1 million to $1.5 million.
This particular armored Cullinan is modified by Germany-based luxury car tuning firm Klassen. According to the company, the car has a CEN 1063 BR6 strength armor protection that can withstand multiple rife shots from a fairly close distance.
Other security measures include protection for the electronic control unit and battery. There is also a fire suppression system and special lights in case a fire breaks out due to gunfire or a blast.
It takes about three months or so to build a modified armored Cullinan.
7. 1933 Rolls-Royce Phantom II Special Brougham By Brewster – $1.7 Million
Image Courtesy: Dirk de Jager/Sotheby's
Engine: 7668 cc straight-six engine
The Rolls-Royce Phantom II was launched in 1929 and was the last of 40/50 hp models. It was fitted with a vastly improved engine and a new chassis compared to its predecessor. Approx. 1700 Phantom II was built.
Like most of the luxury cars of that era, only the mechanical components and the chassis of Phantom II were built by Rolls-Royce, while the rest of the body was made by popular coachbuilders such as Thrupp & Maberly, Carlton, Park Ward, and Brewster.
The particular Phantom II in question is a specially designed, one-off Sedanca de Ville (with an open-topped driver's position) designed by specialized coachbuilder Brewster. It was built in 1933 for an American customer in Washington D.C.
Widely considered as the most significant of all Phantom IIs, the car has a raked roofline with a V-shaped windshield and roll-up windows for the front doors. The highlight of this car is the ultra-luxurious rear compartment based on Brougham-style (similar to Sedanca de Ville design) and fitted with retro electric carriage lamps.
The seats in the compartment are padded with button-tuffed wool fabric and are surrounded by gold-plated pieces and inlaid woodwork, and designer floor vents for heating.
What makes the car more special is that it has been diligently maintained for almost nine decades with partial restoration of the outer body. The car was sold at a Sotheby's auction for about $1.7 million in 2021, making it the sixth-most expensive Rolls-Royce in existence.
6. 1933 Rolls-Royce Phantom II Continental Sports Coupe – $2.4 Million
1933 Rolls-Royce Phantom II Continental Sedanca by coachbuilder Gurney Nutting
Number of Units: 1
Here is another expensive, specially modified Rolls-Royce based on the iconic Phantom II. To be precise, the car is based on the Continental model of the Phantom II.
Rolls-Royce started producing the Continental model in 1930 with a shorter wheelbase (144 inches), a low-ratio rear axel, and stiffer springs for better handling and acceleration than the standard version of Phantom II. A total of 281 Phantom II Continental were ever produced.
While most of these Continentals were Saloon styled, a few of them were made in other body forms, including Coupe and Roadsters built by different coachbuilders. This 1933 Rolls-Royce Phantom II Continental Sports Coupe is one of those creations.
The car's body was tailor-made by coachbuilder Freestone and Webb under the instructions of a prominent English industrialist Sir John Leigh. In 2013, the car was sold for more than $2.4 million at a Sotheby's auction in New York.
This bespoke Rolls-Royce car has a long hood line, distinctive 'helmet' styled fenders, and back-mounted spares. While the car may appear as a compact two-sitter from the outside, it has a spacious four-sitter compartment.
Other apparent changes from the standard Phantom II Continental include a modified 6-gauge speedometer and a lower exhaust giving the car a sportier look.
The car has also received multiple accolades, such as Automotive Design of Exceptional Merit and the Rolling Sculpture Award. It featured on the cover of the 1993 "Annual Meet" issue of The Flying Lady publication.
5. Rolls-Royce Phantom Hyperion by Pininfarina – $3.2 Million
Rolls Royce Hyperion | Image Courtesy: Al Ain Class Motors
Number of Units: 1
Engine: 6.7-liter V12
The Italian car designer Pininfarina is known for producing some of the finest car designs we have ever seen. Some of the most notable cars designed by Pininfarina include Lancia Aurelia B20, Alfa Romeo Spider, and Ferrari 250 GT Lusso.
While the firm is not much known for designing Rolls-Royce models, it unveiled a one-off car in 2008 named Hyperion. The car was commissioned by luxury car collector Roland Hall and is based on Rolls-Royce Phantom Drophead Coupé.
Pininfarina converted the four-seater convertible to a two-sitter by entirely removing the rear seats allowing the driving position in the car to move further back. Other notable changes include shortened rear and extended roofline. While the interior of the car was definitely upgraded, Pininfarina retained the powertrain of the standard model.
In 2009, a year after its delivery, the Hyperion was sold to an undisclosed buyer for about £4 million or $5.5 million. One would expect that the value of a bespoke Rolls-Royce would increase or at least remain the same even after more than a decade. However, it is quite the opposite for Hyperion.
The car is reportedly valued at just over $3.2 million, which is a downgrade but still makes it one of the most expensive Rolls-Royce ever built.
4. 1904 Rolls-Royce 10 hp Two Sitter – $3.8 Million
Ross-Royce 10 hp chassis at the Museum of Science and Industry, Manchester | Terry Whalebone/Flickr
Number of Units: 16 (4 surviving)
The Rolls-Royce 10 hp was the first Rolls-Royce model to be manufactured. It was designed by Sir Henry Royce himself after being inspired by an old Decauville. Although 20 units were initially planned, the company only built 16 of these cars.
Rolls-Royce produced the car from 1904 to 1906 and sold them at a price of £395 per unit. £395 in 1904 could be worth anywhere between £43,510.00 and £450,100.00 in 2020.
As you can see, the 10 hp is a small car with an axel track of 48 inches and a wheelbase of 75 inches. While the first few Rolls-Royce 10 hp cars were fitted with a twin-cylinder 1800 cc engine, the later units were powered by a larger 1995 cc engine. It has a top speed of about 39 mph.
Out of the 16 Rolls-Royce 10-hp cars that were built, only four have been known to survive. The oldest of them (Registration no. U 44) was sold in 2007 in a Bonhams auction in London for $3.8 million. For the oldest surviving Rolls-Royce, this price is pretty much justified.
The other three surviving cars are either located in a museum or in a private collection.
3. 1912 Rolls-Royce 40/50hp Double Pullman Limousine – $4.9 Million
1920 Rolls-Royce Silver Ghost with limousine coachwork
Engine: L-head six-cylinder
The Rolls-Royce 40/50 hp is considered by many as one of the most iconic cars the company has ever built. Produced between 1906 and 1926, the unmatched quality, reliability, and power of 40/50 hp made it an ideal choice for wealthy motorists.
The car acquired the nickname 'Silver Ghost' for its quietness and silver body. The name was initially given to a single 40/50 hp car by Claude Johnson, the first managing director of Rolls-Royce. After gaining popularity with the public, Silver Ghost was officially recognized by Rolls-Royce in 1925.
Apart from the original 'Silver Ghost,' the most notable Rolls-Royce 40/50 hp is the 1912 Double Pullman Limousine, also known as 'The Corgi'. The coachwork of the Double Pullman Limousine was done by Barker & Co., one of the most prestigious British coachbuilders of the 20th century.
The only surviving example of this model was sold at a Bonhams auction in 2012 for a hefty $4.9 million.
Unlike most luxury cars of that time, the 40/50hp Double Pullman Limousine has a fine-tuned driver's compartment. There is also no glass window between the driver's seat and the passenger compartment. The interior of the compartment is fitted with silver accessories, embroidered silk door panels, and ivory door pulls.
Did you know? During the initial phase of the First World War, the Royal Naval Air Service (RNAS) of the British Army based their new armored car on Rolls-Royce Silver Ghost chassis.
2. Rolls-Royce Sweptail – $12.8 Million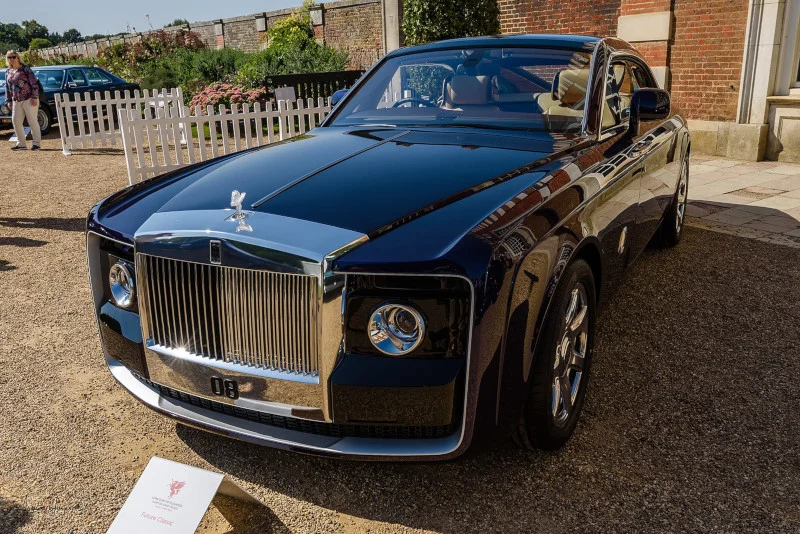 Rolls-Royce Sweptail | Image Courtesy: J Harwood Images
Number of Units: 1
Engine: 6.75 L V12
In 2017, Rolls-Royce unveiled one of its most magnificent bespoke creations, the Rolls-Royce Sweptail, at the Concorso d'Eleganza Villa d'Este event in Italy.
At the time of its debut, the Sweptail was not only the most expensive Rolls-Royce but the world's most expensive new car as well. It was valued at £10 million or about $12.8 million.
The car is based on a 2003 Rolls-Royce Phantom coupe. Inspired by the ultra-luxury coachbuild cars of the 1920s and design elements of luxury yachts, the Sweptail is an entirely hand-built car that took four years to complete.
The launch of Sweptail was significant for Rolls-Royce, as it signaled the company's return to the coachbuild practices in the past. While one-off cars are ridiculously expensive, they offer a more personalized experience.
The Sweptail is reportedly owned by Hong-Kong-based real estate billionaire Samuel Tak Lee and his son.
In 2019, the Bugatti La Voiture Noire replaced the Sweptail as the most expensive car in the world after being sold for $18.7 million.
1. Rolls Royce Boat Tail – $28 Million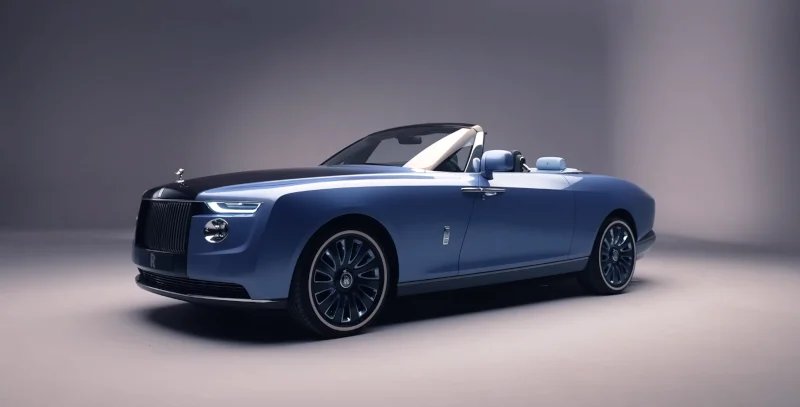 Rolls-Royce Boat Tail
Number of Units: 3 (2 Launched)
Engine: BMW N74 Twin-Turbo V12
After Sweptail, Rolls-Royce unveiled another, more expensive coachbuild grand tourer named the Rolls-Royce Boat Tail at Concorso d'Eleganza, Villa d'Este, Italy, in 2021. It was the first of three Boat Tail luxury cars the company plans to ever produce. Rolls-Royce introduced the second model in 2022 at the same motor event.
The price tag of $28 million not only makes Boat Tail the most expensive Rolls-Royce ever but also the most expensive new car in the world, replacing the 2019 Bugatti La Voiture Noire.
The car is designed and built by coachbuild division of Rolls-Royce. It is entirely hand-built, with the entire body carved out of a single sheet of aluminum.
Although most of the car is custom-made, the overall body of the Boat Tail is based on the eight-generation Rolls-Royce Phantom. They share the same chassis and engine.
The first Boat Tail features rotating cocktail tables with two fridges and appropriate tableware. It also includes a pair of Bovet Fleurier watches with an engraved sculpture of the car on the dial. Other luxury items that came with the car include a Montblanc pen inside a hand-crafted case.
More to Know
Why Are Rolls-Royce So Expensive?
Apart from the quality, what makes Rolls-Royce cars so expensive is their vast customization options and craftsmanship. It is a fact that Rolls-Royce makes some of the most luxurious and expensive cars we have ever seen, and it has been doing so for more than a century.
But with the vast upgrades and customization options, the true cost of a custom-made Rolls-Royce is virtually unforeseeable. For example, Rolls-Royce has a palette of more than 44,000 colors that allows them to replicate almost any color or shade on request.
The extent of customization offered by Rolls-Royce is such that it can transform the car's dashboard into a private art gallery with all kinds of designs, and that's just the tip of the iceberg.
Rolls-Royce also allows its wealthy customers to alter the designs on Starlight Headliners (Bespoke feature), a series of fiber-optic roof lights that imitates the night sky.
Customers can even choose to remove the Spirit of Ecstasy and replace it with an ornament of their choice, as in the case of Drake's $1 million Rolls-Royce Bushukan.
The company's undivided focus on luxury, craftsmanship and customization efforts is the biggest reason why it produces and sells a limited amount of vehicles despite high demand.
Why You Can Trust Us?
To compile the list of the most expensive Rolls-Royce, we extensively researched data from reputed auction sites, car dealerships, and other historical records related to Rolls-Royce car sales over the years. We studied each car in detail before putting them on the list. Our independent editors have verified all the facts and statistics included in the article.
Moreover, RankRed does not rely on paid articles or any kind of commission to generate revenue.
Read More 
20 Unknown And Interesting Rolls Royce Facts