You might have heard the phrase 'big fish must eat small fishes to survive.' That's what happens in the business world every day. A vast majority of deals involve middle- and micro-market companies, but only the multi-billion dollar, cross-border transactions attract press coverage.
There are numerous reasons why acquisitions happen:
To increase growth in the future.
To acquire patents/technologies.
To shut down a rising competitor in the market.
We are representing some of the biggest and most expensive deals in the tech industry to this date. The buyout price ranges between $1 to $34 billion. It's quite interesting that out of these 31 acquisitions, Microsoft is featured in 5 deals, and the top 10 deals of 2018 totaled over $87 billion.
33. Facebook buys Instagram for $1 Billion
Facebook offered $1 billion for the photo and video-sharing app Instagram in April 2012. As of September 2013, Instagram had set up more than 150 million users. It was also listed among the top 50 Android apps in 2013.
After this deal, Instagram grew up by 23 %, whereas Facebook only by 3%. As of June 2020, Facebook had 2.6 billion monthly active users, while Instagram had over 1 billion users worldwide.
32. Yahoo buys Tumblr for $1.1 Billion

Tumblr is a microblogging and social networking site owned by Yahoo since May 2013. This is the biggest deal ever done by Yahoo in history under the leadership of Marissa Mayer (former CEO of Yahoo). Since then, Tumblr has shown no sign of dropping down.
The service is more popular among teenage and college students. As of April 2020, Tumblr was the 8th most popular social platform, with more than 496 million blogs.
31. eBay buys PayPal for $1.5 Billion
eBay bought PayPal in exchange for $1.5 Billion in June 2002. It is an international e-commerce business that allows money transfer and payment through the Internet. PayPal operates in more than 200 markets and manages more than 225 million accounts.
As of 2020, Paypal's total payment volume processed was over $936 billion, with annual payment revenue of $21.4 billion.
30. Google buys YouTube for $1.65 Billion
Internet search giant bought the video-sharing site in October 2006 from its founders, Steve Chen and Chad Hurley, for $1.65 billion. Since then, YouTube has gone through a lot of changes in terms of look, feel, and performance.
As of 2020, the site has over 2 billion unique visitors per month, with 400 hours of video being uploaded every minute, and over 5 billion videos being watched every day.
29. Vista Equity Partners Buys Apttio – $1.94 billion
The American private equity and venture capital acquired Apitto in 2018 by paying $38 per share. Apitto is a Seattle-based company that helps businesses manage and understand their cloud spending. Vista paid a 53% premium for stockholders, and the deal was approved by Apptio's board of directors.
28. Twilio buys SendGrid for $2 billion
Twillo, a cloud communication platform, spent $2 billion (all in the stock transaction) to get an API-based email service, SendGrid. The deal was no surprise; both companies share the same vision, the same values, and the same model.
27. Cisco Buys Duo Security for $2.35 billion
Cisco has bought more than a hundred companies since its inception. And more than a dozen of these acquisitions have cost them over a billion dollar. In 2018, they added Duo Security to its subsidiary. The company paid $2.35 billion in cash to acquire another cloud-based cybersecurity company named Duo Security.
Cisco builds the modern IT infrastructure, and now it will help Duo Security to accelerate the mission of securing users' access to any application in any device at a massive scale.
26. Dell Buys Quest Software – $2.36 Billion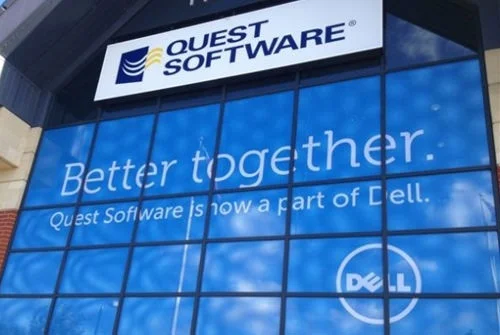 Quest is a software manufacturer and supports almost all kinds of infrastructural software. The company is best known for manufacturing TOAD, a product used by database developers. It offers many other products that help in creating, managing, and monitoring software. On July 2, 2012, Dell announced that it was buying Quest for $2.36 Billion.
25. SAP buys CallidusCloud for $2.4 Billion
Unlike other tech giants, SAP doesn't usually make many acquisitions. However, they did buy CallidusCloud in 2018 for $2.4 billion or $36 per share. The share price is an impressive bump for shareholders, representing a 21% premium over the 30-day average price.
CallidusCloud is best known for its cloud-based solutions for sales performance management and sales execution software and services. SAP provides CallidusCloud a global scale to increase its already phenomenal growth.
24. Microsoft Buys Minecraft – 2.5 Billion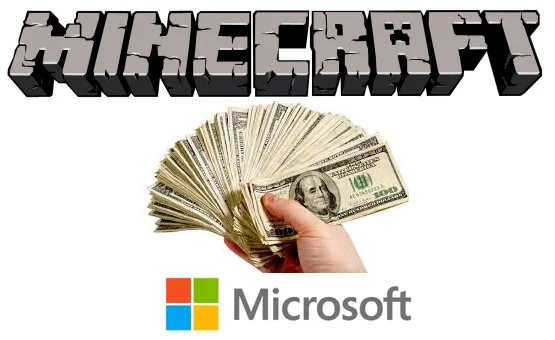 Microsoft has bought Mojang, the Swedish firm best known for developing a popular independent game Minecraft. The deal was announced on September 15 2014. Minecraft is one of the top-selling apps on both the Apple Store and Google Play. It has also been released for Xbox One and PlayStation 4.
23. Google Buys Nest Labs- $3.2 Billion
Nest Labs is a home automation company that creates wifi-enabled, self-learning, smoke detector, and advanced thermostats. The co-founder is none other than the creator of iPod, Tony Fadell. The deal made it evident that Google is not only going to improve their search engine algorithm in the future, but they were also ready to automate your homes.
22. Adobe Buys Marketo For $4.75 Billion
In September 2018, Adobe Systems unveiled that it was buying Marketo — a company focused on account-based marketing — for a total of $4.75 billion. The deal strength Adobe's lead in customer experience across B2B and B2C contexts.
In the same year, they bought Magneto — an open-source eCommerce platform — for $1.68 billion, intending to integrate it into Adobe Experience Cloud, its Enterprise Content Management platform.
21. Verizon Buys Yahoo – $4.8 Billion
Verizon acquired the pitiful remains of what used to be the king of the Internet. Yahoo is probably the most mismanaged tech giant ever. They had the opportunity to expand beyond the core of the search business, and they screwed it all up.
After this deal, the shareholders kept Yahoo's lucrative investments in Chinese eCommerce giant Alibaba and Yahoo Japan. They split into a separate, publicly traded company. The agreement also excludes Yahoo's cash and some patents.
20. Salesforce Buys MuleSoft for $6.5 billion
In 2018, Salesforce bought MuleSoft — an integration software company for connecting data, applications, and devices — for $6.5 billion. They paid $44.89 share for MuleSoft, a 36% premium. Also, the deal values each MuleSoft share at $36 in cash and 0.071 shares of Salesforce stock.
As Salesforce is working on its AI and machine learning layer, it requires access to vast amounts of data across the company. A company like MuleSoft can make their job easier.
19. Microsoft Buys Nokia – $7.2 Billion
Once upon a time when Nokia was the leader of the Mobile market, but in the past decade, the Android platform destroyed Nokia's customer trust and selling values. Microsoft decided to give tough competition in the mobile market by buying Nokia mobile unit for more than $7 billion that includes mapping services, patent portfolio, and 32,000 employees.
18. Just Eat Takeaway Buys Grubhub -$7.3 Billion
Just Eat Takeaway, a European food delivery service, acquired Grubhub, an American online food ordering and delivery platform, for $7.3 billion.
In the all-stock deal, Just Eat Takeaway valued Grubhub at $75.15 per share, a 27% premium to Grubhub's closing price. Matt Maloney, the founder and chief executive of Grubhub, will join Just Eat Takeaway's board and oversee the business in North America.
17. Oracle Buys Sun Microsystems – $7.4 Billion
Sun Microsystem sold information technology services, computer components, software, and created a Java programming platform and Network File System (NFS). Oracle bought struggling Sun Microsystems and its Java programming language for $7.4 billion in April 2009. This deal kept Java away from IBM's hands.
16. Microsoft Buys GitHub – $7.5 Billion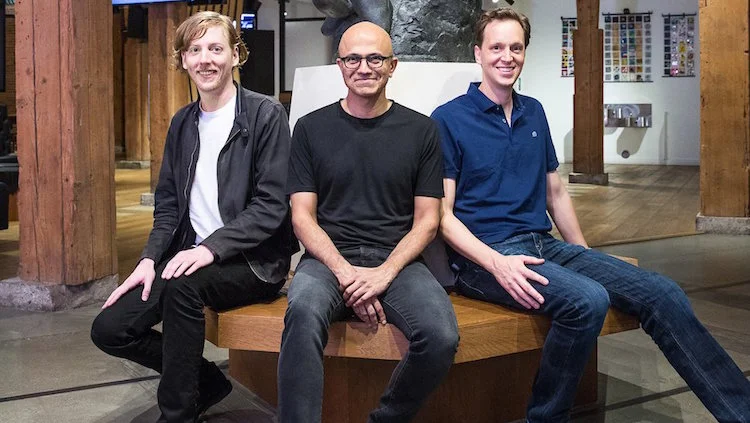 From left: Chris Wanstrath (GitHub CEO), Satya Nadella and Nat Friedman (VP Developer Services, Microsoft) 
On June 4, 2018, Microsoft confirmed they would be acquiring GitHub – the biggest software development platform. They paid $7.5 billion in stock.
It's not hard to figure out why Microsoft would want to buy GitHub. In 2017, they shut down their own Github competitor, Codeplex. Microsoft now has over a thousand developers actively pushing code to GitHub repositories. In fact, Microsoft is the top company with the most open source contributors on Github.
In the coming years, Microsoft will use its partner channels, direct sales, global cloud infrastructure, and services to accelerate enterprise developers' use of Github.
15. SAP Acquires Qualtrics For $8 Billion
SAP paid a whopping $8 billion to buy Qualtrics just before its IPO. It's a fast-growing scrappy provider of survey and feedback software. The deal amazed a lot of people, as SAP paid over 20 times the revenue of Qualtrics.
While SAP had generated billions selling operation software, Qualtrics was entering into a new area, what they call experience software, which would allow organizations to manage the four key experiences of business: product, customer, employee, and brand experiences, all on one platform.
14. Microsoft Buys Skype – $8.5 Billion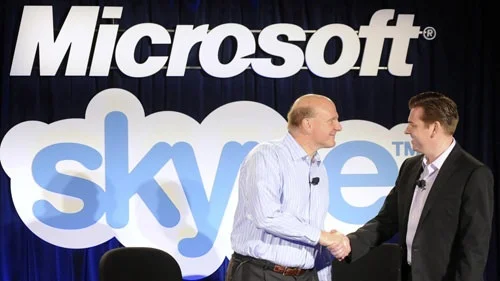 Skype is an instant messaging client and a free voice IP service that was owned by eBay in 2005 for $3.1 billion. They sold it off to private investors at a 40% loss. Microsoft bought Skype in May 2011 for $8.5 billion. Since then, Skype comes preinstalled on every Windows platform.
13. Hewlett-Packard buys Autonomy – $10.24 Billion
HP bought the British Enterprise Software Company, Autonomy in August 2011. Later, at the end of 2012, they admitted that they had overpaid. After a year, HP claimed that there was a severe accounting scandal found in the company. Leo Apotheker, CEO of HP, and Mike Lynch, co-founder of Autonomy, were fired when Autonomy failed to reach target revenue.
12. Google buys Motorola Mobility – $12.5 Billion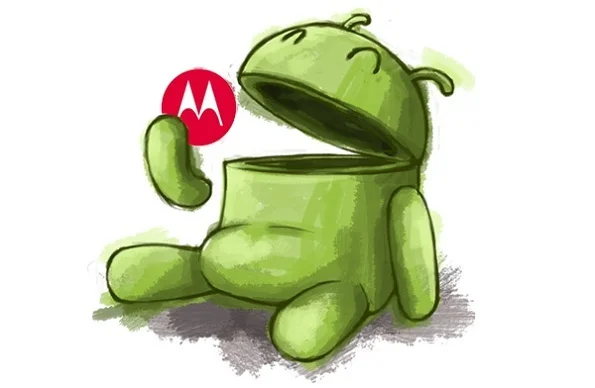 Google bought the handset business Motorola for twelve and a half billion in August 2011 to challenge Apple in the Smartphone market, but they failed to do that. In less than three years, Google sold Motorola to Lenovo (including 2,000 patents) for $2.91 billion.
Read: 30 Intriguing Facts And Statistics About Google
11. Amazon Buys Whole Foods – $13.7 billion
Amazon made a big bet on physical stores and business of food when they bought organic grocery chain Whole Foods for $13.7 billion in cash. The deal was finalized in August 2017, valuing Whole Foods at $42 a share.
Whole Foods stores will continue to operate under the same name but as a separate unit of the Amazon. This deal shows Amazon's growing interest in groceries. They already have a delivery service, AmazonFresh, and continually testing a 'click-and-collect' model that lets users buy groceries online, with an option to pick them up in stores.
Read: Famous Companies Started in Garage
10. Walmart Buys Flipkart – $16 billion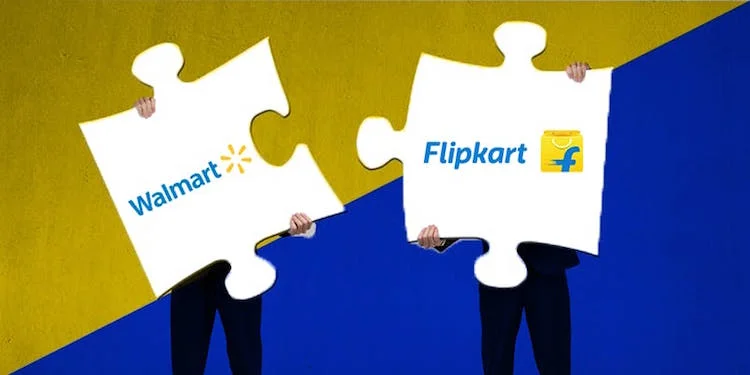 On May 9 2018, Walmart announced its acquisition of Flipkart (India's largest eCommerce company) for $16 billion for a valuation of more than $20 billion. This is the largest eCommerce acquisition in the world to date.
Walmart has acquired a 77% stake in Flipkart, and now they will be competing against Amazon India, who is already ruling the Indian market. In the meantime, Walmart will support Flipkart's desire to release an IPO, but they did not put a date on it.
Flipkart co-founder Binny Bansal, Tiger Global, Tencent Holdings, and Microsoft will retain their stake, while Sachin Bansal (another co-founder) and Softbank will walk away with $1 billion and $4.7 billion, respectively. Moreover, the war between both giants will create not only a huge supply chain infrastructure but also a large number of jobs.
9. Broadcom Buys CA Technologies for $18.5 Billion
The most unexpected acquisition of 2018 was made by Broadcom, a giant developer and global supplier of a wide range of semiconductors and infrastructure software solutions. They acquired a major IT management software and solution provider, CA technologies, for $18.9 billion in cash.
Shareholders of CA received $44.50 per share, representing a 20% premium. This deal clearly indicates that Broadcom is trying to diversify its services to meet the ever-increasing demand for infrastructure software solutions.
8. Facebook Buys WhatsApp – $19 Billion
With a ridiculously high price, Facebook bought more than just an app in February 2014. Facebook was getting access to more than 450 million users.
It was Whatsapp, who killed all mobile messaging services. The idea is to develop a simple, fast, and non-bothering service for communication.
Brian Acton and Jan Koum came up with an app where users can share videos and images along with the texts. After the acquisition, Chat app Telegram logs 5 million downloads in one day, and WhatsApp lost around 1 million of its current user, but in the meantime gained millions of new users also. Today, WhatsApp has more than 1.5 billion users.
7. Hewlett-Packard buys Compaq – $25 Billion
Founded in 1982, Compaq sold computer products and related services. It also produced a few first IBM PC compatible computers, and during the '90s, they became the largest supplier of the PC system. HP welcomed Compaq into the family for $25 billion on September 3, 2001, in a bid to compete with IBM. In 2013, HP discontinued the Compaq brand for lower-end systems.
6. Microsoft Buys LinkedIn – $26.2 billion
LinkedIn is a business-oriented social network service that has more than 400 million users. On June 13, 2016, Microsoft announced it would acquire LinkedIn for $26.2 billion. Jeff Weiner would remain the CEO of the company, and he would report to Microsoft CEO Satya Nadella.
Read: How 25+ Big Companies Got Their Names
The software giant company Microsoft has taken numerous bold steps in the last couple of years to make its products intelligent, and the company wants to use extensive data to make services more effective and intelligent. LinkedIn's wide network offers data that could help in this particular field. LinkedIn shares surged 47 percent after the announcement, while Microsoft's stock went down to 3.2 percent.
5. Salesforce Acquires Slack for $27.7 Billion
In 2020, Salesforce, the global leader in Customer Relationship Management (CRM), acquired Slack Technolgies, Inc. for $27.7 billion. The deal puts Salesforce more on par with its competitor Microsoft, whose communication platform called Teams has been directly challenging Slack in the market.
4. IBM buys Red Hat for $34 Billion
In October 2018, IBM announced its plan to acquire Red Hat for $34 billion. Prior to the acquisition, the market cap of Red Hat stood at $20.5 billion. This is by far IBM's largest deal ever, and the 3rd biggest tech acquisition in the history of the United States.
While this large deal took a while to play out, the combined company is expected to restructure the open source and cloud platforms market in the coming years. The acquisition could also trigger a new class set of huge mergers between the conventional tech vendors and cloud natives, container and DevOps organizations over the next few years.
3. CenturyLink buys Level 3 Communications – $34 Billion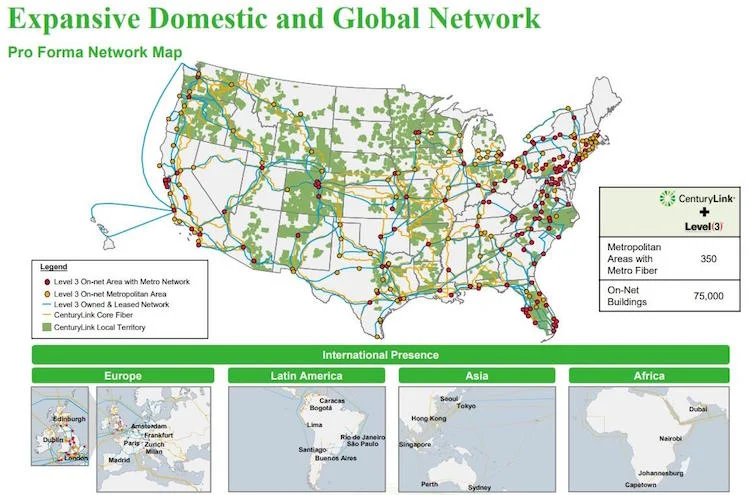 The third-largest telecommunications company in the US, CenturyLink, acquired Level 3 Communications, a multinational telecommunications and internet service provider company, for $34 billion in cash and stock. Level 3 entirely became a part of CenturyLink in November 2017.
With this deal, CenturyLink was seeking to expand its reach in the business communication market and compete with Verizon and AT&T. The company would connect over 350 metropolitan areas with more than 100,000 fiber-enabled, on-net buildings.
Furthermore, the company would be able to provide a broader and more innovative product portfolio of advanced IT services and network solutions. And because of increased assets, it can continue to invest in broadband infrastructure for small businesses.
2. Elon Musk Buys Twitter For $44 Billion
In April 2022, the Twitter board accepted an offer from Elon Musk, the wealthiest man as of 2022, to buy the social media platform for $44 billion cash. The company would become a private entity after the completion of the deal.
Musk aims to make Twitter the ultimate platform for free speech. However, in recent years, the platform has also become a lightning rod for controversy and fake news. While some people expect that the Musk region will mean the reinstatement of banned accounts and less content moderation, some voiced fears of a rise in hate speed.
Beyond free speech issues, the company faces questions about its business model. Twitter's advertising business has been inconsistent, and the stock hasn't given any significant returns since its IPO (in 2013).
1. Dell buys EMC For $67 Billion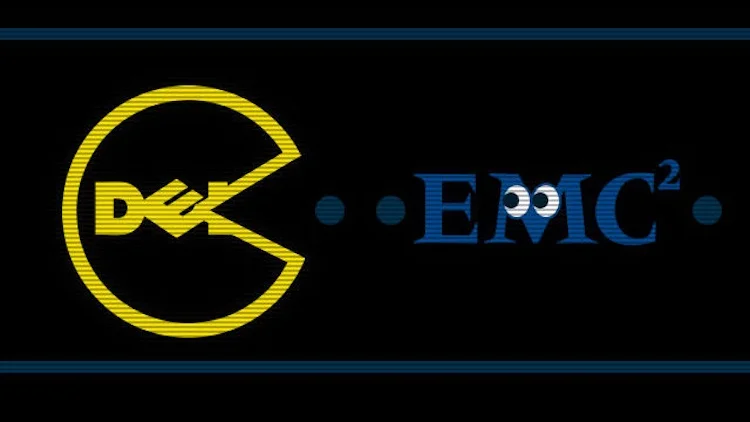 The largest tech acquisition took place in 2015 when Dell announced its plan to acquire EMC for a whopping $67 billion or $33.15 a share. This would merge Dell's enterprise personal computer, server, and mobile businesses with EMC's enterprise storage business.
Dell was looking to move away from the server business and get deeper into the enterprise with private cloud computing and storage where it could compete with HP, IBM, and other well-established vendors.
Read: 16 Most Expensive Stocks (Per Share) In The World
Dell EMC has been putting out new products at roughly the same pace it did before, and things seem to be going great, at least better than what most analysts expected.