Over the period of time, 'Engines' have become one of the integral part of our day to day life. Now, whether it's a car, motorcycle, a truck or even a plane, without engines, they are just a big useless metal crap. Unlike the ones in our cars, engines fitted into the planes are specially designed and are highly sophisticated.
Do you know that the first ever working internal combustion engine used in an aircraft was built during the World War 1 and was named Gnome Omega. Unlike the early days, there are many types of aircraft engines that exist today, such as piston, Wankel, turbines, and steam-powered engines to name a few.
Several leading multinational companies who manufacture these gigantic machines are General Electric, Rolls Royce Holdings, Pratt & Whitney and few others. Here we are putting together the list of 12 most powerful aircraft engines in the world, based on a few parameters such as thrust, power, and total capacity.
12. CFM56-7 Series
Image Source: Wikimedia Commons
Thrust-to-weight ratio: 3.7:1
The CFM56-7 is the latest edition of CFM56 series engines, manufactured by CFM International, which debuted in 1995. With a maximum takeoff thrust (newer model) of 27,300 ibf, it's the perfect engine to power the next generation Boeing 737 with better fuel efficiency and reduced maintenance costs. Other major applications of this engine are in Boeing KC-135 Stratotanker and Airbus A320 family.
11. GE TF39
A crew inspects a TF-39 on a Military Airlift Wing C-5A Galaxy aircraft
Thrust-to-weight ratio: 5.4:1
The US-based multinational company General Electric manufactured the TF39 especially to fulfill the need of Lockheed produced C-5 galaxy, one of the largest and heaviest military transport aircraft in the world. Although the engine is now disbanded, it was the first ever high-bypass turbofan jet engine produced. It was also the first turbofan engine in the 1960s that introduced revolutionary 1½ stage fan blades with an 8:1 bypass ratio.
10. Progress D-18T
Wikimedia Commons
Thrust-to-weight ratio: 5.7:1
The Progress D-18T is a high bypass turbofan aircraft engine, which is specially designed to power heavy transport aircraft. It was manufactured by the Ivchenko-Progress keeping in mind the needs of a heavy aircraft. Right now, the Progress D-18T's are only used for Antonov An 124 and An 225 strategic airlifter. The engine has a dry weight of 4,100 kg and a maximum thrust of 230 KN. Due to its limited use, only 188 units of this engine have been manufactured since 1982.
9. General Electric CF-6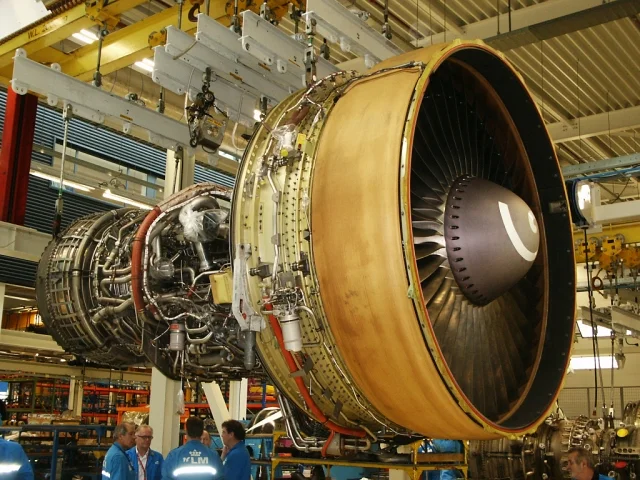 Thrust-to-weight ratio: 5.08
The General Electric CF-6 is one of the most powerful series of high bypass turbofan engines produced by General Electric aviation. Currently, it is being used in many commercial airliners, including Airbus (A300, A310, A330), Boeing (747, 767) and McDonnell Douglas. The engine is equipped with two high pressure and four low-pressure turbines with the maximum thrust value of 274 KN. Moreover, it's 4.65 meters in length and weighs more than 4100 kg.
8. Rolls Royce Trent 700
Wikimedia Commons
Thrust-to-weight ratio: 51.35 N/kg
The Rolls Royce Trent 700 is a robust turbofan engine which is mainly used in the modern Airbus A330. During the late 1980s, when the new A330's was launched with increased weight, Rolls Royce planned to design a new, more powerful and heavier engine to comply with it, which they later named Trent 700.
It first entered into service in March 1995 with Cathay Pacific with a maximum thrust rating up to 316 KN. Back in 2009, the company launched an upgraded version of the Trent 700, the Trent 700EP (enhanced performance) with some necessary improvements.
7. General Electric GEnx
Wikimedia Commons
Thrust-to-weight ratio: 5.15/ 5.56
The General Electric GEnx (next generation) is a high-performance bypass turbofan jet engine, which is largely derived from General Electric's GE90 engine. It employs many features of GE90 including the radical composite fan technology.
The engine was first commercially used in 2008 and it's currently used as a frontline engine in Boeing 747-8 and 787 Dreamliner. It has the maximum thrust of up to 330 KN and a dry weight of 5800 kg. It also features fuel burn reduction technology, which also helps reduce engine noise.
6. Rolls Royce Trent 1000
Thrust-to-weight ratio: 6.1
Evolved from the previous generations of the Trent engines, the Rolls Royce Trent 1000 was conceived to fulfill the needs of Boeing 787 Dreamliner. Back in 2004, Boeing decided to provide its customers with an option of choosing between the two engines in their new Dreamliner series. As a result, General Electric GEnx and Trent 1000 were finalized.
Trent 1000 powered the first Boeing 787 on its maiden test flight and also during its first commercial flight. The engine has a dry weight of more than 6,000 kilograms with a maximum thrust of 265.3–360.4 kN.
Recommended: World's Best Fighter Jet
5. Engine Alliance GP7000
Engine Alliance GP7000 turbofan awaiting installation
Thrust-to-weight ratio: 5.197
The Engine Alliance GP7000 is a turbofan jet engine which currently powers the world's largest passenger airliner, the Airbus A380. It was first launched in April 2004 and the result of a collaboration between General Electric and Pratt & Whitney, two of the three biggest aircraft engine manufacturers in the world.It should have been called Super Engine Alliance, imo.
4. Rolls Royce Trent 900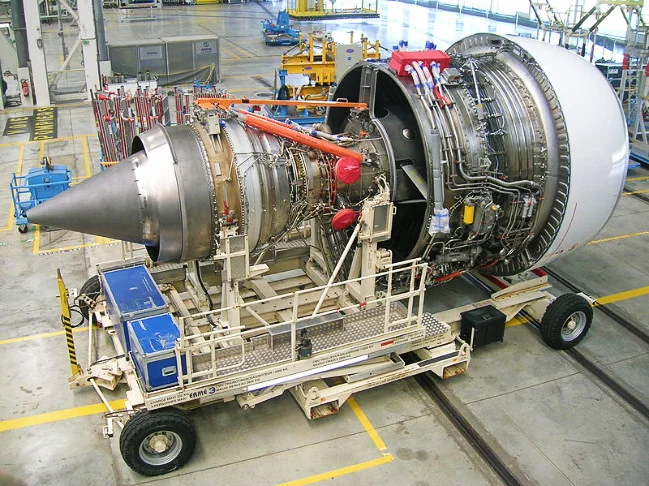 Thrust-to-weight ratio: 5.46/ 6.11
The Trent 900 is a series of turbofan engines and one of the family members of Trent engines. It was first used in 2004 and has four variants which are used in different airliners. It is equipped with 116 inch wide low pressure compressor fan and the total weight is over 6200 kg. It has one of the most powerful engines with the maximum thrust value of 374 KN. It is the first engine in his family which fitted with the advanced engine health monitoring system.
3. Rolls Royce Trent XWB
Thrust-to-weight ratio: 5.25
The Rolls Royce Trent XWB is a family of turbofan jet engines which is used for the Airbus A350 XWB. It was first successfully tested in 2010 and developed as a competitor to the Boeing 787 Dreamliner. It has five variants and the largest fan diameter is 118 inches. The advanced version has the maximum thrust of 430 KN. Rolls Royce uses these engines in the Qatar Airways and Airbus A350-1000.
2. Pratt & Whitney PW4000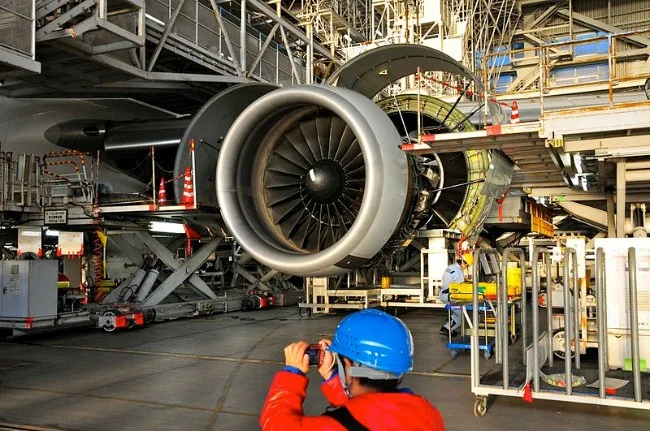 Wikimedia Commons
Thrust-to-weight ratio: 6-7
The Pratt & Whitney PW4000-112 is the newest member of PW4000 family, which have higher thrust rage than any of the previous variants. Pratt & Whitney started manufacturing the PW4000 for the first time in 1984. It is used by many airliners including Airbus (A300, A310, A330), Boeing (747-400, 767, 777, KC-46) and McDonnell Douglas MD-11. The PW4000-112 entered into the commercial aviation industry in 1995 as one of the three options for Boeing 777 variants.
1. General Electric GE90
Thrust-to-weight ratio: 5.59
The unique blade design of GE90 came from NASA's high energy efficient experimental propfan GE36 (UDF). After the idea of GE36 was dropped due to some technical and financial problems, General Electric adopted the same fan design into their newly designed GE90 instead and made it commercially available.
The engine made its successful debut in 1995 with the British Airways, powering its entire new Boeing 777 fleet. With higher thrust and increased operating cost advantage provided by GE90 is one of the major reasons why world's major airliners are seeing 777-300ER as a future replacement for much popular 747-400.
Read: 15 Fastest Aircraft in the World | of all Time
The engine blades are made of composite materials so that it can work in much higher temperature. It is used in one of the biggest aircraft, Boeing 777 and has a world record thrust rating between 330 to 513 KN (high thrust variants). It powered three 777 variants-200LR, -300ER and -200F.