In this age of consumerism, brand value plays a crucial role to push any company ahead. A better brand value, not only plays an important part in determining the firm's future growth potential, but also dictates basic things like sales and gives an upper hand against a rival company.
Want to know an interesting fact about branding? The branding was first used not in the 20th century or during the industrial revolution, but by the ancient Egyptians sometime in the 2,700 BC to differentiate one's cattle from another's by marking their cattle with exclusive symbol burned into the their body.
Anyway, this list is based on data provided by Brand Finance, an independent brand valuation and business consultancy firm. The company evaluates and publishes valuation of more than 3,500 global brands annually. Here is the detailed Global 500 report for 2018. So lets find out the most valuable brands in 2018.
15. Mercedes Benz
Brand Value: $43.9 billion
Last Year Rank: 20
Market Capitalization (Daimler AG): $75.3 billion
Mercedes-Benz is Europe's most valuable brand with a valuation of $43.9 billion. According to the Brand Finance report, its brand value has risen significantly over the last year and will continue to grow in 2018. Their all new marketing scheme, new and more efficient product line and shorter launch times are some of the important factors that resulted in more sales.
14. Wells Fargo
Image Courtesy: Ildar Sagdejev
Brand Value: $44 billion
Last Year Rank: 13
Market Capitalization: $290 billion
For those who don't know, Wells Fargo is U.S based financial services holding company and currently the second largest bank in the world by market capitalization. For two straight years in 2013 and 2014, Wells Fargo was named the most valuable banking brands in the world, however a massive fraud in 2016 and the rise of the Chinese banking industry in recent years caused Fargo to slip in at number three this year.
13. China Mobile
A China Mobile store  Image Courtesy: Henozuxj
Brand Value: $15.2 billion
Last Year Rank: 11
Market Capitalization: HKD 1.5 trillion
China's state owned China Mobile Communication Corporation is the biggest telecom company by market capitalization and has the largest amount of subscribers (887 million) as per the company's records. The Global 500 report of this year indicates a 14% increase in China Mobile's brand value over the last year. Apart from its operations throughout China, the company also has a functional overseas office in Pakistan.
12. Alibaba
Image Courtesy: AlibabaGroup.com
Brand Value: $54.9 billion
Last Year Rank: 22
Market Capitalization: $495 billion
With more market penetration, new acquisitions and most importantly, an increased user base in 2017, the Chinese e-commerce giant Alibaba Group are constantly improving its brand value. Compared to last year, the company's brand value has increased by more than 50%.
11. China Construction Bank
China Construction Bank Building is Luxembourg  Image Courtesy: Michael Kramer
Brand Value: $58 billion
Last Year Rank: 14
Market Valuation: HKD 1.9 trillion
The China Construction Bank Corporation is one of China's "big four" banks. According to S&P market intelligence, CCB is the second largest bank in the world based on total assets. It has about 13,629 domestic and a dozen of international branches all over the world.
Their increasing brand value has attracted some of the biggest investment firms such as Goldman Sachs and Blackrock who have recently raised their stake in CCB. Analysts remain bullish on its stocks and predicted a further 19% rise in the next 11 months.
10. ICBC
ICBC tower in Shanghai, China  Image Courtesy: Daniel Case
Brand Value: $59 billion
Last Year Rank: 10
Market Valuation: HKD 2.4 trillion
ICBC or Industrial and Commercial Bank of China is the world's largest bank by total assets under control and the market capitalization. By revenue it is the fourth largest bank in the world. According to brand finance, ICBC's brand value increased 24% over the last year. In 2017, the company announced a 3.3% increase in its net profit for the third quarter.
9. Walmart
A Walmart store in Charlotte  Image Courtesy: Flickr
Brand Value: $61.4 billion
Last Year Rank: 8
Market Valuation: $273 billion
With Amazon slowly choking the wind out of Walmart and recent market correction, Walmart witnessed a 15% downturn in its share prices in early 2018. The company also had a disappointing growth in online sales and reduced profit margins, which negatively affected its brand value by 1%.
However, some market analysts believe that Walmart's new market strategies will bring them back in a neck-to-neck competition with Amazon real soon.
8. Verizon
Verizon in CES 2012  Image Courtesy: Flickr
Brand Value: $62.8 billion
Last Year Rank: 7
Market Capitalization: $195 billion
With a total revenue of $125 billion in 2017, Verizon remained the second largest telecommunication company in the world only after AT&T. But, the previous year was not that good for the Manhattan based conglomerate. By the mid 2017, the company officially lost about 300,000 customers to T-mobile.
To regain those customers, the company took a hard decision to launch their own unlimited plans, which actually minimized the further damages. However, this shift is most likely to hurt the company's finances in the long term.
7. Microsoft
A Microsoft Store in Toronto, Canada
Brand Value: $81 billion
Last Year Rank: 5
Market Capitalization: $706 billion
In 2017, Microsoft enjoyed a good fiscal year, mostly due to their cloud computing platform. Their annual sales/revenue recorded a positive growth in 2017, following a $6 billion in losses at the end of 2016. The company also gained a good chunk of market share after their shares recorded a 37% increase from January 2016 to December 2017.
As it stands, Vanguard Inc. owns about 7.39% stake in the company with Blackrock investment company owning 4.35% stakes.
6. AT&T
Image Courtesy: REUTERS/Stephanie Keith
Brand Value: $82 billion
Last Year Rank: 4
Market Valuation: $224.7 billion
Like Verizon, AT&T also experienced heavy subscriber loss not only from its television business, but from its money making wireless business too. According to the company reports, they lost more than half-a-million customers over both the business arms combined.
The Global 500 report indicated a 5% decrease from its last year's valuation, bringing down AT&T's valuation from $87 billion to $82 billion. The company is currently looking to enter the entertainment sector to reduce its dependency on communication industry.
5. Facebook
A billboard on Thomson Reuters building in 2012  Image Courtesy: ProducerMatthew
Brand Value: $89.6 billion
Last Year Rank: 9
Market Capitalization: $529 billion
Facebook's brand value has increased 45% over the last year and made a jump from number #9 to #5 on this year's list. In the age of technology, where data is the new oil, Facebook's immense digital data makes it one of the most powerful companies in the world. In the second quarter of 2017, the company crossed the mark of 2 billion subscribers.
4. Samsung
Samsung Headwaters  Image Courtesy: Oskar Alexanderson
Brand Value: $92 billion
Last Year Rank: 6
Market Capitalization: $254 billion
Samsung is the only South Korean company in this list. It is comprised of many affiliated business divisions, most of them are united under the common Samsung brand. Last year Samsung was placed sixth in the list of most valuable brands, but the company gained ranks after their exemplary financial performance in 2017.
3. Google
GooglePlex
Brand Value: $101 billion
Last Year Rank: 1
Market Capitalization: $770 billion
2017 was one of the best years for this silicon valley giant in many ways. The company registered a 23% increase in annual revenue since 2016, which remained slightly over 21% a year before that. In the share market, company's stock prices crossed $1000 mark for the first time – 29% increment as compared to the last year (2016).
Its two founders, Larry page and Sergey Brin control 51% of voting power in the company, but owns less percentage of total stake. Institutional investors like Vanguard Group and Blackrock owns 8.77% and 7.67% of the company respectively.
2. Apple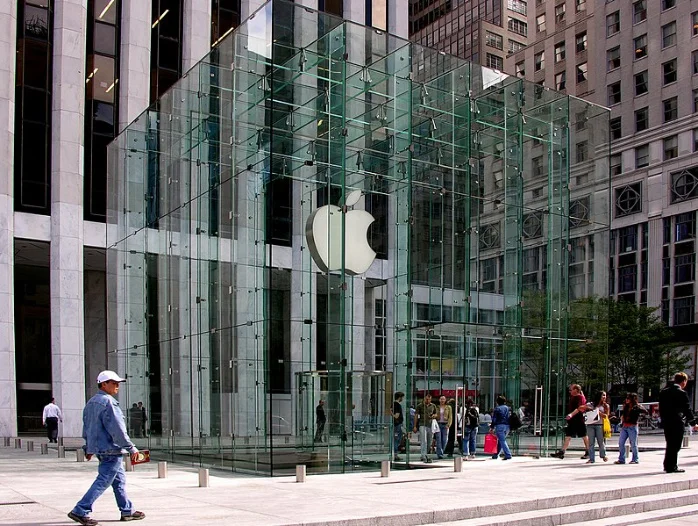 Apple retail store in Fifth Avenue, New York City  Image Courtesy: Ed Uthman
Brand Value: $170 billion
Last Year Rank: 2
Market Capitalization: $876 billion
According to Forbes, Apple's brand value has increased by 10% since the last year, along with 6.7% growth in sales. Most of the company's revenue comes from their one product; iPhone, which many consider the most profitable product in the history. As it stands, more than 60% stake in the company is currently held by giant institutional investors like Vanguard Group (largest investor), Blackrock Inc. State Street Corp. and Berkshire Hathaway.
Read: Microsoft Vs Apple: Stats and Facts
1. Amazon
Image Courtesy: Amazon.com
Brand Value: $150.8 billion
Last Year Rank: 1
Market Capitalization: $719 billion
Read: 23 Richest Engineers in the World
The eCommerce giant Amazon is without a doubt the hottest brand in the world right now. According to 2018 Global 500 report from Brand Finance, Amazon's brand value jumped 42% over the previous year, bringing its total valuation to $150 billion. One of the major factors leading to this astronomical rise in brand value is their recent acquisition of Whole foods.