The legendary MS Paint has been recently replaced by a more advanced tool, 3D paint. For more than 30 years, it came as an inbuilt tool for Windows. Things have changed now, but it is quite hard to completely forget the tool you have used since childhood.
One of the major downsides of MS Paint is, it isn't available for macOS. And unfortunately, Mac also doesn't come with a drawing app. They got Preview, but it never managed to create the magic as MS Paint did.
There was a time when Apple had a similar application called MacPaint, which was released with the first Macintosh in 1984. Later, Apple decided to sell it separately, but due to fewer sales, the distributor halted the application. Since then, Apple's MacPaint never made a comeback.
Although Mac doesn't have any default sketching app, there are tons of 3rd party tools that look and function like MS Paint. We've absolutely no idea why Microsoft doesn't take this as an opportunity to create a perfect Paint application for Mac, but other developers have. We are listing the best of them, select according to your requirements.
10. Seashore
Price: Free
Seashore is the basic image editing tool with an all-new Cocoa UI. It was released a long time ago, but it features anti-aliasing, textures, and gradients for both brush strokes and texts. More specifically, you will get full support for XCF file format, separate editing of layers channel, layer to layer merging effects, 6 gradient effects, and plugin filter effects.
The best thing is, apart from being a basic tool, it supports multiple layers and alpha channel editing. Overall, you won't get a feeling that you are using a decade-old software. We recommend it for all amateur users who want to perform some simple photo editing functions.
9. DeskScribble
Price: $10
DeskScribble allows you to draw on top of your window. It's an easy to use blackboard or whiteboard that you can use for your own or your kid's scribbles. It provides you Pencil, Eraser, color picker, thickness slider, and click-through tool to interact with other apps.
The software can be used for creating presentations, visual demonstration, desktop highlighting, annotations, and writing notes. It has full autosave, undo and redo support, so you don't have to care if you made an error, just undo your action and start over again.
8. Tux Paint
Price: Free
Tux Paint is a drawing tool specially designed for children. It combines a simple user interface, fun sound elements, and an encouraging cartoon mascot that guides kids as they use the tool. At startup, kids are presented with a blank canvas and several drawing tools to help them be build something creative.
There are plenty of fun graphic effects like "distortion" for messing up the lines, "confetti" for sprinkling the drawing with colored dots, "flower" for sketching flowers of any height, and much more.
7. GIMP
Price: Free
GIMP (stands for Image Manipulation Program) is an open-source image editor that comes with several advanced features, along with all the basic functions available in MS Paint.
It gives you a number of sophisticated tools to get your job done. You can adjust the pressure of the brush, weight, its hardness to get a smooth stroke and reduce jitters. Gaussian blurs, color adjustment, and color correction are some additional options to make your work look great. Moreover, you can install 3rd party plugins to further enhance your productivity and tool's functionality.
6. Paint 2
Price: Free | $10
With Paint 2, you can draw photos and edit your existing pictures. It lets you rotate, crop, and scale pictures, and at the same time, you can add text to images. The best thing is it supports layers, a magic selection tool, and tabs, so you can easily work on several photos without having to open it in separate windows.
Paint 2 supports all types of tools, including eyedropper, curve, ellipse, curved texts, transparency, gradient, shadow, reflection, and grid and rulers; all this for free. The premium version, Paint Pro, has some additional features. For instance, it supports retina display and advanced color adjustment. However, we suggest you stick with the free version if your requirement doesn't include detailed photography.
5. Paint X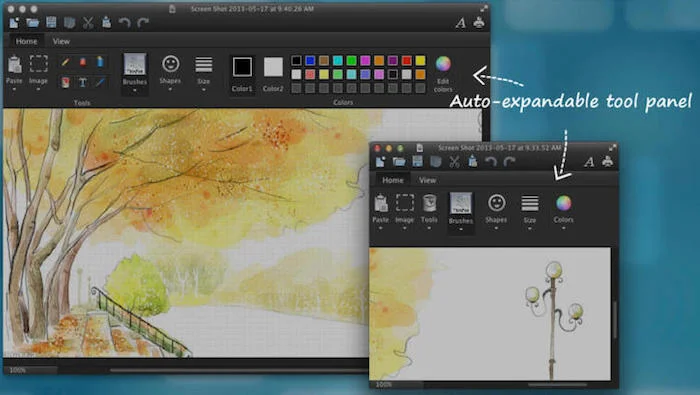 Price: $10 | Free version available
Paint X is a classic painting tool for sketching, coloring, and editing images. It is often used for creating simple pictures and projects, and adding text and designs to other images, like those are captured with a digital camera. It features some realistic brushes, ribbons and display choices out in the open rather than buried in menus.
The tool is packed with more than 150 inbuilt paintbrushes, including calligraphy brush, ink brush, blur brush, DNA brush, and many more. Over 25 predesigned shapes are included (oval, heart, cloud, smile) to make your sketch more interesting. The application looks modern, and because it is free, it's no harm to give it a shot.
4. Mischief
Price: $25 | 15 days trial available | a free version with limited capability
Although the application comes with a basic tool kit, you can use it to make some eye-catching artwork. Like MS Paint, it provides you with a pen, eraser, and various shaping tools. It also offers a few configurability and additional features like a 6 brush variant for quick access, an unlimited number of redo or undo, and more.
The free version comes with all essential tools with an infinite canvas, perfect for hashing out ideas. On the other hand, the premium version has more presets, layers support, and files can be exported to PSD files. The trial version gives you access to premium version software for 15 days. So before making a buying call, make sure you are satisfied with all features provided.
3. Photoshop Elements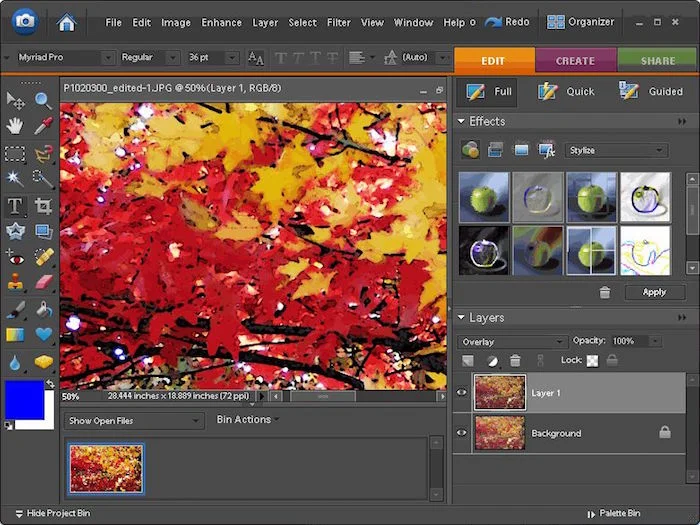 Price: $99
If Photoshop is too complex for you, there is a lighter version you can buy. This is primarily an image editing tool that helps you clean, crop, polish, and share your pictures. For instance, you can transform frowns into smiles, tweak squinting eyes, and make other quick adjustments.
Photoshop Elements allows you to create a collage of effects and add colors, brighten, enhance clarity, and add effects to multiple pictures at the same time. The price tag is quite high, but since it is a product distributed by Adobe, you can trust it.
2. Pixelmator
Price: $30
Pixelmator is the advanced version of MS Paint. It comes with a dark interface so that you can focus on the element you are working on. There are plenty of useful tools like sponge tools, blur, sharpen, and retouching tools.
What else? It's a real effect software that allows you to play with over 160 awesome effects, cover any area with beautiful gradient, replace and remix colors, improve ordinary images within one click, and adjust color using a professional-grade color correction tool. Overall, the application is worth every penny.
1. Paintbrush
Price: Free
Paintbrush is a lightweight and easy-to-use program that allows you to create simple pictures. It includes all functions that you get in MS Paint, such as rounded rectangle, zoom, airbrush, cropping, and image and canvas resizing. However, if you are expecting a high-end image editor, this tool is not for you.
Paintbrush supports transparency for image format having alpha channels like PNGs and GIFs. Also, you can paste a copied picture from different Mac applications, including Apple iWork and MS office.