Optalysys demonstrates its optical processing technology performing AI at the speed of light.

It uses energy efficient laser light instead of silicon processing technique.
The U.K-based technology company, named Optalysys has developed the first Convolutional Neural Network (CNN) using their Optical Processing Technology. The optical computing device utilizes spatial light modulators and lasers to execute complex numerical operations at very high speed while using less power.
The use of CNNs is rapidly growing, especially in the field of Image recognition and analysis based on machine learning techniques. It is also used in pivotal applications like medical image analysis, weather forecasting and autonomous vehicles. All these models require enormous computations, and involves multiple convolutional layers to be processed.
In the last few couple of years, with the advancement of graphic processors, CNN has also made some impressive progressions. However, they are still limited by high energy costs and breakdown of Moore's law.
The optical processing technology developed by Optalysys uses energy efficient laser light instead of silicon processing technique. This provides multiple orders of magnitude speed enhancement over traditional computer and consumes far less energy.
According to the company's CEO and founder Dr. Nick New, they have applied optical processing to extremely complex and highly resource demanding field of convolutional neural network with 70 percent of initial accuracy rates.
They have demonstrated this technology processing a convolutional neural network, using a well-known MNIST data that contains 10,000 testing characters and 60,000 training characters.
Major Projects Based On This Technology
This highly efficient and scalable approach (which is still in development phase) will not only provide new levels of cloud-based capabilities, but also enhance the potential of convolutional neural networks to mobile systems. This work led to some proof-of-concept projects.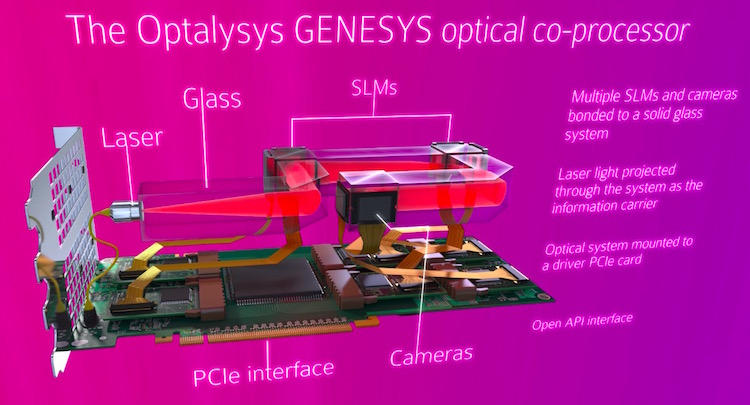 Project Genesys:A genetic search system prototype to carry out sequence searches of metagenomic reads in a large database of more than 64 million base pairs of 20 bacterial genomes.
Project Escape: A part of big collaboration project to build high-scale computing capabilities and next generation algorithms for European Center for Medium-Range Weather Forecasts.
Project Equate: A seeding project with DARPA to explore light-speed mathematical processing, which form the basis for extreme scale simulations like those used in fluid dynamics and plasma modeling.
About Optalysys
Optalysys is one of the rapidly growing startups that is working on implementing optical computing to artificial intelligence. They built their first coprocessor using a well-established diffractive optical techniques, which is based on low-power laser instead of electric current.
According to the company, their technology is largely scalable. In future, these systems can reach capabilities beyond the limits of what can be realized via traditional computing machines, by utilizing the most natural form of parallel processing – light.
These systems will be available in high performance computing machines, desktop computers, and cloud. Moreover, miniaturized systems will be integrated into hand hand held devices with the help of today's component technology.
Read: A New Form Of Light That Could Make Quantum Computing Possible With Photons
Other companies like Lightmatter, Light Intelligence, Lighton and Fathom Computing are working on the same field. They all use different types of optical techniques for encoding neural networks in order to provide way more energy efficient system than conventional GPU based learning.