Researchers develop a simple and 'green' method to produce silver nanoparticles loaded antibacterial powder. 

It can be mixed with paints and applied to walls in hospitals, toilets, and kitchen to give them antimicrobial coating. 
Silver nanoparticles have a wide range of applications, including antibacterial agents, catalysts, conductive ink, and substrates for surface-enhanced Raman spectroscopy.
Now, a team of researchers at Bhabha Atomic Research Centre, India's premier nuclear research facility, have developed a new technique to produce silver nanoparticles loaded antibacterial powder that can be mixed in paints and applied on surfaces, as well as used to clean water and help in waste management.
This antibacterial powder can be extremely useful, especially in places where chances of infection are high, such as walls in hospitals, toilets, and kitchen.
Developing Antimicrobial Powder
In general, the antimicrobial and catalytic activities of silver nanoparticles are based on their size. Smaller particles (less than 10 nanometers) are more effective but they are quite unstable and tend to agglomerate, which decreases its efficiency. Their reduced size also causes a problem of unwanted release of particles into the environment. 
To synthesize such silver nanoparticles, researchers used a spray-drying method. It's a simple, environment-friendly method that doesn't involve any harsh chemical. It uses a 'green' biopolymer obtained from the Acacia tree, named gum arabic, which enables chemical reduction and attaches nanoparticles with the silica substrate.
The team selected gum arabic for 4 main reasons –
The polymer is easier to spray-dry due to its compact spheroidal size and low viscosity.
Since it's soluble in water, the non-adsorbed biopolymer can be removed easily.
It quickly absorbs on ceramic, magnetic and alloy substrates through hydrogen bonding.
Since it has hydroxyl, carboxylate functional groups, it is capable of chelating and reducing metals.
Reference: Springer | DOI:10.1007/s13204-019-01031-3 | Vigyanprasar
Testing
The team studied different features of this composite material using advanced methods, such as field emission scanning electron microscopy, high-resolution transmission electron microscopy, X-ray diffraction, and Fourier transform infrared spectroscopy.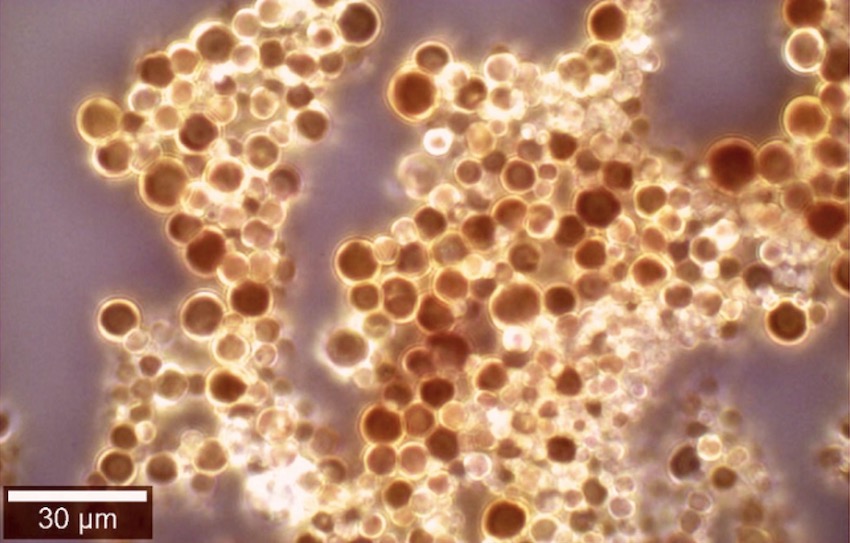 Microparticles loaded with nanosilver | Courtesy of researchers
They tested antimicrobial activities of the composite on Staphylococcus Aureus (a gram-positive bacterium) and Escherichia coli (a gram-negative bacterium). They found that the new composite material can effectively kill the bacteria at low doses. It's also possible to use it as a catalyst.
After application, one can easily separate the silica nanoparticles by replacing them with magnetic nanoparticles and then using an external magnet.
By taking advantage of evaporation-triggered self-assembly of particles and biopolymer, the team was able to develop surface-functionalized substrate onto which metal nanoparticles could be joined by just drying a droplet during the spray-drying process. What's more impressive is that the production can be easily scaled at low costs.
Read: New Window Coating Can Insulate Heat And Generate Electricity
Generally, silver nanoparticles are directly mixed with acrylic paints and applied. Some past researches suggest that about 30% of these particles from such paints are released in the environment within 12 months. According to the researchers, their new technique doesn't face this problem at all.