Nike is the biggest name in the sports footwear and apparel industry. It is undoubtedly one of the most recognized brands in the world.
In 2022, Nike was ranked 83rd in the Fortune 500 list of the largest companies in the United States. The brand was valued at more than $33 billion, making it the most valuable sports brands globally. In terms of sales and brand power, Nike is followed by Adidas and Puma.
While Adidas, Puma, and Reebok are some of the main competitors of Nike, there are several other sports brands that actively compete in the footwear market. Besides sports shoes and apparel, these companies produce accessories and other equipment.
Before we explore and analyze Nike's competitors, let's find out why and how Nike became the company it is today.
Nike Company Overview
Nike was initially founded as Blue Ribbon Sports by Phil Knight with his track and field coach Bill Bowerman on January 25, 1964. The company started out as a foreign distributor for Onitsuka Tiger, a Japanese sports brand selling Japanese running shoes.
In its first year of operations, BRS' revenue was just over $8000, which jumped to $20,000 a year later, in 1965. Over the next two years, the company opened its first retail stores and a distribution center outside Oregon.
1971 was a pivotal year for the company. That year, not only was it rebranded as Nike, but the company also officially introduced its iconic Swoosh logo. Moreover, that year, BRS launched its own merchandise for the first time after ending a decade-long partnership with Japanese firm Onitsuka Tiger.
If we know anything about Nike, apart from its quality shoes, it is its high-performance marketing strategy. Its unforgettable slogans and commercials, such as "Bo Knows," There Is No Finish Line," and "Just Do It," have made the brand what it is today.
Below are 17 Nike competitor brands that you should know about.
9. Lululemon Athletica
Lululemon Athletica at Markville Shopping Center | Image Courtesy: Raysonho/Wikimedia Commons
Founded In: 1998
Headquarters: Vancouver, Canada
Lululemon is one of the most recognized sports apparel brands in the U.S. It has about 324 stores across the country and over 570 stores worldwide. For three consecutive years, between 2010 and 2013, Lululemon was recognized as one of the fastest-growing companies by Fortune.
The company was founded in 1998 by Canadian billionaire Chip Wilson. He controls all of his personal and business interests, including his stake in Lululemon Athletica, through a holding company, Hold It All Inc.
Lululemon is widely regarded as the pioneer of the hybrid clothing trend – athleisure. It was the first company to manufacture and sell yoga pants. In fact, Lululemon initially started as a retailer of yoga pants and other specialized yoga wear.
One of the reasons behind Lululemon's meteoric growth in recent years is the rising global yoga wear market. According to an estimation, the total market value of yoga wear globally will reach almost $40 billion by 2028.
Today, the brand offers a wide range of athletic and athleisure clothing, from undergarments, shorts, and yoga pants to tops and jackets. You can also find yoga accessories and personal care products.
Finances
Lululemon went public through IPO in July 2007, raising more than $320 million. That year, the company reported net revenue of $2.65 billion and a $1.39 billion net profit.
In 2021, Lululemon's net revenue stood at $6.2 billion compared to $4.4 billion in 2020, an almost 40 percent increase. The company acquired a fitness software startup, MIRROR, for half a million in 2021.
8. ASICS
ASICS store in New Towns, Hong Kong | Image Courtesy: CAHOGNSUIE 202 KADPA
Founded In: 1949
Headquarters: Kobe, Japan
ASICS is a major Japanese apparel and footwear manufacturer with operations in all major global markets. It is one of the most iconic brands in the world.
ASICS was founded in 1949 by a Japanese business magnate Kihachiro Onitsuka as Onitsuka Co., Ltd. The company initially focused on producing basketball shoes but soon expanded to other sports. It was later renamed Onitsuka Tiger.
In the 1950s, the Japanese brand gained worldwide popularity after the success of its 'Mexico 66' design featuring a distinctive cross-stripped pattern. Perhaps the biggest reason behind its popularity was its promotion by Bruce Lee.
Onitsuka Tiger played a crucial role in the early success of Nike as the company initially sold Onitsuka shoes in the United States. In 1963, after graduating from Stanford University, Phil Knight visited Onitsuka Tiger headquarters in Japan to obtain the rights to sell its products back in the U.S.
In 1977, Onitsuka Tiger changed its name to ASICS Corporation after acquiring a couple of smaller apparel companies. However, the company continues to use the Onitsuka Tiger label for its vintage range of shoes.
Finances
In 2021, ASICS net sales stood at 404 billion Japanese Yen and a net income of 9.4 billion Yen. About 60 percent of the company's total income comes from the sale of its performance running shoes (¥208 billion).
Geographically, roughly 26 percent of the company's total sales are from Japan, followed by 25 percent from Europe, 20 percent from North America, and 12 percent from China. According to a survey, ASICS is Japan's third most popular sports brand after Nike and Adidas.
7. FILA
FILA inline skates | Image Courtesy: Santeri Viinamäki/Wikimedia Commons
Founded In: 1911
Headquarters: Seoul, South Korea
Fila was established by Giansevero and Ettore Fila in 1909 as a local textile shop in the city of Biella, Piedmont, Italy. It gradually expanded from a local knitwear shop to a national textile brand. By the 1940s, Fila had evolved into a full-scale textile manufacturing company.
In the mid-1970s, Fila made an important strategic decision to enter the sportswear industry, more specifically, in the tennis sports sector.
The brand gained international popularity after its sponsorship deal with the tennis legend Björn Borg in the 1980s.
Fila entered the U.S. market in the early 1990s and shifted its focus from clothing to athletic footwear. In order to increase its sales and brand awareness in the U.S., the company made several endorsement deals with former NBA players. The most prominent among them was Detroit Piston forward Grant Hill.
Grant Hill's endorsement deal helped Fila USA to become the third-best-selling athletic footwear company, behind Nike and Reebok, from 1994 to 1996. It was briefly the fastest-growing footwear brand in America.
The ownership of the company has changed multiple times over the years. In 2003, Fila was acquired by a U.S.-based PE firm Cerberus Capital Management (through Sports Brands), for $350 million. At the time of the sale, Fila's consolidated debt stood at more than $300 million (€259 million).
Sports Brands International managed all Fila businesses across the globe except Fila Korea, which was a separate company operating under a brand license. In 2007, Fila Korea acquired the entire Fila brand, including all its international subsidiaries. As a result, the company headquarters was moved to Seoul, South Korea.
While Fila is not as big as it was in the mid-1990s, especially in the United States, it is still a major sports apparel manufacturer.
6. Under Armour
Founded In: 1996
Headquarters: Baltimore, Maryland, U.S
Under Armour is a multinational sports equipment and apparel manufacturer based in Baltimore, Maryland. The company produces a wide variety of sports gear for athletes, from t-shirts and shorts to shoes, bags, and other accessories.
Under Armour was founded by Kevin Plank at the age of 24 on September 25, 1996. He started out from his grandmother's rowhouse in Washington, D.C. At that time, Kevin played as a fullback on the University of Maryland football team.
Under Armour's first product was a moisture-wicking t-shirt made of microfibers. The product became an instant hit as there was no real competitor producing such a kit.
The company subsequently launched several performance clothing lines, such as ColdGear and Heatgear. In 1996, Under Armour generated about $17,000 from its HeatGear shirts alone.
By the early 2000s, Under Armour created a near-monopoly in the performance apparel sector, which eventually forced the most established companies, such as Nike, Adidas, and Reebok, to launch their own moisture-wicking apparel lines.
Under Armour went public in November 2005, raising $157 million through the IPO. It was the first U.S.-based IPO to rise 100 percent on its first day of trading in the 21st century.
In 2015, Under Armour bought fitness tracker apps MyFitnessPal (for $475 million) and Endomondo ( for $85 million) in an aggressive effort to expand into biometric measurement and clothing as a service segment. Before, the company acquired MapMyFitness for $150 million in 2013.
Finances and Endorsements
In November 2020, Under Armour announced a new brand in partnership with NBA star Stephen Curry called the Curry Brand. The launch of this new brand follows Under Armour's recent quarterly earnings, resulting in $1.43 billion in revenue, which was flat in comparison to 2019.
5. Skechers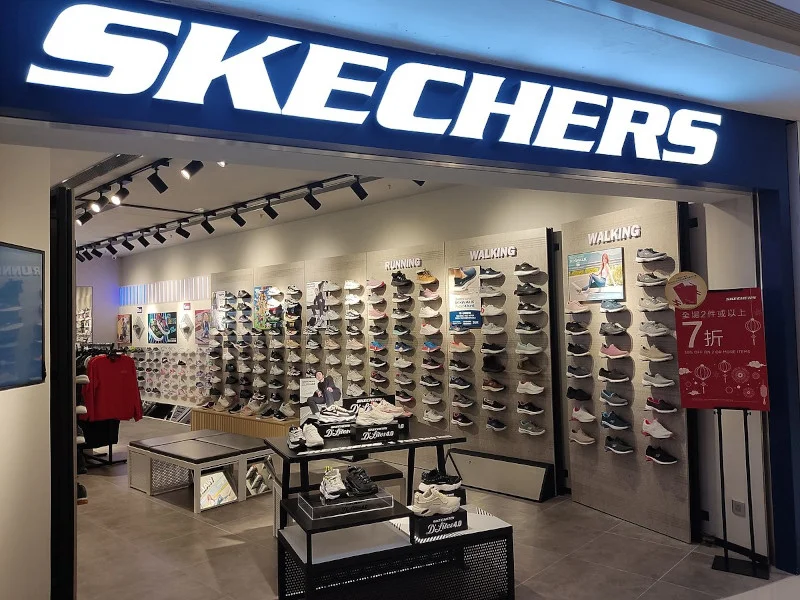 A Skechers store in Hong Kong | Image Courtesy: Zhauming Ayoryallb/Wikimedia Commons
Founded In: 1992
Headquarters: Manhattan Beach, California, U.S.
Skechers is one of the biggest competitors of Nike in the footwear industry for a reason. It is the third-largest footwear brand in the United States in terms of annual turnover and the highest-selling specialist footwear company in the world.
Compared to Nike and Addidas, Skechers is a relatively new company, founded only in 1992 by Robert Greenberg (chairman and CEO). Before establishing Skechers, Greenberg founded L.A. Gear, a Los Angeles-based shoe company, in 1983. He served as the CEO of L.A. Gear until his resignation in 1992.
Skechers initially offered casual footwear exclusively for men. But, it quickly introduced specialized footwear for women and children. The brand launched its first line of athletic footwear in 2011.
Today, the company designs and manufactures a wide range of performance footwear and apparel for both adults and kids.
Finances
In 2019, its global net sales amounted to nearly $5.2 billion. The sales have increased by over $3 billion from 2014 to 2020.
The average price for Skechers' footwear brands in 2019 was $21.67, which is lower than Nike's by a wide margin.
4. New Balance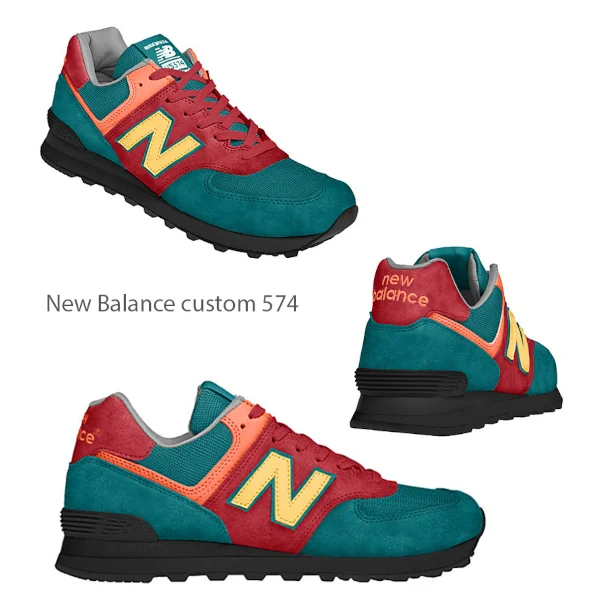 New Balance custom shoes | Image Courtesy: Petar Milošević
Founded In: 1906
Headquarters: Boston, Massachusetts, U.S.
Though it may not sound like one, New Balance is one of the oldest footwear manufacturing companies in the United States.
While it specializes in athletic footwear, the company is also known for its line of everyday sneakers. In fact, New Balance is one of the most treasured sneaker brands among fashion enthusiasts globally.
The company was founded in 1906 by an Irish immigrant Willam J. Riley as New Balance Arch Support Company, manufacturing arch support for shoes. The company solely produced arch supports for over five decades before launching its first running shoe, the "Trackster," in 1960.
The Trackster is perhaps the most iconic shoe in the company's history, which gained massive popularity among college and school sports teams in the 1970s and 1980s.
New Balance recently announced that it would relaunch the Trackster as part of its retro offerings.
The footwear company sponsors some of the biggest sports organizations in the world, including the Boston Red Sox and New York Mets of the Major League Baseball and the National Basketball Association.
In November 2018, New Balance signed a long-term endorsement deal with two-time NBA champion Kawhi Leonard. The NBA superstar was previously under a contract with Air Jordan, a subsidiary of Nike. The brand is also endorsed by Mets' Francisco Lindor.
Finances
The private company reported an annual revenue of $4.5 billion in 2021 and is on track to reach $5 billion in 2022. About 35 percent of its total revenue comes from the U.S., and the remaining 65 percent from other international markets.
Why are New Balance Shoes Expensive?
New Balance merchandise is usually more expensive than its competitors. This is mostly due to the company's manufacturing practices.
Unlike other large shoe manufacturing companies that exclusively manufacture outside U.S. and Europe, New Balance manufacture many of its popular shoe designs in these regions.
3. Reebok
Founded In: 1958
Headquarters: Boston, Massachusetts, USA
Reebok is a U.S.-based sports footwear and clothing company owned by Authentic Brands Group, which owns more than 60 clothing brands, including Brooks Brothers, Jimmy'z, and Van Heusen.
The origin of the company can be traced back to 1895 when Joseph William Foster started making spiked sports shoes of his own design from his father's shop in England. A few years later, Foster founded an athletic shoe company, J.W. Foster and Sons, with his father, which pioneered the use of spikes in various sport's shoes.
In 1958, the two grandsons of the founder, Joe and Jeff Foster, left their family business to establish Reebok. One of the main reasons to establish a new company by the Foster brothers was the rising competition from foreign brands such as Adidas and Puma.
Reebok has designed numerous commercially successful sports footwear over the years. In 1982, the company released Reebok Freestyle, the first-ever sports sneakers for women. The product became so popular so quickly that in 1984, the shoe sales accounted for more than 50 percent of Reebok's total sales.
In the late 1980s, Reebok launched another popular line of athletic shoes, the Reebok Pump. The shoe was distinctive due to its custom-fit inflatable chambers. Some of the other iconic product lines from Reebok include Reebok Zig, Nano, and Workout Plus.
In 2005, Reebok was acquired by Addidas as a subsidiary for $3.8 billion. The deal allowed Addidas to close the gap with his largest competitor Nike in terms of annual global sales.
However, the company was sold again in 2021 to New York-based Authentic Brands Group for $2.5 billion.
Endorsement and Sponsorships
If Nike has Michael Jordan as the face of the company, Reebok has Allen Iverson. The 11-time NBA-All Star signed his first endorsement deal worth $50 million with Reebok in 1996 (after he was selected by the Philadelphia 76ers as the first overall pick).
With Allen Iverson, Reebok produced the second-longest running basketball shoe line, 'Question' (1996-2010), after Nike's Air Jordan.
Iverson's impact on Reebok brand power can be measured by the fact that he still receives $800,000 annually from the company even though he played his last NBA game in 2010.
2. Puma
Puma headquaters in Herzogenaurach, Germany | Image Courtesy: Aarp65
Founded In: 1948
Headquarters: Bavaria, Germany
The Puma brand doesn't need any formal introduction. It is the third-largest sportswear brand after Nike and Addidas. The company was established by prominent German businessman Rudolf Dassler in 1948.
Did you know Adidas was founded by none other than Adolf "Adi" Dassler, the older brother of Rudolf Dassler? Before establishing his own company, Rudolf worked with his brother as partners at Dassler Brothers Shoe Factory, which later became known as Adidas.
Due to conflicting ideas on how to run the business and increasing disputes between the brothers, they split the business with Rudolf starting his own company named "Ruda (the first two letters of his name)." It was changed to Puma a few months later.
After the split, both companies entered into a fierce rivalry that has only intensified over the years. Puma and Adidas compete with each other for market share, as well as lucrative endorsement deals.
A famous incident highlighting this rivalry took place in the 1970 FIFA World Cup. Before the event, the two footwear brands entered into an agreement not to approach soccer (football) player Pele for any advertisement deal.
However, Puma broke the agreement with Addidas and later signed an endorsement deal with Pele worth $120,000.
A few seconds before the start of the World Cup quarter-final match between Peru and Brazil, Pele walked straight to the center of the field and knelt down to tie his shoelaces, attracting the attention of cameras and viewers to his Puma shoes. The relations between the two companies worsened after this incident.
Sponsorships
The Switzerland national team with Puma kit on July 3, 2018 | Image Courtesy: Wikimedia Commons
Puma has sponsorship deals with some of the biggest sports teams and players around the world. A few of them include the following –
Neymar
Switzerland's national football team
Lega Serie A (Italian football league)
LaLiga Santander (La Liga — Spanish league)
Borussia Dortmund (German league)
1. Adidas
Embroidered Adidas logo | Image Courtesy: warrenski/Flickr
Founded In: July 1924
Headquarters: Bavaria, Germany
Adidas is the biggest competitor of Nike, both in and outside the United States. It is the largest producer of sportswear in Europe and the second largest in the world.
Adidas products are easily recognized by its iconic three-stripes logo. It manufactures a variety of clothing items, including shoes, t-shirts, jackets, hoodies, pants, and leggings.
The company was started by Adolf Dassler in his mother's house; he was joined by his elder brother Rudolf in 1924 under the name Gebrüder Dassler Schuhfabrik.
In 2006, Adidas acquired one of its biggest competitors in the fitness footwear market, Reebok, in a $3.8 billion deal. With this acquisition, Adidas widened its product range and extended its geographic reach.
Adidas competes with Nike and other big sportswear companies for partnerships with clubs, personalities, and sports associations.
Adidas Products and Sponsorships
Nike entered the sports apparel market in 1967 with the launch of the Franz Beckenbauer tracksuit. Beckenbauer is a former German football player and manager who won FIFA World Cup in 1974 as a player and again in 1990 as a manager.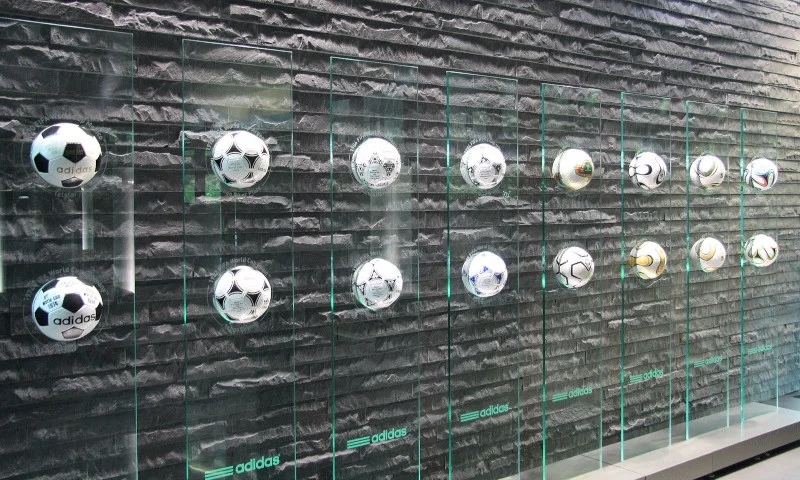 FIFA World Cup official match balls by Adidas | Image Courtesy: Bic/Wikimedia Commons
Football (soccer) has always been one of the main focuses of Adidas. The company produces everything from jerseys for players to referee kits and official match balls.
Since 1970, Adidas has been the official match ball supplier to the FIFA World Cup tournament. It is also one of the main official sponsors of the UEFA Champions League. In 2015, Adidas became the official kit manufacturer of Manchester United, replacing Nike after striking a 10-year deal with the English club.
The deal was valued at £750 million (US$1.29 billion), making it the biggest kit deal in the history of sports.
For a decade, between 2006 to 2017, Adidas was the official kit provider of all 30 teams in the National Basketball Association. However, it was replaced by Nike after the 2016-17 season.
Read: 33 Biggest and Most Expensive Tech Acquisitions Of All Time
Some Other Well Known Nike Competitors
1. L.A. Gear
Founded In: 1983
L.A. Gear is another immensely popular U.S.-based footwear brand that's worth mentioning. L.A. Gear was founded by Robert Greenberg (the founder of Skechers), a Boston native, in Los Angeles after being attracted by the athletic shoe industry.
The company went public just three years after it was established in 1986.
By the 1990s, L.A. Gear's annual sales crossed $800 million, and it became the third-largest athletic shoe company by sales in the U.S. after Nike and Reebok. In 1989, L.A. Gear's market value was around $1 billion.
However, into the 1990s, the company faced a series of mismanagement and financial issues. In 1991, L.A. Gear reported $66 million in net loss after retail stores refused to give shelf space to its products due to the company's bad marketing practices.
The next year, in 1992, L.A. Gear's stock declined more than 80 percent from $50 to $10 due to a decline in profits (though its market share continued to rise). The same year, Robert Greenberg resigned from his position as the CEO of L.A. Gear. He would later go on to establish Skechers in 1992. The company eventually filed for bankruptcy in 1998.
L.A. Gear made three attempts for a relaunch under different ownership and successfully did so the third time in 2003.
Sponsorships and Endorsements
LA Gear shoes have been endorsed by some of the greatest NBA players of all time, including Kareem Abdul-Jabbar, who ended his long-term endorsement deal with Addidas near the end of his career. Other NBA greats who have appeared in L.A. Gear commercials are Karl Malone and Hakeem Olajuwon.
It is also one of the very few athletic shoe brands that have signed endorsement deals with non-athletes. L.A. Gear was famously endorsed by international celebrities like Michael Jackson and Paula Abdul.
Catapult, one of the best-selling lines of L.A. Gear shoes, is similar to Air Jordans. It was originally endorsed by Karl Malone.
2. Vans
A Vans store in Manhattan | Image Courtesy: Ajay Suresh
Founded In: 1966
Vans is one of the largest and most popular skating shoe brands in the world. It was founded in 1966 by the Doren brothers, Paul and James, along with Gorden Lee as "The Van Doren Rubber Company" in Anaheim, California.
By the 1990s, the company had acquired the reputation of producing high-quality, durable, and rugged shoes. In 1991, Vans started to expand internationally with newer shoe designs.
In 1991, the company started expanding into other markets with newer models. The same year, the company was renamed Vans Inc. before going public on NASDAQ at $14 per share.
In 2004, Vans was acquired by V.F. Corporation, a Denver-based apparel holding company that owns popular brands such as The North Face and Timberland.
Top-line Vans shoes have always been in high demand, mostly due to their low production. Vans shoes have also been featured in various television shows.
In the 1982 comedy movie 'Fast Times at Ridgemont High,' actor Sean Penn was seen wearing a pair of customized Vans slip-on.
Recently, in 2022, Vans witnessed a spike in its white sneaker sales after being featured in the hit Netflix series 'Squid Game.'
3. Umbro
Manchester United Kit by Umbro (in the middle) at Manchester United Museum | Image Courtesy: edwin.11/Flickr
Founded In: 1998
Umbro is a British sports equipment manufacturer with operations in over a hundred countries. The origin of the company can be traced back to 1920, when it was established as a small family business by Harold and Wallace Humphreys. The name of the company was later changed to Umbro in 1924.
Throughout 1950, Umbro produced official kits for football teams and a few tennis players as well in the U.K. and a few tennis players as well.
In 1958, Brazil won its first FIFA World Cup wearing Umbro kits. Then in 1966, the England team won their first and only World Cup with Umbro. Interestingly, most of the teams participating in that tournament had Umbro kits (due to a deal signed in 1954).
In 2007, Umbro was acquired by Nike, reportedly for £285 million. However, just five years after its acquisition, in 2012, Nike sold the company to an American brand management firm Iconix Brand Group for roughly the same amount.
Before this deal, the F.A. announced that Nike would replace Umbro as the official kit provider for the England Football team.
Today, the company produces specialized rugby and football kits, including jerseys, boots, and other equipment for these sports.
4. Gymshark
Founded In: 2012
Gymshark is another British sports apparel and fashion brand that competes with Nike. Founded in 2012, the company does not operate any brick-and-mortar stores outside London, and most of its sales come from online sales. It is headquartered at Blythe Valley Park in Solihull, England.
The brand specializes in a wide range of fitness apparel, including t-shirts, workout vests, and leggings.
In 2019, Gymshark made £175.2 million in sales with £18.6 million in profit. About 50 percent of its sales revenue came from the United States. Its revenue in 2020 stood at £268 million.
In mid-2020, General Atlantic, a U.S.-based private equity firm, acquired a 21 percent stake in Gymshark, valuing the business at over £1 billion.
5. Champion
Founded In: 1919
Champion is one of the oldest operating clothing companies in the United States, with over a hundred years of history. The company was established in 1919 in Rochester, New York, as Knickerbocker Knitting Co.
During its initial years, Champion was the official partner and uniform provider for the Michigan Wolverines sports teams in the NCAA Division I. It changed its name to "Champion Knitting Mills Inc." sometime in the 1930s.
Champion produced uniforms for all NBA and NFL teams in the 1990s. It was also the official kit manufacturer for the 1992 U.S. men's Olympic Basketball team, also known as the "Dream Team."
The company was acquired by Sara Lee Corporation in 1989. In 2006, Sara Lee went through a major restructuring in which it spun off several of its clothing brands, including Champion, into a separate company called Hanesbrands Inc. As of now, Champion is the second best-selling sub-brand under Hanes.
In the last decade, Nike and Addidas have taken over numerous sponsorship deals from sports teams (mostly in the U.K.) that once partnered with Champion.
6. Li Ning
Founded In: 1989
Li Ning is the fifth-largest sportswear brand and China's second-most valuable listed apparel company. The company was founded by former Chinese Olympic gymnast Li Ning in 1989.
Li Ning offers a wide range of sportswear and equipment. It also has exclusive rights to distribute AIGLE (a French footwear brand) products in China.
In 2010, the company opened its U.S. headquarters in Portland, Oregon. The following year, Li Ning entered a partnership with a digital marketing company Acquity Group (now part of Accenture), to increase its brand awareness in the United States.
The company reported 14.4 billion yuan ($2.22 billion) in revenue with 1.7 billion yuan ($261 million) net profit.
Li Ning has long-term endorsement deals with some of the most popular NBA athletes, including Shaquille O'Neal, Dwyane Wade, and Jimmy Butler.
7. Hoka
Founded In: 2009
Hoka One One, or simply Hoka, is a French sportswear brand that specializes in running shoes. The company is known for producing oversized outsoles with extra cushions. This particular design was labeled "maximalist" as opposed to minimalist shoe design, which was popular in the early 2010s.
Hoka, produce max-cushion running shoes for every terrain. According to the company, the unique outsole design of its shoes helps increase stability.
The company was founded in 2009 by two former employees of the Salomon Group, one of the largest outdoor sports equipment producers in Europe. The shoe became an instant hit among long-distance marathon runners due to its enhanced stability.
Hoka gradually introduced lighter-weight shoes, which sell alongside its trademark max-cushion ones.
In 2013, the company was acquired by California-based Deckers Brands, which owns other fashion brands such as Teva and UGG.
8. K-Swiss
Founded In: 1966
K-Swiss is a California-based shoe brand that specializes in tennis footwear. The company was founded by two Swiss brothers, Art and Ernie Brunner, in 1966.
A few years later, the company released its first major product, the K-Swiss Classic. This unique tennis shoe was designed to support players' aggressive lateral (side-to-side) movement during play.
Due to its design and special capabilities, K-Swiss Classic became one of the most iconic sports shoes in the 1970s. The company launched its second best-selling product, the Gstaad, in 1986.
K-Swiss went public in 1990 and was named 'Company of the Year' by Footwear News magazine the same year.
Finances
The 2000s was perhaps the most successful decade for the company, at least financially. In 2002, K-Swiss was ranked the 10th best Small Company by Forbes. It reached $500 million in annual sales for the first time in 2005.
However, between 2009 and 2012, the company reported almost $200 million in losses due to rising competition. The company was eventually sold to E-Land World Limited for $170 million in 2013.
K-Swiss was later acquired by Chinese sports equipment and footwear brand Xtep International Holdings Limited in 2019.
Why you can trust us?
We thoroughly analyzed 30+ companies that give decent competition to Nike. It took more than 20 hours to do the comprehensive research, after which we decided to shortlist the 17 corporations based on their product line, annual sales, revenue, and brand value.
We DO NOT earn commission from any of the listed companies. Moreover, we have two separate editors who have no influence over our listing criteria or recommendations.
Read More 
15 Brands Like Zara You Should Try