A massive new study investigates the health risks associated with alcohol.
It considers data from previous 592 studies conducted between 1990 and 2016 in 195 countries, which involved over 28 million people.
The study shows that any level (including moderate) of alcohol intake contributes to health issues.
Although alcohol is one of the major reasons behind death and disability, its association with health is still not completely understood given the protective effects of low or moderate alcohol consumption.
Determining harm caused by alcohol intake is further complicated by several factors, such as acute intoxication that leads to poisoning or internal organ injuries, dependent drinking that leads to impairments, individual's drinking pattern and consumption volume.
To accurately analyze the health effects of alcohol, one needs to consider all of these factors carefully. Recently, The Lancet published a systematic analysis of alcohol use and burden for more than 190 countries and territories.
Improving Previous Estimates and Reports
In this study, researchers tried to improve vague estimates of alcohol intake and its associated health problems in 5 major steps.
To measure alcohol use among current drinkers, they consolidated over 690 individual and population-level data sources.
They built a technique to modify population-level data sources for alcohol taken by tourists.
They enhanced previous techniques that account for unrecorded population-level alcohol intake.
They conducted a new investigation on alcohol consumption and 23 related health problems, which is further used to build dose-response curve of associated risk.
Using the new examination technique and associated risk curve, they determined the exposure of alcohol intake that reduces overall attributable risk in a person.
The results suggest that there is no 'safe level' of drinking alcohol. It conflicts with most health guidelines that espouse benefits of consuming alcohol up to 2 drinks daily.
The study showed that up to 6.8% of men and 2.2% of women globally die from alcohol-related health problems every year. In fact, drinking just 1 glass a day raises the risk of developing 1 of the 23 alcohol-associated health issues by 0.5%. Moreover, among the population aged between 15 and 49 years, 12.2% male deaths and 3.8% of female deaths were attributable to alcohol consumption.
Reference: The Lancet | doi:10.1016/S0140-6736(18)31310-2
Any level of alcohol intake contributes to health issues, especially among men. Guidelines and regulations that emphasize on decreasing population-level consumption will effectively reduce the health loss from alcohol intake.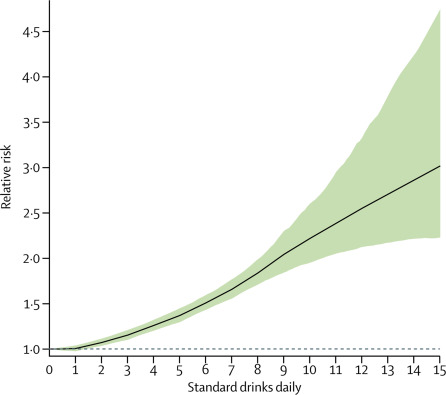 Courtesy of researchers 
While estimating the weighted relative risk curve, researchers discovered that the risk increases monotonically with increasing number of daily drinking. The curve changes significantly for patients with diabetes, cancer and heart diseases.
Read: SHERLOCK Paper Test Strip – Advanced Tool For Detecting Disease
However, since we do not want to upset you over this, it's worth mentioning that the risks of moderate consumption are fairly low. Although some extent of risk is always involved, it doesn't mean you should become a teetotaler. In fact, every task you perform on a daily basis comes with risk, from eating dinner to crossing the road. You just need to understand and manage those risks.