We all know how important it is to stay in school and college and get a good education. But not all people think in a similar way. A few people didn't even complete their school or college education, still they managed to achieve what millions of people dream of.
One of the most prestigious things a person can achieve in his/her lifetime is the Nobel Prize. It is awarded every year to those who have made outstanding contributions to humanity in literature, peace, chemistry, physics, medicine and economics.
Below, we have listed all Nobel prize winners who were dropped out of college — some of them actually dropped out of high school. Their hard work, natural talent and sheer luck helped them overcome their lack of education. Some of them even returned to school and college later in life, but that doesn't make them anything less than extraordinary. Let's begin the inspiring list.
10. George Bernard Shaw
Nobel Prize in Literature (1925)
Born in a lower-middle-class part of Dublin, George Bernard Shaw was an Irish playwright polemicist and critic who influenced Western theatre, politics and culture. He wrote over 60 plays, including 'Saint Joan' (1923), Pygmalion (1912) and 'Man and Superman' (1902).
From 1865 to 1871, Bernard Shaw attended 4 schools, and he didn't like even one of them. He wasn't very happy with formal education. He left school to work as a junior clerk in a Dublin firm of land agents. Because of his hard work, he raised to become head cashier.
In his lifetime, Bernard professed several beliefs, most of them were contradictory. His views on Christianity and religion were less consistent. He was involved in a controversy of smallpox vaccination in 1903. Also, he supported intermarriage between different human races, and racial equality.
9. Albert Camus
Nobel Prize in Literature (1957)
Born in 1913, Albert Camus was a French author and philosopher. According to an essay The Rebel (written by him only), his complete life was devoted to excavating into individual freedom while opposing nihilism philosophy. His ideas and views gave rise to absurdism.
Albert was not even one year old when his father was killed in World War I. His mother was an illiterate house cleaner and they both lived without basic material possessions for many years. Albert even won a scholarship for a decent high school but had to drop out (at the age of 17) due to tuberculosis.
Later he resumed his formal education and studied philosophy at the University of Algiers. However, he was only able to study part time. He worked as a car-parts clerk, assisted at the Meteorological Institute and gave tuitions to earn some money.
Although Albert's plays are the most underrated portion of his literary output, he loved theater. Later he became a journalist in France and gained reputation as leading literary personality. At 44, he was the second person to receive Nobel Prize in Literature, after Rudyard Kipling (in 1907). Unfortunately, Albert died just after 2 years in a car accident.
8. Leon Jouhaux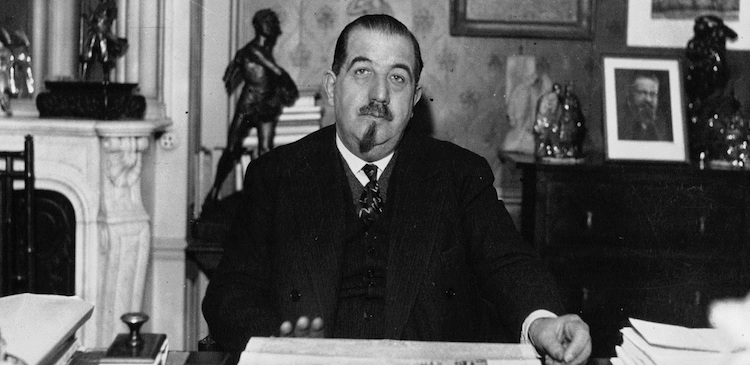 Nobel Peace Price (1951)
Leon Jouhaux was a French trade union leader, born in 1879, in Paris. Because of a strike in a match factory (Aubervilliers), where his father used to work, he had to drop out of secondary school to support his family. At the age of 16, he started working at the factory, and immediately became a crucial member of the union.
Jouhaux was involved in a strike against the use of white phosphorus, which was the reason behind his father's blindness. This got him fired (in 1900) and later he worked on several jobs before being reinstated.
Jouhaux was elected CGT (General Confederation of Labour) by the local union and soon he became secretary general of the organization. He worked for early labour movements — the right to union representation, paid holidays and eight-hour day. He also gave a number of speeches in different countries urging labor to unite in the cause of peace.
In 1949, he became the president of International Committee of the European Council. In 1951 Nobel Committee placed its emphasis on Jouhaux's contribution towards Franco-German reconciliation and social equality.
7. William Faulkner
Nobel Prize in Literature (1949)
Born in a middle-class family in 1897, William Faulkner is known for his short stories and novels. He also wrote a play, screenplays, essays and poetry. His work was not widely known until he got the Nobel Prize, and by the way he is the only Mississippi born Nobel laureate.
Faulkner dropped out of high school in 2nd year and devoted himself to reading and writing. Later, he attended University of Mississippi but didn't graduate. However, he enrolled in several university courses while writing and publishing poems in campus newsletters.
Two of his novels, 'The Reivers' and 'A Fable' awarded the Pulitzer Prize for Fiction. His novel 'The Sound and the Fury' was ranked 6th on the 100 best English language novels of the 20th century by Modern Library. In addition, his other novels, including 'Light in August' and 'As I Lay Dying' were on the same list.
6. Arthur Henderson
Nobel Peace Prize (1934)
Arthur Henderson was a Labour politician, born in 1863, in Scotland. He was known for his integrity, imperturbability and devotion to the cause. He served as Leader of the Labour Party in 3 different decades.
After the death of this father, his family went into poverty, which forced him to drop out of school. Later, when situation got a little bit better, he went back to school for 3 years before dropping out once again. At the age of 12, he started working as an iron moulder at Robert Stephenson and Sons' General Foundry Works. He became Local Preacher in early 1880's, and he began concentrating on preaching after losing his job in 1884.
Arthur was secretary of Labor Party (which he cofounded in 1906) for 23 years. In 1929, he became foreign secretary and 5 year later, he was awarded a Nobel Peace Price.
One more thing — his medal was stolen during a raid at the lord mayor of Newcastle's mansion house in 2013.
5. Harry Martinson
Image credit: svt.se
Nobel Prize in Literature (1974)
Born in 1904, Harry Martinson was a Swedish poet and author. He was very young when his parent died. At the age of 16, he ran away from the institution, and signed onto a ship and spent next 5 years sailing around the world.
His career as a poet and author started in 1929. His poetry combined love of nature and humanism. In 1949, he was elected into the Swedish Academy. One of his notable works is Anjara, a story of the spacecraft, published in 1956. The theme of his writings reflects his experiences of hard childhood and his deep interest in nature and science.
Martinson and his fellow Eyvind Johnson won a joint Nobel Prize for 'writings that catch the dewdrop and reflect the cosmos'. However, it was very controversial because both were in the Nobel panel as they were members of the Swedish Academy.
Martinson faced a lot of criticism for his award and it was getting very difficult for him to cope with these situations. Eventually, he committed suicide in 1978 at the Karolinska University Hospital, Stockholm by cutting his stomach.
4. Joseph Brodsky
Image source: Solidarnosc Bulletin
Nobel Prize in Literature (1987)
Born in Leningrad, Russia in 1940, Joseph Brodsky was one of the most renowned poets in the world. In early childhood, he suffered from various health issues caused by Siege of Leningrad, where he (and his parent) almost died of hunger.
In school days, Brodsky was known for his misbehavior during classes. He left school at the age of 15 and took several jobs. He worked as a milling machine operator, later he decided to become a physician, and also done a variety of jobs in hospitals.
Meantime, Brodsky learned Polish and gained a deep interest in mythology, religion, classical philosophy, and American and English poetry. He won Nobel Prize for 'an all embracing authorship, imbued with clarity of thought and poetic intensity'. He was also awarded Struga Poetry Evenings Golden Wreath Award in 1991.
In 1972, Brodsky was expelled from Soviet Union, and moved to US where he taught as a professor in many universities including Michigan Columbia, Yale and Cambridge. On 28th January, 1996, Brodsky died of heart attack.
3. Herbert Charles Brown
Nobel Prize in Chemistry (1979)
Herbert Charles Brown was born in London in 1912. After 2 years, his family moved to Chicago. He was a very bright student, but due to his father's death, he had to drop out of school. Brown soon realized he can't make his career in business and therefore he returned to school and later joined two colleges (Crane Junior College and then Wright Junior College) before moving to the University of Chicago, from where he got his PhD in 1938.
Brown and Georg Wittig was awarded a joint Nobel Prize for 'development of the use of boron and phosphorus containing compounds into important reagents in organic synthesis'. More specifically, Brown developed an approach in which chemical compounds having boron element were made to react with carbon compounds in order to generate other carbon compounds. Today, these reactions are used to create medicines and various products.
Brown also went on to teach at several other collages and universities and later became an honorable member of the International Academy of Science. Other than Nobel Prize, he won National Medal of Science (1969), Priestley Medal (1981), AIC Gold Medal (1985) and NAS Award in Chemical Sciences (1987). He died of a heart attack in 2004.
2. Jose Saramago
Nobel Prize in Literature (1998)
Born in a small town of Portugal in 1922, Jose Saramago was one of the most gifted novelists in the world. He was a cofounder of the European Writer's Parliament and founding member for the National Front for the Defense of Culture in Lisbon.
He was dropped out of grammar school due to his family's financial reasons. He attended a technical school where received auto repair training. For 2 years, he worked as a car mechanic, and then as a translator and journalist. He got a post of assistant editor of the Diário de Notícias newspaper, where he worked until 1974.
His books have been translated into 25 languages and over 2 million copies have been sold in Portugal alone. He supported libertarian communism and criticized institutions like European Union and Catholic Church. As an atheist, he defended love as an instrument to enhance human condition.
His writing style was way different – he used to write long sentences, sometimes longer than a page. Most of this paragraphs extend for pages with no pausing for dialogue. In addition, he didn't like to use proper nouns. He used to define his characters by some unique characteristic.
Read: 15 Scientists That Are Not Rewarded Fairly For Their Contribution
Other than Nobel Prize, he won Camoes Prize, America Award and São Paulo Prize in Literature. He died of cancer (leukemia), at the age of 87, in June 2010.
1. Albert Einstein
Nobel Prize in Physics (1921)
The man who needs absolutely no introduction. Albert Einstein was an average student who had a deep interest in science and mathematics. He drop out of school when he was 15. At the age of 16, he took Swiss Federal Polytechnic entrance examination and failed, but obtained impressive score in mathematics and Physics.
In 1896, he qualified the Swiss Matura with exceptional grades, including a top grade of 6 in physics and mathematics. When he turned 17, he enrolled in 4 year physics and mathematics teaching diploma program at the Zurich Polytechnic.
Einstein won the Nobel Prize for his contribution to theoretical physics, especially for discovering law of the photoelectric effect, which is a key step in the evolution of quantum theory.
Einstein is best known for his general relativity, mass energy equivalence (E=mc2), Planck-Einstein relation (E=hf), gravitational wave, cosmological constant, EPR paradox, unified field theory and Ensemble interpretation.
Read: 12 Unknown Facts About Albert Einstein
In his lifetime, Einstein published over 300 scientific and 150 non-scientific papers, containing more than 30,000 unique documents. He died at the age of 76, in Princeton Hospital, having continued to work until near the end.