The Internet connects billions of devices and people using a standardized set of rules (called protocols). It's a set of inter-networked computer systems that holds tons of information and spans the entire world.
Who actually runs the Internet?
There are two short answers to this question.
1) No one
2) Lots of people
Nobody actually owns it. No company or government can lay claim to owning the Internet. However, there are organizations that determine the Internet's architecture and how it works. These organizations might not own the entire system, but they can impact your Internet experience. Let's find out what kind of organization they are, what they really do, and how do they influence the internet.
10. World Wide Web Consortium (W3C)
The World Wide Web Consortium is the main international standards organization for the WWW, founded by Tim Berners-Lee. It has a number of member organizations that maintain full-time staff to work together in the development of standard World Wide Web.
How do they affect the Internet?
The W3C develops protocols and guidelines that enable an open web platform, by focusing on issues of accessibility, internationalization, and mobile web solution. They also engage in education and outreach, develop software and also serve open form discussion about the Web.
9. International Organization for Standardization Maintenance Agency (ISO 3166)
The ISO 3166 is a standard that defines codes for the name of countries, dependent territories, special areas, and their principal subdivisions (like states). It is regularly updated to reflect changes in country names and subdivisions.
How it affects the Internet?
Using ISO 3166 codes (a combination of letters and numbers that are understood all over the world) saves time and errors. For example, all national postal organizations exchange international mail identified with the country code. Internet Domain Name Systems use the codes to define Top-Level Domain names such as 'in' for India, 'fr' for France, etc.
8. Internet Architecture Board (IAB)
The Internet Architecture Board is a panel of elected officials that oversees technical and engineering development of the Internet, and a number of Tasks Forces like the Internet Research Task Force. It was first created by Defense Advanced Research Projects Agency (US) in 1979, with the name Internet Configuration Control Board. In 1992, it became IAB under ISOC, as a part of the Internet's transition from United States government entity to an international public entity.
How do they affect the Internet?
As the Internet grows stronger and bigger, the IAB makes certain that the Internet's global system is up to the task. It provides aspects of architecture for the network protocol used by the Internet and oversight of the process used to create Internet Standards. The IAB is also responsible for the publication and editorial management of the RFC (Request for Comments) document series.
7. Internet Engineering Task Force (IETF)
The Internet Engineering Task Force is an open standard organization (formed in 1986) that develops and promotes voluntary Internet standards. Their aim is to provide relevant, high-quality data that influence how people design, impact and manage the Internet.
How do they affect the Internet?
IETF is dedicated to "making the Internet work better." If the developers of the Internet are students, the IETF acts as a tutor, teaching and providing guidance to those wanting to improve the Internet. The working groups are organized into areas application, operation and management, infrastructure, security, routing, and transport.
6. Internet Research Task Force (IRTF)
The Internet Research Task Force is composed of a number of focused and long-term research groups. These groups work on things related to Internet protocol, application, architecture, and technology.
How do they affect the Internet?
Unlike IETF, IRTF focuses on longer-term research issues of engineering and standards making. The IRTF chair ensures that research groups produce coordinated, coherent, architecturally consistent, and timely output as a contribution to the overall evolution of Internet architecture.
5. Internet Corporation for Assigned Names and Numbers (ICANN)
The Internet Corporation for Assigned Names and Numbers maintains the 'coordinates' of the Internet, from IP address to web address. They make sure that no two connections have the same name. Despite their status as a non-profit organization, in 2011, ICANN was worth nearly $100 million.
How do they affect the Internet?
ICANN is responsible for the methodology and maintenance of several databases of unique identifiers, ensuring the network's secure and stable operation. Much of its work has concerned the global Domain Name System, including the operation of Root Name Servers and the introduction of new generic Top-Level Domains. It manages Internet Protocol address spaces and assigns address blocks to regional Internet registries. Without it, we wouldn't know who or where we are on the Internet.
4. International Telecommunication Union (ITU)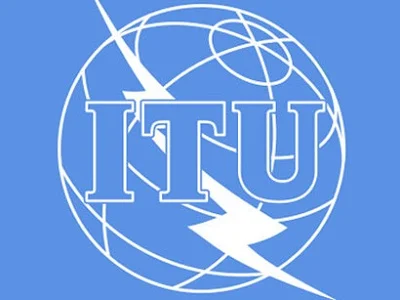 The International Telecommunication Union is an agency of the United Nations, established in 1865. It has 3 sectors, each managing different aspects: Radiocommunication, Standardization, and Development.
How do they affect the Internet?
ITU focuses on issues and concerns associated with information and communication technologies. They coordinate the radio frequency on earth and space, promote international cooperation in assigning satellite orbits and work to improve telecommunication infrastructure. Moreover, they organize worldwide exhibitions and forums, such as ITU Telecom World, to exchange knowledge, ideas, and technology.
Any nation with any grievance regarding the Internet can report to the ITU. They ensure fair play across the Internet on an International scale.
Bottom line: The organization of sort of 'High Court' of the Internet.
3. Internet Society (ISoc)
The Internet Society is a non-profit organization founded in 1992. It aims to acknowledge that the Internet is for everyone and work to maintain that vision. It has a membership base of more than 55,000 members and more than 130 organizations.
How do they affect the Internet?
ISoc ensures that the Internet remains a place for learning with up-to-date information. They conduct their activities under 3 main categories: Standards, Public Policy and Education. They work with governments, organizations, and private sectors to promote policies on the Internet that conforms to its core values. ISoc tries to maintain the integrity of the Internet, for example, they make sure that the .org domain is restricted to empowering and non-commercial use. Moreover, they encourage innovation and thinking by providing rewards.
Read: 8 Different Types Of Cloud Computing
2. Internet Governance Forum (IGF)
Image credit: wikimedia
The Internet Governance Forum brings all stakeholders together in the Internet governance debate, whether they represent the private sector, governments, or civil society.
How it affects the Internet?
Different workshops, focus sessions, best practice forums, dynamic coalition meetings take place during IGF meetings. The stakeholders discuss, exchange information, and share good practices with each other. The IGF facilitates a simple understanding of how to maximize Internet opportunities and address challenges and risks. It also helps to extract solutions to the problems that arise due to the use or misuse of the Internet.
Read: How Many Satellites Would Require To Build Quantum Internet?
1. Internet Service Provider (ISP)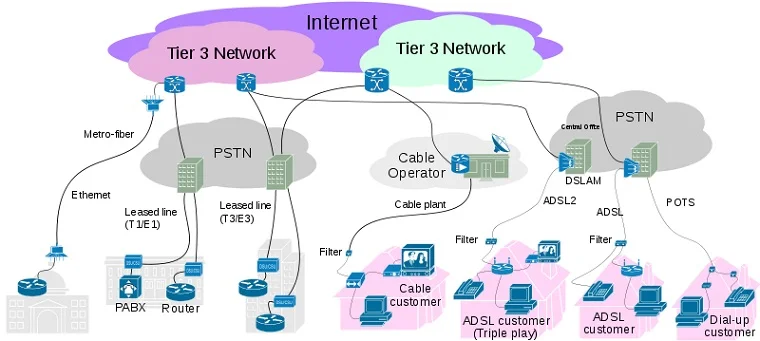 Image credit: wikimedia
The Internet Service Provider is an organization that provides services for accessing and using the Internet. It may be commercial, non-profit, privately or community-owned.
The services provided by ISPs include
Internet Access
Internet transits
Domain name registration
Web hosting
Colocation
Usenet service
Read: 12 Largest Data Centers In The World [By Size]
They provide Internet access to homes and businesses, and often email services and other features, employing a range of technologies to connect users to their network (like wireless Ethernet and fiber optics).
The first ISPs were established in the United States and Australia. 'The World' was the first commercial ISP in the US that served its first customer in November 1989.