Paper trading is also referred to as virtual stock trading. The term was very popular before the advent of online trading platforms when aspiring traders would practice on paper before putting their money in the market.
Paper trading is done by manipulating imaginary money and investment positions in a manner similar to the real markets. It's a great way for beginners to practice new and different investment strategies.
Today, most practice trading involves the use of a digital stock market simulator that looks and acts like a real trading platform. These simulators have increased the ease and popularity of paper trading in recent years.
Below, we have listed some of the best paper trading apps and platforms that allow you to trade live markets without committing real money. You can reliably test various strategies and record the value of investments over time.
9. Moomoo
Ratings: 4.6/5 from 10,000+ users 
Platform: Windows | Mac | Android | iOS | Web-based
Moomoo offers various investment products and services. The company, Moomoo Inc, is headquartered in Palo Alto, California, and is an indirect wholly-owned subsidiary of Nasdaq listed Futu Holdings Limited.
It is equipped with more than 60 technical indicators and 22 drawing tools that help you discover trends and potential opportunities for your own investment strategy; for example, the option and P&L diagram show single and option combinations. Combined with stock, it helps you examine the P&L methodologies.
You can rank your stocks according to their investment values, profit and loss, and get P&L details for each stock. The app also provides global financial news and a detailed analysis of stock price fluctuations.
Pros 
Create customized screener
Gives you a detailed insight into the price action
AI-driven alerts
Full extended hours trading
Cons
Moreover, Futu organizes the US stock paper trading competition from time to time, which aims to educate investors and help them learn techniques of stock trading investment.
8. Bear Bull Traders
Ratings: 4.1/5 from 1,500+ users 
Platform: Web-based
Bear Bull Traders is specifically developed for active traders. It aims to improve the trading experience for all, and this mission is fulfilled through five pillars of success:
Learn technology
Create a strategy
Master psychology
Build a TradeBook
Community mentorship
The platform is packed with valuable educational resources as well as excellent ongoing support needed to become consistently profitable. In addition to a huge library of video tutorials, users enjoy access to webinars, trading psychology training, and a private chat room.
Pros 
Live screen sharing and commentary is available during market hours
TradeBook templates for your reference
Plenty of educational content
Focuses on the psychology of trading
Cons
Pricey monthly membership fees
Paid members get 3-months of access to the DAS Trader Pro simulator. It facilitates testing and implementation of different trading strategies, allows you to accurately back-test trades in various market conditions, reduce losses, and gain trading experience based on actual market scenarios.
7. Warrior Trading
Ratings: 4.9/5 from 2,100+ users 
Platform: Windows | Web-based
The Warrior Trading Simulator allows you to practice trading using virtual currency. It gives you the ability to trade in US equities markets and US options markets.
The company has worked directly with NYSE and NASDAQ, giving you direct access to Level 2 quotes and instantaneous order execution. Once you sign up, you will have $200,000 (virtual money) in your account to test your strategies safely before trading with real money.
The simulator functions exactly like an actual brokerage account — you can buy and sell stocks in real-time conditions. Unlike other platforms, it allows you to practice the same hotkeys and methodologies you can expect to use while trading on the live market. Generate hotkeys for going long or short, create profit targets and stop orders, put a stop at breakeven, and cancel all orders with just one click.
Pros 
Trade with $200,000 in virtual buying power
Provides structured trading methods
Advanced Reporting
Nicely organized courses
Cons
Minimal focus on longer-term trend trading strategies
Expensive
Overall, new beginners can learn the basics, advanced traders can learn a new perspective, and everyone in between can pick up new insights they cannot get anywhere else. All your trading data is stored securely to generate easy-to-read performance reports.
6. Stock-Trak
Ratings: 4/5 from 1,000+ users 
Platform: Web-based
Stock-Trak presents information in an easy-to-understand way. It has been one of the leading providers of stock market simulators and personal finance tools since 1990.
Specially designed for students, the platform contains more than 300 lessons, each with built-in pop quizzes. It is now used by more than 1k professors and 70k students every year, including 89% of the top US Business Schools.
Its virtual trading application allows you to trade the US stocks, futures, options, bonds, mutual funds, and equities from 50 global exchanges. If you are a professor and using this application for teaching students, you can create custom events by setting the initial cash balances, trading dates, currency, commission, eligible security types, and diversification.
Usually, students receive $500,000 in their virtual accounts, which they can use to manage their portfolios. The platform has all essential data points such as income statements, cash flow statements, historical prices, balance sheets, option chains, SEC filing, accounting ratios, etc.
Pros 
Fully customizable
Offers a granular level of reporting and tracking
Over 300 lessons each with built-in pop quizzes
Supports over 50 global exchanges
Cons
Doesn't have a mobile app
No advanced technical indicators
It also includes company info, charting tools, and analyst ratings directly into the trading page, so users can do their research all in one place.
5. MarketWatch Virtual Stock Exchange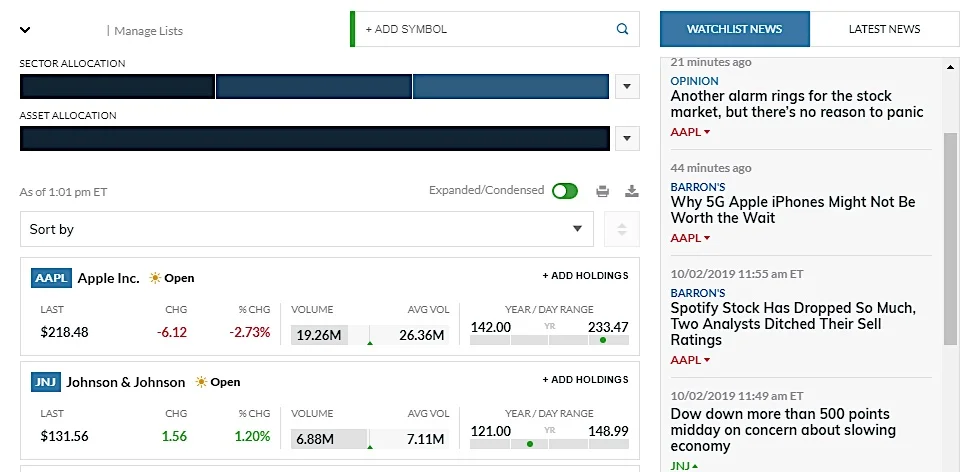 Ratings: 4/5 from 5,000+ users 
Platform: Web-based
While MarketWatch is best known for providing financial information and business news, it also offers a free stock market simulator to build and manage virtual portfolios.
With this simulator, you can trade actual stocks and mutual funds listed on NYSE, NASDAQ, and AMEX exchanges. When you open an account, you get an individual portfolio worth $1,000,000. You can use this virtual cash to buy and sell shares in real-time.
The platform has a simple reporting system that allows you to monitor your investments and see the overall change in your (virtual) net worth on daily, weekly, or monthly basis.
In addition to managing an individual portfolio, you can participate in competitions or create your own virtual stock league to compare how your strategies perform in the real market situation.
Pros 
A convenient and straightforward simulator
Hassle-free registration process
Build and monitor custom watchlists
Absolutely free
Cons
Doesn't include advanced charts or technical indicators
Focused more on news than educational resources
While creating new competition, you can set your own rules such as the amount of cash each participant starts with, minimum transaction cost, or volume of stock that can be traded, etc. The platform gives a ranking to all participants based on their returns.
4. TradeStation
Ratings: 4.5/5 from 20,000+ users 
Platform: Windows | Android | iOS | Web-based
TradeStation is best known for its electronic trading platform and technical analysis software. It provides various educational and training resources designed to spark new trading ideas and help you continually improve your trading skills.
You can access its simulated trading account to test your strategies in real-time without risking your capital. You also have access to huge historical market databases, which make it easier to back-test your stock, futures, and option trading techniques on decades of historical market data.
You can add dozens of popular technical studies to your chart and customize their parameters. Use drawing tools to detect significant movements and patterns quickly.
Pros 
Dynamic market-scanning tools
Fully customizable charting
Get automatic notifications on positions that are moving significantly
Trade in ETFs, futures, options, and cryptocurrencies
Cons
No forex trading
UI can be improved
Overall, the platform gives you everything you need to test, execute, and improve your own trading strategies.
3. NinjaTrader
Ratings: 4.3/5 from 1,000+ users 
Platform: Windows | Web-based
NinjaTrader is perfect for active traders who want lots of technical analysis tools. It provides a simulated trading platform as an integral module of the trading education process.
This simulated trading platform runs on a high-performance backtesting engine. It allows you to accurately simulate your trading methodologies on historical data and analyze their past performance.
The platform boasts excellent charting, customizable technical indicators, real-time analysis, and thousand of applications and extensions from third-party developers.
Pros 
Advanced charting and strategy backtesting
Replay historical market data tick by tick
Hundreds of educational videos and media-rich help guide
Thousand of third-party add ons
Cons
As far as customer support is concerned, you can reach them by phone, email, or an online support form. Their team excels in prompt replies with inquiries addressed within 30 minutes during market hours. They also have a User Forum, where an active user community interacts directly with the NinjaTrader support team.
2. Thinkorswim by TD Ameritrade
Ratings: 4.7/5 from 250,000+ users 
Platform: Windows | Mac | Android | iOS | Web-based
Thinkorswim is perfect for those who want to trade equities and derivatives while accessing advanced charts and technical indicators. It provides services for self-directed option traders and institutional investors who trade in equities, futures, exchange-traded funds, mutual funds, and bonds.
You can utilize over 400 technical studies, including basic support, resistance, candlestick, and profile charts. The platform also supports advanced trading methodologies with complex charts, such as monkey bars and Renko charts, and up to 20 drawing tools with 8 Fibonacci tools.
It stores all your trades, including paper commissions, and provides in-depth P&L analysis. You can review such detailed data regularly to find errors in your strategies and fix them. Plus, there are several online courses and in-person workshops to teach you how to improve your trading strategy.
Pros 
Professional-level charting
Futures, options, and forex capability
Live market news and insights
Software and charts are fully-customizable
Extensive educational resources for beginners
Cons
Option tools aren't very user-friendly
Does not offer fractional shares
Thinkorswin is completely free for users who have an active account in TD Ameritrade. To get started, all you need to do is
Log on to your account at TDAmeritrade.com
Go to the Trade tab and select Start swimming today
Download and install Thinkorswim
Before logging into the application, slide the toggle switch (under the username & password) to PaperMoney.
You can now start trading with virtual money.
1. Webull
Ratings: 4.7/5 from 234,000+ users 
Platform: Windows | Mac | Linux | Android | iOS | Web-based
Like other companies that offer a demo account, Webull paper trading gives you an option to gain some experience before investing real money. The platform offers various training materials that help you study differents strategies without taking risks.
For example, Webull provides 12 charting tools, 50 technical indicators, and Nasdaq TotalView, so you precisely analyze trends, individual companies, and seize trading or investing opportunities.
You can configure the trading panel the way you want — activate trade widgets to quickly place trades with the price ladder and buttons to reverse your positions, cancel all positions or open orders at the click of a button.
Pros 
Opening an account is quick and easy
Access to professional intelligent analytics and trading tools
Includes a wide variety of educational materials
No limitations on implementing strategies
Cons
No support for trading in Futures, Bonds, and Mutual Funds
The platform also supports voice commands, such as "search," "buy," and "sell." If you get stuck at any step, their customer service representatives can guide you through the platform and answer all your queries.
Read: 13 Best Market Research Tools You Must Use This Year
Other Equally Good Paper Trading Apps
10. Investopedia Simulator
Ratings: 3.9/5 from 4,000+ users 
Platform: Web-based
The Investopedia Stock Simulator is well integrated with the website's educational content. It uses real data from the markets in order to recreate the experience of using a real online brokerage account. Every user starts with a $100,000 virtual cash balance, which can be used to trade stocks and test different strategies in real market conditions.
The platform has been used for various reasons:
Professors use it as a tool to introduce students to the stock market
Some employ it to test and develop new investing strategies
And a few use it to experience what it feels like to place a trade
Regardless of your financial knowledge and trading skills, this simulator can help make you a better investor. Asset management, foreign exchange markets, and trading courses make the platform exceptionally good.
11. Best Brokers Stock Market Game
Ratings: 4.5/5 from 30,000+ users 
Platform: Android | iOS
With this Best Brokers Game, you can improve your knowledge about the stock market and test new trading strategies directly from your smartphone.
You start with a total virtual cash balance of $25,000. The app allows you to trade more than 60,000 stocks and even cryptocurrencies (Bitcoin, Ethereum, Dogecoin, etc.) in real-time. It includes some powerful tools like order limits and stops.
There are options to view weekly/monthly/yearly charts, order history, and add price alerts for your favorite stocks. To make things more interesting, it connects you with other users and friends so you can exchange insider information or compete against them.
Read: 10 Best Financial Services Compliance Software
Frequently Asked Questions
What are the advantages and disadvantages of paper trading?
Paper trading sounds boring, but it's a great way to practice execution skills, track performance records, and gain confidence in your method.
| | |
| --- | --- |
| Pros | Cons |
| You cannot lose money due to poor timing or bad decisions | Doesn't prepare you emotionally for losses |
| Provides key data required for effective risk management | Some demo accounts use delayed data (15-20 minutes) |
| Helps you identify issues you may not have considered | Paper traders do not deal with all kinds of hidden charges from slippage and commissions |
How many types of market simulators are there?
There are two types of stock market simulators:
Financial Market Simulator allows traders to create a portfolio based on real stock entries. Typically, it uses a delayed data feed of up to 20 minutes. Some simulators generate random data to mimic price activity. They are designed to let users practice with virtual money in a real-world context so they can decide whether or not they would become profitable investing by themselves.
Fantasy Simulators are used for trading shares or derivatives of real-world items that wouldn't be listed on the share or commodities market; for example, TV series, movies, and sports events.
Read: 16 Most Expensive Stocks (Per Share) In The World
Who can benefit from paper trading?
Although paper trading is extremely beneficial for new traders, it can also help professionals develop and test new strategies. People who haven't been in the stock market can use it to experience what it feels like to place a trade.
Taking the time to test different strategies with paper trading can help you avoid losses and remove the emotions from your trading since you aren't risking real money.