Some cars are fast, some are fuel-efficient, and some are difficult to find. If the history of cars teaches us anything, some of the finest models ever created were produced in limited numbers, adding to their demand, status, and present worth.
When German inventor Carl Benz patented his Benz Patent-Motorwagen in 1886, it was considered the birth year of the cars. The price of the car was 600 German marks (about 150 US dollars). In the twentieth century, cars became widely used, and industrialized economies relied on them.
Cars swiftly overtook animal-drawn carriages and carts in the United States. The 1908 Model T, an American automobile manufactured by the Ford Motor Company, was the first car available to the general public. The demand for automobiles in Europe and other parts of the world did not start until after World War II.
Ferrari 250 GTO is one of the world's rarest automobiles, a masterpiece designed and maintained by Enzo Ferrari himself. In 2018, the 1964 Ferrari 250 GTO set an all-time high selling price of $70 million, making it the most expensive and rarest car.
Do you know more rare cars holding a high value and having limited units? If not, our list of the 14 rarest cars worldwide would help you learn about them.
14. Ferrari 250 GT California Spider SWB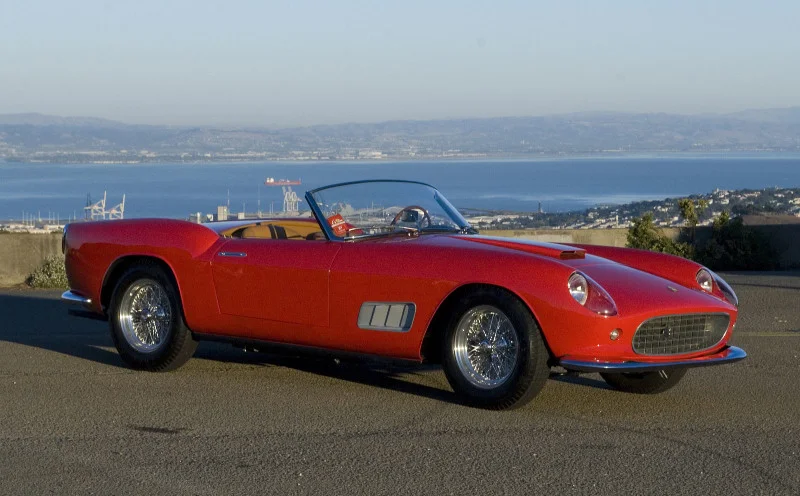 Ferrari 250 GT California SWB at Twin Peaks, San Francisco | Image Courtesy: Daniel J. Leivick
Units Produced: 55
Production Year: 1960
Price: $17.1 million
The Ferrari 250 GT California Spyder SWB is a convertible GT model of the iconic Ferrari 250 introduced at the Geneva Motor Show in 1960. The car is fitted with a 265 hp V12 engine that takes it from 0 to 60 mph in 6 seconds.
The 250 GT California Spyder was a far superior car to most of its competitors at that time due to its powerful engine, lightweight body, and upgraded disc brakes. The combination of aluminum body and interior leather finishes gives an elegant look. A cloth cover added behind the seats is neat and adequately proportioned but has no inner lining. A small heater is also added to make the interior more comfortable.
Due to its performance and limited availability, it quickly became one of the most desirable cars of the 1960s. In March 2016, a surviving 250 GT SWB was sold for more than $17 at an auction, the highest anyone has paid for the car.
Did you know the movie 'Ferris Bueller's Day Off' featured a custom-built fiberglass-bodied recreation of a 1961–1963 250 GT California Spyder?
13. Porsche 917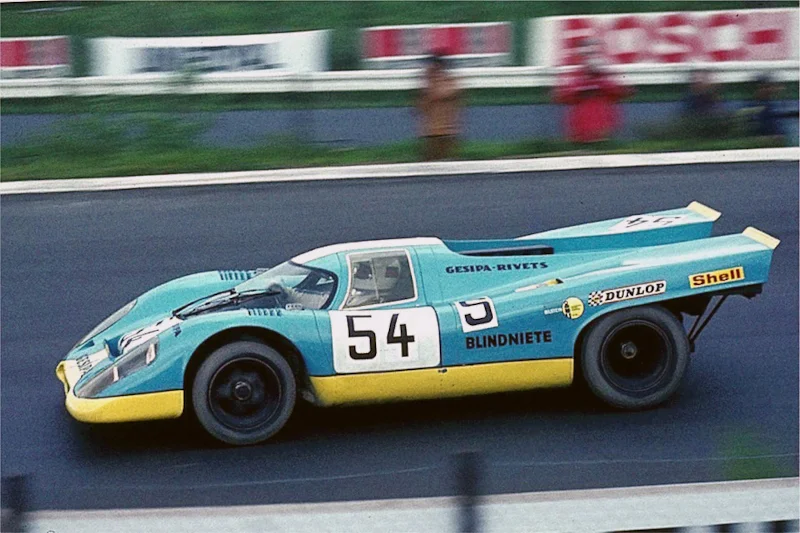 Porsche 917 K at the 6 Hours of Nürburgring race in 1970 | Image Courtesy: Lothar Spurzem/ Wikimedia Commons
Units Produced: 37
Production Year: 1969
Price: $14 million
The Porsche 917 is the rarest sports vehicle designed and produced by German automotive manufacturer Porsche. The car was produced between 1969 and 1971 in two main variants; the original Porsche 917, of which only 25 units were built, and 917 K with 12 units. A total of 37 units of Porsche 917 were ever made.
The car is powered by a Type 912 Flat-12 engine with displacements of 4.5, 4.9, or 5 liters and could reach 0–62 mph in 2.3 seconds and 0–124 mph in 5.3 seconds.
The 1971 Porsche 917's frame was built of highly flammable magnesium. This was the era when 'winning races' was given more importance than 'safety.' In 1970, the car won the 24 Hours of Le Mans for the first time. The memory of this awe-inspiring sports car remains intact among the most hardcore racing fans even decades after it was last seen on any track.
This magnificent machine was featured in the Steve McQueen film Le Mans in 1971, which took its popularity to a whole new level. In 2017, it was auctioned for $14 million, setting a new record for a Porsche vehicle. 
In 2009, Porsche hosted a special celebration at the Goodwood Festival of Speed to commemorate the 40th anniversary of the 917.
12. Ferrari 250 GTO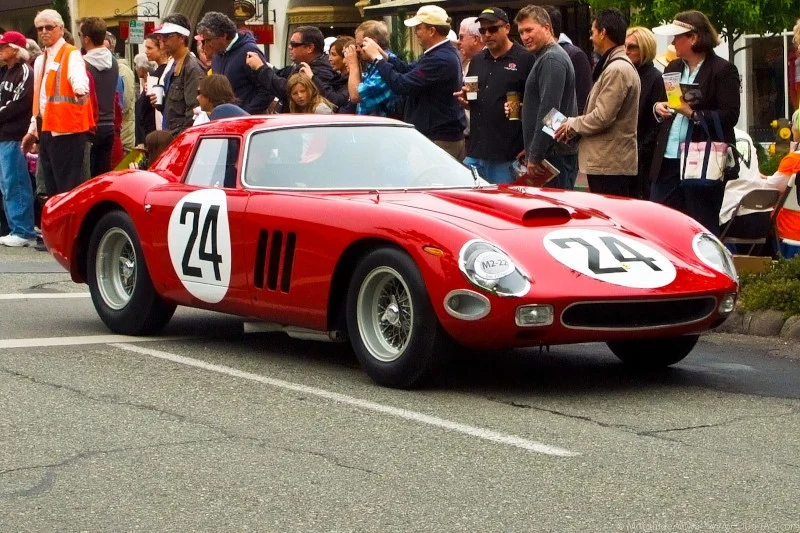 1964 Ferrari 250 GTO at an event | Image Courtesy: Moto "Club4AG" Miwa
Units Produced: 36
Production Year: 1964
Price: $70 million (the most expensive unit ever sold)
The Ferrari 250 GTO is a modern-day legend. It is one of the rarest Ferrari models and is known for its classic appearance, drivability, and handling.
The high-performance V12 engine and aerodynamic body design allow the car to get as fast as 170 miles per hour. A-arm front suspension, Borrani wire wheels, and rear live-axle with Watt's linkage further improve the car's stability.
The 250 GTO is one of the marque's most successful racing vehicles, winning approximately 300 races worldwide. It won three consecutive GT World Championships in 1962, 1963, and 1964. The car also won the 12-hour race at Sebring, the Le Mans, the Targa Florio, and the Spa 1000km. The car's styling, rare production, and engine composition made it a racing legend.
The 250 GTO is, without a doubt, one of the most remarkable tourer cars ever produced.
11. Ferrari 250 Testa Rossa
1958 Ferrari 250 Testa Rossa or TR | Image Courtesy: Wikimedia Commons
Units: 33 (including all variants)
Production Year: 1957
Price: $39.8 million
The Ferrari 250 Testa Rossa is a sports car produced from 1956 to 1961 and released in 1958. The car is fitted with a naturally-aspirated V12 engine which promises a peak speed of 168 mph. The 1764 lbs curb weight and the overall body design offer excellent handling at fast speeds.
Its high price reflects its unique attributes and unbroken race-winning run. Testa Rossa has continued to live up to its name as a strong contender for "one of the fastest vehicles ever."
The 250 Testa Rossa won 10 World SportsCar Championship races between 1958 and 1961, including
The Targa Florio in 1958;
The 1000 Km Buenos Aires in 1958 and 1960;
The 24 Hours Le Mans (1958, 1960, and 1961);
The 12 Hours Sebring in 1958, 1959, and 1961, and
The Pescara 4 Hours in 1961.
10. Pagani Huayra BC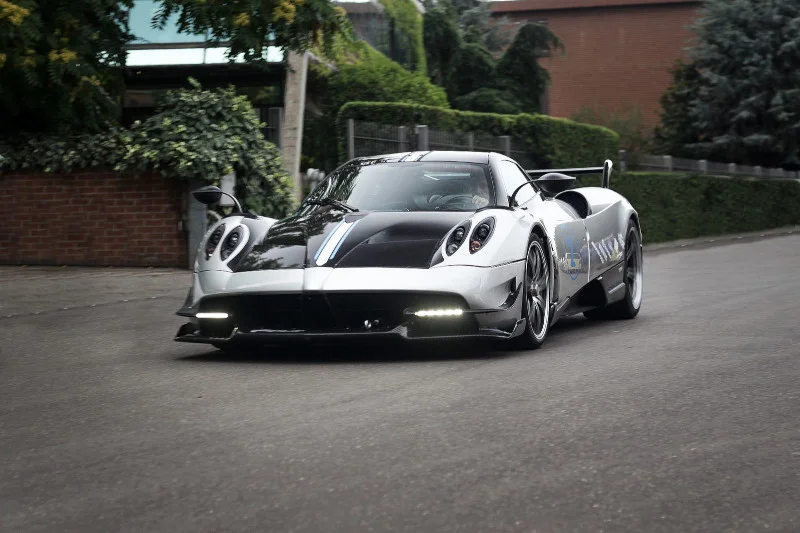 Pagani Huayra BC | Image Courtesy: Wikimedia Commons
Units: 20
Production Year: 2017
Price: $2.5 million
The Pagani Huayra BC, which debuted at the 2016 Geneva Motor Show, is a track-focused adaptation of the Huayra sports car. The key aspects of the model include control, fantastic stability, and outrageous performance.
The Huayra BC has a lighter titanium exhaust system, new aluminum alloy wheels, and a sleek interior. It also features a revised bumper structure, extensive side skirts, and a substantial rear wing. In addition to all of the above, it also includes an air diffuser that covers the whole diameter of the bumper.
The car is powered by a Mercedes-AMG 6.0-liter V-12 engine producing 816 HP and 811 pound-feet of torque. It can reach 0-60 mph in 2.2 seconds and have a top speed of 236 mph.
The car may be bought with a roof scoop as an option. Its external components are designed to reduce drag and increase downforce. Overall, Huayra BC is a perfect amalgamation of exclusivity and creativity, adhering to individual customers' needs.
9. Aston Martin DB4 GT Zagato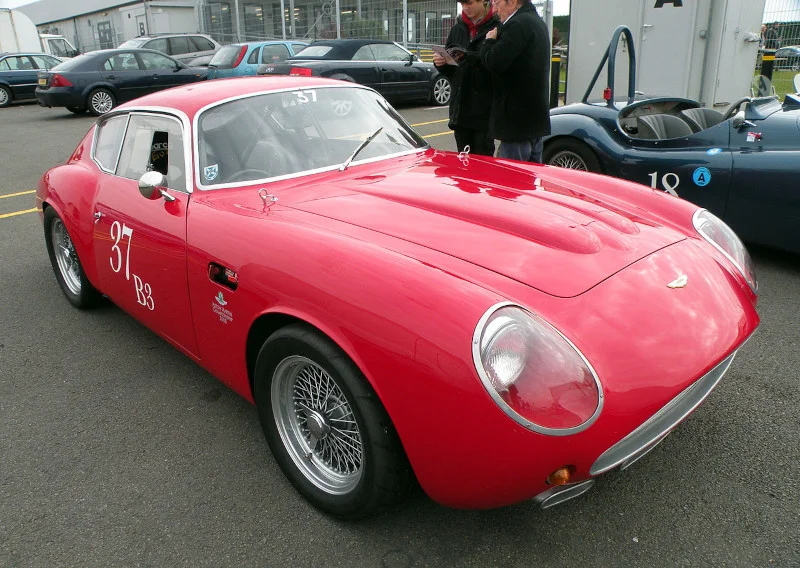 Aston Martin DB4 Zagato | Image Courtesy: Matthew Hipwell/Wikimedia Commons
Units: 19
Production Year: 1962
Price: $14.3 million
The DB4 GT Zagato is a specially modified grand tourer sports vehicle produced between 1960 and 1963. With just 19 units in existence, the DB4 Zagato is one of the rarest cars in the world. The 'Zagatos' are based on Aston Martin DB4 GT and were modified by Zagato Works, a specialized Italian auto firm.
The Aston Martin DB4 GT Zagato used a 3.7-liter aluminum twin-spark straight 6-cylinder engine with a 9.7:1 compression ratio, which is more efficient in terms of performance than the original DB4 GT engine. The engine generated 314 horsepower, and it took 6.1 seconds to go from 0 to 60 mph (97 km/h), delivering a peak speed of around 154 mph (248 km/h).
The engine specification was changed multiple times throughout its racing lifespan. The car was upgraded with an advanced suspension and braking system to meet racing requirements.
The limited quantity of this model makes it one of Aston Martin's most desirable and collectible cars.
8. W Motors Lykan Hypersport
Lykan Hypersport in Monaco | Image Courtesy: W Motors Press
Units: 7
Production Year: 2013
Price: $3.4 million
The Lykan Hypersport is the first indigenously designed sports car in the Middle East. It was developed by W Motors, a Dubai-based automotive company, in a joint collaboration with foreign designers.
The car is powered by a 3756 cc Flat-six engine with a reported maximum power output of 780 HP at 7,100 RPM and 960 Nm of torque at 4,000 RPM. The engine is located in the middle of the rear axle.
The Lykan Hypersport features a classic aesthetic and angular styling with a carbon-fiber body. The dynamic spoiler and proprietary reverse dihedral door system make the car unique, at least in terms of design. Furthermore, the Lykan includes more than 400 diamonds lined LED headlights and the world's first holographic mid-air display with interactive motion control.
Several purpose-built Lykan Hypersport or replicas have been featured in movies and live shows.
7. Bugatti Type 41 Royale Kellner Coupe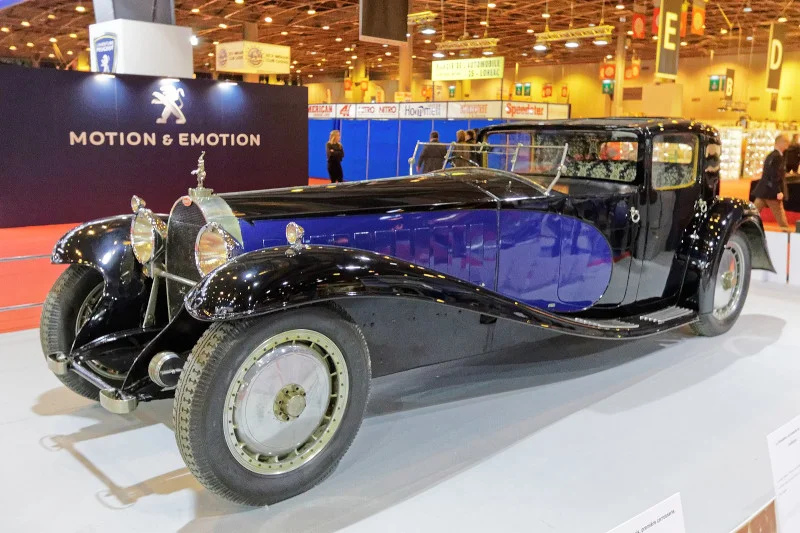 Bugatti Type 41 at Retromobile show in Paris | Thesupermat/Wikimedia Commons
Units Produced: 7
Production Year: 1927-1933
Price: $9.7 million
The Bugatti Type 41 Royale Kellner is one of the earliest luxury cars produced in the United States. Between 1927 and 1933, seven Bugatti Type 41 were made. However, due to the Great Depression, Bugatti was able to sell only three of them. In 1931, one of the seven Type 41 Royale Kellner was destroyed in an accident.
Anyhow, the Type 41 Royal Kellner is the largest Bugatti, both in terms of length and engine displacement. The overall length of the car is 6.4 meters. They are fitted with a 12.7 liters inline eight-cylinder engine producing 300 HP. The prototype car was powered by a bigger 14.7-liter engine with the same horsepower.
Bugatti Type-41's sheer size and historical significance make it one of the unique vehicles in the history of the automotive industry.
6. Pagani Zonda
Revolución
Pagani Zonda Revolución at Geneva Motor Show | Image Courtesy: Navigator84/Wikimedia Commons
Units Produced: 5
Production Year: 2013
Price: $2.6 million
The Pagani Zonda Revolución is a variant of the Pagani Zonda R and a track-only car designed by one of the most exclusive Italian sports car manufacturers – Pagani. It made its public appearance at the 2007 Geneva Motor Show. only five cars were built.
The Revolución is powered by an upgraded version of the Mercedes-Benz M120 V12 engine used in Zonda R and has a maximum power output of 791 hp and 730 Nm of torque. It can accelerate from 0 to 60 mph in just 2.7 seconds and has a top speed of 233 mph.
The car feature a Bosch traction control system, enhanced Brembo brakes, and an upgraded vertical stabilizer to support the rear wing. Moreover, Upgrades like F1-style Inconel exhaust and a race-grade multi-disc clutch pack make this vehicle more special.
5. Aston Martin DBR1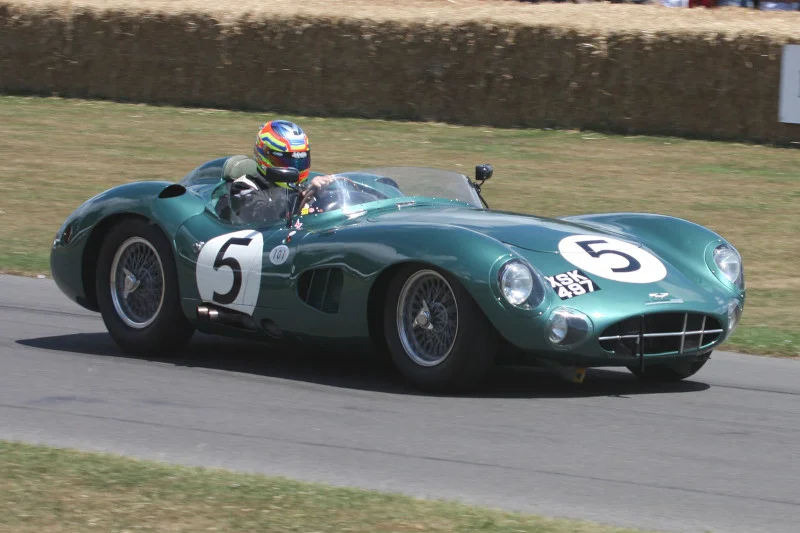 Aston Martin DBR1 | Image Courtesy: Brian Snelson/Flickr
Units Produced: 5
Production Year: 1956
Price: $22.5 million
The Aston Martin DBR1 is a sports racing car produced and designed by Aston Martin for use in both championship and non-championship races. It is mostly known for winning the 1959 24 Hours of Le Mans, Aston Martin's only complete victory in the iconic endurance sports car race event.
The DBR1 is an improved machine — lighter and more powerful than its predecessor. A 20-gauge magnesium-alloy body, which is sensitive to damage both on and off the track, is responsible for much weight reduction. It has a top speed of 150 miles per hour.
Aston Martin DBR1 is one of the only three sports racing cars, alongside Ferrari 375 Plus and Ferrari 250 TR, that have won both the World SportCar Championship and the 24 Hours of Le Mans in the same year. Moreover, the car has the most World Sports Car Championship victories under its name in the 1950s.
4. Lamborghini Veneno Coupe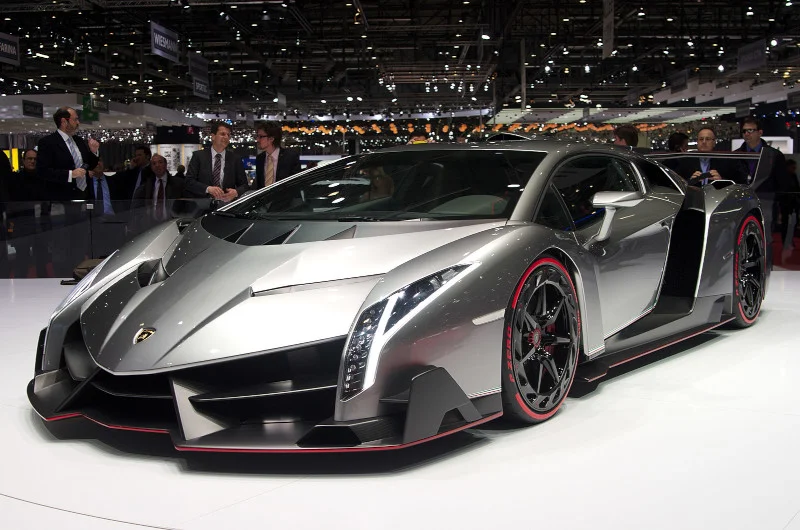 Veneno at 2013 Geneva Motor Show | Image Courtesy: Clément Bucco-Lechat
Units Produced: 4
Production Year: 2013
Price: $4 million
The Lamborghini Veneno is one of the rarest high-performance sports cars ever produced. It was created to commemorate Lamborghini's 50th anniversary and was unveiled at the Geneva Motor Show in 2013.
Although certain aspects of Veneno's design are inspired by Aventador, its overall design is significantly different from previous Lamborghini models.
The car has a top speed of 221 mph and can reach 0 to 60 mph in 2.9 seconds. The brake performance is equally great — it can deaccelerate from 60 to 0 within a distance of 98 feet. Moreover, Veneno can produce a lateral acceleration of 1.41 G. Lateral acceleration is the total amount of centrifugal force generated by a car while cornering. The higher the G's, the more cornering power for the driver.
The engine's cooling is improved by the vented engine cover, while the car's extreme aerodynamic components indicate its track-focused nature.
3. Oldsmobile F-88
Units Produced: 3
Production Year: 1954
Price: $3.2 million
The Oldsmobile F-88 is among the most revered cars in American history. It marked the resurgence of the American automobile after the Second World War. The F-88 was designed and produced by the Oldsmobile division of General Motors in 1954.
Oldsmobile impressed the auto industry in the 1950s with its futuristic concept. It was a two-door convertible with a natural pigskin upholstery, a low-poised fiberglass body, an innovative rear deck design, and gleaming interior trim. It shared the Chevrolet Corvette's frame and 102-inch (2600-mm) wheelbase.
The car was fitted with a 324 cc Super 88 V8 engine.
2. Koenigsegg CCXR Trevita
Units Produced: 2
Production Year: 2009
Price: $4.8 million
The CCXR Trevita is a variant of the Koenigsegg CCXR with unique diamond weave carbon fiber bodywork. Its name "Trevita" is a Swedish term meaning "three whites," signifying the car's exclusive silvered finish. Only two such cars exist.
However, initially, one more CCXR Trevita was planned to make it a total of three cars. But because of manufacturing complexity, the decision was made to cease the production halted after two units.
The cars feature a dual carbon rear wing, F1 paddle-shift, carbon-ceramic brakes with ABS, multimedia system, airbags, paddle-shift, Chrono instrument cluster, Inconel exhaust, tire monitoring system, and hydraulic lifting system.
They are fitted with a 4.8 L twin-supercharged engine and can accelerate from 0-60 mph in 2.9 seconds and from 0-124 mph in 8.8 seconds.
1. Maybach Exelero
Maybach Exelero at Concours d'Elegance event in California | Image Courtesy: Simon Davison
Unit: 1
Production Year: 2005
Price: $8 million
The Maybach Exelero blends the luxury and first-class excellence of a high-end car with the silky-smooth performance of a sports coupé. It was designed by an Italian automotive manufacturer, Stola and Daimler Chrysler, and was launched in Berlin in 2005.
The Maybach Exelero has a top speed of 218 mph and can accelerate from 0-62 mph in 4.3 seconds. It is powered by a 5.9 L Twin-turbocharged V12 engine that produces 690 HP of power at 5000 RPM and 752 ft-lb (1,020 Nm) of torque at 2500 RPM.
This 2-door coupe has a front-engine, rear-wheel-drive layout and weighs around 5,864 pounds. As far as design is concerned, it won't be incorrect to state that it is one of the most unconventional and thrilling Maybach models ever produced. 
Maybachs are often based on Mercedes-Benz concepts, making them aesthetically pleasing but not necessarily legendary. However, the unique design and scarcity make Exelero a rare jewel.
Read: 8 Fastest Cars In The World
Frequently Asked Questions
1. What car has only one unit in the world?
Mercedes Maybach Exelero blends the luxury and first-class excellence of a high-end car with the silky-smooth performance of a sports coupé. It was launched at the Tempodrom in Berlin in 2005 and is produced by Stola in partnership with Daimler Chrysler. Only one unit has been produced to date.
Ferrari Omologata is one more name that we can add to this list.
2. How much is an Oldsmobile F 88 worth?
Launched in 1954, Oldsmobile F 88 is worth $3.24 million. Only four cars were ever made, and only one is still in existence today. It features Bill Lange's earliest concepts. The F-88's body was fiberglass, just as the Corvette and the Pontiac Bonneville Special. It shared the Chevrolet Corvette's frame and 102-inch (2600-mm) wheelbase.
3. What are the rarest classic cars?
The Spirit Of Nemo is the rarest classic car. It is not a real car and was only created for the film The League of Extraordinary Gentlemen. However, a replica of the same vehicle was later created for use on the streets. The car is 21.65 feet long and is currently claimed to be driving around London streets.
Other cars that fit this category are Rolls Royce 15 Hp, Bugatti 57SC Atlantic Coupe, Helica De Leyat, Tucker 48, and Bugatti Royale.
Read More
17 Different Car Engine Types | Explained