We all like to be filthy rich at a very young age, don't we? It's true that money can't buy you happiness, but it sure can make your life a lot more fun and easy. But when we look at some of those teenage stars who had it all from the very beginning and how they often turn out, then we realize perhaps it's not that great after all.
Here, our main focus will be on those kids and teenagers who have made it all by themselves but not necessarily without their parents' help in some cases at least. We also have included those kids who are going to inherit money later from their rich parents and family members. Below are the 13 richest kids and teenagers in the world who are already famous.
12. Mia Talerico
Image Courtesy: Instagram.com/@miatalerico101
Age: 14 Years
Estimated Net worth: $1.5 million
Mia Talerico is a teenage actress, who first appeared in the Disney Channel sitcom Good Luck Charlie at the age of 11 months in 2010. She portrayed the role of Charlie Duncan, the main character of the show.
During the show, it was reported that Phil Baker, co-creator of the show Good Luck Charlie explored her real-life interests and likes so they can incorporate new things into the story.
Mia was born on September 17, 2008, in California to Chris and Claire Talerico. She also has a younger sister. By the age of 9, Mia became one of the youngest self-made millionaires in the world. Her estimated net worth in 2021 is about $1.5 million.
11. Alina Morse
This 13-year-old invented a teeth-cleaning candy, and it's selling like crazy https://t.co/ZsdLkWfJYD pic.twitter.com/uZuifWsmJY

— Zollipops® (@Zollipops) January 10, 2019
Age: 17
Estimated Net Worth: More than $2 million
Alina Morse is a teenage entrepreneur and millionaire, who founded Zolly Candy at the age of nine. Often described as a "formidable" entrepreneur, Alina built her company around the idea of sugar-free candy by using Xylitol as a substitute for sugar.
Some of the popular products of her company include Zollipops (sugar-free lollipops), Zolli Drops (hard candy), and Zaffi Taffy (taffy). These products are sold in more than 25,000 stores across the globe.
Zolly Candy became profitable in just a year and a half after its launch. In 2016, Zollipops became available in Kroger, and Whole Foods, two of the largest retail chain in the U.S. It became Amazon's best-selling lollipops in 2018. Moreover, the total retail sales of Zolli Candy crossed $6 million with $2.2 million in revenue.
Alina Morse was the youngest individual to appear on the cover of Entrepreneur Magazine. She was also invited to the White House twice.
10. Dannielynn Birkhead
Image Courtesy: abcnews
Age: 16 Years
Estimated Net Worth: $10 million
Dannielynn Birkhead is the 16-year daughter of the late actress, model, and television personality Anna Nicole Smith. Like her mother, Dannielynn is on her way to becoming a successful model.
One of her most notable campaigns was in 2013 as the face of Guess Girl's Spring line. It was a special event for Dannielynn since her mother had also modeled for this company.
Dannielynn was born on September 7, 2006. Immediately after her birth, Dannielynn's paternity claims caught media attention as several high-profile personalities such as Howard K. Stern, Frederic von Anhalt, and Larry Birkhead claimed to be her father. A formal DNA test was able to establish Larry Birkhead as her father.
In 2008, two years after her mother's death, Dannielynn has officially declared the sole heir to Smith's possessions, which were then worth over $700,000.
9. Valentina Paloma Pinault
Age: 14 Years
Estimated Net Worth: $12 million
Valentina Paloma Pinault is the daughter of Mexican-American actress Salma Hayek and the billionaire CEO of the fashion company Kering, François-Henri Pinault. The 14-year-old Valentina Paloma Pinault is expected to inherit a wealth of about $12 million. However, many believe that she is in line to inherit much more than that.
According to Forbes, François Pinault & family has a net wealth of $33.2 billion. Valentina's father, François-Henri Pinault, is the CEO and President of Kering, which owns multiple high-fashion brands, including Bottega Veneta, Balenciaga, and Gucci.
He is also the President of Groupe Artémis, a holding company with investments in different sectors from sports, tourism, publishing, food, and tech.
8. Ryan Kaji
Age: 10 years
Estimated Revenue in 2021: $27 million
YouTube is now bigger than ever and has become somewhat of a proven platform for the next generation of online celebrities. Many YouTube stars now have a larger fan following than T.V actors. And perhaps the youngest of them is 6-year-old Ryan, who has made quite a fortune by reviewing new toys and playing with them.
His channel Ryan ToysReview has amassed more than 32.8 million subscribers with 51.5 billion total views.
For millions of his young followers, he is not just an internet celebrity but a true friend. Since the age of 3, Ryan's parents have given most of their time to him and making new videos.
7. Vlad and Niki
Image Courtesy: Vlad and Niki
Age: 9 and 7
Estimated Earnings in 2021: $21 million – $30 million (combined)
Vladislav Vashketov and Nikita Vashketov (Vlad and Niki) are two Russian American siblings who became Youtube sensations before the age of ten. Vlad and Niki, age 9 and 7, respectively, run more than 20 Youtube channels in several different languages.
The duo started their Youtube career in April 2018, producing videos for children's plays, unboxing, roleplays, and other kid stuff. Today, their main channel, Vlad and Niki, has over 86 million subscribers and more than 68 billion total views. It is currently the 8th most viewed Youtube channel in the world.
Other massively popular channels run by the brother include Vlad and Niki Arabic (19.9 million subs) and Vlad and Niki IDN (17.8 million).
Vlad and Niki are represented by Haven Global, a global licensing firm based in Australia that helps brands with marketing, creative services, and creating revenue streams. Apart from Youtube revenue, a chunk of their earnings come from merchandise sales globally.
In 2020, they signed an exclusive deal with Entertainment Retail Enterprises (ERE) to develop and produce branded merchandise for pre-schoolers in North America. That year, Vlad and Niki signed another merchandise deal with a Hong Kong-based toy manufacturer, Playmates Toys.
According to an estimate, Vlad and Nikita made an average of $312.3K per video with just over 34.5 million subscribers in 2020. It was the highest amount made by any Youtuber that year.
6. Anastasia Radzinskaya
Image Courtesy: Like Nastya
Age: 8 years
Estimated Earnings In 2021: $28 million
Anastasia Radzinskaya, popularly known by her online name Like Nastya, might be the richest teenager who is not royalty or an heiress. The eight-year-old host's multiple Youtube channels with her parents, focusing on children's stories, roleplays, and other similar content. Several of her channels are dubbed in other languages.
Her main channel, Like Nastya, has over 100 million subscribers and more than 83 billion total views, making her one of the most watched YouTubers in the world.
The channel received the Red Diamond Creator Award in August 2022 for achieving 100 million subscribers, one of the only seven channels to reach this level.
Anastasia was born in Russia in 2014 and was diagnosed with cerebral palsy. Before joining Youtube, Radzinskaya owned a small construction business, which they later sold.
Like Nastya has signed with global entertainment and multi-channel network Yoola to boost its multilingual strategy and create a strong brand presence. In 2021, Anastasia and her parents signed a deal with Spotter, a California-based financing platform for Youtube creators, offering future monetization rights to her old videos in exchange for up-front cash.
In 2019, Forbes ranked her one of the fastest growing creators, and the third-highest paid Youtuber in the world. Apart from Spotter and other monetization revenue, Anastasia earns money from her own merchandise line.
5. Prince Louis of Wales
Age: 4
Estimated Net Worth: More than $50 million
Prince Louis of Wales is a member of the British royal family and the youngest child of William, Prince of Wales, and Princess Catherine. Prince Louis is fourth in line to succeed the British throne after his father and two siblings.
He was born on 18 April 2018 and was named Louis Arthur Charles after his paternal great-great-granduncle Louis Mountbatten and his grandfather Charles III.
Like his elder siblings, Prince George and Princess of Charlotte, the birth of Prince Louis was a boon for the British economy. The new member of the Royal family reportedly contributed £50 million to the national economy the year of his birth.
4. Blue Ivy Carter
Age: 10 Years
Estimated Net Worth: $1 billion
A 7-year-old billionaire? Well, we wouldn't expect anything less from the power couple of the music industry; Jay Z and Beyoncé. With a combined net worth of around $1 billion, their daughter Blue Ivy is enjoying a life that most of us can only dream of.
From extravagant birthday parties to lavishing presents, all indicate that the two stars have something special in the locker for their firstborn. Her estimated net worth is also driven by her ever-growing brand value.
In 2020, Blue Ivy Carter appeared on "Brown Skin Girl" with her mother Beyoncé. The song helped her gain recognition in the entertainment world with an NAACP Image Award, the BET Her Award (youngest winner), and a Grammy Award for Best Music Video.
3. Jacques, Hereditary Prince of Monaco, Marquis of Baux
Age: 7
Estimated Net Worth: $1 billion
Jacques, Hereditary Prince of Monaco, Marquis of Baux, is the son of Prince Albert II of Monaco and the heir apparent to the Monaco (Monegasque) throne.
The Monarchy of Monaco is considered one of the richest royal families in the world. The net worth of Prince Albert II, the current head of the state, is estimated to be around $1 billion.
Among his other valuable possessions, Albert II owns a stake in Société des Bains de Mer, a Monegasque holding company that controls the iconic Monte Carlo Casino, Hotel de Paris, and Opera de Monte-Carlo. The company (initially a casino) was established by prince Charles III in 1863.
Jacques, Hereditary Prince of Monaco, Marquis of Baux, was born in December 2014. He also has an elder twin sister, who was born two minutes earlier. Although Jacques Marquis of Baux has two other elder siblings, he is next in line to inherit the throne and the family fortune from his father.
Albert II is the current head of the House of Grimaldi, the longest-ruling family in Europe, who has ruled over Monaco for over eight hundred years since 1297.
2. Prince George of Cambridge
Members of The British Royal Family along with Obamas in 2016
Age: 9 Years
Estimated Net Worth: More than $3 billion
A new member of the British Royal family was added on July 22, 2013, after Kate Middleton, Duchess of Cambridge, gave birth to baby boy George Alexander Louis.
His Royal Highness Prince George of Cambridge is third in line for the throne, right after his grandfather, Prince Charles, and Father, Prince William.
Prince George is expected to have a substantial impact on the British economy, much like the other members of the Royal family, and his high current net worth is derived from that impact. The Prince is also expected to inherit wealth from his father, Prince Charles, which is nearly $40 million.
1. Princess Charlotte of Cambridge
The Duke and Duchess of Cambridge are very pleased to share two photographs of Princess Charlotte at Kensington Palace this morning. pic.twitter.com/dDIOZdA7aM

— Kensington Palace (@KensingtonRoyal) January 8, 2018

Age: 7 Years
Estimated Net Worth: $5 billion or more
Prince George may worth over $3 billion and may one day get the throne, but the title of the richest kid in the world right now goes to his younger sister, Princess Charlotte of Cambridge, with over $5 billion net worth.
You may be wondering how a 7-year-old girl can be worth around $5 billion, given the fact that she is born into one of the most powerful families in the world.
Well, the incredibly high valuation of her wealth is mostly due to her influence in the fashion industry. What is now known as the "Charlotte effect," much similar to the "Kate effect" sparked by Kate Middleton a few years ago, has already affected the British retail market once. And it is expected to continue for quite some time.
The estimated net worth of the Royal children is based on their value to the British economy. Since they haven't received their family possessions physically, the only way to calculate their net worth is by evaluating their potential to attract billions of dollars in sales.
Read: 35 Richest People in the World of All Time
Some of the Self-Made Youngest Millionaire
1. Akshay Ruparelia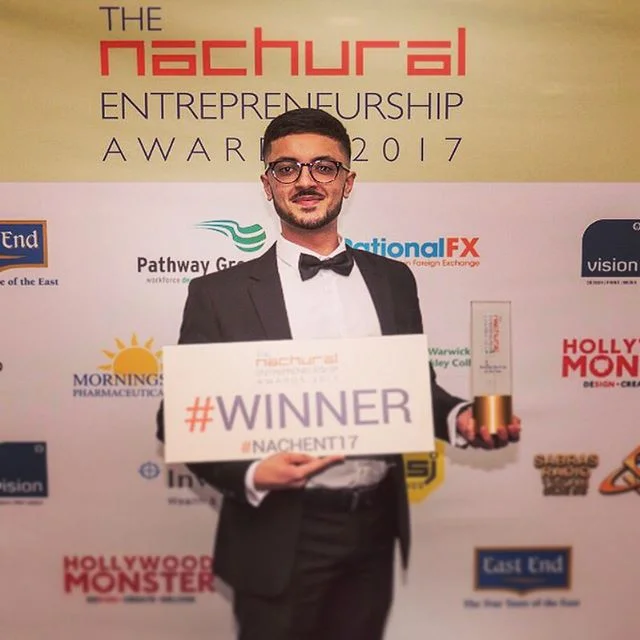 Image Courtesy: akshayruparelia
Age: 24
Estimated Net Worth: $15 million
Akshay Ruparelia is a British entrepreneur who turned his simple yet powerful idea into a multi-million-pound business at just the age of 19.
In 2016, he established Doorsteps.co.uk, an online estate agency that allows its clients to purchase houses for the lowest possible commission. He sold his first home while preparing for his school exams.
The agency hires freelance property consultants on a contractual basis depending on the number of properties they have in hand. This eliminates the need for traditional agents and significantly reduces their operational costs. Doorsteps.co.uk is valued at well over £12 million and currently is the 14th largest estate agency in the UK.
2. Syed Sumail Hassan
Syed "SumaiL" Hassan | Image Courtesy: EPICENTER 2017
Age: 23
Estimated Net worth: More than $3.8 million
Syed Sumail Hassan, popularly known as "SumaiL" is a professional Dota 2 player and a member of the organization/team 'Evil Geniuses' who has won several prestigious Dota 2 championships, including The International 2015.
That year, Evil Geniuses lay claim to staggering prize money of more than $6.5 million, making Sumail the youngest ever person to win more than $1 million in a single esports championship.
Sumail was born in Karachi, Pakistan, and started playing Dota 2 when he was only seven years old. He was named in Time's 'the 30 Most Influential Teen' in 2016. Evil Geniuses came third in last year's The International (TI8), winning prize money of about $2.5 million.
3. Jackie Evancho
Age: 22 Years
Estimated Worth: $2.5 million
Jackie Evancho started her singing career at the young age of 8 years at a local talent show in New Jersey. After a couple of unsuccessful trials, she was finally accepted for the fifth season of America's Got Talent. Here she made headlines by reaching the season finals.
Jackie released her first major album in 2010, titled O Holy Night, which eventually reached no. 2 on Billboard 200. Since then, Jackie has featured in about 10 music albums and is also known for philanthropic works. Recently in 2017, she was named in Forbes' "30 under 30" list of musicians.
4. Ben Pasternak
Ben Pasternak at Heureka Conference in 2016
Age: 23 Years
Estimated Net Worth: $2 million
Benjamin Pasternak is an Australian programmer and serial entrepreneur, who has founded multiple successful startups. Pasternak started his entrepreneurial career during his time in high school when he developed an app known as Impossible Rush, which eventually overtook Twitter and tinder on App Store top charts.
Before moving to the United States, Ben created another viral app, Impossible Dial, which he sold for $85,000. At the age of just 15, Ben became the youngest entrepreneur to receive venture capital for his mobile app Flogg. He was included in TIME Magazine's Most Influential Teens of 2016.
After Flogg, Pasternak created Monkey, a video chat app for teens which became a sensation in U.S iOS App Store. In 2020, the app reported 20 million users.
His newest creation SIMULATE is a sustainable nutrition startup that produces NUGGS, a plant-based chicken nugget. In June 2021, the startup raised over $50 million from investors including Chris Sacca and Jaz-Z at a valuation of $250 million.
Read More
12 Billionaires Who Are Now Broke | Filthy Rich To Bankrupt