Sales tracking software programs allow you to better understand your potential customers, detect pipeline issues before they create a big problem, and enhance sales performance with detailed analytics.
They help you identify what strategy works for your business and what doesn't, giving you a precise and impartial view of your current practices. You might believe what you are doing is effective (and most likely it is), but until you have unbiased information in front of you, you don't get the full picture.
Modern sales tracking platforms fit into a broader category of sales force automation tools and have numerous applications in common with sales management and customer relationship management tools. Some utilize machine learning models to recommend the most favorable follow-up actions.
Below, we have featured the best sales tracking software that can help small businesses track detailed data and make quick decisions based on what's happening with sales. They can also be extremely helpful if you are planning to test new ideas and methods.
9. Close CRM
Released in 2013
Price: Starts at $29 per user per month | 14-day free trial available
Rating: 8.9/10 from 550+ clients
Designed for startups and small businesses, the Close CRM platform has impressive sales tracking and automation features. It can help you throughout the lead generation and sales process.
The platform tracks your key performance metrics, making it easier for you to pinpoint what works and what areas require more focus. Analyze KPIs regularly, compare metrics like conversion rate and deal value side-by-side, and track the performance of individual sales reps.
Everything is displayed in a single, intuitive dashboard. You can also create individual sales dashboards, which is a great way to incentivize your team and create friendly competition.
Key Features 
Real-time leaderboards show how reps are performing
Create multiple pipelines for different products and teams
Compare actual and expected sales with each stage of your pipeline
Automate email marketing campaigns
Unlike other sales tracking software, Close allows you to place and manage sales calls using VOIP. It streamlines lead calling and works automatically through your prospects list, so you can contact customers in a more organized manner.
8. Freshsales
Released in 2016
Price: Free | Premium version starts at $15 per user per month | 14-day free trial available
Rating: 9/10 from 1,800+ clients
Freshsales gives you a 360-degree view of your customers, making it easier for you to deliver personalized experiences. You can run chat campaigns, use AI-powered chatbots to connect with customers in real time, and capture visitors' data with custom web forms.
Freshsales's integrated AI system helps you focus on revenue-generating deals. It assigns a score to each sales-ready deal based on positive and negative signals.
The platform gives you detailed insights across the funnel from lead to sales. It even offers dynamic forecasting to improve your revenue predictability. Furthermore, you can use smart suggestions to manage calendars and set up appointments and tasks.
Key Features 
Track fully customized sales processes
AI-powered contact scoring
Automates repetitive and complex tasks
Predicts sales performance and revenue
Freshsales is also available through a smartphone app, so your sales reps can connect to customers from anywhere, anytime. Through this app, they can capture every detail of customers, scan and upload documents, add notes, and make calls or send emails at the right time.
You can start with a free version, which allows you to manage unlimited records, capture the lifecycle of your contacts, and connect with your target customers via email, chat, or call.
7. Capsule CRM
Released in 2009
Price: Free | Basic plan starts at $15 per user per month | 14-day free trial available
Rating: 8.6/10 from 400+ clients
Capsule is an excellent tool to track users and companies you do business with. It delivers a comprehensive service of sales pipeline, contact management, and business organization.
Its intuitive sales pipeline dashboard makes it easier to monitor and forecast revenues and build reports to track opportunities throughout the sales process. There is an in-built contact management system that keeps everything (documents, information, and correspondence from target clients) in one place for efficient management.
You can trace every aspect of your sale cycle, including the pipeline growth and activities performed by each customer. The system generates detailed reports on won/lost opportunities, so you can make more informed decisions.
Key Features 
Create different pipelines for different sales processes
Use Tracks to set up a series of tasks
Connects all your business tools across accounting, customer service, and marketing
Filter reports based on users, teams, or time periods
Integrates with apps like QuickBooks, Google G Suite, Zapier
Capsule is designed to be scalable. It can offer more advanced marketing tools as your business grows. Plus, it is flexible enough to incorporate new processes and restrict access to sensitive data as more team members use the platform. 
The platform is used by more than 10,000 businesses of all sizes across the world. You can start with a free version, which lets you manage up to 250 contacts.
6. EngageBay
Released in 2017
Price: Free | Basic plan starts at $14 per user per month | 14-day free trial available
Rating: 9.1/10 from 850+ clients
Built for small and medium-sized businesses, EngageBay allows you to nurture web visitors and convert them to happy clients. Engage visitors through attractive landing pages, acquire leads through popups and forums, and automate marketing funnels through automation tools — all from a single dashboard.
You can organize users' data to run personalized marketing campaigns, view deal pipelines, and monitor the status of every deal from one place. The platform supports drag-drop operations, so you can instantly move a deal from one phase to another.
The automatic Lead Scoring System pinpoints the most qualified leads, which gives you an idea of who to follow up with. Communicate with your promising leads and close more deals.
Key Features 
Interact with website visitors in real-time
Create a comprehensive profile of every potential customer
Automated tasks & appointment scheduling
Forecast sales with higher accuracy
EngageBay automatically tracks every call, email, note, and lead process, so you don't have to waste time on tedious admin tasks. You can automate tasks by setting up specific rules.
Let the platform handle easy-to-do tasks, and you focus on what's important — generating more revenue. You can start with a free version that supports up to 250 contacts and 1,000 branded emails.
5. Really Simple Systems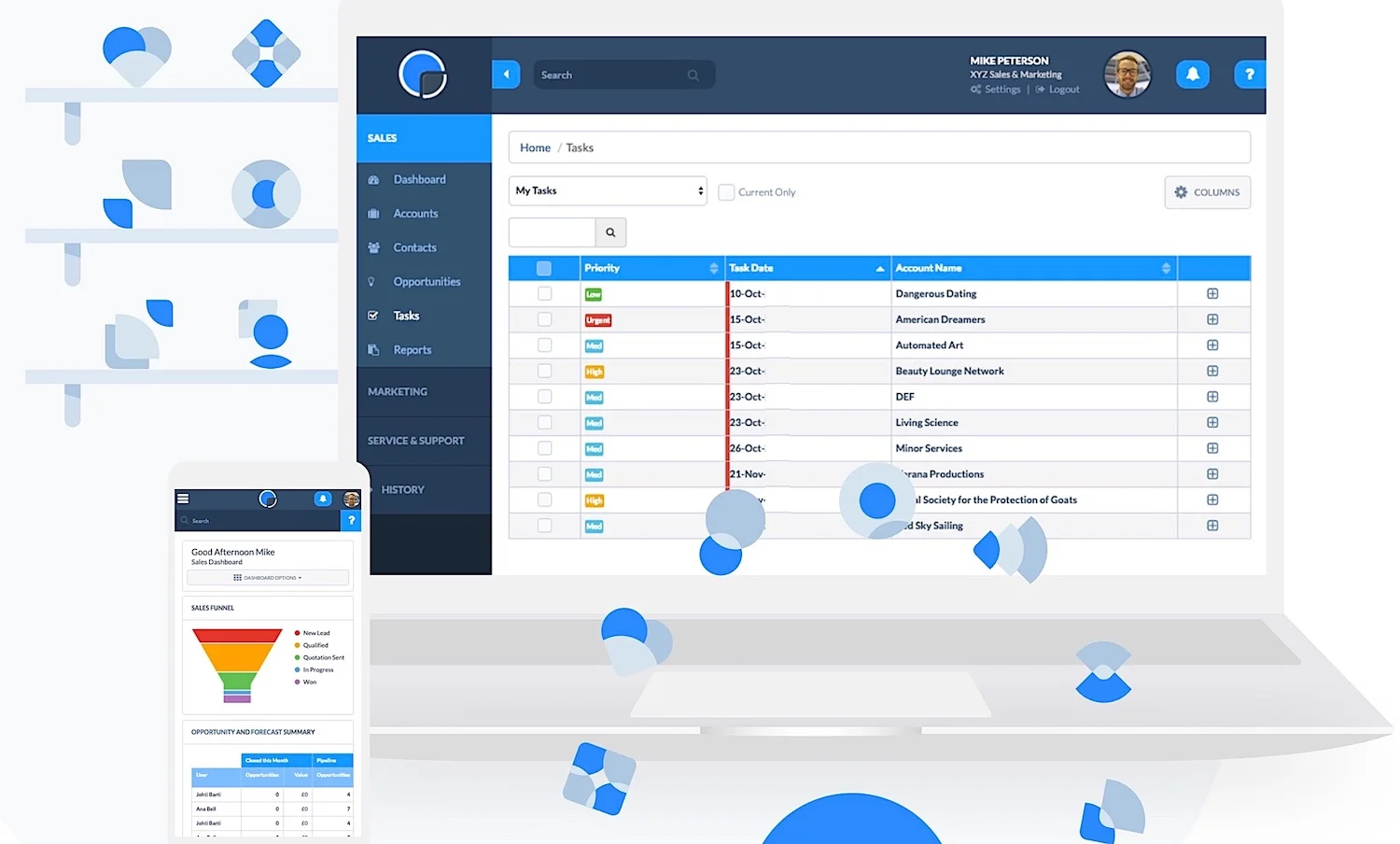 Released in 2004
Price: Free | Basic plan starts at $14 per user per month | 14-day free trial available
Rating: 8.7/10 from 550+ clients
Really Simple Systems is an easy-to-use CRM that helps you organize your sales and streamline workflow. It captures all your customers' data and presents it in an easy-to-understand format.
Since everything is updated in real-time, you can team members (or sales reps) are always provided with the latest information. They can also access calls, emails, notes, and meetings in the timeline, and see when customers were approached and who made the last contact.
The platform allows you to generate comprehensive reports and drill down for detailed analysis. Monitor your sales performance, analyze who your customers are, and what exactly they are buying.
Furthermore, it integrates sales CRM with marketing tools, giving you complete visibility across your sales and marketing teams. Monitor opportunities, leads, number of deals closed, and measure the return on investment for each campaign.
Key Features 
Comes with email marketing and service desk tools
Sales pipeline management
Powerful analytics tools to monitor campaigns and measure ROI
Compliant with HIPAA and GDPR
Really Simple Systems' clients range from single-user start-ups to 600-user systems, and everything in between. They have offered services to big names as well, including IBM, the Red Cross, and the Royal Academy.
4. Zoho CRM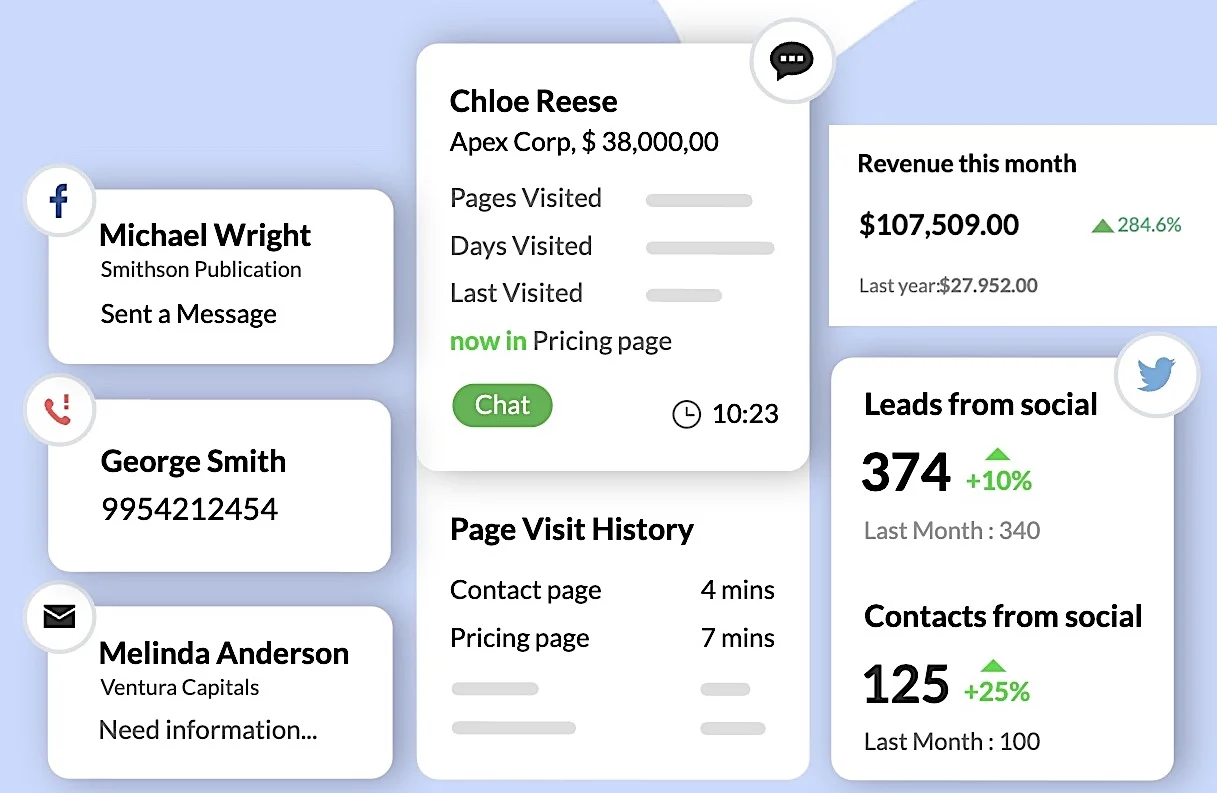 Released in 2005
Price: Free | Standard plan starts at $14 per user per month | 15-day free trial available
Rating: 8.5/10 from 8,000+ clients
With a global network of over 250,000 businesses across the world, Zoho CRM is one of the most popular platforms for tracking sales and customer behavior. It helps businesses engage with users, generate more leads, and grow revenue.
The platform categorizes 'leads' based on type, source, and other customized filters as soon as the user signs up. This allows your sales team to deliver more personalized pitches and close deals in less time.
Zoho continuously tracks each opportunity or lead in the pipeline and keeps you updated with in-depth reports. Whether you need to see sources for new leads or competitors who took your customers, these reports have got you covered.
Key Features 
Manage contacts and automate sales progress
Execute complex business processes with low-code scripting
Effectively identify opportunities for cross-selling and up-selling
Sales forecasts based on territories
Unlike most other CRMs, Zoho can merge your sales data with Google Ad spending. It can even pinpoint which Google Ad or keyword generated the maximum leads. This helps you advertise more efficiently and get a better return on your investment.
Although it's a paid platform, you can start with the free edition, which offers all essential features for up to 3 users. This includes contact management, multichannel marketing, and integration into their Zoho applications.
3. Klipfolio
Released in 2002
Price: Free | Starts at $99 per month | 14-day free trial available
Rating: 8.6/10 from 400+ clients
Klipfolio is an advanced analytics and business intelligence platform for making data-informed decisions. It gathers all your data from different sources and presents it in an easy-to-understand format.
Its intuitive dashboard gives you a 360-degree view of your products as well as key metrics that indicate the health of your business in all aspects. For instance, you can quickly track customer acquisition cost, customer churn, customer lifetime value, debt-to-equity, net profit markets, most revenue-generating accounts, and more.
If you integrate Google Analytics, you can easily track on-site data like sessions by region, organic search performance, top pages by conversions, keyword performance, and campaign stats.
Key Features 
Automated reporting for real-time tracking
Merges multiple data sources into a single visualization
Hundreds of pre-built visualizations
Integrates with over 130 data services
Klipfolio can be directly connected with hundreds of cloud apps like Twitter, Salesforce, Hubspot, SQL databases, Excel, Google Sheets, Google Adwords, Marketo, and more.
All plans (from Free to Business) come with unlimited dashboards, metrics, and viewer users. The free version, however, is limited to 2 editor users and a 4-hour data refresh.
2. Insightly
Released in 2009
Price: Free | Basic plan starts at $29 per user per month | Free demo available
Rating: 8.3/10 from 2,600+ clients
Designed for businesses of all sizes, Insightly CRM is used by more than 1.5 billion users in 200+ countries. It makes it easier for your sales team to reach the right customers at the right time.
The cloud-based platform efficiently tracks important lead information, including the timeline of marketing campaign sources, phone calls, meetings, and emails. This helps your sales reps stand out from your competitors, close better deals, and create long-term customer relationships.
It comes with an email management tool, which allows you to send bulk emails within a few clicks. You can easily track who got these emails and who opened them (and when did they open them).
Key Features 
Built-in business intelligence dashboards
Hundreds of email templates
Customizable reports and real-time insight cards
Configurable, automated workflows
Insightly also gives you the option to create custom applications for your business with workflow automation, validation rules, dashboards, and detailed reports. You can then deploy these applications across the web and smartphones. The best part is you don't need any programming skills to create and deploy these apps.
Insightly is majorly used by growing businesses across all industries, including retail, manufacturing, construction, media, healthcare, education, and professional services.
If you are working on a personal project, you can start with a free plan, which is limited to 2 users, 200 MB of storage, 2,500 records, and 5 email templates.
1. Pipedrive
Released in 2010
Price: Starts at $9.90 per user per month | 14-day free trial available
Rating: 8.4/10 from 7,000+ clients
With Pipedrive, you can manage every stage of the sales process, from lead generation to customer contact. It streamlines every activity involved in converting a lead into a profitable sale.
Pipedrive has everything you need to know your customers and close more deals — a lead generation tool set to capture high-quality leads, a tracker to identify who is browsing your site and for how long, and a centralized system to manage all your document in one place.
The platform integrates with popular email service providers and leading CRM tools to seamlessly transfer data across applications. In addition to this, it also works well with Zapier, MailChimp, Trello, and Google Maps.
Key Features 
Visualize sales pipeline
Migrate data from multiple sources, including Salesforce and HubSpot
Create and send customizable email campaigns
Predicts sales volume and revenue based on your pipeline
Pipedrive's forecasting tool estimates the number of products or services a business will sell in the next week, month, and year. Based on those projections, you can adjust strategy and brief your team members with new objectives.
Perhaps the best thing about Pipedrive is it fully customizable. No matter how small or big your requirements are, you can tweak the CRM the way you want for long-term growth. While it is suitable for organizations of all sizes in any sector, some functions are geared toward those in the financial services industry, such as banks and insurance firms.
Other Equally Good Sales Tracking Platforms
10. SuperOffice Sales
Price: Starts at $65 per user per month | Demo is available
Rating: 8.1/10 from 300+ clients
SuperOffice CRM provides three tools —
Sales

: It helps sales reps reach revenue targets and build strong, long-term customer relationships. Find more opportunities and close more deals in less time.

Marketing

: It is designed for the marketing team to reach their target audience better and initiate meaningful conversations that drive more revenue.

Service

: It gives a 360-degree view of your customers, with all key metrics in one place. This allows you to streamline processes, reduce response times, and focus on what really matters.
The latest version of the CRM is integrated with AI systems that help you figure out how to identify the target audience, communicate better, and generate more impact. It even makes accurate forecasts based on your past sales volume and revenue.
Key Features 
Tools to send large-scale campaigns
Capture high-quality leads via targeted email marketing and web forms
Set up auto-replies and automation to save time
Ensure GDPR compliance
For sales teams, there is a built-in guide that teaches how to develop an effective sales process, what to do next, and how to grab opportunities and never miss a sale.
11. HubSpot CRM
Price: Free | Basic version starts at $45 per month | Demo is available
Rating: 8.9/10 from 25,000+ clients
HubSpot brings all data and tools together in one powerful CRM platform. It includes robust sales analytics, sales engagement tools, and CPQ (configure price quote) functionality for growing teams.
The platform tracks all your customers' data, making it easier for you to create a library of valuable sales content and see which content brought the maximum sales. It also allows you to set up a series of automated emails and follow-up tasks.
Key Features 
Automatically captures communication between salesperson and customer
Route live chats to the right salesperson
Generated polished quotes in seconds
Add deals, assign tasks, and monitor progress through a single dashboard
Monitor individual performance and team outcomes
Furthermore, you can connect this CRM platform with more than 1,250 integration apps and APIs to extend its functionality.
While many of HubSpot's features are available for free, more advanced tools (to automate and scale your sales operations) are available in Starter, Professional, and Enterprise versions.
12. Salesmate
Price: Starts at $45 per month | 15-day trial is available
Rating: 9.2/10 from 150+ clients
Salesmate provides functionality for sales acceleration, sales management, and business automation. It helps sales reps efficiently manage their sales pipelines and capture more leads. They can easily open multi-channel communication with clients (via emails, notes, calls, and social media interactions). Sales managers, on the other hand, can monitor leads and distribute them among reps.
The platform is integrated with smart features that generate business-relevant insights by analyzing historical sales data. These insights make it easier to prioritize leads coming from different channels and implement new strategies without significantly impacting sales.
Key Features 
Pipeline management
Email and text templates
Call recording and sales activity tracking
Custom dashboard and reports
Salesmate support integration with more than 700 business applications, including Zapier, AWeber, Microsoft Calendar, and Google apps. It also offers smartphone apps (for both Android and iOS devices) to manage business operations remotely.
13. Act! CRM
Price: Starts at $30 per user per month | 14-day trial is available
Rating: 7.5/10 from 400+ clients
Initially released in 1987, Act! is one of the oldest CRM platforms. It manages a central repository of data related to opportunities, leads, and customers.
Since every business-relevant detail (such as emails and account history) is stored in one place, sales reps can easily access relationships, statuses, and activities. They can even automate tedious tasks like sending emails and alerts scheduling to enhance productivity.
Key Features
Sales pipeline management
Marketing automation
Real-time metrics for product and team performance
Win/Loss analysis
The platform integrates with almost all popular third-party apps like Zapier, Excel, Word, Outlook, Gmail, and Google Contacts. It also has an in-built API for custom integrations.
More to Know
What are the common features of a good sales tracking platform?
Before investing in sales tracking software, make sure it features:
Lead tracking
Detailed customers activity reports
Conversion rate and average sales price
Funnel reports
Deals win/loss reports
Potential opportunities
Sales or revenue forecasting
Different types of sales tracking
To know your business inside out, you need to consider five types of tracking:
Sales performance tracking

, which includes metrics like emails sent, emails opened, meetings completed, opportunities won, etc.

Lead tracking

: Track customers' behavior via metrics like email response rate, last communication date, deal size, actions on your website, etc.

Pipeline tracking

: Monitor what's happening with your sales down to the minute. Capture real-time data showing deals closed per hour, opportunities lost per day, sales cycle length, and other relevant information.

Funnel tracking

: Analyze different phases of your sales process by tracking inbound and outbound leads, conversion rates for each phase, and the number of quality leads per week.

Goal tracking

: Monitor how much progress you have made (in terms of revenue or profits) and compare it to the previous forecast
Free sales tracking template and spreadsheet
If you've just started and don't want to spend money on any kind of sales tracking software, you can download free, fully-customizable templates —
Sales engagement software market size
According to the report published on Fact.MR, the global market of sales engagement software is expected to reach $29.6 billion by 2032, growing at a CAGR of 14.9% from 2023 to 2032.
The major factors behind this growth include the increasing demand for cloud-based sales platforms that can efficiently track customer behavior, generate more leads, and forecast sales and revenues. The banking, insurance, and financial services sector are expected to be large consumers of such software.
Why you can trust us?
We thoroughly analyzed 30 sales tracking software and read customers' reviews. It took more than 24 hours to do the comprehensive research. Finally, we decided to shortlist the 13 platforms based on their features, pricing structure, and ability to integrate with third-party apps.
Our "Rating" is the average of all ratings given by genuine customers on trusted review websites. In order to show you the true picture, we haven't considered reviews and testimonials featured on the product's official website.
We DO NOT earn commission from any of the featured platforms. Furthermore, we have two separate editors who have no influence over our listing criteria or recommendations.
Read More 
13 Best Retail Inventory Management Software
9 Best Vendor Risk Management Software