There are tons of ways to make money from your talent. Let's focus on legal ones. You know what the best thing about the Internet is; whatever you have designed, you can show it to the whole world. You don't have to invest a huge amount of money and time in creating your own online store. There are plenty of established places through which you can reach a wider market and sell your products.
If you believe you have exceptional talent, then why not show it directly to the public? Below, we have listed some of the best platforms to showcase your content. These are the perfect places where you can sell everything, from a simple logo design to detailed animated videos.
22. Visualhunt
Visualhunt is a curated collection of great design products. Here you can submit your artwork that could be printed on cards, journals, furniture, toys, decor, bags, t-shirts, etc. Currently, the website has more than 12,000 products from over 800 designers and brands.
21. This Is A Limited Edition
This is an online store for limited edition art prints and fine art canvases. It features works from the most talented artists from around the world. They are always looking for new talents, so this could be a great platform to sell your work to a target audience. They do not operate an open-door policy with designers.
20. Redbubble
Redbubble is a diverse creative community and marketplace that allows you to set your own commission for all product types. The site hosts unique and brilliant products, including t-shirts, heart-stopping wall art, home decor, iPhone cases, and much more. It's free to join.
19. Minted
Before you submit a design to Minted, you need to download the challenge kit, register, and complete your profile. It's a kind of regular contest where winners receive a cash prize along with a platform for their work and an ongoing commission from each sale.
18. Threadless
Threadless gives designers an opportunity to sell design works to a relevant and targeted audience. To put your design on the website, you'll need to submit your work to a public vote. If you get enough votes/positive responses from the community, you'll get the chance to cook money through their online production and promotion platform.
17. INPRNT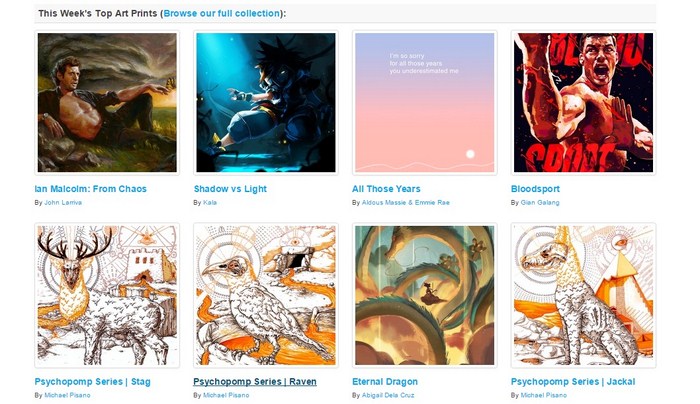 INPRNT is a moderate gallery. Designers can easily submit their content, and if it is good enough, it will definitely get recognized by the audience. You need to make an INPRNT account and submit 3 of your best artworks for review. The submission is then voted by artists already on the website. Once the submission is approved, your account will be automatically upgraded to the 'artist account,' and then you can upload as many designs as you want.
16. crowdSPRING
crowdSPRING is the marketplace for graphic design, logos, and naming. It's a platform to work on different design projects, competing against other designers. The site has more than 132,000 designers and artists from nearly 200 countries.
15. ArtFire
On ArtFire, you can sell anything- from jewelry to prints and tees to handmade crafts. This is a perfect platform for designers with more than usual wares. It provides you with tools to create your own unique shop. It's a commission-based site, and additional prices are based on inventory space and tools used.
14. Society 6
Selling your design on Society 6 is as simple as creating a post. All you have to do is upload your artwork to make it quickly available for sale as a variety of products. They will do the rest of the job, including producing, packaging and shipping so that you can focus on making more designs.
13. Not on the High Street
Not on the High Street receives millions of visitors every month, and the crowd gets double at holidays like Christmas. It features tons of personalized 3D artwork, contemporary abstract canvas, table lamps, cushions, gifts, and other unique stuff. They are always searching for small businesses that are looking to grow. So if that is you, don't let go of the opportunity.
12. Zazzle
Zazzle allows you to sell your design on hundreds of products. Its powerful tools make it possible to sell your art on mugs, stamps, posters, t-shirts, business cards, calendars, and more. The best thing is you don't have to pay anything for utilizing these tools and growing your business with Zazzle's Maker Platform.
11. Art Web
Art Web is an eCommerce platform that helps artists who want to make a living by selling their art online. The service works on a no-commission basis. In the free version, you can publish a gallery with up to 15 images. It provides a free website builder with dozens of pre-designed templates, so you don't have to start from scratch.
10. CafePress
CafePress lets you build your own customized online shop and sell your designs on over 250 products. The site contains every design product you can think of, from the latest pop culture phenomenon to favorite causes, activities, and interests. There is no set-up or upfront fee — you can earn a sales commission on all products sold in your shop.
9. 99designs
99designs is dedicated to uniting hardworking designers with clients who require superior design service. Till now, the website has paid more than $104 million to the design community. It aims to keep on searching for different ways to help artists meet prospective customers and help shape every artist's career. This is the best option if you are looking for clients with instant/dynamic demands.
8. BigCartel
BigCartel is one of the most popular platforms that make it easier for you to create your own store. It gives you all the professional tools you need to conduct market research and promote your work. The pricing structure starts from zero and goes up to $30 per month, depending on the features and support you need to use and the number of products you want to publish.
7. Graphic River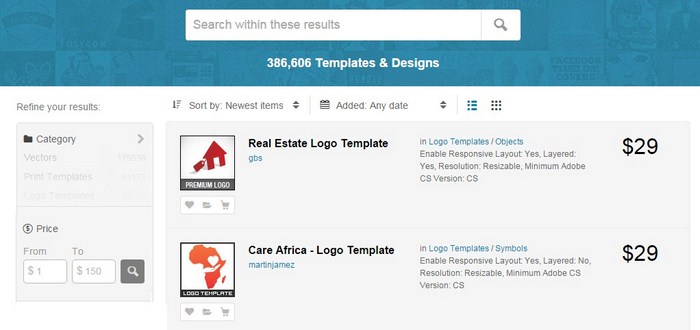 Graphic River is the huge artwork selling platform by Envato Market. Here you can upload design templates, Photoshop, textures, vectors, icons, game assets, infographics, add-ons, and more. For better results, make sure you provide a live demo, screenshots, and a description of each item you are uploading to the web.
6. Fiverr
Fiverr is a mega-selling platform where users can browse or buy thousands of services, including graphics and designs, music, video animation, writing or translation, and more. You can quickly upload your designs or service (no fees) and get 80% of each transaction you make. Moreover, they provide a secure platform for sellers and buyers to communicate, and your portfolio is visible to the world so you can showcase your talent.
5. Etsy
Etsy is the biggest online place to buy and sell all handmade items, vintage designs, and craft supplies. The site has more than 4.4 million active sellers and 95.8 million buyers. Overall, this is a great platform to connect directly with sellers around the world. Etsy charges 20 cents per item listed and an additional 3.5 % commission for every item sold.
4. Bonanza
Selling on Bonanza is both interesting and rewarding as Bonanza has emerged as one of the leading marketplaces. It allows you to create your own eCommerce site within a few clicks. Plus, it gives you access to all the essential tools you require to run your online business and build your brand.
Their pricing structure is pretty straightforward. You pay a flat 3.5% fee when your total sales are less than $500, and 3.5% plus a 1.5% fee for products after the first $500. If you want to take advantage of advertising options to promote your products, you can expect a 9% to 30% promotional fee.
3. MasterBundles
If you are an experienced graphic designer seeking to expand your reach to new markets and platforms, look no further than MasterBundles. It allows you to sell illustrations, clipart, logos, background designs, UI kits, unique templates, and various stock content.
Perhaps the best thing about MasterBundles is it doesn't ask you to get per-product approval. Plus, you can set your own prices without signing any long-term agreements.
They have published in-depth material about how to sell your content. This will help you get to the point in your career where you get decent passive income to focus on creative growth.
2. Amazon Handmade
Amazon Handmade allows you to sell unique, genuinely handcrafted items across the world. It is the largest eCommerce platform giving you exposure to a wide range of customers. However, you can only sell products that fit into one of their listing categories.
Selling products on Amazon is not as simple as it sounds. You need to apply for a seller account and wait for approval. This could take anywhere from one to two weeks. Once you are approved, you can add products under suitable categories. The fees for sold items add up to 15% of the selling price, excluding subscription or listing fees.
1. Shopify
Shopify is an all-in-one commerce platform to start, run, and grow your business. It hosts 1.7 million businesses in 170+ countries. As of 2022, 4.4% of the top 10 million websites use Shopify.
The platform makes it easy to manage products, payments, and customers across all the places you sell, in-store and online. It also gives you daily sales reports, cash flow reports, and inventory reports so you can make informed business decisions.
The Basic Plan, which lets you build an eCommerce website and add unlimited products, costs $29 per month. You can try it for free for 14 days (no credit card required).
Read More 
18 Best Animation Software For Beginners