Shopify allows you to set up and manage your business online. Whether you have one or multiple stores, the platform makes it easy for you to build a website, add products, manage orders, track sales, and connect with staff.
Shopify is geared towards supporting business owners in crucial aspects, such as opening alternative channels (Facebook, Amazon, and eBay), offering customer support via phone or live chat, and handling technical issues.
It also offers a detailed view of the business so owners can better understand orders, sales, and target audience, and customize the products and marketing strategies accordingly.
It is used by more than 1.7 million businesses in 175 countries. And so far, these businesses have made over $500 billion in sales using the platform.
Still, these facts don't make Shopify a perfect eCommerce platform. In 2020, the company confirmed a data breach in which customers' information (including their names, addresses, and order details) from about 190 merchants was leaked.
In 2021, a few large publishers (including McGraw Hill Elsevier Inc., Macmillan Learning, and Pearson Education) sued Shopify because it didn't remove stores selling pirated copies of their products and learning materials.
Most people don't like Shopify because of three major reasons:
1) Cost: While the platform is cheap to start with, it gets expensive over time. As your business grows, you will be asked to pay more.
2) Limitation on product listing: You can't list all types of products on Shopify. They have made a long list of items that are not allowed to sell. Some of these restrictions comply with state laws, which is completely understandable. But Shopify imposes them on every location for every user.
3) Limited Payment methods: Although it accepts all major payment methods like credit cards, Google Pay, and Apple Pay, sellers in certain nations do not get access to Shopify Payments.
If you have already faced such problems and looking for better alternatives, we have listed the top 13 Shopify competitors that offer standout elements worth noting.
9. OpenCart
Best for small business owners who are familiar with basic website setup and development tasks
Price: Free
OpenCart is a highly customizable online store management system available under the GNU General Public License. It features a range of templates and modules to expand your store functionality.
The platform allows you to design and manage multiple stores from a single dashboard. Use different templates for different stores, list products on specific stores, and localize your website. It supports multiple payment options and shipping methods.
Key Features 
13000+ templates and modules
Inbuilt affiliate system
Integrated comments, reviews, and rating system
Reward program to increase the number of purchases
Create and restore backup
All crucial metrics are available at a glimpse. See which product is generating the most revenue, how customers are interacting with your website, and compare total sales on a monthly/weekly/daily basis.
If you have two or more team members managing orders, you can assign them specific roles and separate access to the dashboard.
Downside 
Although the platform is free to use, adding new modules can become expensive. Some extensions cost over $300. If you need several of those to set up your online store, you are probably better off with premium eCommerce platforms that offer more add-ons free of charge.
8. Shift4Shop
Best for businesses that don't care who processes their payments
Price: Free as long as you process payment through Shift4Shop
With Shift4Shop, you can create a perfect site for your business and start selling goods and services within no time. It is packed with every essential feature you need to build an online store, including an easy-to-use website builder, order management, and marketing tools.
Either start from scratch or select from dozens of professionally built, industry-specific templates. Each template is fully customizable — you can edit HTML and CSS files directly or contact the Support team to design your online shop.
Key Features 
Mobile-friendly and SEO-optimized templates
Support for digital wallets like Google Pay and Apple Pay
AI-powered fraud protection
API Access
Once the website layout is ready, you can generate as many additional webpages as you like and add them to any section (like the navigation menu or within content). About Us and Contact Information page, for instance, will help you build trust among customers. Product guides and precisely-targeted landing pages can significantly increase sales.
Pricing
There is no need to pay for anything as long as you use Shift4Shop's credit card processor. You get access to premium features, unlimited products, unlimited bandwidth, and a free domain name (which they will renew every year) at no cost.
However, if you opt not to use their processor, you must pay monthly subscription fees, which start at $29 and go up to $229. More specifically, you can choose from three paid plans:
Basic Plan ($29 per month) for sales up to $100,000 per year
Plus Plan ($79 per month) for sales up to $250,000 per year
Pro Plan ($229 per month) for up to $1,000,000 in annual sales
An additional 10% discount is available (on the monthly price) if you pay annually.
Downside
The free plan is available to US-based customers only. And if you are on a paid plan and your sales exceed the cap of your current plan, they will automatically upgrade you to the higher plan tier without any notice.
7. FastSpring
Best for selling software and other digital products
Price: About 7% fee of the total transaction's value
FastSpring's eCommerce solution helps you streamline processes related to subscription management, payment processing, recurring billing, tax collection, data security, and more.
It provides innovative tools and technologies to sell digital products effortlessly. The platform handles more than $2 billion in global transactions every year, while taking care of tedious tasks like managing checkout, calculating VAT, and ensuring compliance.
This saves you a lot of time, so you can concentrate on only one thing — developing great digital products.
Key Features 
Tax collection and remittance
Risk management plus compliance
Includes tools to increase recurring revenue
Supports 23+ currencies and 21+ languages
You can customize the platform's language based on the customer's location, create custom pricing plans with free trials, add discounts for customers who choose annual subscriptions, design customizable checkout procedures, and send automated reminders about dues and cancellations — all from a single dashboard. You can even use the in-built fraud monitoring and detection system to block suspicious transactions.
FastSpring integrates well with popular third-party tools like WordPress, Zapier, Mailchimp, Nalpeiron, Google Ads, and more.
Unlike Stripe, the company doesn't charge you for every added feature. Instead, it works on a revenue-sharing model where fees depend on the transaction type and the volume of business. It usually ranges between 6 and 8 percent of the total transaction's value. You can contact them directly and negotiate the price with their sales team.
6. PrestaShop
Best for deploying online businesses on a large scale
Price: Free | Options to add premium templates and addons
PrestaShop is a freemium, open-source eCommerce platform that allows you to put your business online and grow it faster. It's incredibly simple and easy to use.
First, you need to download and install the PrestaShop software on your hosting server. Then add the name of your store, select a suitable theme, and insert a logo of your eCommerce project. There are thousands of free and premium themes to choose from.
You can manage everything from the backend dashboard, from product catalog and order to payment and shipping data.
Once everything is set up, you can focus on increasing website traffic. PrestaShop gives you options to launch marketing campaigns to attract more customers and increase your brand awareness.
It has a smart marketing tool called PrestaShop Ads that makes it easier to advertise on Google Ads, Instagram, Facebook, Amazon Ads, and more. You can even do competitor research, advertise on the most suitable platforms, and track every conversion.
Key Features 
Create pages focused on legal information
Configure taxes based on the locations
Add special offers and discounts
Reduce abandonment cart rate by sending emails
Although the PrestaShop software is free to install, setting up a complete shopping cart solution isn't zero-expense. You will still need to pay for hosting charges and buy multiple premium modules to create a decent-looking store.
The company generates revenue from PrestaShop Addons (a marketplace containing custom themes and addons) and strategic partnerships with leading companies like Google or PayPal. The platform is currently used by 300,000 stores and is available in 60+ languages.
Downside 
Premium templates and add-ons are quite expensive compared to other eCommerce platforms. While some templates and add-ons are free, most cost between $80 and $300. You may need to customize them further (by editing underlying HTML, CSS, and JavaScript files) to perfectly match your store's requirements.
5. WooCommerce
Best for all eCommerce sites running on WordPress
Price: Free
WooCommerce is an open-source eCommerce plugin for WordPress. It is designed for small and mid-sized online merchants who are running their online store on WordPress. For those who don't know, WordPress is the most popular content management system powering 42.9% of the top 10 million websites.
WooCommerce smartly blends content and commerce. Whether you are developing websites for clients, putting products online for sale, or launching a new business, WooCommerce will help you get things done within minutes.
The plugin allows you to showcase physical and digital products and their multiple versions. Just select a theme suited to your brand and industry. Install extensions to add more features like adding a subscription model, setting up dynamic pricing rules, and more. 
Benefits 
Fully customizable
Thousands of plugins and templates
Scalable and can be integrated with virtually any service
Monitor key stats in real-time
WooCommerce has thousands of free and premium themes and extensions that help you effectively manage your business operations. For example, WooCommerce Payments lets you conveniently manage payments, WooCommerce Shipping makes it easy to print USPS labels right from your dashboard,  and WooCommerce Tax automatically calculates the tax on products based on the customer's location.
And since both WordPress and WooCommerce are open-source software, you retain full ownership of your store's data and content forever.
Downside
While most WooCommerce themes and extensions are available for free, installing too many of them could slow down the website's performance, as they take up a lot of memory. Plus, the more extensions you install, the higher the risk of technical issues.
4. Adobe Commerce
Best for enterprise-level companies
Price: Starts at $22,000 per year
Designed for large businesses, Adobe Commerce offers unparalleled and premium performance. It allows you to create stunning websites and deliver engaging shopping experiences to all types of customers — from B2C and B2B to B2B2C.
The platform is not just a flexible shopping cart system, but it also serves as a building block for growing your business. You can easily manage multiple sales channels and brands in more than 10 languages, expand into new countries, and add global currencies — all from a single platform.
Key Features 
Drag-drop page builder
Inventory management
Product recommendation
Deeper business insight with simple visualizations
It also features an artificial intelligence system called Adobe Sensei, which generates valuable reports and automates back-end workflows such as product recommendation, catalog updates, and customer targeting and personalization.
So far, more than 160,000 online stores have sold $165 billion+ worth of goods through Adobe Commerce. It accounts for 2.32% of the total market share of e-commerce platforms worldwide.
Pricing Structure 
The prices depend on how much revenue you make in a year. You may fall into one of the five cost brackets:
Less than one million in annual sales: $22,000 a year
Between 1 and 5 million: $32,000 a year
Between 5 and 10 million: $49,000 a year
Between 10 and 25 million: $75,000 a year
Over 25 million in annual sales: $125,000 a year
Downside
The platform has a steep learning curve. It's a common issue with self-hosted systems. You may need to contact Support and ask for help to build and customize an online store. Plus, you have to pay for the server and additional plugins separately.
3. Squarespace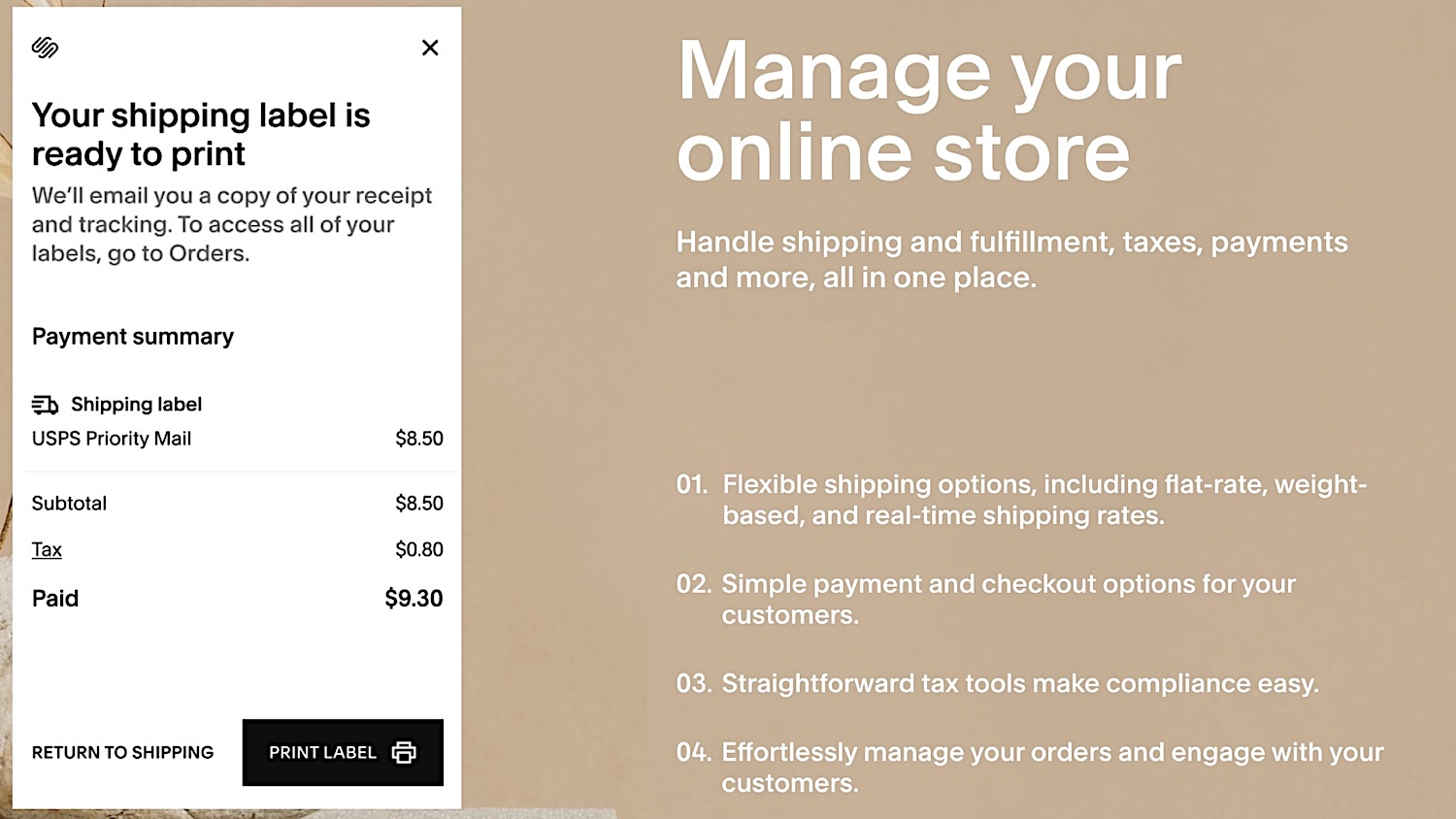 Best for artists, photographers, and anyone who loves design
Price: Starts at $23 per month | 14-day free trial available
Squarespace lets you use pre-designed website templates and drag-drop elements to modify online stores. You can choose from hundreds of industry-leading templates, color palettes, and fonts that best fit your professional needs and personal style.
Besides setting up an online store, Squarespace is also ideal for creating a blog, portfolio of images/videos, and local business websites. Once your site is ready, you can focus on driving traffic via social plugins, email marketing, and SEO tools.
The platform is incredibly easy to use. Its on-screen instructions walk you through tools like templates, SEO, and showcasing your products.
Key Features
Templates to fit every need, from blogs to portfolios
Password protected pages
Promotional pop-ups and banners
Collect and display product reviews
Overall, Squarespace is a full-featured CMS. With a single subscription, you can your own custom domain name, create a website, host content, sell goods and services, and track the site's analytics.
Squarespace has more than 3.5 million subscribers. According to W3Techs, it is used by 1.9% of the top 10 million websites.
Pricing structure 
Squarespace offers four plans, all of which provide you with unlimited storage and unlimited bandwidth.
Personal: $23 per month
Business: $33 per month
Basic Commerce: $36 per month
Advanced Commerce: $65 per month
If you pay upfront for a year, you can save up to 30% on the monthly fees.
 Downside 
You won't have the option to control every aspect of your site — you will only be able to adjust the preset rows within your template. Furthermore, Point-of-sale and automatic tax calculations are limited to the United States.
2. BigCommerce

Best for medium and enterprise-level businesses
Price: Starts at $30 per month | 15-day free trial available
BigCommerce offers open-source SaaS solutions to retailers, making it easier to them to create and scale online stores. It handles everything, from managing orders and customers' databases to generating detailed reports.
BigCommerce is designed for both novice and experienced users. Any person with no technical skills can use the platform to quickly create an online version of his business.
It provides several tools for creating stores, marketing products, and increasing traffic from search engines. As soon as you create an account, you get access to dozens of customizable templates. Pick anyone to list your physical products or digital services. And then, you can use additional tools for marketing your store and capturing the target audience.
Benefits 
Flexible and scalable as per your business requirements
Comes with a drag-drop page builder
Essential back office integrations
SEO and mobile optimization
The platform also allows you to create several different versions of your online store and change products and currency settings to suit specific regions. Set different pricing rules for different groups of customers and add discounts and gift card options at the checkout page.
Overall, BigCommerce combines an open architecture, enterprise functionality and app ecosystem, enabling businesses to increase sales with significantly less cost, time, and complexity than on-premise tools.
It currently powers B2C and B2B eCommerce for 60,000+ brands and 30+ Fortune 1000 companies and industry-leading brands, including Toyota, Sony, Skullcandy, and Assurant.
Pricing structure 
The company offers three pricing plans:
Standard ($30 per month): for annual sales up to $50,000
Plus ($72 per month): for annual sales up to $180,000
Pro ($267 per month): for annual sales up to $400,000
All three support unlimited products, file storage, and bandwidth. If your business generates more than $400,000 per annum, you can contact their sales team for custom pricing.
Downsides 
Like all other SaaS platforms, the customization is limited to template and software capabilities. Plus, there is a limit on the annual revenue you make through the online store. If you exceed that limit, you need to pay for a more expensive plan.
1. Wix
Perfect for small businesses and freelancers
Price: Starts at $27 per month | 14-day free trial available
Wix allows you to build your own high-quality websites, whether it's related to showcasing your work, listing products or services, or promoting your business. You can develop all of these by following a few simple steps:
Either start from scratch or choose from over 500 customizable templates
Add advanced features like scroll effects, video backgrounds, and animation.
Add an online store and start accepting bookings. You always have the option to add more functionality as your website grows
Optimize for smartphones and tablets
Add website description, location, and keyword to gain organic traffic (from search engines)
Wix also has an Artificial Design Intelligence (ADI) tool, which instantly creates a personalized website for you. You need to answer some basic questions (such as what your website is about and what you plan to sell), and it will automatically create the website according to your input.
Once the design is ready, you can customize text, change the layout, and add more features within a few clicks. You can even allow your customers to book appointments, pay online, and download digital files.
Key Features 
Logo Maker
Drag-drop galleries, videos, vector art, and interactive elements
Online Scheduling tool allows your customers to book appointments/services and pay online
SEO tools to increase organic traffic
Wix also features an in-depth analytics and reporting system. It makes it easier to analyze the visitors' behavior, compare revenue across time periods, and track lead generation by channel. Furthermore, it gives you personalized suggestions on how to increase website traffic and sales.
Besides building eCommerce websites, Wix is also used for developing sites for online marketing, email marketing, contact forms, and community forms. So far, more than 182 million users have chosen Wix to design a free website. According to W3Techs, it is used by 2.3% of the top 10 million websites.
Wix uses a freemium business model to generate revenue through premium upgrades. Its Basic Business plan costs $27 per month, Unlimited Business plan costs $32 per month, and VIP Business Plan costs $59 per month.
All plans include unlimited bandwidth, secure online payments, and a free domain for one year.
Downsides 
The platform isn't for everyone, especially for those who want complete control over every aspect of their site. Also, it doesn't give a detailed insight into technical aspects of your site — you cannot change hosting servers, deal with technical issues, or update backend software.
Wix manages everything by itself, so you can focus on increasing sales and customers' experience. If you want to fine-tune every minor detail, a content management system (CMS) would be a better choice.
Other Equally Good eCommerce Platforms
10. NetSuite Commerce
Price: Complete setup costs about $40,000 a year
NetSuite Commerce is a feature-rich cloud eCommerce platform designed for B2C and B2B merchants. It's ideal for businesses having 5-10 employees.
The platform comes with pre-designed responsive templates that enable you to quickly set up your online store. It also has plenty of commerce extensions, such as elastic site search and faceted navigation, to help customers find and learn about your products.
It does a great job handling all tedious tasks. For example, it automatically syncs front-end website and back-office inventory and pricing data, and centralizes order management to fulfill orders efficiently. You can view customers' detail, order, inventory, and other crucial metrics in real-time to make informed decisions.
Overall, NetSuite Commerce gives you the features and flexibility you need to keep pace with business, increase efficiency, minimize operational costs, and eliminate the hassles of managing complex software.
As for pricing, you need to buy an annual license. The license covers three major components: core platform, additional modules, and the number of users. You may also need to pay a one-time implementation fee. As your site grows, you can install more features and add users. They haven't mentioned the price, but it usually costs about $40,000 a year.
11. Salesforce Commerce Cloud
Price: 3% gross merchandise value | Billed annually
Salesforce Commerce Cloud is a highly scalable eCommerce platform that has been refined over many years to deliver the best customer experience. It offers a range of features through its intuitive admin panel, often with no technical intervention needed on your side.
The platform utilizes machine learning to power merchandising insights, automate tax computation, and deliver personalized recommendations to every customer. And since it's a part of the Salesforce family, you can easily integrate it with various CRM and marketing SasS services.
The platform is already used by thousands of popular retail brands, including Puma, Burton, Adidas, and Lacoste.
The company uses a revenue share model to charge its clients. So it may not be a good option for high-volume B2B organizations where margins are usually much tighter.
12. Volusion
Price: Starts at $35 per month | 14-day free trial available
Built for small business owners, Volusion makes it easy to create a fully-functional online store from scratch. Or, you can select from various responsive themes and change the entire design, colors, and graphics the way you want.
Its website builder allows you to fully merchandise your products with multiple images and details, add subcategories, manage SEO, and customize the advanced search tool so visitors can easily locate products on your website.
The platform is used by thousands of merchants across the world. Customers have spent over $28 billion in transactions and placed more than 185 million orders through Volusion-powered websites. According to the company, business owners earn about 2.5 times more on Volusion than its competitors.
Volusion has four pricing plans:
Personal ($35 per month): for up to 100 products
Professional ($79 per month): for up to 5,000 products
Business ($299 per month): for unlimited products
Prime: for annual gross merchant value of over $400,000
All plans come with powerful site editing tools, free responsive themes, SEO tools, secure checkout, social media integration system.
13. Zoho Commerce
Price: Starts at $27 per month | 30-day free trial available
Zoho Commerce has all the essential tools you need to create an online store, accept orders, process payments, track inventory, analyze your data, and market your brand. It efficiently handles everything, from order management and shipping integration to payment gateways and email automation.
What makes this platform unique is that it allows you to engage with website visitors within the same dashboard to increase conversation rate and encourage repeat purchases.
Moreover, its advanced reporting system lets you analyze your site performance and make data-based decisions. And since it's a Zoho platform, you can easily integrate it with other Zoho products (including marketing and finance applications) and scale your business operations as your revenue grows.
As for pricing, Zoho Commerce has three plans:
Starters ($27 per month): for up to 2,000 products and 2,000 customer accounts
Pro ($75 per month): for up to 10,000 products and unlimited customer accounts
Advanced ($175 per month): for up to 50,000 products and unlimited customer accounts
You can save up to 20% by paying yearly. All plans include a responsive website builder, free hosting with SSL, and payment and shipping integrations.
More to Know
Different Types of eCommerce Platforms
All eCommerce platforms can be categorized into three groups:
Software as a Service (Saas): Offers all essential features, such as hosting, catalog management, and secure payment gateways, to run an online store. It's percent for small retailers. Shopify, Wiz, and BigCommerce are all examples of SaaS eCommerce platforms.
Platform-as-a-Service (Paas): A third-party provider delivers and manages software and hardware, which can be used to create an online store. The development team has access to servers, databases, codebase, and the entire infrastructure. Adobe Commerce is a perfect example of a PaaS platform.
On-premise platform: Both software and hardware are located within the premises of the company providing the products or services.
Is Shopify the same as Amazon?
No. Shopify and Amazon work in completely different ways. Amazon is an online marketplace, while Shopify is a specialized eCommerce platform that offers various tools to build your own online store.
Selling through Shopify is more like renting a store to set up your business in. You get your own customizable space to showcase your products. If your brand gets popular, more people will come looking for your store. Shopify accounts for almost 11% of the total eCommerce market share.
Selling on Amazon, on the other hand, is like having a stall in the most popular market. Millions of people visit the market to browse and buy items. The platform has more than 200 million active users, with 147 million in the United States alone.
E-commerce Software Market Size
According to the Fact.MR report, the eCommerce platform market size will exceed $12.37 billion by 2032, growing at a CAGR of 12.5% from 2022 to 2032.
Recent online shopping trends have increased the demand for automated eCommerce tools among many retailers. Plus, these tools simplify complex processes and help businesses manage their inventory, calculate taxes, and analyze customers' behavior.
With giant retailers like Walmart and Kroger investing heavily to grow their online sales, it is expected that the eCommerce platforms will witness substantial growth in the near future.
Read More
22 Perfect Places to Sell Your Design Work Online
8 Best Banks For Small Businesses and Startups