Carvana is the fastest-growing platform for buying and selling cars in the United States. It allows users to trade in, sell, or finance their current vehicle from the comfort of their own homes.
The platform contains 25,000+ cars — all are in excellent condition, with no reported critical damage, according to AutoCheck and CARFAX.
What makes Carvana unique is all listed cars come with a 7-day return policy. If the car doesn't suit your lifestyle, you can easily return it within 7 days. You also get a 100-day or 4,189-mile warranty. If something happens to your car during this period, they will take care of it.
Moreover, the company helps you select a car that fits your budget perfectly. Once you finalize your choice, you can schedule the next-day delivery or pickup at one of Carvana's automated car vending machines.
In 2021, the company managed to sell more than 425,000 cars, generating an annual revenue of $12.8 billion. It is currently a part of Fortune 300 companies, offering services in over 300 US markets.
However, Carvana is not the only online car used retailer in the United States. There are plenty of options available in the market that allow you to trade in, shop, and finance vehicles. Some of them make it easy to do preliminary research and compare dealerships to get the best deals.
We have handpicked a few of the best sites like Carvana that contain a wide range of affordable vehicles and offer great customer service.
10. Shift Technologies
Founded in 2014
Area served: California, Washington, Oregon, Texas
Rating: 4.3/5 from 4,000+ customers
Based in San Francisco's Mission District, Shift Technologies runs an online marketplace for buying and selling cars. In addition to offering new and used cars, it provides rental, diagnosis insurance, post-warranty repairs, mechanical and painting work, and security services.
Their website shows you all the details about the vehicle upfront. Every listed car has high-resolution images, specifications, history, and an attached carfax report.
The company analyzes more than 150 parameters before listing a car. They carefully review ownership info, vehicle history reports, and service records.
They also have a financing tool that lets you check what you can afford without impacting your credit score. For pre-qualified customers, it shows estimated loan terms for all cars.
Key Benefits
Filter results by year, model, body style, and price
They process all necessary paperwork, including DMV forms and registration
Compares past and current prices for similar vehicles to ensure prices are fair
Sellers get competitive offers in 2 minutes
9. CarsDirect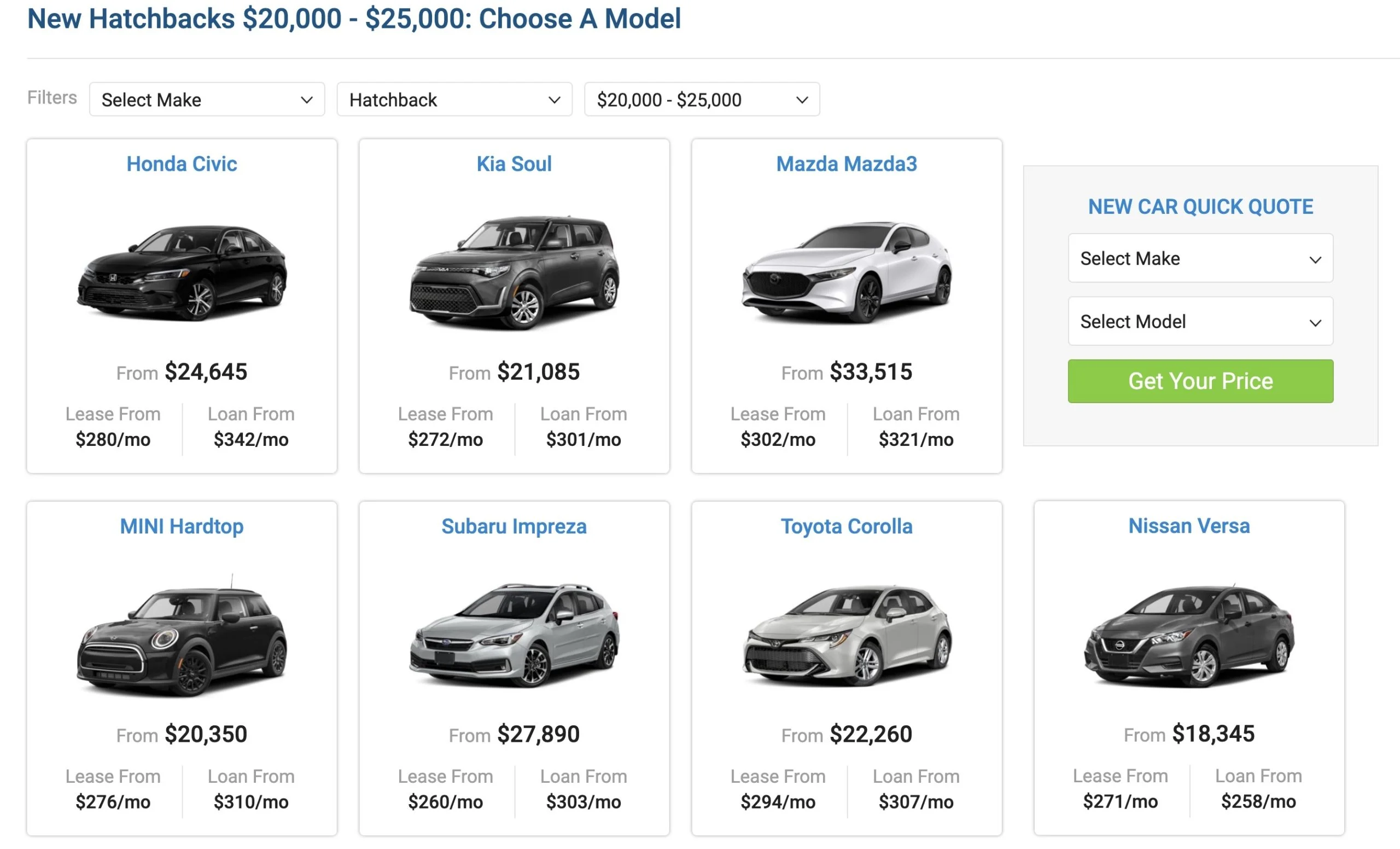 Founded in 1998
Area served: United States
Rating: 4.1/5 from 350+ customers
CarsDirect has been in the business of helping customers buy cars for more than two decades now. It originally started as an online vehicle buying platform and gradually expanded into dealer referral and advertising.
Today, it helps customers get the best deal on new and used cars. It provides you with the latest car pricing data, so you know which car to buy from which dealer. It also has special financing options for people with less-than-perfect credit scores.
CarDirect employs full-time pricing experts who manually analyze car pricing information, identify pricing trends, and find hot deals that are useful to vehicle buyers. Since it's an independent firm, the pricing info is completely objective and not influenced by private dealers.
While you can use the platform for free, when it comes to purchasing a vehicle, you will need to work with the leader or seller directly.
Key Benefits
Find both new and used cars
Side-by-side comparison of specs, features, and prices
Lender network accepts poor credit
Offers anti-theft products and audio guide services
8. TRED
Founded in 2011
Area served: United States
Rating: 3.9/5 from 400+ customers
TRED is a trusted peer-to-peer used vehicle marketplace. It eliminates the high dealer commissions while taking care of all crucial parameters, such as Seller Identify Check, Vehicle History Check, Guaranteed Title, and Secure Payment.
It also provides additional services like extended warranties, GAP coverage, and financing options. If you plan to finance your purchase, TRED can get you competitive rates from their industry-lending partners.
According to the company, buyers save an average of $6,500 on the vehicle they purchase, and sellers make an average of $4,000 over dealer trade-in value.
Key Benefits
Offers affordable vehicle protection plan and GAP insurance
Handles title transfer and registration
Multiple financing options
Daily support
7. AutoTrader
Founded in 1997
Area served: United States, Australia
Rating: 4.7/5 from 310,000+ customers
Autotrader is an all-in-one solution for buying and selling new, certified, and used vehicles. The company's website and smartphone applications make it easy to find vehicles and give you more control over the buying or selling process.
As of today, the platform contains more than 3 million vehicles listed by 250,000+ private owners and 40,000+ dealers. About 14 million interested buyers visit the website every month, making it one of the most popular car trading platforms.
The research and comparison tools allow you to compare vehicles based on parameters like body type, specification, mileage, price, and features. Filter down search results by special discounts and compare cars side by side. View high-definition photos and videos, read genuine reviews, and contact sellers directly to negotiate prices.
Autotrader can also help you with insurance, warranty, and finance programs. In fact, it has an editorial team that reviews cars and provides helpful advice via articles, videos, and social media content.
Furthermore, the company owns and operates an online marketplace of classic and antique automobiles, AutoTraderClassics.com.
Key Benefits
Search by keyword or use unique filters to find cars
Get recommendations based on features you like
Easily compare and track vehicles
Includes car payment and lease calculators
6. TrueCar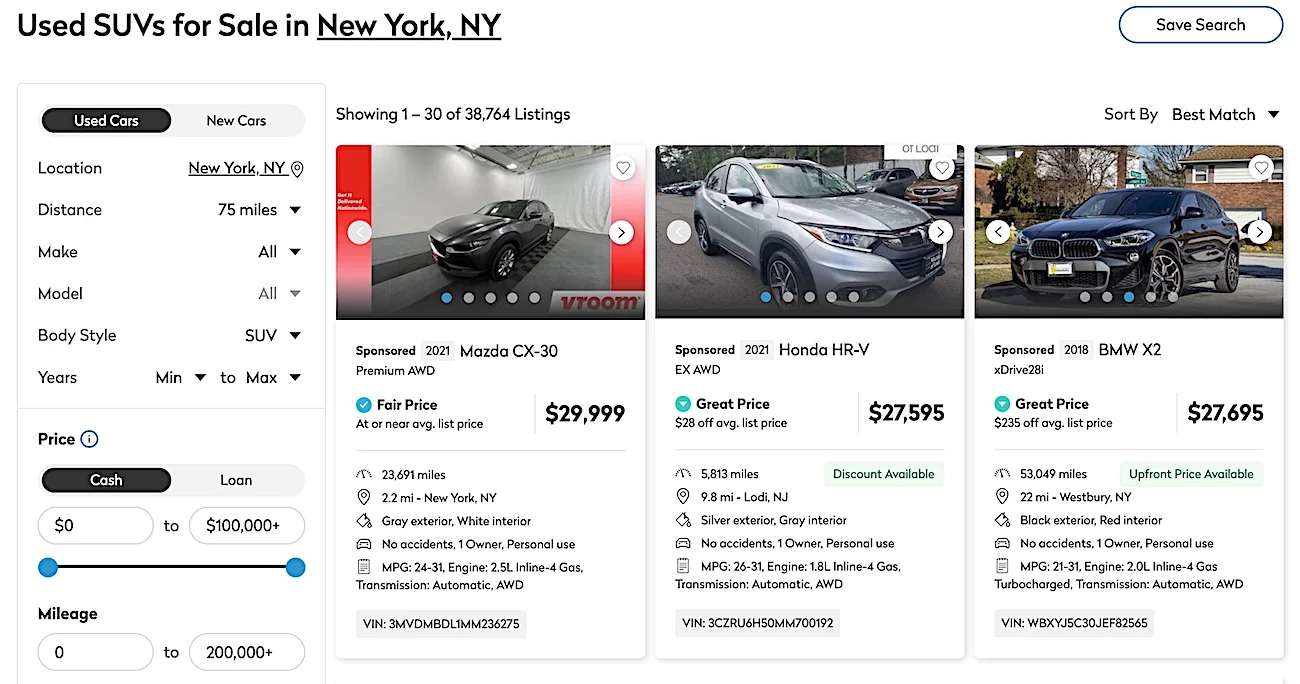 Founded in 2005
Area served: United States
Rating: 4.6/5 from 60,000+ customers
TrueCar is a modern-day marketplace that makes car trading more convenient and transparent, bringing more of the transaction online. It comes with all the essential research and shopping tools you need to confidently buy or lease a car.
The company has partnered with over 15,000 dealers to provide one of the most expansive inventories. Whether your budget is $5,000 or $50,000, or if you are buying a vehicle for the first time or the tenth time, TrueCar will deliver a great customer experience.
About one million cars are sold through this platform every year.
What makes TrueCar unique is that it aggregates data from multiple reliable sources to show you how much buyers are actually paying for a specific vehicle in your geographic area. This gives you real-time, unbiased information about marketplace pricing.
Key Benefits
Choose from 80,000+ used cars across the US
Get an upfront, personalized price offer from a certified dealer
See how much other customers are paying for the vehicle you like
Build a custom deal that includes your trade-in value and monthly payments
5. Copart
Founded in 1982
Area served: US, Canada, UK, Germany, UAE, Finland, Spain, Brazil, Ireland, Oman, and Bahrain
Rating: 4.7/5 from 110,000+ customers
Copart is the premier source for online vehicle auctions connecting buyers and sellers across the world. It has a large inventory of more than 290,000 used and repairable vehicles.
More specifically, the company operates 200+ physical locations, where it houses over 10,000 acres of vehicle inventory. It specializes in the resale and remarketing of used vehicles for various sellers, including rental car companies, financial institutions, insurance companies, and local municipalities.
More than one million vehicles are sold every year through Copart's online platform. This means there is something for everyone, from individual consumers and dealers to dismantlers and salvage buyers.
Unlike most other car rental platforms, Copart offers membership programs. It is completely free for users who just want to look at auctions but don't want to bid. The paid plan starts at $59 per year — it allows users to bid up to $1,200 without making a deposit. The premier plan, which costs $199 a year, allows users to bid up to $100,000 every day.
Moreover, Copart owns multiple auto services companies, including CrashedToys, CashForCars.com, and National Powersport Auctions.
Key Benefits
Inventory includes cars, SUVs, motorcycles, boats, classics, and exotics
Attend live auctions and place bids from anywhere
Quickly find vehicles with voice search
Recommendations based on your personal preferences
4. CarGurus
Founded in 2006
Area served: US, Canada, UK, Italy, Spain, Germany
Rating: 4.8/5 from 160,000+ customers
CarGurus is an automotive research and trading platform that allows users to quickly compare local listings for new and used cars and contact sellers. It provides all necessary details, serving everything up in an easy-to-understand format.
You can find specific vehicles in your local region and compare listings by features, price, and dealership reputation.
The online platform analyzes millions of data points every day, including prices, mileage, accident history, and certified pre-owned status. It then assigns a rating to each car deal (from great to overpriced), and sorts search results in the most helpful order.
CarGurus also tracks the prices of millions of used car listings every year. This helps you determine how the prices of your favorite car brands have changed over time. You can customize settings to get price drop alerts, attractive deals, and car recommendations.
Key Benefits
Browse certified pre-owned vehicles
Filter down results and see hard-to-find data right up front
Detailed car reviews and advice from experts
Find financing ahead of time
3. Vroom
Founded in 2013
Area served: United States
Rating: 4.7/5 from 30,000+ customers
Vroom allows users to buy, sell, and finance vehicles online. It is more of an eCommerce service that efficiently handles the entire buying/selling process.
The platform lists thousands of vehicles — all are in good condition. It uses its own RFID tracking and prioritization tools to automate the refurbishment process.
You can search for a specific model or filter down search results by vehicle types, such as trucks, SUVs, or sedans. Every car comes with a 7-day money-back guarantee and a 90-day bumper-to-bumper warranty. Plus, there are plenty of financing options from over 13 banks.
Once you complete the purchase, Vroom will deliver your car within two weeks. They will ship it right to your residential address, or to a convenient nearby location.
For sellers, Vroom's automated system gives an instant price based on the description and data from hundreds of similar transactions.
Key Benefits
Browse thousands of late-model cars and trucks
1-week or 250-mile return period
Finance your vehicle at reasonable interest rates
Nationwide delivery
2. AutoNation
Founded in 1996
Area served: United States
Rating: 4.1/5 from 1,000+ customers
Based in Fort Lauderdale, Florida, AutoNation offers new and used vehicles and associated services in the US. It has 300+ retail outlets across 18 states.
Since its inception, the company has acquired dozens of car rental businesses, including Snappy Car Rental, Value Rent-A-Car, National Car Rental, and Spirit Rent-A-Car. Today, it's a part of the Fortune 500 with over 21,000 associates, and has sold and serviced vehicles to more than 13 million customers.
Every vehicle comes with a rigorous 125-point safety inspection report, CARFAX vehicle history report, a 5-day or 250-mile money-back guarantee, and a limited warranty.
The company also has a large service and repair network. They employ certified technicians and well-trained workers to service/repair your vehicles. They even guarantee every repair for 1 year or 12,000 miles.
Key Benefits
Get access to 100,000+ new and used vehicles
Special military discounts
Get pre-qualified for financing without affecting your credit score
Offers vehicle protection plans and care program
1. CarMax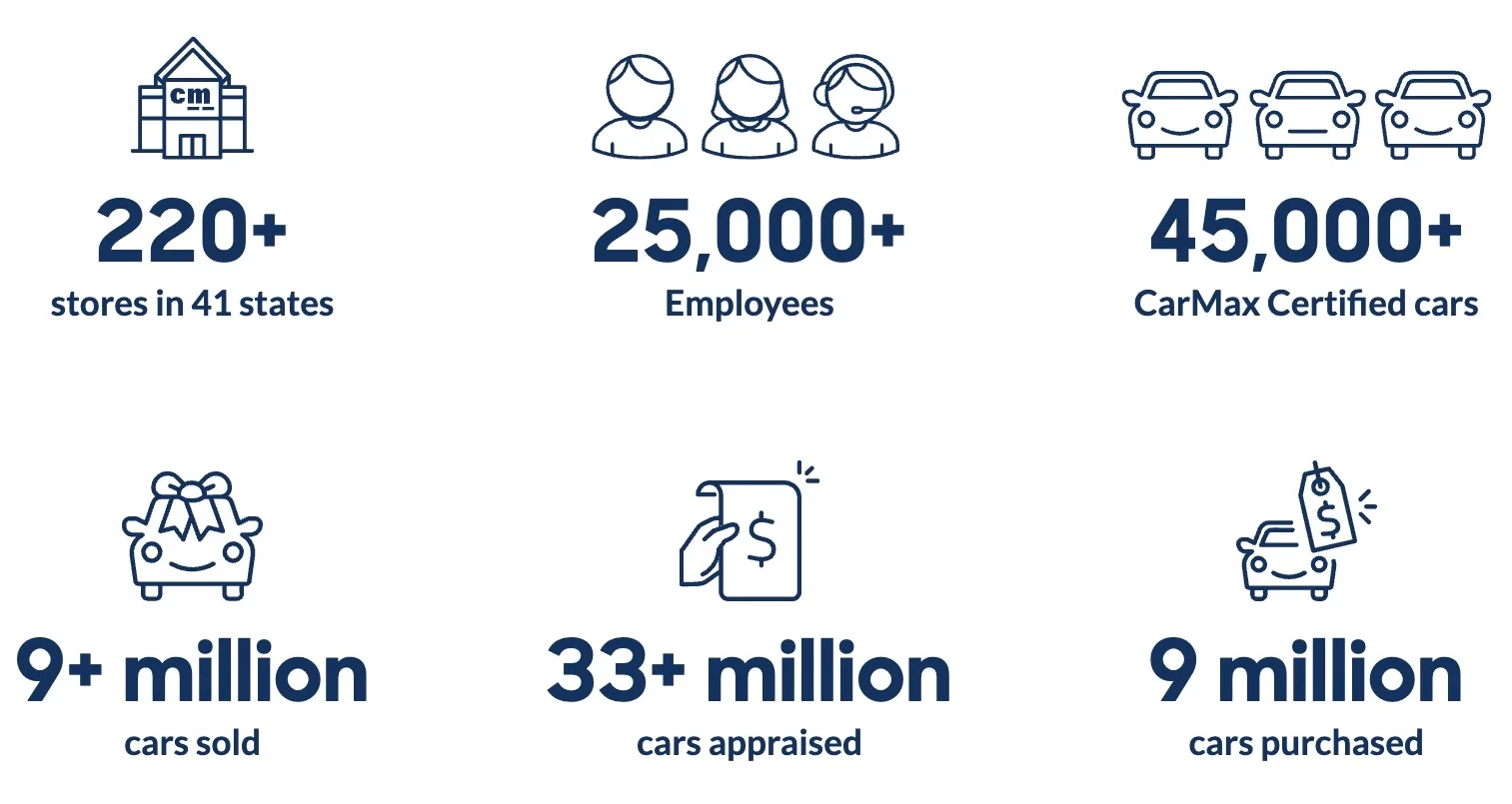 Founded in 1993
Area served: United States
Rating: 4.8/5 from 391,000+ customers
CarMax operates two business segments: Sales Operations and Auto Finance. While its 220+ physical stores focus on marketing used vehicles, the online platform allows you to search and browse over 50,000 used cars, SUVs, and trucks.
You can customize your searches, sort vehicles by applying filters, and save results for future reference. It shows you detailed specs and features, a complete vehicle history report, as well as estimated monthly payments.
CarMax also allows you to take a car for a 24-hour test drive. However, this option is only available for certain vehicles.
Every car undergoes an extensive reconditioning process to meet buyers' expectations. CarMax ensures that the vehicle has no major dents, no frame or flood damage, and interiors are deep cleaned.
If you like the car, you can pay the price upfront or explore various financing options. Your purchase will have a 30-day/1500-mile money-back guarantee and a 90-day/4000-mile limited warranty.
Key Features
Search vehicles by model, price, mileage, and more
Save car searches and get alerts for price changes
Calculate estimated monthly payments
Multiple financing options
Other Equally Good Carvana Alternatives
11. Carsales
Founded in 1997
Area served: Australia, Mexico, Brazil, Chile, Argentina, South Korea
Carsales is the largest online automotive and marine classifieds business in Australia. It encourages customers and gives them more confidence when it comes to trading cars online, regardless of how much they know about cars.
Their website and smartphone apps allow you to browse 150,000+ new and pre-owned vehicles, and compare their features and prices side by side. Find the latest deals and special offers from manufacturers, read research reports and reviews published by experts, and get access to a range of car leasing and commercial finance options.
For sellers, the platform offers intuitive tools to edit car ads and see how many buyers are interested in your cars. It also helps you price your car competitively by analyzing how your vehicle compares to similar models on the market.
12. Cazoo
Founded in 2018
Area served: UK, France, Italy
Cazoo lets you browse hundreds of high-quality, great-value used cars from the comfort of your home. They have a wide range of cars available to buy or finance.
The website has a modern, easy-to-understand interface. You can quickly filter down results based on numerous useful parameters like model, body type, drive type, color, mileage, features, and carbon dioxide emissions.
Once you have selected your car, you can either choose home delivery or collect it from the Cazoo customer center near you. They are open seven days from 8 AM to 8 PM.
The company gives you one week (or 250 miles) to get to know your vehicle and to make sure it suits you. If you change your mind in between, they will exchange the car or give you a full refund.
13. ACV Auctions
Founded in 2014
Area served: United States
ACV Auctions is designed to replace the physical wholesale car auction market that facilitates the sales of over 16 million vehicles every year. It allows dealers to participate in live 20-minute auctions.
Sellers can create an auction by entering vehicle information, scanning the VIN, and uploading a few pictures. The auction is instantly visible to thousands of potential buyers, who carefully review the information before placing a bid.
The platform removes last-second bid sniping, so everyone gets a fair chance in every auction. It even alerts users when something looks suspicious (especially when it detects incorrect vehicle information).
Once the auction is complete, sellers can either accept or propose a counteroffer to the highest bidder. All of this happens from the comfort of your desk.
While it is completely free to sign up and browse vehicles, sellers and buyers need to pay a small fee based on the purchase amount. This fee is significantly lower than what buyers pay in physical auctions.
14. CarBrain
Founded in 2017
Area served: United States
CarBrain is the perfect place to sell your damaged cars. Their team has more than seven years of experience in buying wrecked vehicles, salvage, vehicles, and even late-model trucks, SUVs, and vans that have been in an accident.
Whether you want to sell your vehicle because of mechanical problems, electrical issues, collision, or storm damage, the process is extremely simple. Just enter the vehicle information to the best of your knowledge, and you will receive an offer within an hour. You will have up to 7 days to accept it.
On average, the company pays and picks up the vehicle within 48 hours after customers accept the offer.
More to Know
Who is the largest online car dealer?
With a market cap of over $26 billion, Copart is the largest online automotive reseller platform. Founded in 1982, Copart has become a premier source for online vehicle actions, connecting buyers and sellers across the world.
The company operates 200+ physical locations in 11 countries and has 175,000+ vehicles up for auction every day. It also sells additional services like providing sale pricing estimates for salvage vehicles and assisting with vehicle title processing.
What's the best way to buy a vehicle online?
First, you need to set a budget and plan how you will finance the vehicle. Then go through multiple platforms to find the best deal. Be cautious of deals that seem too good to be true, and avoid platforms and sellers that are too pushy.
Check the vehicle identification number (which must be included on the online listing) and extract a complete vehicle history report via the National Motor Vehicle Title Information System.
Always take a test drive before making full payment. If possible, hire a mechanic to thoroughly inspect the vehicle during the return window.
Global Used Car Market Size
According to the SkyQuest Technology Consulting report, the global used car market size will exceed $1.72 trillion by 2028, growing at a CAGR of 9.3% until 2028.
The major factors behind this growth include the increasing number of startups offering lucrative opportunities to buy vehicles, as well as the increasing interest of customers to save money and take advantage of better financing options.
Why You Can Trust Us?
We have researched more than 25 car rental platforms and analyzed hundreds of reviews (including both professional reviews and consumer ratings). All data is taken from the company's official website and trusted sources.
We DO NOT accept paid articles or earn any commission from the featured products/services. Plus, we have two separate editors who have no influence over our listing criteria or recommendations.
Read More
17 Different Car Engine Types | Explained
13 Best Apps Like Turo To Rent A Car