Smart notification apps are designed to provide more intelligent and personalized notifications on your mobile devices. These apps go beyond the default notification system provided by the Android OS, offering enhanced features and customization options to better suit your personal needs.
Default vs. Third-party Notification Apps
Although Android's default notification center has matured significantly over the last couple of years, it has a few shortcomings. For example, it has limited customization options, and it prioritizes notifications based on a predefined system, which might not always align with your specific needs.
Thanks to Android's open nature, there are lots of third-party applications that serve as a notification center replacement. They not only enhance the default notification center but also offer extensive customization options, allowing users to fine-tune and set rules for notifications on a per-app or per-contact basis.
These ingenious apps transform your mobile devices into a personalized information hub, offering timely updates, intelligently sorted messages, and the power to declutter your digital existence.
Whether you seek seamless communication, improved fitness tracking, or greater productivity, there's a smart notification app perfectly tailored to your needs. We have featured all those apps exploring various categories, from fitness to finance, productivity to messaging, and everything in between.
27. Spren Notification Manager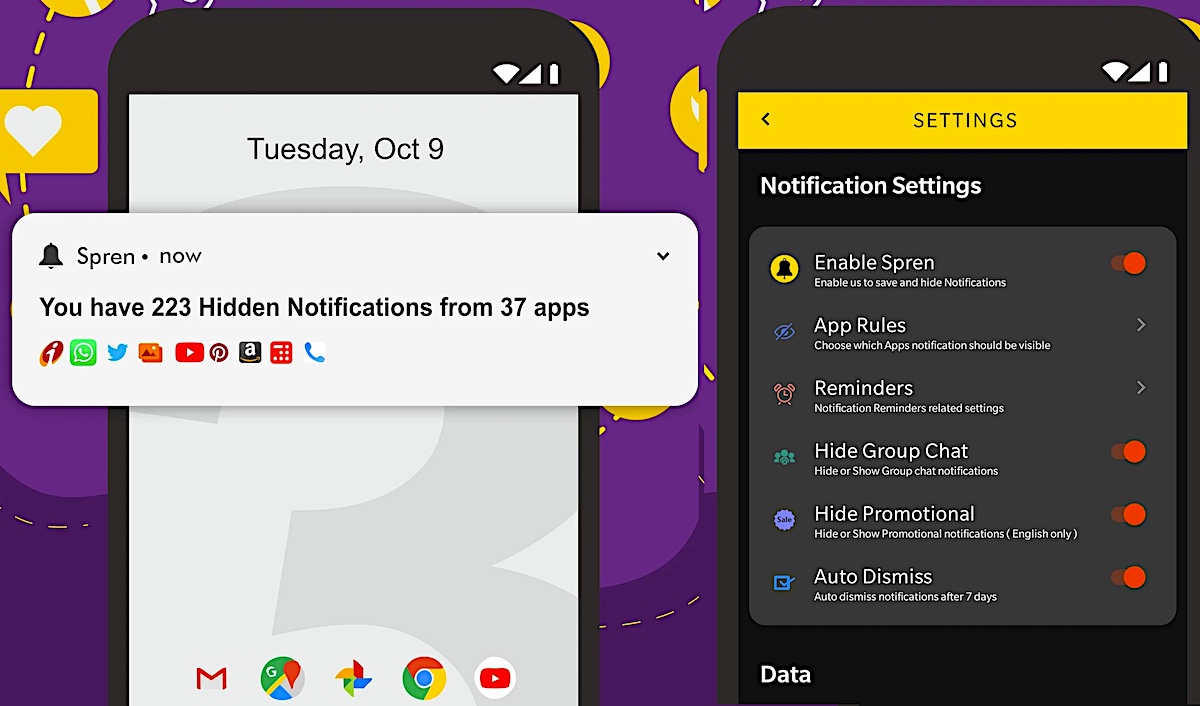 Rating: 4.6/5 from 1,200+ users
Spren serves as an intelligent notification manager, assistant, cleaner, and blocker. It helps you declutter your notifications by categorizing them into "Show" or "Hide." Important notifications are displayed, while less critical ones are hidden.
The app blocks promotional notifications from various sources, including SMS and popular apps like Amazon and Uber. It employs on-device machine learning to filter such notifications.
Moreover, Spren prioritizes user privacy by keeping all notification data on the device, without sharing it with external servers or third parties. You can choose from six vibrant themes to personalize your experience.
26. Edge Notification – Always On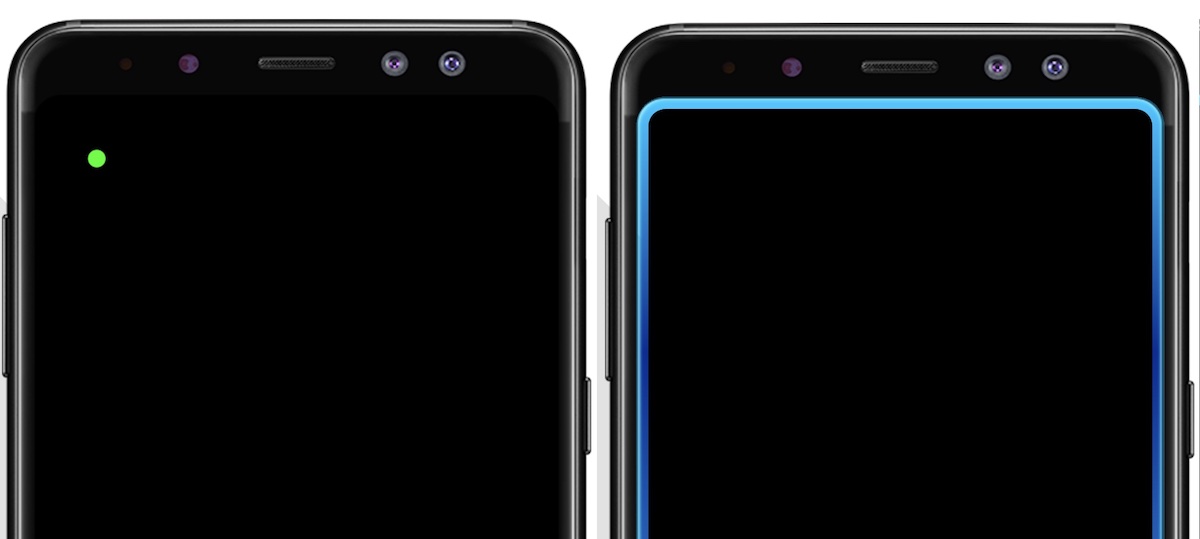 Rating: 4/5 from 900+ users
The Always On Edge app offers a visually appealing and efficient way to stay informed about important events on your Android device. As the name suggests, it features a persistent on-screen notification light or LED that lets you quickly glance at incoming notifications.
It has beautiful design patterns like "pulse" that are not available in other apps. You can customize these patterns to suit your preferences.
Adjust the animation speed and set the animation to run infinitely or for a specific number of repetitions to conserve battery. The default setting limits the edge lighting animation to 10 repetitions to save battery.
25. Glimpse Notifications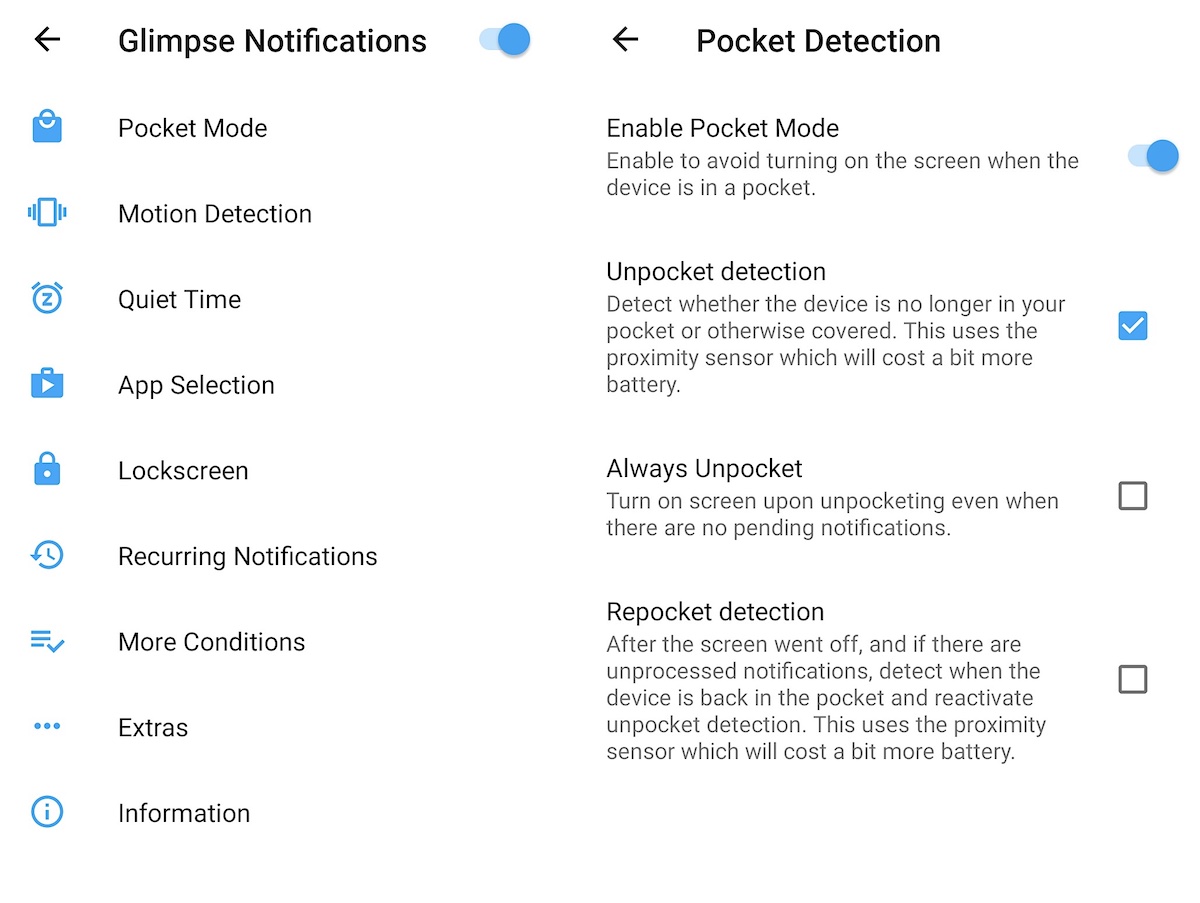 Rating: 4.2/5 from 5,000+ users
Glimpse Notifications offers a convenient solution to stay updated with notifications without the need to press the power button. It allows you to control how long the lock screen remains active and choose which apps' notifications should trigger the display to turn on.
The app seamlessly integrates with the secure system lock screen, ensuring your phone remains protected. It also respects your device's Do Not Disturb settings, providing a consistent experience with your Android's native features.
24. Nap
Rating: 4.3/5 from 200+ users
Nap helps you reduce stress and maintain a sense of tranquility by managing your notifications more effectively. It keeps a log of all your notifications from various applications so you can revisit them later.
The app allows you to schedule "naps," during which you can automatically dismiss notifications from selected applications. At the end of each nap, you receive a summary of the dismissed notifications. You can also configure which interruptions are allowed during each nap and automatically adjust your device's 'Do Not Disturb' mode.
Moreover, you can create reminders for specific notifications, mark important notifications to check later in the 'Saved' feed, and search for notifications based on their content.
23. NotiSave
Rating: 3.5/5 from 5,300+ users
NotiSave is packed with a range of functions to streamline your notification management and enhance your messaging experience.
For example, in addition to saving notification history, NotiSave can save status updates, including image and video statuses, with a single tap. It can also act as a message recovery tool, helping you retrieve deleted messages and restore them.
It supports numerous messaging apps, including messengers, social media applications, and more. You can select the specific apps from which you want to save notifications. It even has a hidden chat mode for social apps, which allows you to read messages privately and without leaving a "read mark."
22. TimeJot
Rating: 4.7/5 from 1,650+ users
TimeJot is an event timeline-logging app that keeps track of important moments and occurrences in your life.
With this app, you can create entries for events, and each entry can include notes and pictures. It calculates and displays the time intervals between entries and since the creation of each entry. You can search your entries by date-range or notes, making it easy to find specific events.
The app lets you schedule notifications to remind you of your events. These reminders are adaptive, meaning they consider your last entry for each event and remind you at the most appropriate time. You can also add entries directly from the notification.
There is a dashboard to visualize how your entries change over time through charts. To gain deeper insights, you can compare your entries by hour, day, month, or year.
21. Notify me
Rating: 3.9/5 from 750+ users
The "Notify me" app lets you create custom notifications quickly and easily. These notifications can be reminders for various purposes, such as tasks, appointments, or important dates.
It comes with a broad range of customization options, so you can tailor notifications to your specific needs. This includes the ability to set titles and descriptions, choose icons, define alarm times, and even specify which app should open upon clicking the notification.
One of its standout features is icon-based reminders. The icons alongside notifications make it easier to identify the purpose of each reminder without having to read the title or description. For instance, an icon can represent an email task.
20. Desktop Notifications
Rating: 3/5 from 30+ users
Instead of constantly checking notifications on your mobile device or tablet, the desktop notifications app offers a more convenient solution. With this app, you can view your notifications on your computer while you browse the web.
All you require is the app installed on your mobile device and a complementary extension for Firefox and Chrome desktop browsers. This setup ensures that you can stay updated without the need to switch between devices.
19. Heads-up Notifications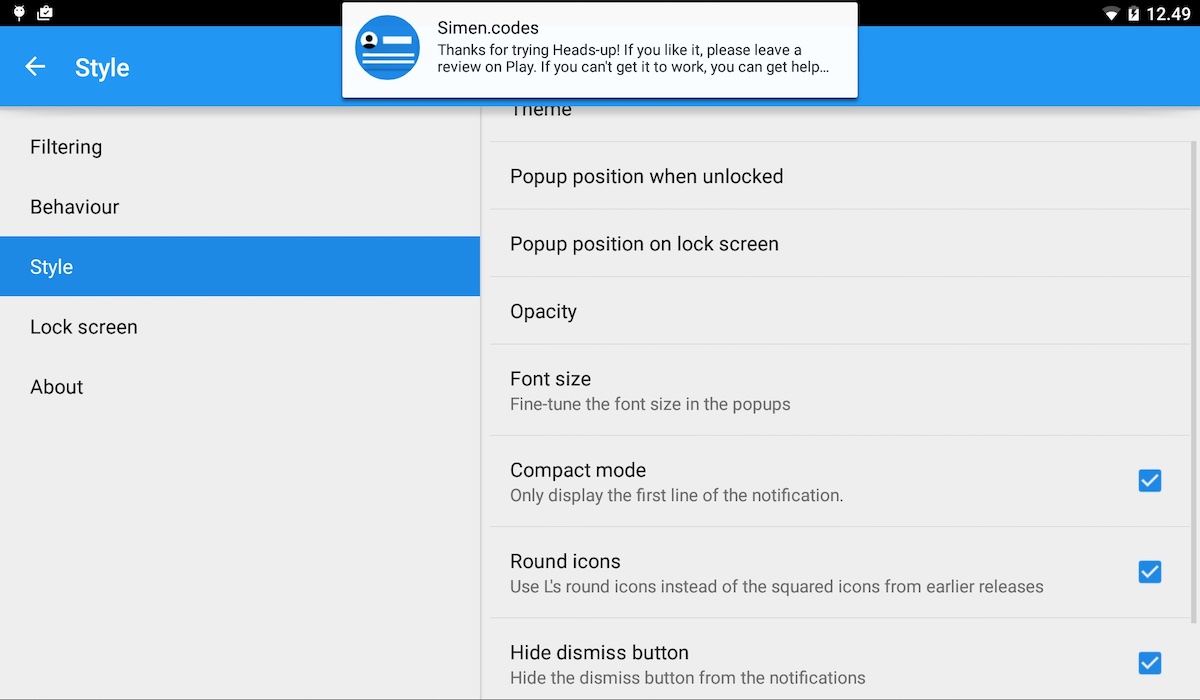 Rating: 4.4/5 from 36,700+ users
The Heads-up app provides a user-friendly notification experience by displaying the latest notification as a floating popup, showing the full text and offering quick actions. This feature allows you to read an entire message and even reply directly from the notification panel.
The app has five built-in customization options to tailor the appearance of your notifications to your liking. It also has a handy "Pocket Detection" system that automatically activates your device's screen when you remove it from your pocket.
Moreover, the app places a strong emphasis on privacy on the lock screen, ensuring that sensitive information remains secure.
18. Notifications Off (Root)
Rating: 4.2/5 from 3,400+ users
If you're seeking a centralized approach to managing app notifications, this app is tailor-made for your needs. It allows you to turn off notifications for all apps from one place rather than toggling notifications for apps individually from the settings screen.
It's important to note that this app requires root access, and it offers the added benefit of automatically deactivating notifications for new apps immediately upon their installation.
17. AcDisplay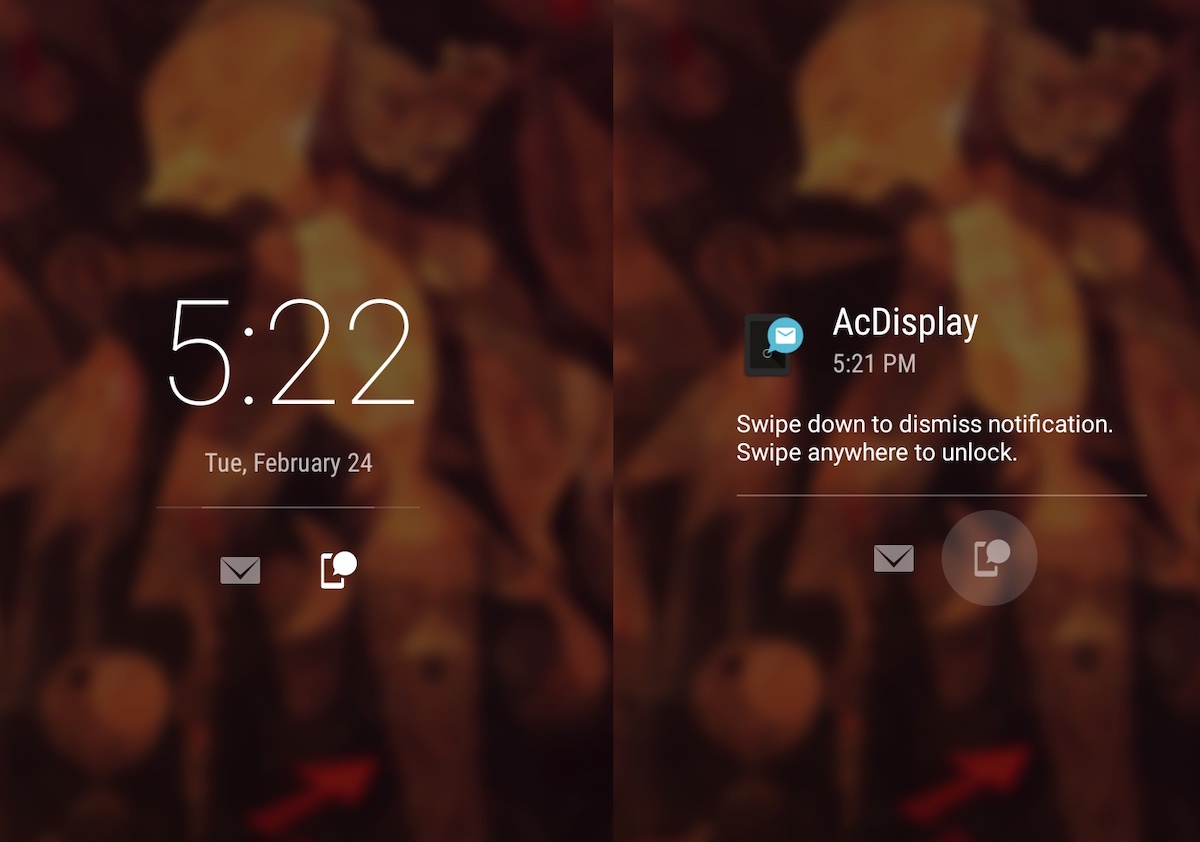 Rating: 3.5/5 from 68,300+ users
AcDisplay presents your new notifications in an elegant and uncluttered display right on your lock screen. This means you can quickly access and interact with your notifications without having to unlock your device.
The app also incorporates "inactive hours" to help conserve battery life by reducing unnecessary notifications during designated periods.
It offers a range of additional features, including dynamic backgrounds, the ability to block notifications from specific apps, the option to prioritize certain notifications while minimizing less important ones, and more.
16. Notification Bubbles
Rating: 4.2/5 from 24,800+ users
This app adds a touch of beauty and playfulness to your home screen by showing notifications in delightful bubbles. It supports Twitter, Facebook, Instagram, and Gmail notifications, which appear as floating bubbles on your screen.
These bubbles make it simple and fun to access your text messages and missed calls – just tap the bubble to read and respond. Moreover, you can choose from various bubble styles and personalize their colors to suit your taste.
Notification Bubbles also offers the option to highlight one of your most cherished contacts by turning them into a heart-shaped bubble, complete with speedy calling and texting features. Plus, you can create a dedicated to-do bubble to receive reminders for important tasks — this makes it a handy tool to stay organized and connected.
15. Floatify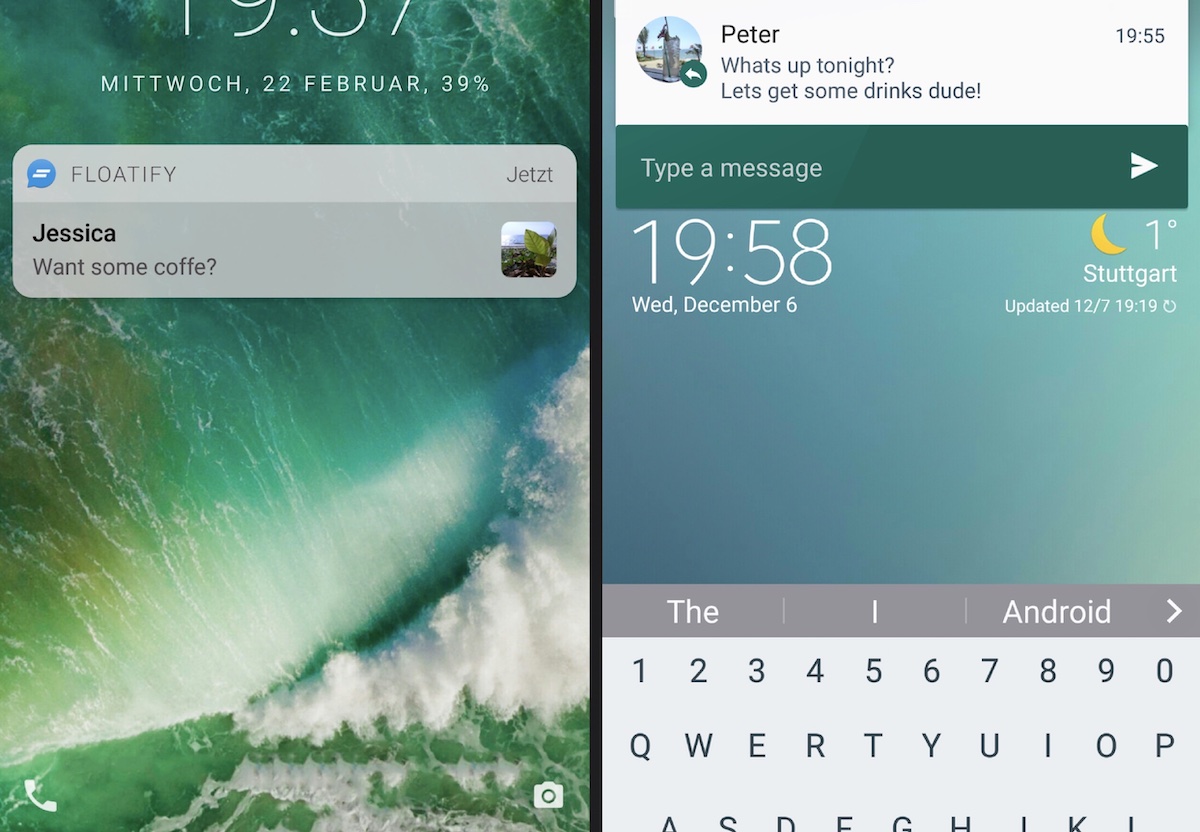 Rating: 4.4/5 from 49,300+ users
Floatify enhances your phone's notification experience by offering advanced heads-up notifications.
The QuickReply function enables you to send messages directly from notifications, while DirectReply allows you to choose pre-defined responses like "OK, thanks!" without the need to type them out. With SmartWake, your screen turns on when you pick up your phone, and SmartBlacklist keeps notifications hidden when you're playing games or watching videos.
You can expand notifications to their full size, filter messages, and apply custom interaction settings, such as left/right swipes or single/double taps.
Plus, there are premium themes within the app that let you choose between Android or iOS-style notifications. You can also customize the appearance by adjusting colors and adding animations to your notifications.
14. Notification History Log
Rating: 3.9/5 from 30,900+ users
Have you ever accidentally dismissed an important notification and wished to retrieve it? This app ensures you never encounter that problem again. It creates a notification log that you can effortlessly organize, sort, and access at any time.
All previous notifications, along with their detailed information, are stored in the 'Advanced History screen.' They are grouped by the respective apps and arranged chronologically, allowing you to easily retrieve and export them to Excel or a text file.
13. Volume Notification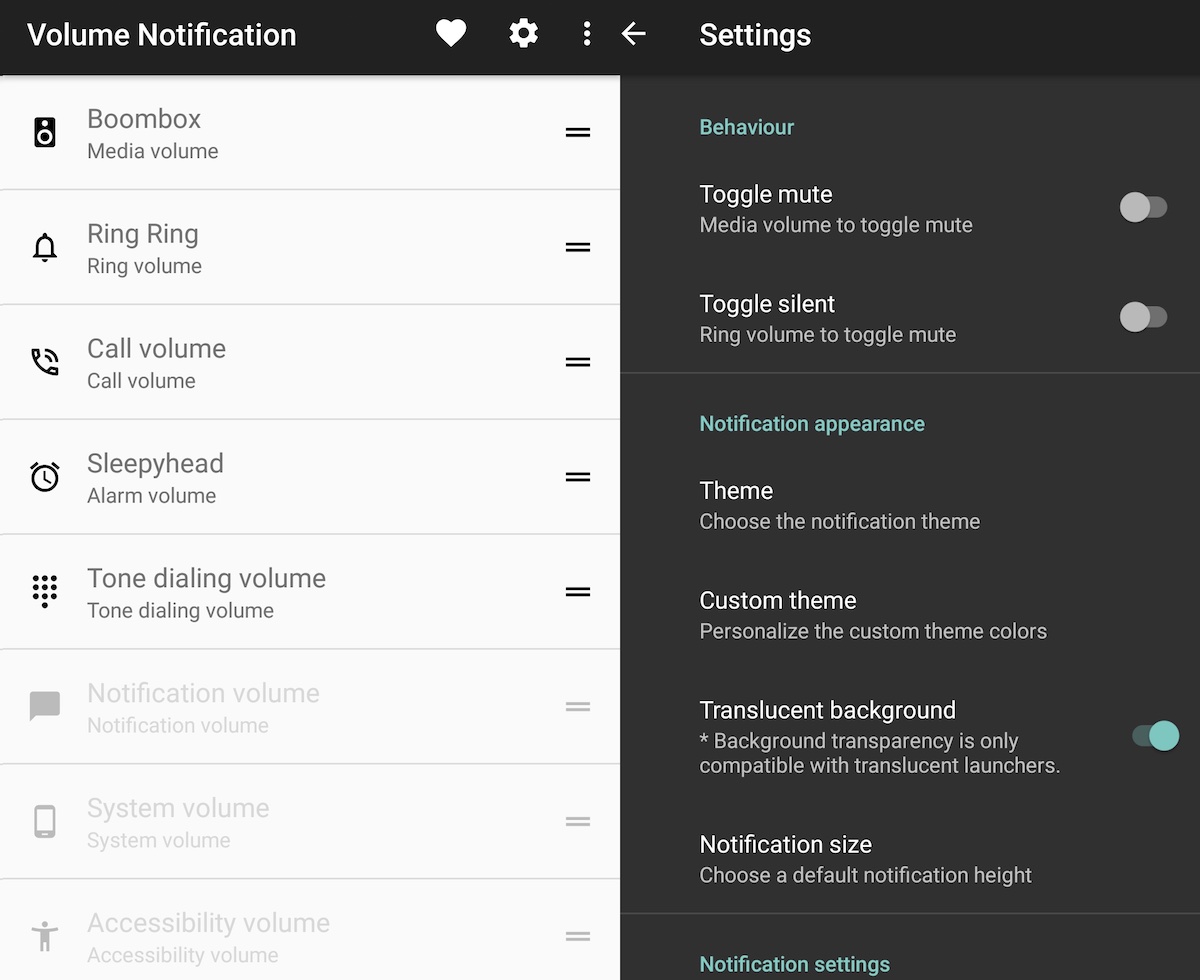 Rating: 4/5 from 4,000+ users
Volume Notification places your phone's sound slider directly within the notification drawer. It's an open-source application that operates without needing any permissions.
This app is particularly useful when you need to adjust or mute the sound while on a voice call, or when you want to manage background audio. It can be a real help if your device's physical buttons are not functioning for any reason.
12. Notification Shortcuts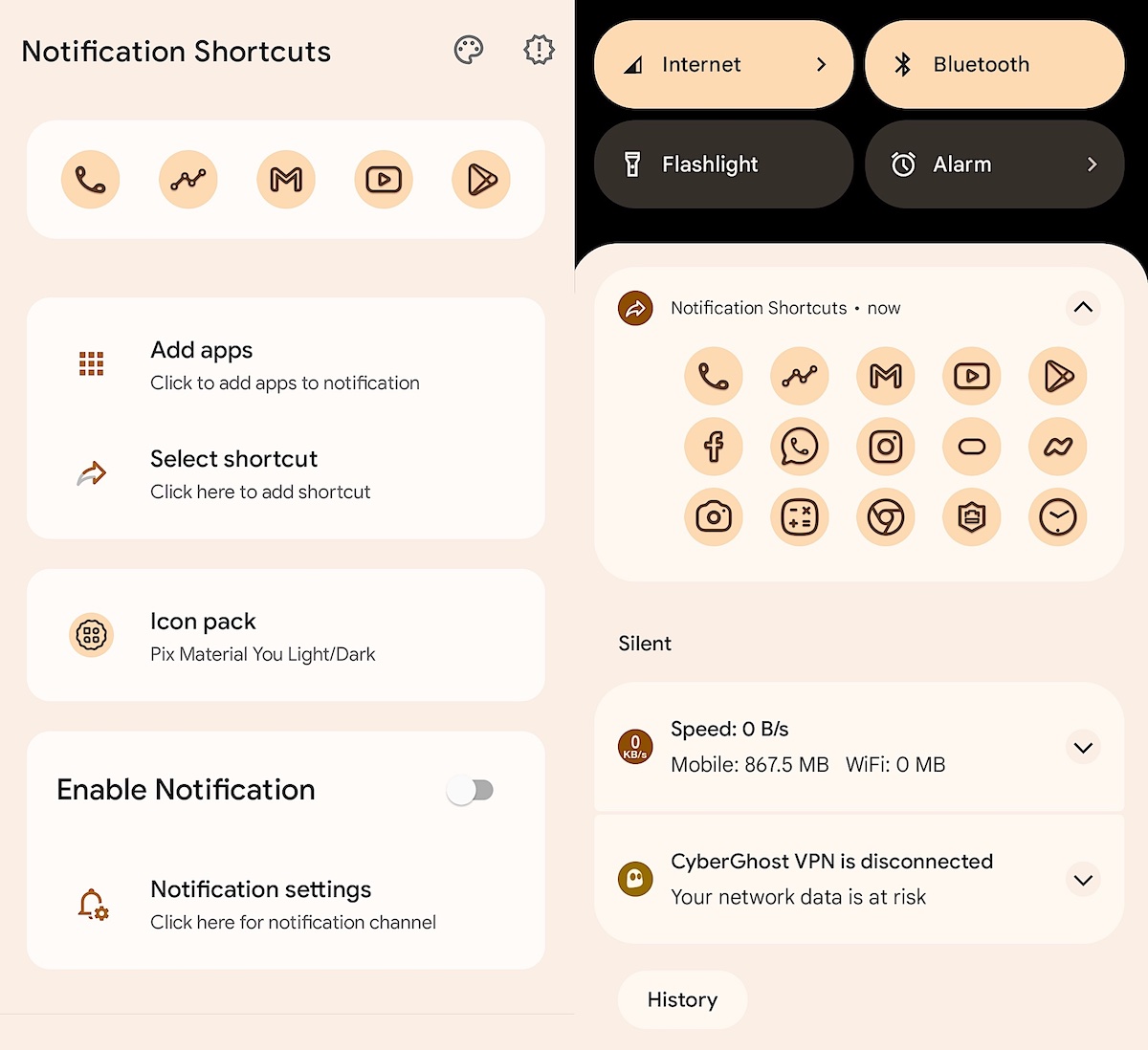 Rating: 4.4/5 from 120+ users
As the name suggests, this app allows you to incorporate shortcuts in the notification area. It offers support for three types of shortcuts –
App shortcuts: You can place icons of your favorite apps.
Bookmarks: Create shortcuts for folders, Tasker items, or preferred contacts.
Settings: Adjust settings such as brightness and toggle GPS, WiFi, and Bluetooth.
In the free version, you can add shortcuts in a single row. To add additional rows, you'll need to purchase the premium version of the app (which costs only $0.99).
11. Flash Notification for All
Rating: 4.2/5 from 14,700+ users
Flash Notification is a user-friendly app that provides flash alerts for various notifications. It triggers the rear flashlight to blink when you receive calls, SMS, or notifications. This feature is convenient for individuals who prefer to keep their phones silent.
With Flash Notification, you can choose the specific app for which you'd like to enable flash alerts (works with all apps), adjust the speed of the flashlight alerts, halt flash alerts using the power/volume keys, disable flash alerts when the battery is low, and manually toggle the service on and off as needed.
10. Material Notification Shade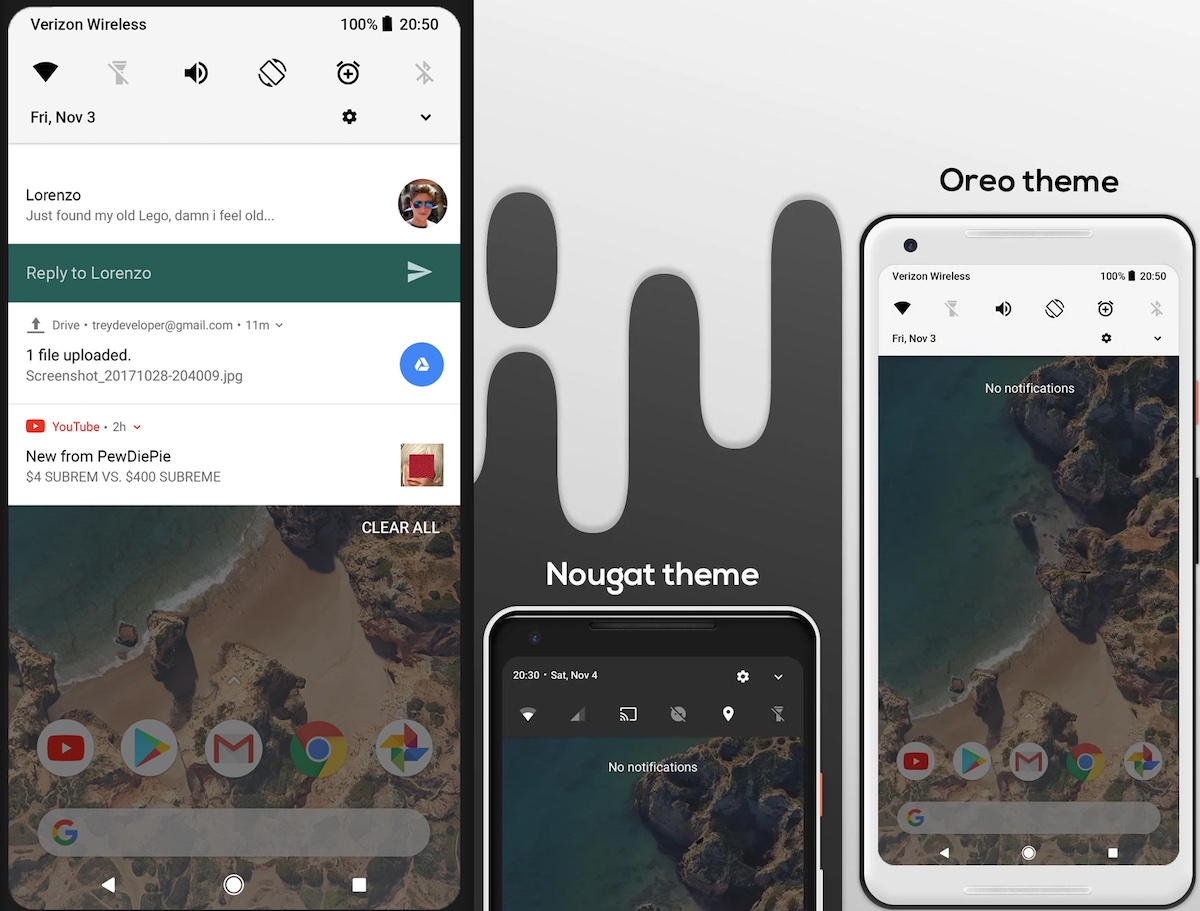 Rating: 4/5 from 26,300+ users
Material Notification Shade is a great alternative to your default notification panel. It comes with gesture detection features and numerous pre-designed themes that can be completely customized.
You have three notification card themes to choose from: light, colored, and dark. Plus, you can select different colors for the foreground (icons) and background of the quick settings panel. If desired, you can even personalize your profile image to be displayed within the shade.
9. Shouter
Rating: 4.5/5 from 39,300+ users
Yet another voice notification app that reads out your notifications for you, so you don't have to read them yourself. It also announces the caller's name when you receive a call and reads out your text messages when you're occupied with other tasks.
The app has plenty of customization options – including the ability to silence notifications from unwanted apps and unknown numbers, read messages even when the phone is locked, disable reading during silent hours, and announce the name of the app that sent the notification before reading its content.
8. Power Shade
Rating: 3.8/5 from 68,200+ users
With Power Shade, you have the flexibility to enhance the appearance of your notification drawer by customizing the layout and color of each individual element to your liking.
Notifications from the same app are conveniently grouped together, enabling you to respond to messages as quickly as they appear. It enhances your ability to interact with notifications. You can read, snooze, dismiss, or take action on notifications with ease. This simplifies how you manage incoming messages and updates on your device.
7. Dynamic Notification
Rating: 4.1/5 from 42,100+ users
Dynamic Notification lets you check your notifications without even unlocking your smartphone. It shows the clock, time, lock button, and app icons with notifications.
Unlike many phones with a simple pulsing notification LED, this app allows you to determine the importance of each notification. You can customize the background color and image, hide notification details, and adjust the brightness.
The notifications won't light up when your phone is placed in your pocket, purse, or face down. Moreover, its premium version offers the option to use it as a replacement for your default lock screen.
6. Notification Blocker: Notifica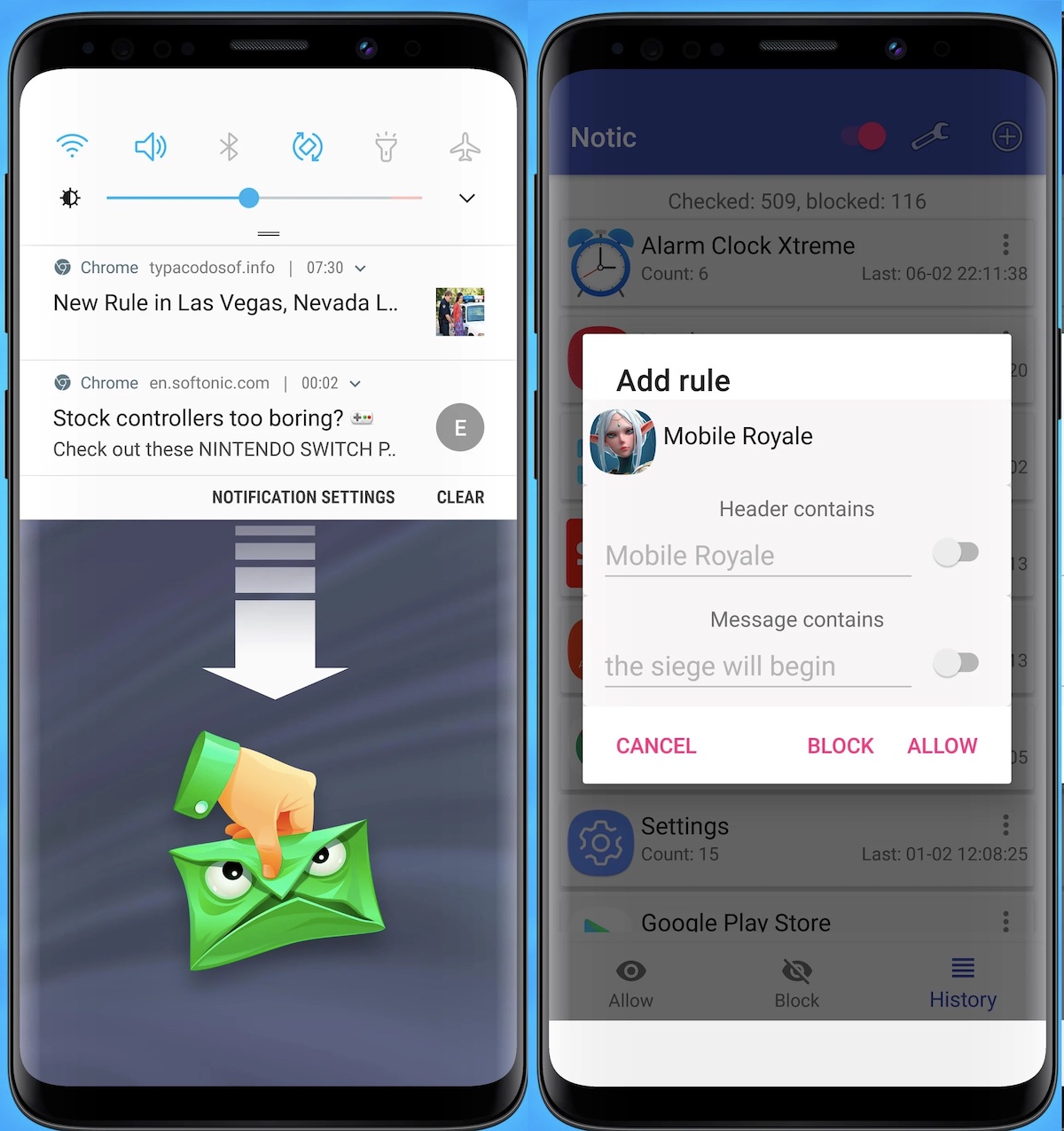 Rating: 4/5 from 2,300+ users
The app allows you to block junk notifications smartly and clean all your notifications in a single tap. There is an option to hide system notifications, such as 'USB charging this device' and 'running in the background.'
The app is smart enough to block annoying notifications and gather them together in one place so that the phone notification bar always remains clean. Furthermore, it can stop useless notifications from slowing down your device, keeping your phone stable, fast, and free from disturbing notifications.
5. Smart Notify
Rating: 3.7/5 from 4,900+ users
Smart Notify is a feature-rich SMS and call management app that offers popup window notifications. In addition to managing incoming calls, MMS, and SMS, it provides details such as call duration for missed calls, notifications for a fully charged battery, and alerts for lost or detected WiFi signals.
This app also empowers you to block unwanted calls and text messages, and it can activate the LED flash for incoming calls or SMS while in silent mode. For added convenience, the smart vibration feature triggers your phone to vibrate when you take it out of your pocket, alerting you to new messages or missed calls.
4. Notistory
Rating: 3.5/5 from 5,800+ users
This is a perfect app to manage all your notifications. You can read texts without letting the sender know and see all notifications without running apps in the foreground. It supports emails, SMS messages, call logs, and all popular social network services.
It groups the same app notifications and makes them visible at a glance. It also allows you to set specific keywords for which you'll receive vibration notifications, helping you stay informed about messages or content containing those keywords.
3. NotifyBuddy
Rating: 4.1/5 from 45,200+ users
NotifyBuddy addresses the absence of a traditional LED notification light on some smartphones, particularly those with AMOLED displays. It brings a creative solution by displaying a black screen with a notification LED-like animation when you receive a desired notification.
You can select specific apps for which you want to receive LED notifications. These notifications are differentiated by color.
The app offers numerous customization options, allowing you to change the LED animation time, LED colors, LED position, and even receive notifications for missed calls.
2. WhatisRemoved+
Rating: 3.8/5 from 183,000+ users
With WhatisRemoved+, you can monitor notifications and folders in your messaging apps to stay informed about changes and deleted files. It actively watches for changes in notifications and deleted messages.
The app doesn't save all notifications; it only retains those from the applications you manually select. This selective approach helps you focus on the information that truly matters to you, avoiding unnecessary clutter.
1. FilterBox Notification Manager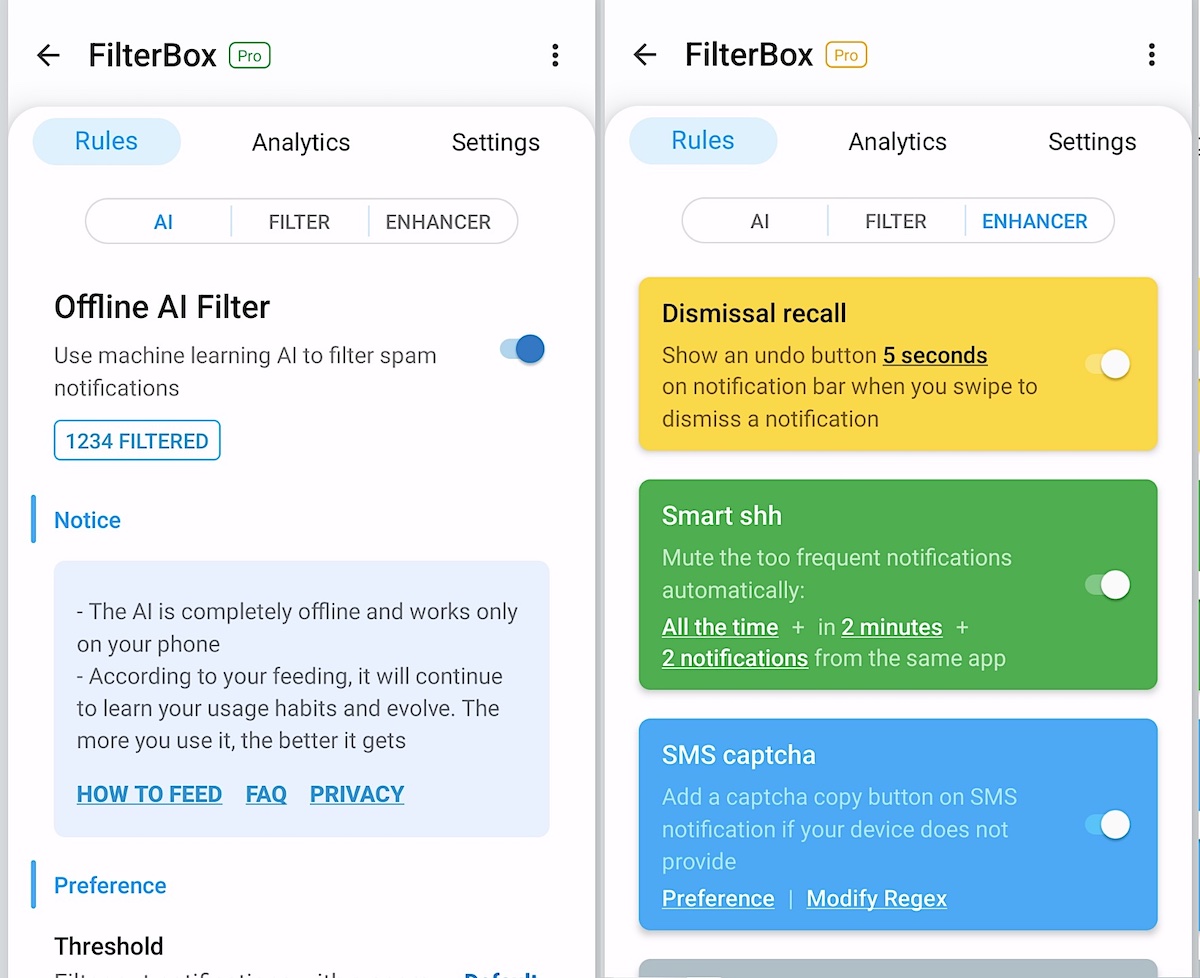 Rating: 4.3/5 from 2,600+ users
The FilterBox app is an AI-powered notification manager that helps you efficiently manage and filter notifications on your Android device. It uses an offline AI algorithm to filter out spam notifications in real-time. It currently supports English, Japanese, and Chinese languages.
You can customize the filtering settings as per your preferences. The AI learns from your usage patterns to improve its filtering over time. The more you use the app, the better it becomes at identifying and blocking unwanted notifications.
FilterBox also provides a comprehensive notification history, allowing you to search for and restore past notifications.
Plus, you can set rules for notification removal, batch delay, sound and voice changes, and converting notifications into incoming call-style reminders. This level of customization ensures that notifications are managed according to your preferences.
Frequently Asked Questions
Key Factors to consider when selecting smart notification apps
When selecting a notification app, it's essential to consider some factors to ensure that it meets your specific requirements and preferences. Here are the major factors to consider:
User-Friendliness

: Prioritize apps that are intuitive and easy to navigate

Notification Filtering

: It must be able to filter and categorize notifications so you can prioritize and manage them effectively.

Customization Options

: It should offer a range of customization options, such as the ability to filter notifications based on sources, keywords, or times.

Notification History

: This is useful for reviewing missed notifications or tracking notification history over time.

Integration with other apps

: Check if the app can be integrated with other productivity and communication tools.

Updates and Developer Support

: See how frequently the app is updated and how long developers take to reply to user queries.
Can I use multiple smart notification apps simultaneously?
Yes. Many apps are designed to work in conjunction with the default Android notification system, and they can coexist peacefully. However, you need to carefully manage these apps to avoid conflicts and maintain a streamlined and efficient notification experience.
Configure the settings of each app to avoid redundancies. For instance, you can set certain applications as a higher priority for specific notifications, and others to handle different types of alerts.
And since multiple notification apps can increase the risk of information overload, it's important to strike a balance and avoid overwhelming yourself with notifications.
Personally, I recommend selecting a single notification app that aligns with your preferences. Almost all modern apps are designed to handle a wide range of notification types and provide customization options to suit your specific requirements.
Pixel Watch companion app v2.1.0 prepares a new full battery notification feature.

When your watch reaches 100% charge the companion app will send you a notification that the watch is fully charged.

The feature is currently hidden behind a server-side flag. pic.twitter.com/1qvDsg4RT5

— Наиль Садыков (@Nail_Sadykov) November 8, 2023
What's the best notification app for iPhone?
While there are hundreds of push notification services available for iOS, Pushover stands out from the rest. It integrates easily into web applications like networking monitoring systems, shell scripts, IFTTT, IoT devices, and everything that needs to send alerts to your iPhone, iPad, or Apple Watch.
Pushover notifications can have multiple priority levels, from normal to emergency. The latter will repeat until acknowledged, ensuring important alerts don't go unnoticed.
The free tier comes with limited features, and there is a one-time fee ($39.99) to unlock all features, including custom sounds and the ability to send more notifications per month.
Why are apps not showing up in Notifications?
There could be several reasons for this odd behavior. You can fix the issue by:
Rebooting your device
Reviewing the app's notification settings
Checking the Do Not Disturb mode
Disabling software battery optimizations
Ensuring whether the app is allowed to run in the background
Reinstalling or updating the app
How do I restore notification settings?
Begin by accessing your device's "Settings" menu. Depending on your device and operating system version, you may need to navigate to either "Application Manager" or "Apps." Once there, select the specific "app" for which you wish to reinstate notifications, and tap the option labeled "Clear Defaults" or "Clear Data."
This action will reset the app's notification settings to their default configuration, allowing you to receive notifications as intended.
Read More
Best IFTTT Alternatives To Automate Your Online Workflow