Notifications can enhance the overall user experience by notifying a user of new messages or events, even when the user is not operating the application. The Android notification system has always been ahead of the curve compared to other platforms like Windows or iOS.
Although the Android notification center has matured a lot over the last couple of years, it has a few shortcomings. For example, the characters in push notifications are limited to 65 for titles and 240 for descriptions.
Thanks to Android's open nature, there are lots of third-party applications that serve as a notification center replacement. We are enlisting all those smart apps that help you manage notifications more efficiently than the default notification system you are using right now.
19. Desktop Notifications
Instead of checking notifications on your mobile or tablet, the desktop notifications app allows you to check them on your computer while surfing the web. All you need is the app installed on your phone and a companion extension on Firefox and Chrome desktop browsers.
18. Heads-up Notifications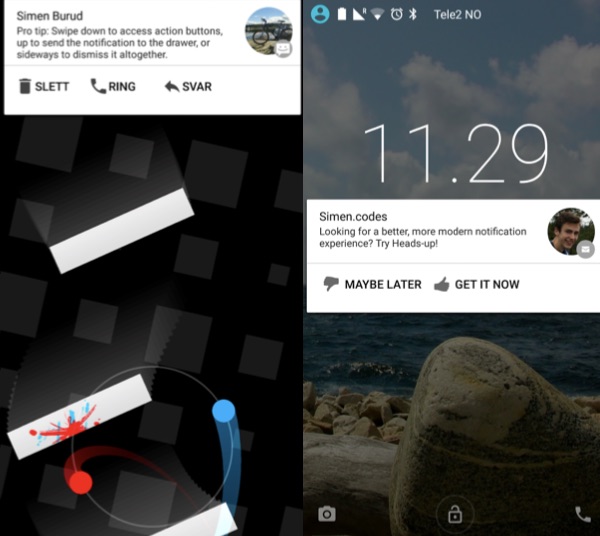 Heads-up app shows the latest notification as a floating popup with full text and quick actions. That means you can read a complete message and reply through the notification panel. And there are five built-in ways to customize your notification looks.
The app is integrated with a "Pocket Detection" system that automatically turns the screen on when you take your phone out of your pocket. Privacy on the lock screen is well-supported, and the app is known to work on some smartwatches.
17. Notifications Off (Root)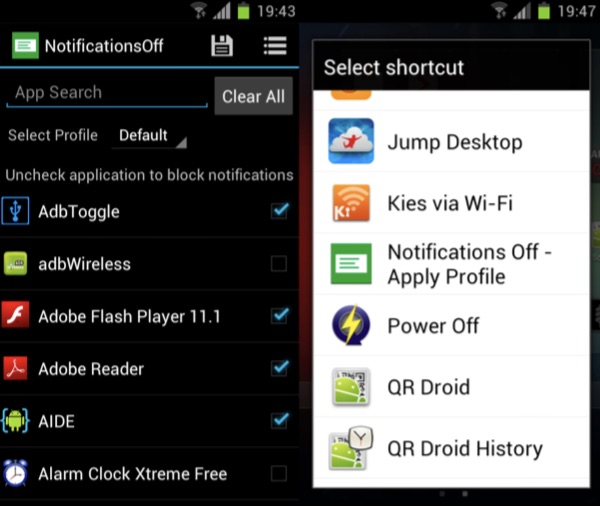 If you want to control app notifications in a centralized way, then this app is definitely made for you. It allows you to turn off notifications for all apps from one place rather than toggling notifications for apps individually from the setting screen.
The app requires root access, and it automatically disables notifications for new apps as soon as they are installed.
16. Notification Bubbles
This app displays notifications in beautiful and playful bubbles on your home screen. It offers Twitter, Facebook, Instagram, and Gmail notifications as floating bubbles on the screen. This app makes it easy to access text messages and missed calls – just pop the bubble to read and reply. You can select different bubble styles and customize bubble colors.
Notification bubbles allows you to select one dearest contact to show up as a heart, with super quick calling and texting features, and add one todo bubble to get reminded of important tasks.
15. Notification History Log
Have you ever been in a situation where you unintentionally removed a particular notification and want to see that deleted notification again? Well, this app can help you never face that situation again. It generates a notification log that you can easily manage, sort and view anytime.
All past notifications with detailed information are saved in the 'Advanced History screen.' They all are grouped based on apps and sorted in a timeline, so you can easily access and export them to Excel or text file.
14. Volume Notification
Volume Notification puts your phone sound slider straight into the notification drawer. It's an open-source app and doesn't require any permissions.
The app comes in handy when you want to store or share media streaming during a voice call. Or you can use it to simply toggle the background audio. This could be a lifesaver if your device's physical buttons are not working for some reason.
13. Talking Notification Girl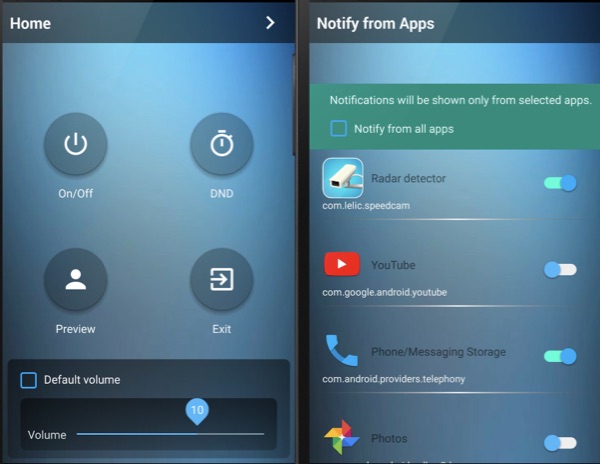 An app that can speak out any notification, including emails, chat, calls, and alerts, in a way you want. There are plenty of options to tweak notification as per your interest. The app uses your mobile's inbuilt text-to-speech engine, so you can customize its voice directly from the settings. In order to make things interesting, it shows an intuitive animated avatar on the screen.
12. Notification Shortcuts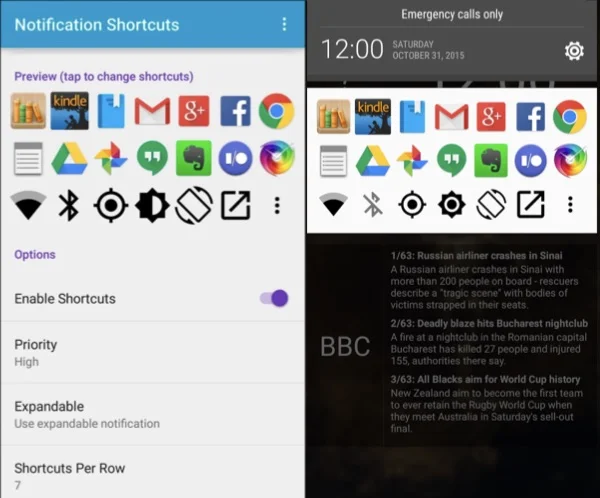 As the name suggests, the app lets you add shortcuts to the notification area. It supports three kinds of shortcuts: App shortcuts (you can put icons of your favorite app), Bookmarks (create bookmarks of folders, Tasker items, or favorite contacts), and Settings (adjust brightness and toggle GPS, WiFi, Bluetooth).
In the free version, you will be able to add shortcuts in a single row. To add more rows, you have to buy the premium version of the app.
11. Flash Notification
Flash Notification is a small, simple-to-use app that enables flash alerts for notifications. It blinks the back flashlight when you receive calls, SMS, or notification. It is really useful for users who like to keep their phones silent.
Flash Notification allows you to select the app (all apps are supported) to enable flash alerts for, change speed of flashlight alert, stop flash alerts with power/volume key, turn off flash when battery is low, and turn the service on/off manually.
10. Material Notification Shade
Material Notification Shade could be a nice replacement for your stock notification panel. It comes with gesture detection features and numerous pre-designed themes that can be completely customized.
There are a total of three notification card themes: light, colored, and dark. Plus, you can select a different color for the foreground (icons) or background of the quick settings panel. If you want, you can choose your own profile image to be displayed in the shade.
9. Shouter
Yet another voice notification app that reads out your notification for you, so you don't have to read them yourself. It speaks the caller's name when the phone rings, and in case if you are too busy with other tasks, it will read the text messages.
Shouter comes with plenty of customization options – disable notifications from unnecessary applications and unknown numbers, read messages even when the phone is locked, disable read during silent hours, shout the notification sending app name before reading content, and more. Voice remainder and battery state announcement features are coming in the next update.
8. Power Shade
Power Shade allows you to make your notification drawer look great by customizing the base layout and color of each tiny element according to your preference. Notifications from one app are grouped together, and you can reply to messages as soon as you see them.
7. Dynamic Notification
Dynamic Notification lets you check your notifications without even unlocking your smartphone. It shows the clock, time, lock button, and app icons with notifications. Most mobiles only have a pulsing notification LED, which doesn't actually tell anything about the notification, but with this app, you can decide if something is important enough to act.
There are options to change the background color and image, hide details, and adjust brightness. Notification doesn't light up when your phone is in your pocket, purse, or face down. Moreover, you can use the app (available in the premium version) as a replacement for your stock lock screen.
6. Notification Blocker
The app allows you to block junk notifications smartly and clean all your notifications in a single tap. There is an option to hide system notifications, such as 'USB charging this device' and 'running in the background'.
The app is smart enough to block annoying notifications, and gather them together in one place so that the phone notification bar always remain clean. Moreover, it can stop useless notifications from slowing down your device, keeping your phone stable, fast, and free from disturbing notifications.
5. APUS Message Center
APUS Message Center is the simplest yet powerful notifier for Android unread messages. It provides an easy-to-use interface that shows the number of unread messages (from apps like Whatapps, SMS, and email) and missed incoming calls on the same panel. It also shows the unread messages over the app icon and folder.
The app features an anti-spam SMS filter that intelligently recognizes the spam and warns users of malicious and phishing messages. It has been tested on most Android phones, including Samsung Galaxy Series and Note, HTC, Huawei, MOTO, and Sony.
Read: 12 Best Keyboard Apps For Android With Advanced Features
4. Smart Notify
Smart Notify is an advanced SMS and call manager with a popup window notification. Along with pending calls, MMS and SMS, it also displays length or ringing in missed calls, notification for full charged battery, loss or detected WiFi signal. It works with most of the social apps, including Facebook, Twitter, and Whatsapp.
The app allows you to block unwanted calls and text messages and turn on the LED flash for incoming calls or SMS in silent mode. If you've got any new message or missed call, the smart vibration feature will vibrate the phone when you remove it from the pocket.
3. AcDisplay
AcDisplay shows you a new notification on a minimal, beautiful screen and lets you open them directly from the lock screen. It features inactive hours to save some battery and uses the phone's sensors to wake your device up when you need it. Other features include dynamic background, blacklist notifications from a particular app, low-priority notifications, and more.
2. Notistory
This is a perfect app to manage all your notifications. You can read texts without letting the sender know and see all notifications without running apps in the foreground. It supports emails, SMS messages, call logs, and all popular social network services.
It groups the same app notifications and makes them visible at a glance. There is also an option to register certain keywords, after which you will receive vibration notifications that include those keywords.
Read: 22 Useful Android Build Prop Tweaks For Better Experience
1. Floatify
Floatify gives you advanced heads-up notifications for your phone. The QuickReply feature lets you send messages directly from the notification, and DirectReply lets you pick pre-defined replies like "ok, thanks!" without typing. SmartWake turns your screen on as soon as you pick up your phone, and SmartBlacklist hides heads-up, so they don't show up while playing games or watching videos.
You can expand notifications to full-size, filter messages, and apply custom interaction settings (push left/right, single/double-tap). Premium themes in the app let you select between Android or iOS-style notifications. Also, you can customize the look and feel with colors and animations.
Frequently Asked Questions
What's the best notification app for iPhone?
While there are hundreds of push notification services available for iOS, Pushover stands out from the rest. It integrates easily into web applications like networking monitoring systems, shell scripts, IFTTT, IoT devices, and everything that needs to send alerts to your iPhone, iPad, or Apple Watch.
Why are apps not showing up in Notifications?
There could be several reasons for this odd behavior. You can fix the issue by:
Rebooting your device
Reviewing app's notification settings
Checking the Do Not Disturb mode
Disabling software battery optimizations
Ensuring whether the app is allowed to run in the background
Reinstalling or updating the app
How do I restore notification settings?
It's a simple process. Open device Setting, navigate to Application Manager or Apps (depending on your device and OS version), then choose the app you want to restore notifications for, and tap Clear Defaults or Clear Data.
Read More 
Best IFTTT Alternatives To Automate Your Online Workflow