A novel smartphone imaging algorithm allows untrained users to analyze complex assays, such as HIV, ovarian cancer antigens, and tuberculosis DNA. 

It works by generating a mean pixel intensity with small variances and a high dynamic range. 
Smartphones have emerged as highly capable evaluation devices for various applications, such as colorimetric tests, lateral flow assays, cytometric analysis, and cell phone microscopy. They are a viable option because they combine powerful processing capability, sophisticated sensors, and wireless connectivity into a small device.
These devices are not just for selfies anymore, they've become an attractive option for diagnosing medical conditions in specific settings. They allow inexperienced people to gather data and send it to medical professionals.
Keeping all these smartphones features in mind, researchers at Florida Atlantic University have created a novel smartphone imaging algorithm to enable untrained users to analyze assays that are usually evaluated by an intrinsically complex and powerful technique known as spectroscopy.
How Did They Do It?
The onboard camera hardware of existing cell phones are not smart enough, which restricts device utility. To address these limitations and obtain accurate results, external hardware is used.
Today, all cell phone cameras are designed for better picture appearance instead of quantitative image-based evaluations. Moreover, many biochemical assays lack a repeatable and robust smartphone analogue.
In this study, researchers developed a smartphone-based image preprocessing technique that generates a mean pixel intensity (MPI) with smaller variances, and wider dynamic range compared to conventional techniques.
While smartphone images are natively stored as groups of RGB pixel intensities, the new method uses the saturation parameters of HSV (hue, saturation, color) space to enable point-of-care diagnosis.
Reference: Analyst (RSC) | doi:10.1039/C8AN02521E | FAU
The saturation analysis isn't altered by major limiting factors, such as varying light levels, shading, and ambient lighting variations. In fact, the method improves practicality, repeatability, and photo capture noise rejection, while reducing the equipment overhead for image-based point-of-care tests.
Outcomes
The team analyzed over 10,000 pictures and found that their algorithm consistently outperformed all other existing methods under different operating field scenarios. They captured all images using 3 smartphones: Samsung Galaxy Edge 7, iPhone 6, and Moto G with 12, 12, and 5 MP camera respectively.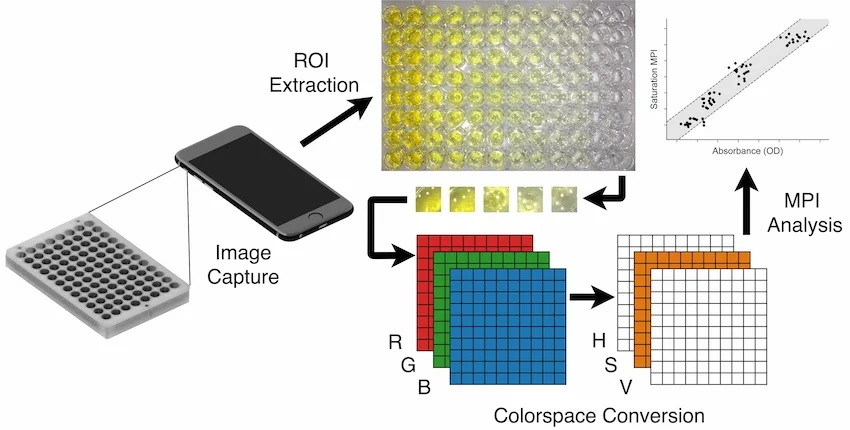 Diagnostic assay images are captured through a phone's camera and region of interest (ROI) are transformed into HSV. Then MPI analysis is applied to determine the concentration and absorbance of the sample. | Courtesy of researchers 
They measured the performance of the algorithm, tested sensitivity to camera distance, motion and tilt, captured images in different conditions, and examined concentration response and histogram characteristics. Also, they analyzed ambient lighting levels, saturation properties, limit-of-detection, and relationship with RGB (red, green, blue) color space.
After comparing saturation analysis with traditional RGB methods, researchers confirmed that their technique enhanced performance (both empirically and analytically) in the presence of ambient light noise.
They also demonstrated the ideal conditions for capturing images, which include a plain white background, consistent white light, zero angular displacement of the smartphone and minimum distance to the sample.
They applied their algorithm to an analytical biochemistry assay, known as enzyme-linked immunosorbent assay, specially developed for identifying and quantifying substances like antibodies, proteins, peptides, and hormones. As per results, saturation analysis enabled an accurate, equipment-free examination for HIV.
Read: A Linear Algorithm That Can Locate Smartphones Without GPS
Researchers plan to further improve their algorithm to make the diagnosis process fast, precise and inexpensive.