Snowflake has become one of the leading tech companies in the cloud-based data management arena. It provides a data storage and analytics service, usually called Data-as-a-Service (DaaS).
The company offers various tools and innovative features to store and analyze data separately, share data with specific users, clone important data, and handle spikes in demand. Its platform is uniquely built to connect businesses across any type or scale of data and various workloads.
This global platform, which powers the data cloud, runs on the Google Cloud, Microsoft Azure, and Amazon S3 service. In recent years, it has become popular due to its fully managed and cost-efficient cloud-based data solutions.
However, Snowflake faces tough competition from many cloud-leading companies. Most competitors offer a diverse range of services with better features at reasonable prices.
To help you select the best option, we have compiled a list of top Snowflake competitors based on product offering, customer base, and market recognition.
10. Azure Synapse Analytics
Released in 2019
Pricing: $4,700 for 5000 Synapse Commit Units | Free $200 credit to use in 30 days
Rating: 8.5/10 from 200+ customers
Azure Synapse Analytics combines data integration, data warehousing, and big data analytics. The aim is to deliver a unified experience to prepare, explore, manage, and transform data for specific machine learning and Business Intelligence needs.
Users can query data the way they want through either serverless or dedicated options. They can select from multiple programming languages (including Java, Python, .NET, R, Scala, and SQL) to perform queries and gain valuable insights across datasets.
For crucial workloads, they can optimize the performance of queries using workload isolation, limitless concurrency, and smart workload management.
Moreover, one can easily apply machine learning models to all applications without any data movement. This substantially reduces the development time of large projects.
Key Features
Code-free hybrid data integration
Serverless and dedicated options
Log and telemetry analytics
Discover regulatory risks and workflow efficiencies across datasets
The platform uses advanced security and privacy functions — such as always-on encryption and automated threat detection — to keep customers' data safe. It gives users granular control with row-level and column-level security, column-level encryption, and advanced data masking to protect sensitive information in real-time.
As for pricing, Azure Synapse Analytics offers multiple options. The most efficient one is the pay-as-you-go model. Once you create a data warehouse, you are charged hourly for 'Storage' and 'Compute.' While Storage is usually billed at $23 per TB per month, Compute is billed at $850 per 100 Data Warehouse Units (DWUs) per month.
9. Databricks Lakehouse
Released in 2013
Pricing: Starts at $0.07 per Databricks Unit (DBU) | 14-day free trial available
Rating: 8.3/10 from 100+ customers
Databricks Lakehouse combines all the good characteristics of data lakes and data warehouses to deliver reliable and high-performance cloud solutions. It eliminates the data silos that traditionally complicate the process of machine learning, analytics, and data science.
In other words, it simplifies your modern data stack and puts all features into a single platform. This means you can move data faster without accessing multiple systems. The platform also ensures that you have a comprehensive and up-to-date system available for machine learning, business analytics, and data science projects.
More specifically, the platform is integrated with SQL and performance features (like indexing, caching, and massively parallel processing) to implement Business Intelligence on data lakes. It also offers direct file access and native support for Python and various AI and data science frameworks.
Key Technologies that enable data lakehouse
Metadata layer for data lakes
Advanced query engines for SQL execution
Optimized access for machine learning and data science tools
The pricing varies as per the services you choose and the number of DBUs you use. You can start with a free trial, which gives you interactive notebooks to use SQL, Scala, SparkTM, Python, scikit-learn, Keras, and TensorFlow.
Although Lakehouse is completely free during the trial, you will still be billed by your cloud provider for resources used within your account.
More than 7,000 companies across the world use Databricks to enable efficient machine learning, large-scale data science, and business analytics.
8. Firebolt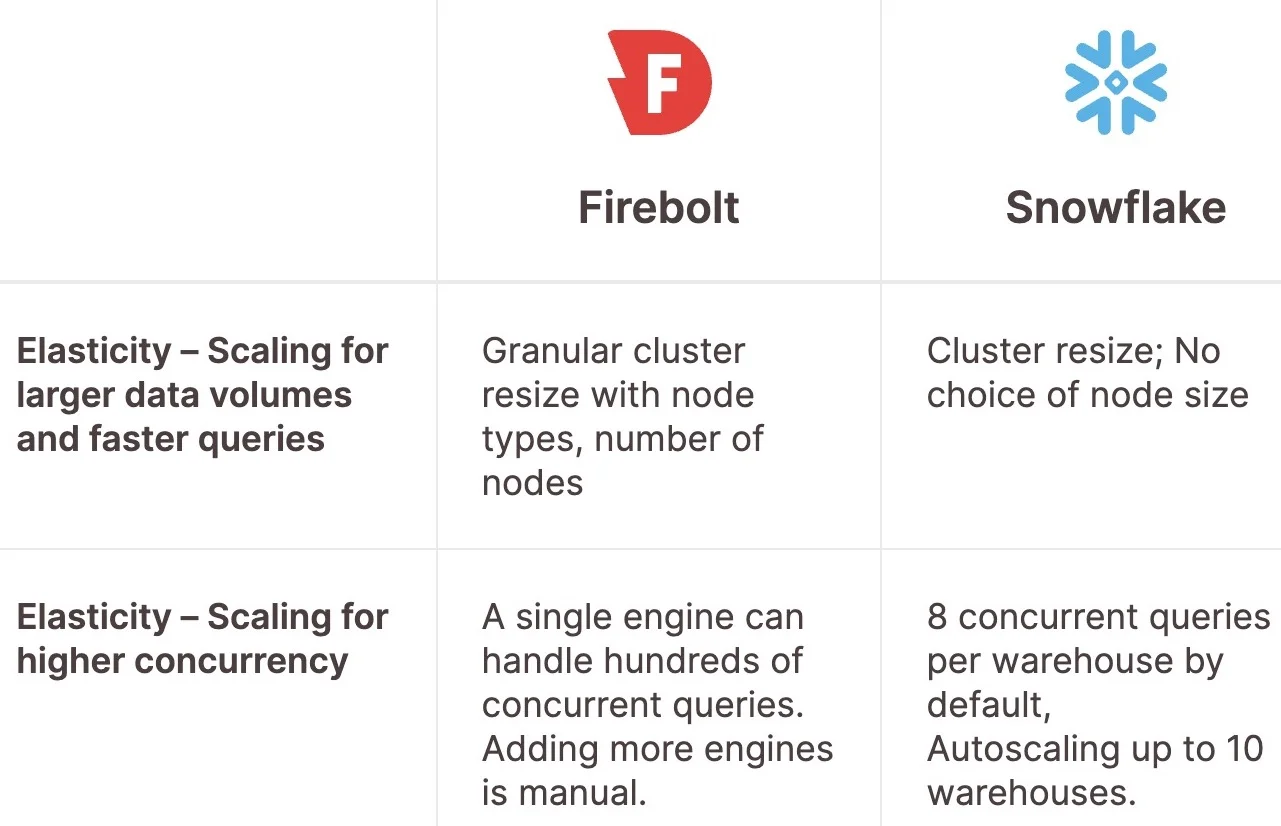 Released in 2019
Pricing: Starts at $1 per hour | Free trial available
Rating: 9.3/10 from 200+ customers
With Firebolt's storage and compute-optimized technology, you can deliver highly concurrent analytics experiences over big data. It is designed to fit into modern data stacks and ship enterprise-level data applications.
The platform is based on an isolated compute and storage model, which enables linear data and compute scalability. In simple terms, it has the capability to scale and decouple computer workloads and users. This 'decoupling architecture' eliminates traditional complexities, making it easier to handle data challenges as your business grows.
Key Features
Granular control over your computing resources and cost
Vectorized processing and indexed-based optimization
Sub-second load times at TB scale
Unlike Snowflake, which doesn't distinguish between SSD and HDD and store full partitions in the cache, Firebolt monitors data in both cache and storage and then generates a query strategy to maximize performance.
It's a multi-tenant SaaS cloud data warehouse that supports REST APIs and ANSI SQL via JDBC drivers.
Getting started with Firebolt is easy — choose from various instance types and cluster sizes, starting from $1 per hour. You don't have to pay any upfront cost or additional charge (just pay the AWS list price for the data you use).
7. Oracle Autonomous Data Warehouse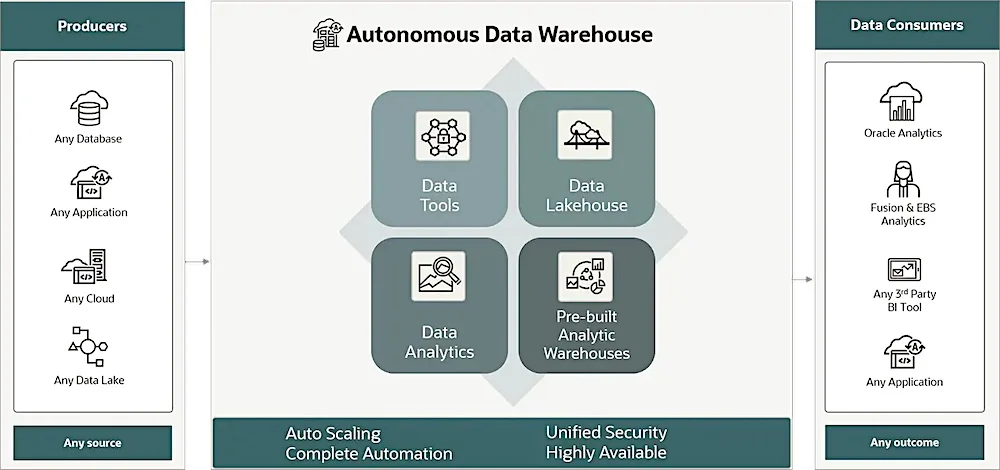 Released in 2018
Pricing: Starts at $0.25 per ECPU per hour | Free version available
Rating: 8.6/10 from 200+ customers
Oracle Autonomous Data Warehouse is optimized for big data analytic workloads, including data lakes, data marts, and data lakehouses. It makes it easier for business analysts and data engineers to discover actionable insights using data of any type and size.
Developed for the cloud and optimized using Oracle Exadata, the platform delivers faster performance at relatively lower operational costs. Its autonomous management functions (like configuration, security, and scaling) eliminate manual tasks and, thus, human errors.
The platform monitors all key metrics related to system performance and automatically fine-tunes to deliver consistent performance, even when the number of users and types of queries and workloads vary over time. To put this into perspective, inserting half a billion rows of data takes less than three minutes, on average.
Key Features
Auto indexing and auto scaling
Hybrid columnar compression and columnar processing
Automated disaster recovery and backups
Advanced notebooks and visualization
You can utilize Graph Database to represent complicated data relationships and Graph Analytics to apply classification and statistical analysis for deeper insights.
The free tier allows you to build, test and deploy instances for an unlimited time. However, it is limited to two Oracle Autonomous Databases, two AMD Compute VMs, and four instances of Ampere Arm A1 Compute. Plus, you get $300 in free credit to try a wide range of Oracle Cloud services.
6. Druid
Released in 2012
Pricing: Starts at $0.03 per hour | Free trial available
Rating: 8.6/10 from 80+ customers
Druid is an open-source platform that ingests massive amounts of event data and provides low-latency (real-time) queries on top of the data. It facilitates fast data aggregation, Online Analytical Processing (OLAP) queries, and flexible data exploration.
Since each column of the database is compressed and stored separately, Druid only needs to access the ones that are required for a particular query. The indexes are inverted for string values, allowing fast scan, filtering, and ranking. Data is smartly divided based on time, which makes time-based queries much faster than conventional databases.
More specifically, the platform pre-fetches the entire data to the compute layer, making almost all queries sub-second. Queries don't rely on caching algorithms to catch up.
There are two options to perform a query — via either Hive SQL or a native REST API.
Key Features
Injected data is automatically optimized
Automatically balances servers as users add or remove servers
Interactive Query Engine
Fault-tolerant architecture
Easy to scale-up and scale-out
Integrated with Apache Hive and Apache Ambari
The platform supports Kafka and Kinesis, so you can easily ingest real-time data without any connector. It can query streaming data as soon as it arrives at the cluster, even hundreds of thousands of events per second. You don't have to wait as the data makes it way to storage.
Overall, Druid is a perfect tool for building real-time analytics apps that consistently support millions of queries per second. Its highly-efficient architecture requires less infrastructure compared to other databases.
5. IBM Db2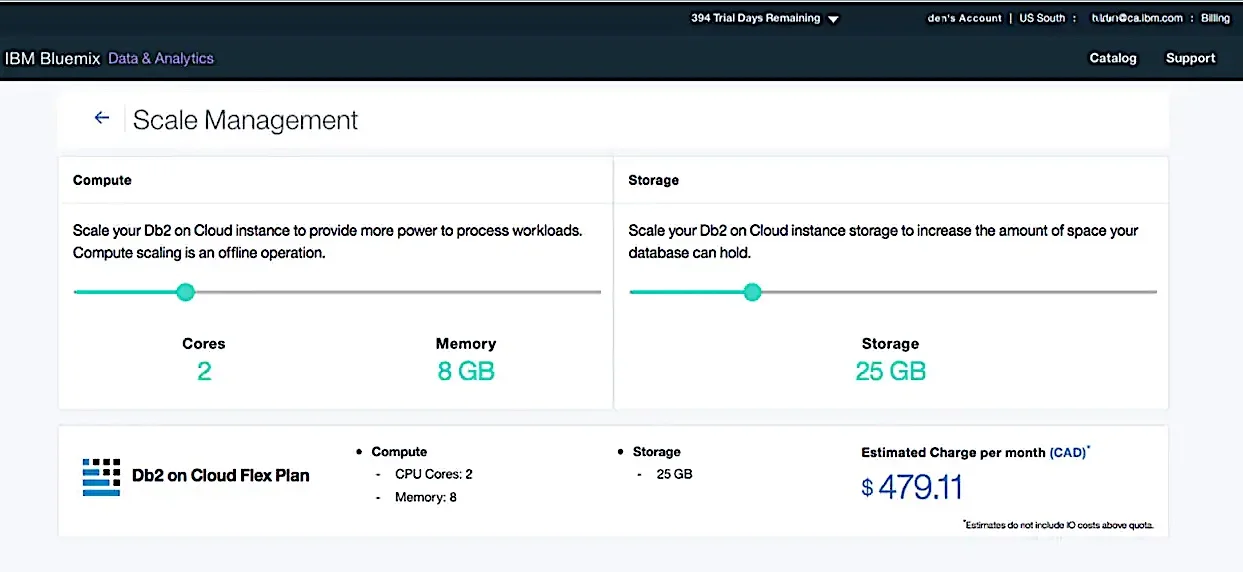 Released in 1993
Pricing: Starts at $99 per month | Free version available
Rating: 8.2/10 from 1,000+ customers
IBM Db2 provides one place for developers, enterprise architects, and database analysts to store, manage, and query data. No matter how large or complex the data is, it makes applications secure and highly performant.
You can easily move data from the Db2 database to a data warehouse for analytics, reduce server power consumption, and optimize IT operations using in-built storage compression and dynamic resource allocation technology.
Key Features
Deployed as a fully managed service
Storage management and workload optimization
On-demand scaling and cost predictability in the cloud
Always-on security
Database administration and maintenance is quite simple. You can deploy Db2 as a conventional installation on top of cloud-based infrastructure or on-premises infrastructure and get control of your Db2 deployment.
The other option is to deploy Db2 as a fully managed service on IBM Cloud. This way, you can take advantage of security patches, continuous feature updates, and on-demand scaling in the cloud.
Irrespective of what option you choose, the platform keeps your data encrypted and masked. The end-to-end security system protects data at rest and in motion, identifies suspicious behaviors, and ensures the privacy of your data.
Unlike most other platforms, IBM Db2 has a free version that gives you access to 200 MB of storage and 15 database connections. Plus, you get $200 in free credit after completing the signup process.
4. Amazon Redshift
Released in 2012
Pricing: Starts at $99 per month | $300 in free credit for 90 days
Rating: 8.7/10 from 900+ customers
Redshift can efficiently handle analytic workloads on big data stored in a column-oriented database management system. It uses SQL to examine structured and semi-structured data across data lakes, operational databases, and data warehouses.
And since Redshift is integrated with advanced compression and parallel-processing techniques, it can process billions of rows at once. It also utilizes AWS hardware and machine learning to deliver optimal price performance at all scales.
Key Features
Query live data across multiple databases
Low-latency real-world analytics
Billions of predictions every week within your data warehouse
Integrates with Apache Spark and AWS services
You can upload data from popular applications (like Google Analytics, Marketo, Splunk, Facebook Ads, Salesforce, etc.) to Redshift data warehouse in a streamlined manner. Then combine different datasets and analyze them together to generate valuable insights.
Creating a cluster from the AWS console doesn't take more than a minute. These clusters are managed by AWS, so you don't have to worry about conventional database administration tasks such as data backup and data encryption.
As for scalability, Redshift allows users to place a dynamic request to scale up or down infrastructure as business requirements change. Anyone can sign up and start using the platform for just $0.25 per hour with no upfront costs or commitments and scale to 16 petabytes or more for $1,000 per terabyte per year.
3. Vertica
Released in 2005
Pricing: Free for up to 3 nodes and 1 TB of data | Pay-as-you-go model
Rating: 8.6/10 from 300+ customers
Vertica has a wide range of analytical functions spanning event and time series, geospatial, pattern matching, and in-database machine learning capabilities. You can apply these functions to massive analytical workloads and generate actionable insights.
Create your own data lakehouse that supports streaming data, semi-structured data, and external queries on formats like ORC and Parquet. You can even extend its analytical functionality by using Java, C, C++, R, Python, and SQL.
The platform can be deployed on popular public clouds and on-premises data centers. It runs queries in parallel across numerous instances or nodes, delivering 10-50 times faster results at any scale.
Key Features
High compression
Massively parallel processing architecture
More than 650 built-in analytic functions
Supports conventional programming interfaces like OLEDB, ODBC, and JDBC
It runs more analytics with fewer hardware resources, reducing your Compute and Storage costs by up to 85%. According to Forrester's Total Economic Impact (TEI) study, Vertica gives an ROI of 385% over a three-year period. It saves millions of dollars wasted in inefficient data warehouse costs and creates significant value through machine learning-driven productivity and intelligent business insights.
The free version of the platform includes all machine learning capabilities for hybrid or on-prem deployment. It allows you to utilize up to three nodes and one terabyte of data.
2. Teradata Vantage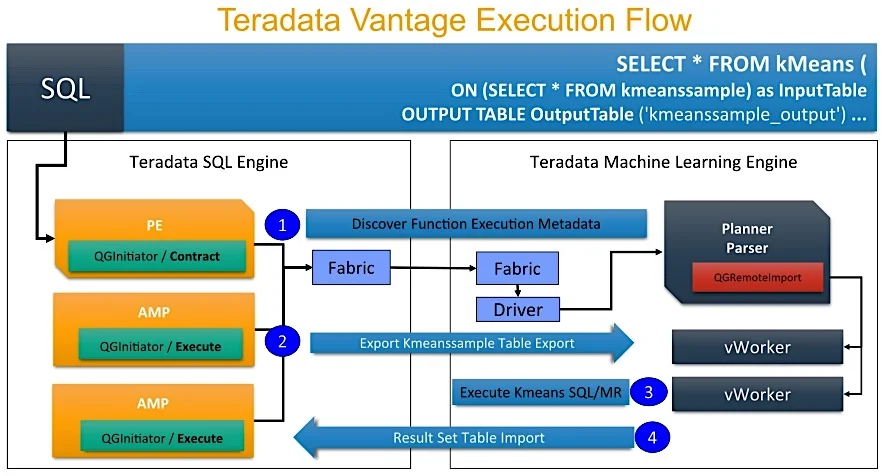 Released in 2019
Pricing: Starts at $5 per hour computer and $0.20 per terabyte per hour storage
Rating: 8.5/10 from 800+ customers
Teradata Vantage unifies data lakes, data warehouses, analytics, and various data types and sources within your organization (from social media to industrial sensors), giving you a single source of truth. It supports all common data formats and types, including CSV, Parquet, BSON, XML, and JSON.
The platform does everything, so you don't have to manually reorganize databases, rebuild indexes, repartition data, or configure queries. It has over 150 in-database functions, including 50+ time-series functions, and integrated ModelOps, which makes it easier to operationalize analytics at scale.
For business-specific tasks, you can write code in languages like Python and R to enable highly descriptive and predictive analytics.
Key Features
Integrates different file systems, data types, and analytic engines
Advanced SQL Engine with machine learning
Allocate user costs by department
Detailed insights by scaling large data in complex models
Reduces unplanned downtime and failures
The platform can train models on 1 million+ observations and score them against 250 million+ observations several times a day. This is how it scales machine learning vertically.
It can also train millions of predictive models (to support hyper-segmentation use cases) and score them every day in a fast-growing production environment. And this is how it scales horizontally.
Overall, it unleashes the power of artificial intelligence and machine learning that scales up and down, delivering better results.
1. Google BigQuery
Released in 2010
Pricing: Starts at $5 for 2,000 concurrent slots | Free version available
Rating: 8.9/10 from 900+ customers
BigQuery's serverless architecture allows you to analyze large volumes of data through SQL queries. It works with all data types, so you can easily extract valuable business insights.
It can ingest streaming data and make it available for query almost instantly — the platform's Business Intelligence Engine provides sub-second query response time and high concurrency.
View spatial data in different ways, analyze complex datasets, and identify new patterns with support for arbitrary points, lines, and multi-polygons in conventional geospatial data formats.
Comparing it with Snowflake, both perform well under heavy load scenarios. You can run benchmarks using your own datasets, but you will probably find that both tools can handle almost all enterprise workloads with consistent performance.
Key Features
In-memory analyses provide sub-second query response time
Real-time with event-driven analysis
Integrates with Business Intelligence and Data
Apply tools like charts, pivot tables, and formulas to derive insights
Since BigQuery is developed by Google, it seamlessly integrates with Google Ads and Campaign Manager, providing a 360-degree view of your company. You can use Google Analytics and in-built machine learning models to increase ROI.
As for pricing, BigQuery offers two options — flat-rate pricing that charges virtual CPUs and on-demand pricing that charges for the number of petabytes processed for each query. The free tier includes 10 GB storage and 1 TB queries per month.
Other Equally Good Snowflake Alternatives
11. Dremio
Released in 2015
Rating: 9.2/10 from 50+ customers
Built on open data architecture, Dremio allows you to create and manage a data lakehouse (stored in open formats like Apache Iceberg) and use state-of-the-art data processing engines for various analytics use cases. It accelerates Analytics and Business Intelligence directly on cloud data lake storage.
Its user-friendly SQL query engine features a semantic layer, which allows you to quickly access the data you need, create views, query across different data sources, and update Apache Iceberg tables using data manipulation language (DML).
You can use the in-built SQL Runner to query lakehouse data. This IDE features multi-statement execution, auto-complete, as well as the ability to share SQL scripts.
There is an SQL Profiler that helps you understand and optimize query performance. For complex data, you can utilize the in-built Data Map to visualize dataset usage and lineage.
Key Features
Open data, no lock-on
Self–service analytics
Sub-second performance at ten times lower cost
Built-in governance and lineage
Overall, the platform provides best-in-class processing engines while eliminating vendor lock-in. It fulfills the performance and scale requirements of most global enterprises, including five of the Fortune 10.
You can try out Dremio's selected features for free. This includes querying an Apache Iceberg table stored in Amazon S3, joining data from a Postgres database and Amazon S3, and connecting to Power BI and Tableau to create a dashboard.
12. SAP Datasphere
Released in 2019
Rating: 8.8/10 from 250+ customers
SAP Datasphere (the next generation of SAP Data Warehouse Cloud) is a comprehensive data platform built for mission-critical business data. It features data integration, data federation, data cataloging, data warehousing, and data virtualization.
The platform is integrated with dozens of tools and services that help you organize, manage, and analyze data from different sources. Access all your data across hybrid and cloud environments and find actionable insights — with business context and logic intact.
Key Features
Self-service access to data products
Facilitate real-time data access
In-database machine learning
Deliver centralized governance, privacy, and compliance
You can create a catalog of analytic assets, key performance metrics, and glossary terms. Connect this catalog to other source systems to bring everything into a single place. The resulting data is controlled by catalog administrators.
Furthermore, the platform can be seamlessly integrated with Microsoft Excel, SAP Analytics Cloud, public OData APIs, and popular AI platforms to capitalize on data investments.
13. Panoply
Released in 2021
Rating: 8.9/10 from 120+ customers
With Panoply, you can easily store and manage data from many applications and streamline data analysis processes. It automatically detects data types and helps you track the status of data sync as 'scheduled,' 'pending,' or 'running.'
Key Features
Connect data from 40+ sources without complicated code
Auto-detect data types and monitor job status
User-friendly Workbench for SQL-based data exploration
Compatible with visualization and BI tools
It is the first unified ETL and Smart Data Warehouse that accelerates the process of migrating raw data to analytics using natural language processing and machine learning techniques.
As for pricing, Panoply offers three plans: Lite ($399 per month), Basic ($1089 per month), and Standard ($1719 per month). The Lite version gives you access to 1 TB of Storage and 50 GiB of Query Bytes. You can try it for free for 21 days.
More to Know
How big is Snowflake?
In 2020, Snowflake raised $3.4 billion via an initial public offering (IPO). It was one of the largest software IPOs.
Although some may consider Snowflake's growth a bubble, the company is backed by advanced applications, tools, and services. It focuses on product innovation and retention of existing clients, which ultimately gives the company an edge over its competitors.
In July 2020, Snowflake acquired CryptoNumerics for $7.1 million. Since CryptoNumerics allows businesses to create privacy-protected datasets with quantifiable privacy risk, this deal opened new avenues for Snowflake to compete in the privacy-based data market.
In October 2022, Snowflake acquired a 5% stake in OpenAP, an advanced TV advertising firm that enables marketers to target and monitor their campaigns across premium TV publishers and platforms.
As of today, Snowflake customers manage more than 250 petabytes of data and run over 515 million data workloads every day.
Who uses Snowflake?
California Department of Technology, Big Fish Games, Albertsons, Hewlett-Packard, The Travelers Companies, and Cardinal Health are some of its biggest clients.
By industry, the largest customers come from Professional Services, followed by Retail and Banking & Financial Services. By country, the largest segments are the United States, followed by the United Kingdom and Australia.
How much return should Snowflake customers expect?
According to Forrester's Total Economic Impact report, Snowflake's clients can expect an ROI of 616% and net benefits of $10.7 million over three years. The other advantages include
20% growth in business value from data initiatives
66% increase in data engineers' productivity
80,000 hours in freed bandwidth among data teams
Market size of Big Data as a Service Platforms
According to the Fortune Business Insights report, the global Big Data as a Service (BDaaS) market size is expected to exceed $93.5 billion by 2028, growing at a phenomenal CAGR of 28.2% from 2023 to 2028.
The key factors behind this growth include the massive demand for customer analytics & predictive modeling tools and risk reporting & threat management systems. Additionally, the proliferation of interactive visualization and AI apps will influence the development of the market.
Why you can trust us?
We thoroughly analyzed over 35 Snowflake competitors and read their customers' reviews. It took more than 24 hours to do the comprehensive research. Eventually, we decided to shortlist the 13 alternatives based on their machine learning capability, services offered, and pricing model.
Our "Rating" is the average of all ratings given by genuine customers on trusted review sites. In order to show you an accurate picture, we haven't considered reviews and testimonials featured on the platform's official website.
We DO NOT earn commission from any of the featured platforms. Moreover, we have two independent editors who have no influence over our listing criteria or recommendations.
Read More
17 Best Machine Learning Tools
13 Best Cloud Migration Services
15 Best Dropbox Alternatives | Value for Money Cloud Storage Services