TJ Maxx is the best place for shopping if you're short on budget or want to save more on monthly expenses. Nothing beats TJ Maxx when it comes to offering the best value for money.
As the biggest off-price department store in the United States, TJ Maxx offers a never-ending selection of quality merchandise from clothing, accessories, and home decoration items at a 20 to 60 percent discount compared to full-price or regular retail stores chains.
However, TJ Maxx is not the only off-price retailer you can shop at. Below is our list of 17 online and offline retailers where you can find quality items and affordable prices.
14. ASOS
ASOS is an increasingly popular online fashion retailer where you can fulfill all kinds of clothing needs. While ASOS is not a direct competitor of TJ Maxx, it offers a more fashionable alternative with almost similar pricing.
It is more of a fast-fashion brand that focuses on trends. About 40 percent of its inventory is replaced every 90 days and introduces hundreds of items weekly.
The retailer owns about 17 different clothing brands. Some of its best-selling labels include – ASOS Design, Collusion, and Topman. Third-party fashion brands at ASOS include H&M's Weekday and Pull and Bear. About 40 percent of ASOS's worldwide sales are accounted for by its private labels.
ASOS may seem like a women-centric retailer, but it also has a great section of men's clothing. To make it easier to navigate between men's and women's clothing sections, they are neatly organized onto completely different tabs.
Since it is an international retail company, one should always remember that not all its products match U.S standard sizes. This issue can be solved by carefully reading the sizing measurement guide of the particular brand before buying.
13. Urban Outfitters
Number of Stores in the U.S: 248
Urban Outfitters is another popular store like TJ Maxx, where you can buy fashionable clothing, shoes, and other items at reasonable prices. Most of the merchandise at Urban Outfitters is targeted at youth.
Unlike other stores in this list, Urban Outfitters is a global retailer with outlets all-across Europe, the United States, and UAE. While you can usually find clothing items at Urban Outfitters at fair prices, some of the items can be really expensive.
These items are often specially curated and made from high-quality materials. Another reason behind its expensive pricing strategy is that Urban Outfitters features a significant amount of items from independent designers and artists. Buying those designer items can sometimes be expensive.
Fortunately, the store does have regular sales during which you can buy out-of-season clothing for cheap.
The Urban Outfitters is also a great place to buy decoration items, housewares, and vintage luxury items such as vinyl records.
Moreover, the company operates multiple subsidiary clothing brands such as Anthropologie, BHLDN (women's clothing), and Free People.
12. Burlington
Number of Stores in the U.S: 1000
Burlington department store might not be as popular as TJ Maxx or Ross Stores, but it is a great place if you're looking for bargain deals on apparel, shoes, backpacks, and other accessories.
The off-price retailer was first established in 1972 as Burlington Coat Factory, dealing exclusively in jackets and coats. It gradually started selling other items. It later dropped 'Coat Factory' from its name. Today, the retailer operates about a thousand stores across the United States.
Like other popular off-price stores, Burlington has a diverse collection of luxury brands that you can get for cheap. But there is usually not much option available in size.
You can easily find products from brands such as Calvin Klein, Michael Kors, Ralph Lauren, and Betsey Johnson at bargain prices. There are also tons of clearance products that are highly discounted for various reasons.
However, the stores don't have a cohesive style and are pretty messy. You have to know exactly what you're looking for to find the best deals.
Overall, Burlington is a great alternative to TJ Maxx for buying high-end clothing items, shoes, and other accessories for kids and adults only if you can find your size.
11. 6 PM
6pm is a discount retailer owned by Zappos (an Amazon subsidiary) that sells clothing items, shoes, and other fashion accessories for women, men, and kids.
It was initially launched as Shoedini.com, which offered matching shoes for customers of eBags, an online retailer specializing in all kinds of bags. The online retailer was acquired by Zappos in 2007.
6pm offers products from a wide variety of brands, from iconic designer names such as Karl Lagerfeld and Steve Madden to affordable luxury brands including GUESS, UGG, and Calvin Klein. Here is a complete list of brands you can find on 6pm.
Most items at the retailer are sold at a 30 percent discount from their original price. You can get up to 70 percent off on certain items on 6pm clearance sale.
While 6pm has a fine collection of clothing items, bags, and other accessories, it is mostly known for its collection of shoes that are usually cheaper than other retail stores.
The online retailer has one physical store in Shepherdsville, Kentucky.
Shipping
Shipping costs and return policy are critical issues that we must consider before buying from any online store or retailer. 6pm offers free standard shipping on orders above $50. The standard charge for orders below that is $3.95. The retailer also provides you with the option to expedite your delivery for an extra fee.
Like many online stores, 6pm requires customers to pay the return shipping fee.
10. Overstock
As we know, TJ Maxx is not just for clothing but also furniture and home decoration items that you can buy at discount prices. However, there are definitely better options for where you can buy those items.
Overstock is one such online retailer you can try. Founded in 1999, during the dot com bubble, Overstock initially sold surplus or excess merchandise, which it acquired from failed businesses.
It bought cheap inventory from failed online and offline retailers and sold them at discounted prices to make a profit.
The company now sells both closeout merchandise (items that are not selling on full-price) and brand-new items. Thus, items here can also be expensive.
Overstock offers great deals on all kinds of furniture and home decor items, from rugs and mattresses to kitchenware and fancy outdoor furniture. During seasonal clearance sales, you can get up to a 70 percent discount on certain items. The retailer also changes its catalog quickly.
In case you want to redecorate your house or office space but are not exactly sure how there's no need to worry, Overstock can also assist you in buying furniture and decoration items based on various themes and ideas.
9. Walmart
A Walmart supercenter
Number of Stores in the U.S: 368 discount stores; More than 3,500 supercenters
Although Walmart is pretty much a direct competitor of TJ Maxx or Ross Stores, it has a different business strategy. Its impact on the retail industry is just too overwhelming to leave out of this list.
In the United States, Walmart retail operates in three main formats – Supercenters, Discount stores, and Neighborhood markets.
While grocery items dominate the net sales of Walmart stores in the U.S, it is a great place to buy clothing and other general items at heavy discounts. In FY 2022, general merchandise items made up 32 percent of the net sales of Walmart U.S, the second most after groceries.
Contrary to popular belief, one can easily find quality and fashionable clothing items at Walmart like any other department store on this list. While you may not see exclusive designer names in its inventory, Walmart does have a good collection of contemporary brands. It has something for everyone.
In recent years, Walmart has greatly improved its eCommerce platform to offer more than a thousand different brands, from household names such as Levi Strauss and Champion to private labels including Terra & Sky, Wonder Nation, and Sofia Jeans (by Sofia Vergara).
In 2020, Walmart entered a partnership with thredUP, a popular online thrift store and resale platform, to offer customers a wide range of pre-owned items across women's and kids' clothing, handbags, footwear, and other accessories.
8. Target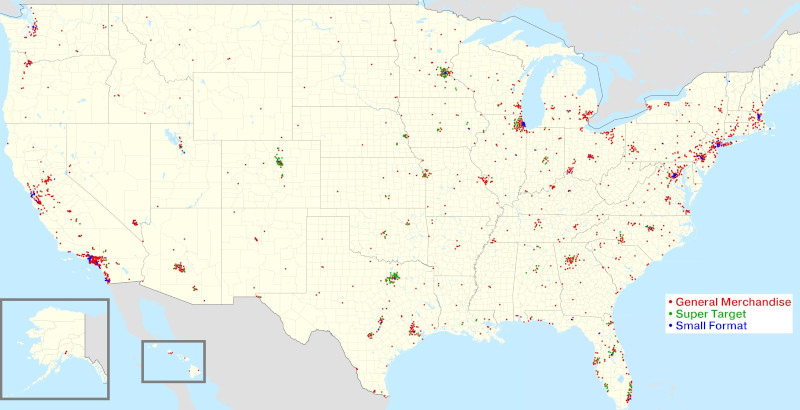 The footprint of Target stores in the United States [In 2020]
Number of Stores in the U.S: More than 1900
Target Corporation is more of a direct competitor of Walmart/Amazon than TJ Maxx. It is another great place to buy a wide range of merchandise, from clothing and fashion accessories to home decor items, at affordable prices.
As with Walmart, you'll not find any luxury brands at Target. However, the retailer has an extensive collection of stylish clothing for everyone. It also offers several in-house brands, including Universal Thread (denim-focused), Original Use (Millennial fashion), and Wild Fable (for women).
While the quality of items at Target is not as good as other retailers with designer brands, its lucrative pricing more or less balances it out. From a pricing perspective, Target is one of the best places to buy essentials or basics.
7. Amazon
Amazon (esp.) fulfillment center in San Fernando de Henares, Spain | Image Courtesy: Álvaro Ibáñez
Price Range: Varies
Speaking of a platform where you can find practically anything at affordable prices, Amazon absolutely cannot be left out of this list. After all, it is the world's largest retailer by far.
While you can always find great deals on popular brands on Amazon, some of its in-house labels are definitely worth your attention. In recent years, Amazon has introduced several of its own clothing brands to compete with third-party sellers. The labels that stand out are – Amazon Essentials and Goodthreads.
Goodthreads initially started as menswear, but it now includes a clothing line for women. While both the brands are affordable, Goodthreads has more options and higher-quality items. It is also slightly more fashionable.
If you're looking for a clothing brand that offers tons of reliable wardrobe staples, Amazon Goodthreads is the one you're after.
Amazon Essentials, on the other hand, have simpler designs, and not to mention they are really cheap.
Although Amazon has greatly expanded into other industries (cloud computing and entertainment), online stores remain its largest source of income. In 2021, Amazon's online store generated about $222 billion in net revenue compared to $63 billion by AWS.
6. Dillard's Clearance Center
Number of Stores in the U.S: 28
Dillard's Clearance Centers are a chain of discount retail stores owned and operated by Dillard's, one of the largest luxury department stores in the United States.
These clearance stores acquire leftover or slightly damaged clothing items from regular Dillard's stores and sell them at a heavy discount (as much as 60 percent). It is a great place to find great deals on luxury brands.
There is a wide variety of clothing options for both men and women at Dillard's Clearance Centers. You can find something for everyone.
To further attract customers, these clearance centers have periodic weekly sales during which certain items are sold at an extra 50 percent discount over the initial markdown price for a week. It allows customers to get out-of-season clothing items at 80 percent less than their original market price.
You can easily find out about sales events for your nearest Dillard's Clearance Center from its main website. Simply search 'clearance' on the search bar of Dillard's website, and it will take you to a landing page with a list of clearance centers in each state. You can select a mall to see if it has any upcoming events.
Dillard's operates 29 clearance centers in 15 U.S states. Florida, with five, and Texas, with four, have the most number of clearance centers.
5. Saks Off 5th
A Saks Off 5th store in Clarksburg, Maryland | Image Courtesy: Keizers/Wikimedia Commons
Number of Stores in the U.S: 102
If you're looking for trendy and quality designer products that are also quite affordable, then you should look for a Saks Off 5th store near you.
Saks Off 5th is a sister company of the luxury department store chain Saks Fifth Avenue. It is one of the most popular off-price department stores in the United States and Canada.
At Saks Off 5th, you can find brands such as Calvin Klein, Vince, BCBG, Tory Burch, Coach, and Michael Kors.
The clothing items sold here are either acquired from Saks Fifth Avenue stores or made specifically for the outlet. If a clothing item you're looking at has a full-size run or there are more than two of them, it is made for the outlet.
On the other hand, the merchandise from Saks Fifth is often labeled "Direct from Saks" or "Final Few."
If you like to shop online, that's even better. Saks Off 5th offers exclusive online deals where you can buy products at up to an 80 percent discount. You can also buy pre-owned items for women (mostly handbags and dresses).
Off 5th charges $9.99 for standard delivery and $15 for fast shipping. To avail of its free standard delivery, the order must be above $99.
4. Bloomingdale's Outlet
Number of Stores in the U.S: 21
Like Dillard's and Nordstrom, the luxury department store chain Bloomingdale's also operates several off-price stores, called Outlets, across the United States.
The Bloomingdale's Outlet offer quality clothing, shoes, and jewelry items. These stores are perhaps one of the best places you can get high-end designer products at affordable prices.
Here, you can find big-name brands such as Burberry, Michel Kors, Ralph Lauren, and Karl Lagerfeld.
Bloomingdale's Outlets have the same operating model as Nordstorm Rack – the stores acquire most of their inventory that are not selling for any reason (damaged or out-of-season) from regular Bloomingdale's stores.
Apart from clothing, the outlets have a decent assortment of fashion accessories and handbags from popular brands.
While the outlet stores of Bloomingdale's carry a wider range of luxury and premium brands than most of its competitors, they are often messy and hard to navigate.
If you like Bloomingdale's Outlets already, there is another off-price department store that you might want to check out. Macy's Backstage is very similar to the outlet stores of Bloomingdale's, where you can find quality merchandise from clothing to kitchenware at reasonable prices.
[Bloomingdale's is a subsidiary of Macy's.]
3. Nordstrom Rack
A Nordstrom Rack store in Minnesota
Number of Stores in the U.S: Close to 340
Nordstrom Rack is undoubtedly one of the most popular destinations for those who are looking for premium and luxury items at affordable prices. It is one of the largest off-price chains of retail stores in the United States.
The retailer has a good mix of luxury designer brands and hot, newly launched labels.
Most of the items at Nordstrom Rack are stuff that didn't sell at full-price stores for any reason. It could be either flawed (defected) or leftover merchandise from the previous season that must be cleared out.
Nordstrom Rack also produces more than 20 in-house clothing brands, including Chelsea28, Halogen, and Zella. Here, you can find items from various high-end and reputable designer brands such as Billy Reid, Ted Baker London, Karl Lagerfeld, and Steve Madden.
Did you know that although Nordstrom Rack was established in 1973, it didn't have an online selling portal until 2014? Its first website was launched in collaboration with HauteLook, a flash sale shopping website, which Nordstrom acquired in 2011.
Nordstrom Rack has more than 350 stores in the United States and Canada. It is present in 41 U.S States.
2. Ross Dress For Less
Ross Store in Texas | Image Courtesy: Wikimedia Commons
Number of Stores in the U.S: More than 1,500
Ross Stores, also known as Ross Dress For Less, is one of the largest off-price retailers in the United States by revenue and the largest competitor of TJ Maxx.
Discount stores such as TJ Maxx and Ross Stores are known for being one of the few bright spots in retail. Like TJ Maxx, Ross Stores sells popular luxury brands at up to 60 percent less than full-price stores and offers a perfect bargain shopping experience.
However, unlike most off-price retailers, including TJ Maxx, Ross doesn't sell online or have an online store. Ross Stores relies exclusively on its formidable pricing strategy to offer some of the most premium and luxury brands at affordable prices to tempt customers.
The items at Ross Stores are cheaper overall. The average price of clothing at Ross Stores is $10 compared to $14 at Marshall's and $15 at TJ Maxx. You can find cheap deals on brands such as Calvin Klein, Michael Kors, and Ralph Lauren. Perhaps the best time to shop here is during the weekdays.
Ross Stores operates more than 1,500 retail outlets in 39 U.S States.
1. Marshalls
Marshall's store in Toronto, Canada
Number of Stores in the U.S: More than 1,130
Marshalls is the biggest competitor of TJ Maxx, but at the same time, it is not. Most of you may already know that both TJ Maxx and Marshalls are owned by the same entity – TJX companies.
Both off-price retailers have similar business models, pricing strategies, store layouts, and identical footprints across the country. They function as sister companies. However, TJ Maxx and Marshalls have a crucial difference that makes them ideal competitors.
The first and foremost difference is that Marshalls carry slightly more expensive and relatively high-end brands than TJ Maxx. The types of brands available at both the stores vary.
Another notable difference is their focus on different products. At Marshall's, you can usually find a larger and more extensive footwear department, whereas TJ Maxx has a more refined section of jewelry and other fashion accessories. While both stores sell these items, each has a different focus.
For those who are not aware, TJ Maxx was initially created to compete with Marshalls with similar products and an identical business model.
Marshalls purchases most of its inventory through overstock merchandise and returned items from other retailers and brands. Thus, you'll find certain items that are of low quality, slightly damaged, or out-of-season.
Since off-price retailers such as Marshalls often purchase items that are unwanted by other retailers, you may not find size and color options for a shirt you have your eyes on.
Like TJ Maxx, the best time to shop at Marshall's is during the weekdays, especially on Tuesdays, when stores are less crowded and restocked.
Other Less Known Discount Retailers In the U.S (and Europe)
15. Zalando (Germany)
Number of Stores: 21
Zalando is an increasingly popular online retailer in Europe. It offers shoes, clothing items, and fashion accessories from popular brands at low, affordable prices.
Zalando features items from more than two dozen luxury and premium brands such as Adidas, Vans, Ralph Lauren, and Micheal Kors. Some of its merchandise is produced in-house. Zalando is perhaps best known for its excellent footwear collection.
While the retailer continues to focus on the e-commerce business, it's gradually expanding its physical footprint. As of now, Zalando has 11 outlets or stores in different German cities.
It also owns a bunch of subsidiaries and business units, including Zalon, a fashion consultancy service, and Zalando Lounge.
The company was established in 2008, largely based on the business model of Zappos. After years of incurring losses, Zalando became profitable for the first time in 2014.
It is one of the largest fashion retailers in Germany and operates in 24 other European nations. About 50 percent of its sales come from German-speaking countries.
According to a recent report, the company is targeting to reach a gross merchandise volume of more than €30bn by 2025 and gain about 10 percent market share in the European fashion industry in long term.
16. Sierra
Number of Stores in the U.S: 62
Sierra is a less-known member of the TJX family. Like TJ Maxx and Marshalls, Sierra is also an off-price retailer that offers merchandise at discounted prices.
Sierra, also known as Sierra Trading Post, is more geared toward the outdoor lifestyle, with an entire section of products dedicated to sports gear and equipment for various outdoor activities. Here, you can find anything from sports shoes to hammocks and kayaks.
So if you're planning a hiking or camping trip in near future, be sure to check Sierra to find great deals on gears and activewear.
The retailer does have a good range of clothing items for men, women, and kids you can choose from. Other merchandise offered by Sierra includes home decor items and kitchenware. However, the options are fairly less compared to Marshalls and TJ Maxx.
Sierra also has a physical presence throughout the United States. As of July 2022, it operates a total of 62 outlets in 23 States. Often, a Sierra store can be found close to a TJ Maxx or Marshall's store.
17. Marden's Surplus and Salvage
Number of Stores in the U.S: 14
Marden's is a chain of small, family-run retail stores located in Maine, the U.S. It was established in 1964. The retailer sells a wide variety of products from clothing to furniture, mattresses, and hardware tools for home improvement.
The company was initially based on the insurance salvage model — it acquired its inventory through bidding processes for warehouses or failed retail businesses.
Mardens' business model has evolved over the years. Like Ross Stores and other off-price retailers, Marden's buys cheap items in bulk from excessive stock, business liquidations, and closeouts and sells them at heavily discounted prices.
Unfortunately, Marden's stores only operate in Maine state and it doesn't have an online store.
Read: 14 Most Expensive Watch Brands In The World
More to Know
Brief History of TJ Maxx
TJ Maxx was initially established as a subsidiary under Zayre Corporation (a now-defunct department store) in 1976. The next year, in 1977, TJ Maxx opened its first brick-and-mortar stores under the leadership of Ben Cammarata. Mr. Cammarata was General Merchandising Manager at Marshall's before being recruited by Zayre Corp.
In 1988, while its parent company was suffering serious losses, TJ Maxx remained profitable. The following year, Zayre sold its other business and merged with TJX, the parent company of TJ Maxx.
What is the Future of Off-Price Retail Stores
In today's economy, where traditional retail stores are struggling to remain profitable, off-price stores are thriving like never before.
According to a report from McKinsey, the off-price segment of the retail industry is likely to grow five times faster than the traditional, full-price retail from 2025 to 2030. Moreover, the off-price brands have the upper hand in attracting online customers.
In 2021, the total revenue of the fashion industry in the European Union stood at €368 billion. About 11 percent (€40 billion) of that revenue came from off-price retailers. The revenue share is expected to reach 12 percent by 2025.
In recent years, some of the traditional and well-established department stores like JCPenney, Lord & Taylor, and Neiman Marcus have declared bankruptcy. Even popular fast-fashion companies like H&M are experiencing a crunch in profit margin.
On the other hand, off-price department stores, like TJ Maxx and Ross, not only sustained but are thriving. One of the reasons behind this is their business model. With an increasing number of retail bankruptcies, these off-price stores have been able to get better inventory more easily.
It allows customers to have more choices and offer more affordable pricing than regular department stores.
Read More
15 Stores Like Zara You Should Try