Gone are the days when keyboards were referred to as a simple plate with alphanumeric buttons. During the past decade, we have seen ugly, bulky keyboards shaping into stunning, sleek designs.
This is the era of smart and stylish keyboards. They are not only used for entering textual data but also for playing games, launching applications, controlling media, and much more. The design has to be manipulated to fulfill all those modern usage requirements. So what kind of design companies came up with? Let's find out in our latest list of super-stylish P.C. keyboards (in no particular order).
The article is for information and fun purpose only. Most of the listed items aren't available for purchase. 
18. The Seafarer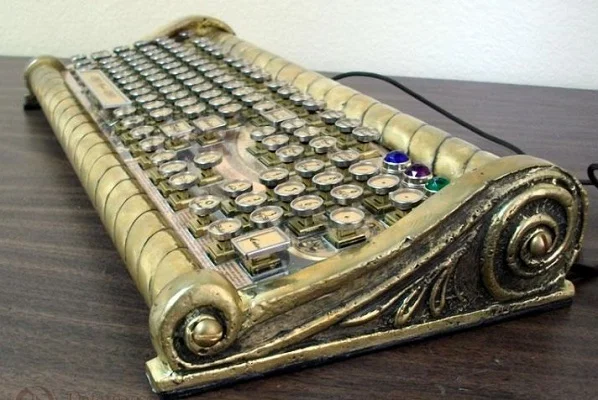 Usually, you don't get to see this unusual keyboard in homes and offices. This is a nautically themed keyboard with a worn-in, weather-beaten aesthetic. It features a gold foil map faceplate, spiral cut rods, engraved gold metallic keys protected by thick acrylic.
17. Roll-up USB keyboard
This is the flexible keyboard with 104 keys in a standard layout. You can roll it up and keep it anywhere when you are done. Moreover, the gadget is dust and moisture-proof. It is best for laptop users who miss their P.C. keyboard while working off home.
16. Logitech diNovo Edge
It is made of a single piece of plexiglass, which attached to a brushed aluminum frame. The body is slick and stylish (11 mm thick) and comes with an elegant charging base. It features perfect keystroke, touchscreen scrolling, touch-sensitive audio control, backlit hotkeys, and more.
15. E-BLUE COBRA EKM066BKC COINBATANT-X Advanced
This is an intense gaming keyboard with streamline structure, aurora blue illumination, and widen wrist support. The keyboard is built of graceful surface material for great tactile and dedication with 3 level support stand.
14. The Virtual Laser Keyboard
It's a laser technology that projects a virtual keypad at any flat surface. The device can be easily connected with smartphones, tablets, and laptops via Bluetooth. Moreover, it comes with a rechargeable lithium-ion battery.
13. Maltron Single-Handed Keyboard
Maltron is designed for those who want to perform all keyboard operations with one hand. The key arrangement matches the natural hand movement that helps to increase speed and accuracy. You can type 85 words per minute once you get handy with the device.
12. Kinesis KB500USB-BLK Advantage
This is for both P.C. and Mac users. The keyboard has separate keys for each hand that minimizes stretching, abduction and strain. It is packed with concave key, virtual key layout, ten key layouts, 20-degree lateral tilt design, and integral palm support.
11. Handwriting Recognition Keyboard
It's a fashionable thin design keyboard with a sensitive handwriting reorganization system. The device is smart enough to understand numerous languages, including English, Traditional Chinese, and Japanese.
10. Logitech G19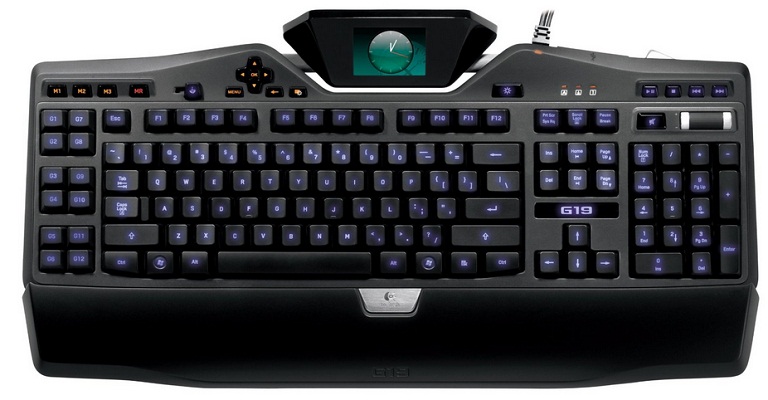 Logitech G19 is a gaming keyboard with a color game panel LCD display that shows system information, live game stats, image slides, video, and voice communication data. It is packed with many astounding features, including custom character backlighting color, 12 programmable G keys, two USB 2.0 port for transferring data, and it can register up to 5 key input at a time.
9. The Orbitouch
It's an American made device that helps people with disabilities or injuries. You need to slide the two domes to type a letter. The device fulfills both keyboard and mouse functionality. One can obtain a speed of 35 words per minute after using it for 20 hours.
8. Tipro Custom Assembled Keyboard
The best thing about this keyboard is each key can be programmed individually. It has a flexible design with rugged plastic housing. There are also optional pointing, user-defined input control, custom keycaps, and control modules.
7. Microsoft Arc Wireless
Arc is over a foot long and less than an inch thick, super flexible keyboard. It is suitable for chatting online, office works, and even playing Xbox 360. Its compact and portable structure allows you to carry it wherever you want.
6. L.E.D. Illuminated Ergonomic
Ergonomic is a high quality, intense gaming keyboard. The main keys are made of high strength A.B.S. plastic, which gives long-lasting life. It features 3 L.E.D. backlights, each with four gears to adjust, laser carving characters, comfortable palm rest, and lock/unlock W.I.N. key.
5. Luxeed L.E.D. Keyboard
It sparks, it glows, it shines, and it even dances to the music beat. Luxeed U5 is a fully functional illuminated keyboard with translucent keys and 430 programmable colors. It is compatible with both Windows and Mac and has the anti-ghosting capability for gamers. You can also adjust effects such as sparks, rainbow, slideshow or choose your own customized design.
4. Logitech Wireless Solar Keyboard K750
This is an ultra-sleek solar power keyboard by Logitech. Any light source keeps the keyboard charged up to 3 months. Moreover, the concave key design provides a faster, smoother, and more comfortable typing experience.
3. Mad Catz V.7
This is the gaming keyboard with multi-color backlighting (Red, Amber, Green). It has a touch control backlit dashboard control panel, twelve programmable Mad Catz keys with S.S.T. software, multimedia keys, and hard-wearing surface and buttons for intense gaming.
Read: 12 Best Keyboard Apps For Android With Advanced Features
2. Optimus Maximus
It's a fully customizable keyboard in which each key is a standalone display that shows the function assigned to it. This means you can choose your own sequence of characters. It supports numerous characters (HTML codes, math functions) and several languages, including Cyrillic, Quenya, Ancient Greek, Hiragana, Georgian, and Arabic.
You can also assign the shortcuts of frequently used websites. The keyboard has a total of 113 screens, each with a resolution of 48*48 px.
1. Mad Catz S.T.R.I.K.E.7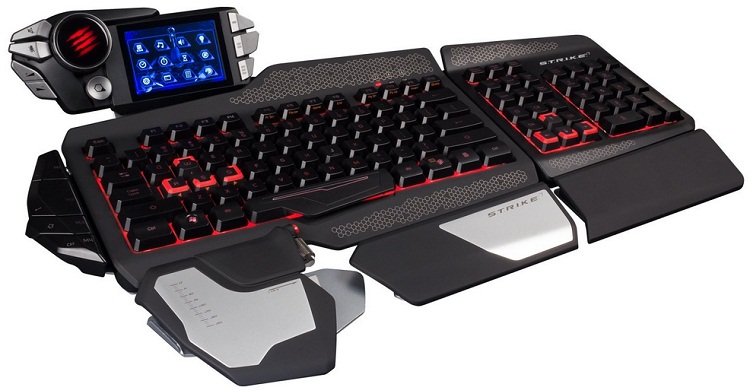 Read: 10 Different Types of Computer Keyboards
This one is integrated with V.E.N.O.M. TFT-LCD Touchscreen to adjust backlighting and gaming control of external function. It is packed with 24 programmable macro buttons to create over 72 user-definable commands, Numpad fix mounted positioning, 3-Part Active Palm Rest and 2 Wrist Rests.