If you are looking to theme your device, look no further than Substratum – a fully functional theme engine for Android interface. It's a combination of Layers and CyanogenMod (an earlier theme engine) that provides additional benefits, such as no reboot being required each time you change the theme. Plus, it warns you when themes get outdated.
How is Substratum different than other customization tools?
Substratum is a dynamic theming engine that allows you to delve deep into the visual aesthetics of the Android interface. Unlike conventional launcher apps, it operates at a system level, allowing you to apply themes that transcend mere icon changes.
From changing the color scheme to tweaking the minutiae of system UI elements, Substratum empowers you to tailor your Android experience with unparalleled precision.
There are many substratum themes that go beyond superficial alterations. They offer a comprehensive overhaul of the user interface, an environment that resonates with your individual taste.
In this article, we have featured a few stunning Substratum themes that will give your phone a new, refreshing look. This collection features both free and premium options.
25. Rounded UI Theme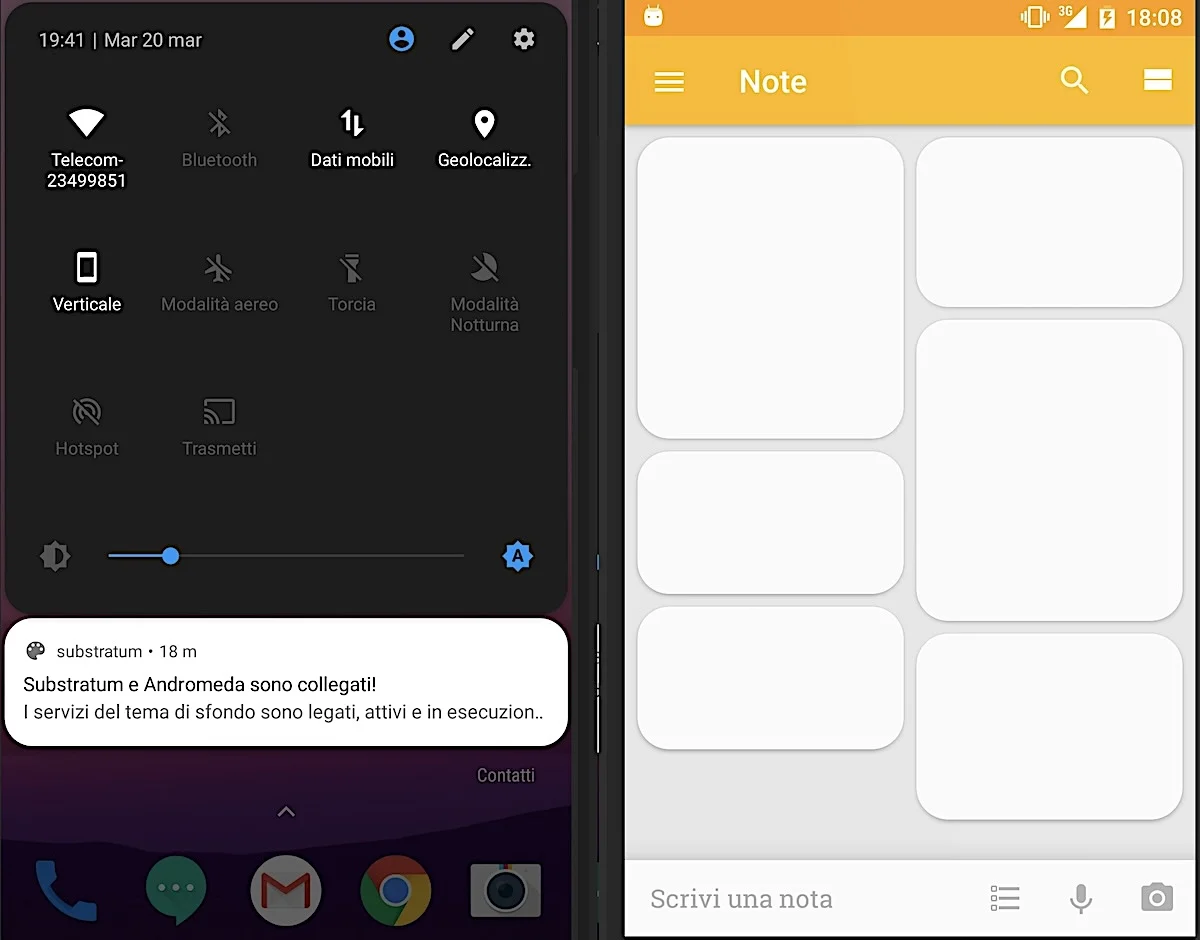 If you like rounded elements, this theme is perfect for you. It adds rounded borders to various UI items like buttons, recent apps, cards, and notifications.
However, keep in mind that this theme comes with a price tag of $0.99.
24. Default Dark Theme for Substratum
This theme is built on the default AOSP dark material colors. It allows you to personalize System UI, settings, document UI, and many AOSP apps. While it comes with teal as the default accent color, you have the flexibility to choose from other options like blue, cyan, green, lime, and red, all of which look fantastic.
23. Belo
Belo has a neat and polished appearance, offering support for both dark and light themes for the AOSP keyboard. It extends its coverage to nearly all system apps, setting UI, and popular apps such as Google+, Gmail, Play Store, YouTube, WhatsApp, and others.
Keep in mind that this theme comes with a price of $1.99.
22. Luminous
Luminous is a light theme for Substratum. It supports 55 apps and contains 49 different color options. This theme applies to a wide range of apps, including AOSP apps, Google apps, SuperSu, SystemUI, Inbox, YouTube, and many others.
It will cost you $1.49.
21. Gravija
Gravija is a straightforward and well-balanced theme that excels in both exclusivity and excellence. It provides both light and dark themes in a single package, along with a plethora of customization options and overlays.
20. S.i.X Theme
S.i.X Theme comes with over 150 accents, 150 primary colors, 21 framework background colors, 8 AOSP keyboard colors, 36 font styles, 24 navigation bars, 4 setting card styles, and 10 boot animations.It provides support for nearly all system apps. The best part is that the developer generously offers all of these features for free.
19. Coalfield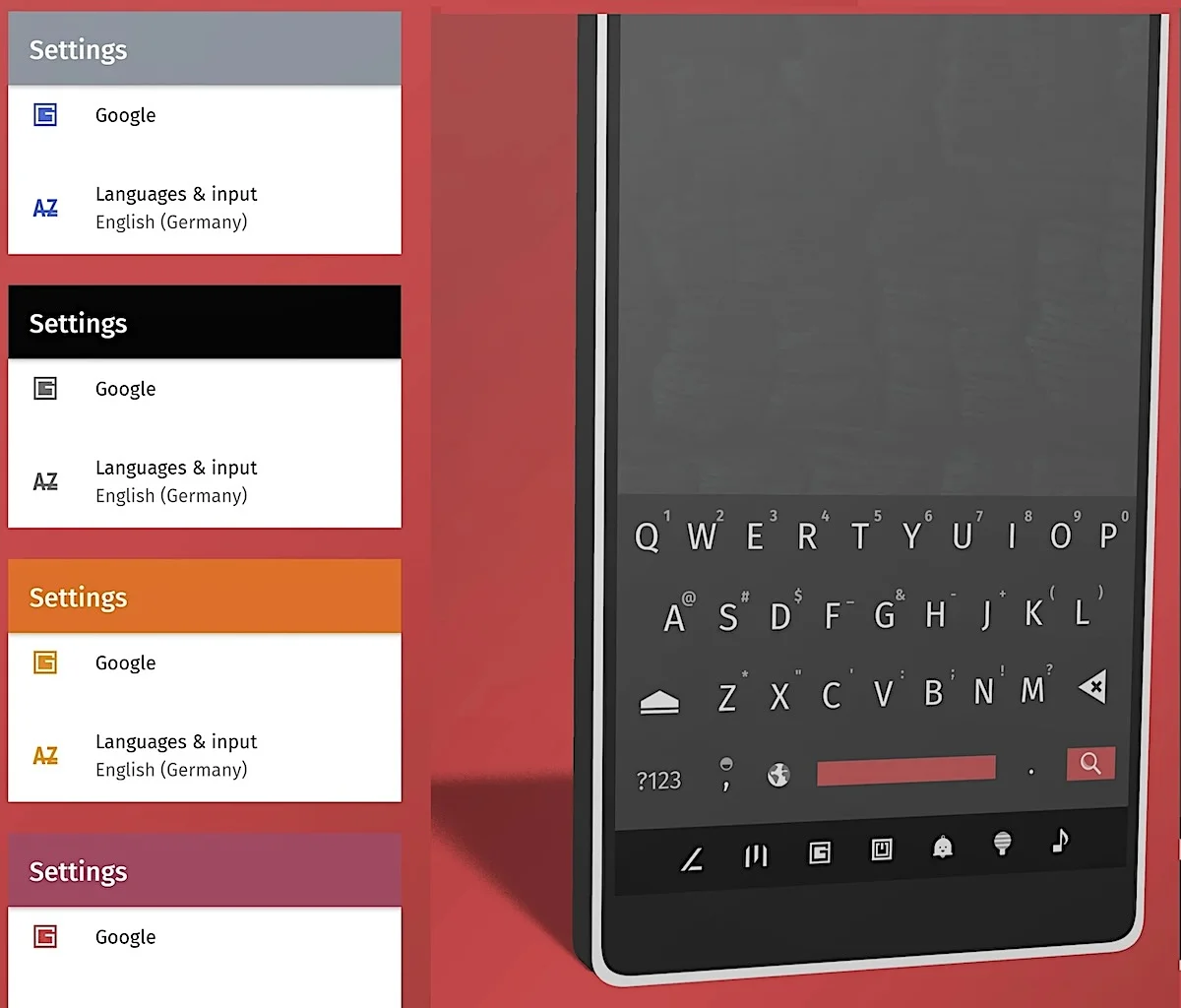 Coalfield Substratum theme has a pleasing pastel color scheme set against a dark background, something that looks really great all together. It includes a comprehensive Material design color palette, along with boot animations, custom fonts, notification icons, a volume panel, animated switches, checkboxes, and buttons.
18. Outline Theme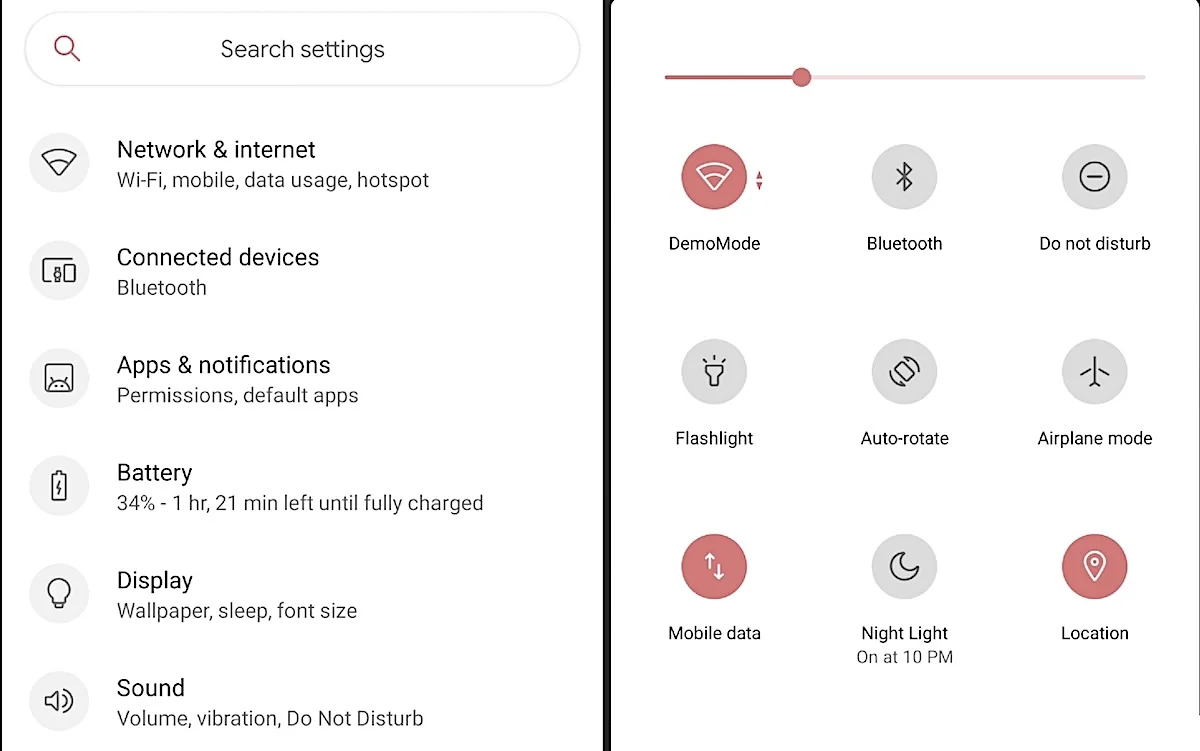 Outline theme offers support for 80 apps, overlays for 43 third-party apps, 25 Google apps, and 12 system apps. It allows you to select among many colors (including Outline and Material) and mix and match between accent and primary colors.
This stunning color theme is available for $1.99.
17. Transparent Theme
The theme's name says it all; it showcases your UI background with a transparent, glass-like effect. With each wallpaper change, you get a fresh theme. It offers customization options for accent and primary colors, fonts, icon colors, and borders. All of these features come at a cost of $0.99.
16. Antares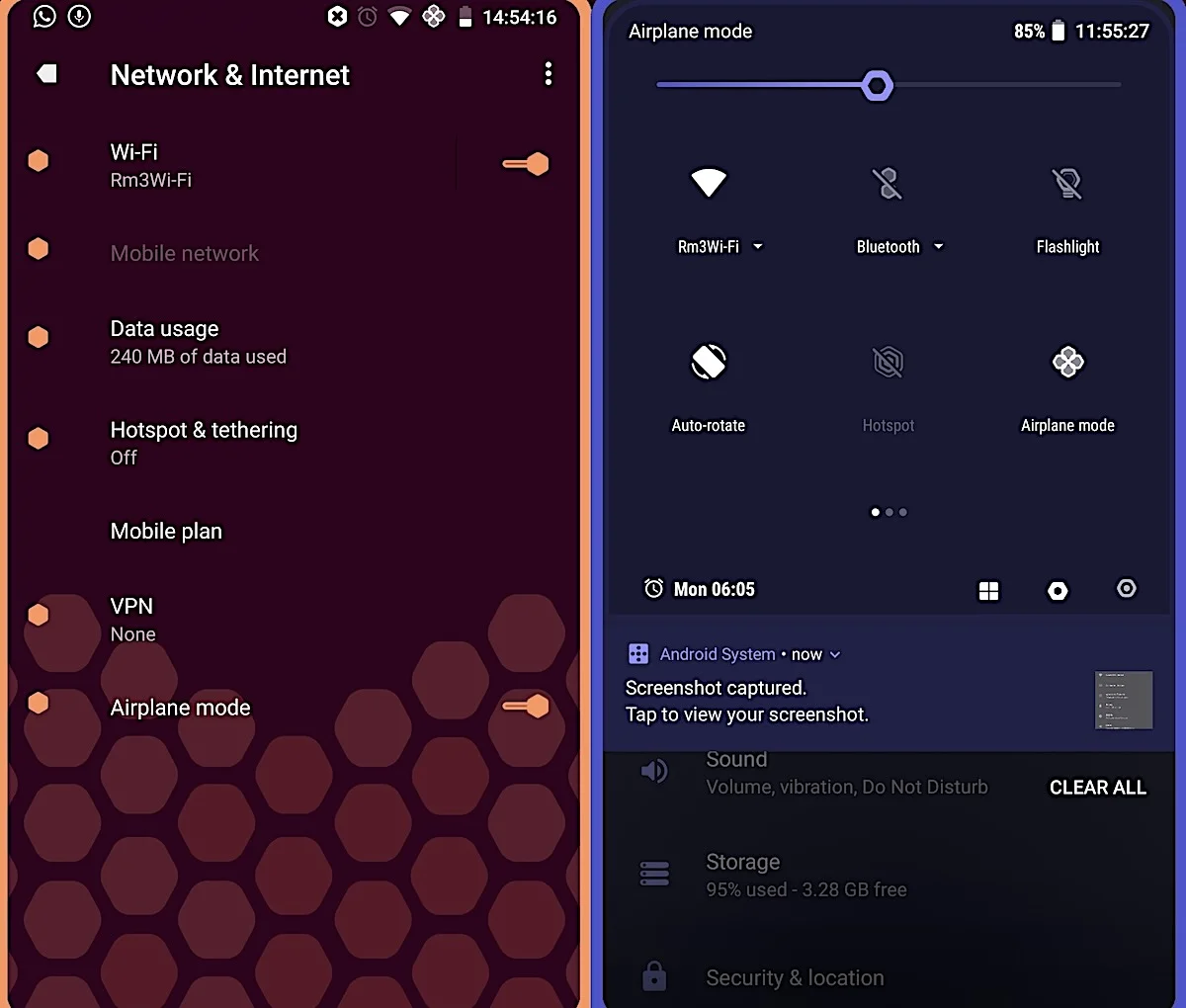 The Antares theme is inspired by a hexagonal design. It comes with a blue-gray back tone (you can also select a secondary color), its own font pack, boot animation, lock screen, and sound panels. The theme supports system apps, Google apps, AOSP apps, and system UI. All this for $0.99.
15. Spectrum Theme
Spectrum Theme comes with over 180 color options, allowing you to create numerous unique themes. You can customize AOSP apps, settings, system UI, Google apps, WhatsApp, Twitter, and other popular apps.
However, it doesn't come for free; it requires a payment of $1.99.
14. Reverie
Reverie is a highly customizable theme that comes with unique system icons. The theme contains multiple colors, a vector status bar, setting icons, animated switches, buttons and checkboxes, alarm and notification sounds, fonts, battery icons, and wallpapers.
All of this would cost you $1.49.
13. RubiQ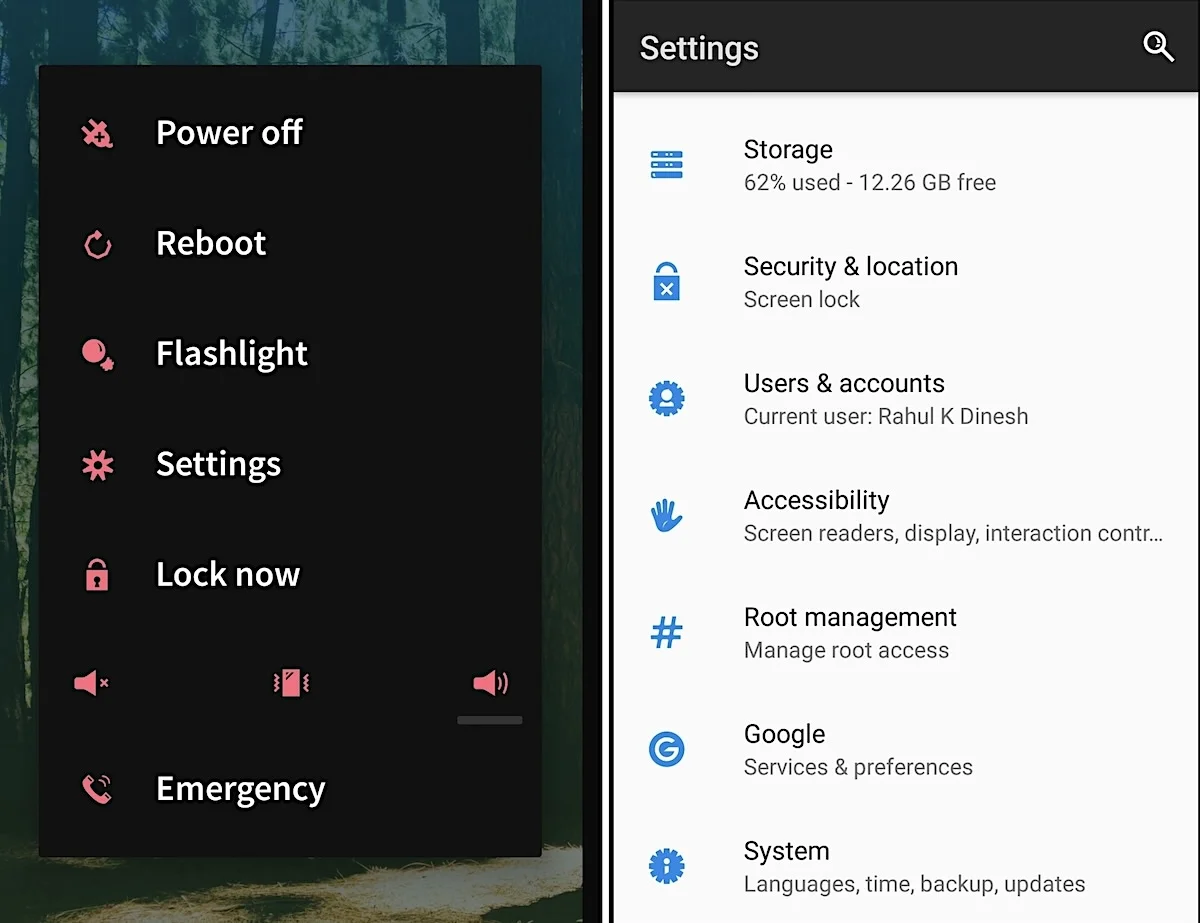 RubiQ is a vibrant theme with tack-sharp and vector-based iconography. It comes with light, dark as well as pitch-black overlays. The theme is packed with multiple shades, a navigation bar, a smart bar, battery icons, fonts, boot animation, system apps, and third-party apps.
It all comes with a price of $1.49.
12. Compound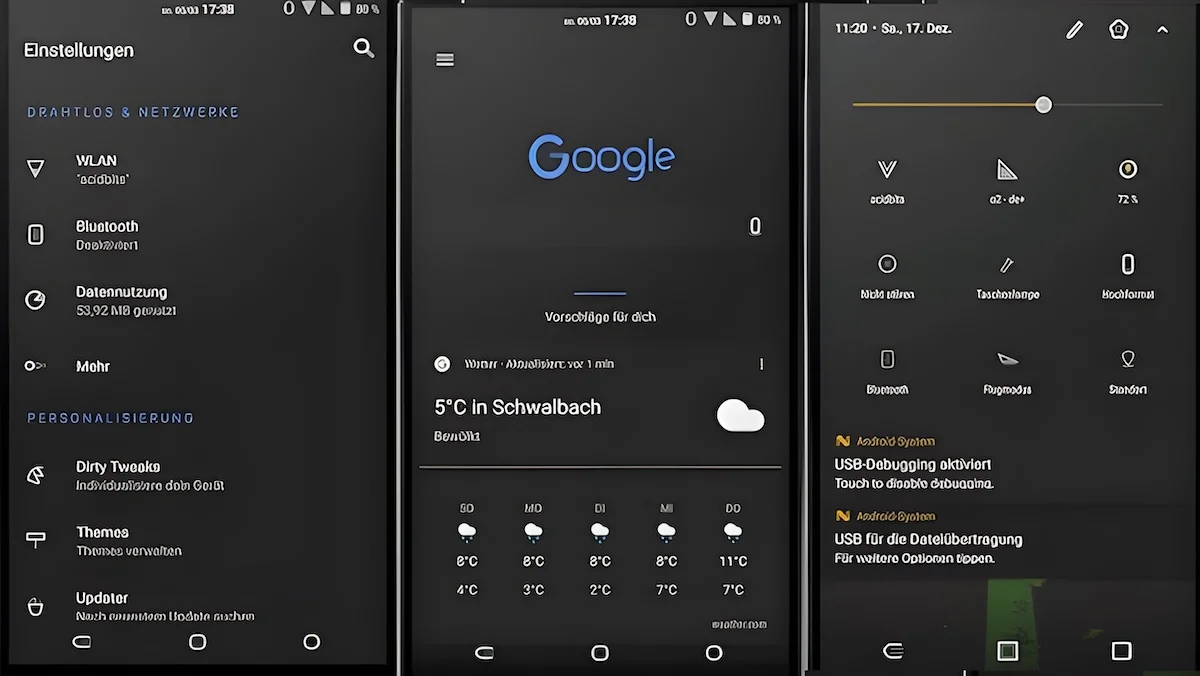 The Compound is a theme that you can customize to your liking. It comes in both light and dark versions, with the darker tone appearing more polished and appealing.
11. Flux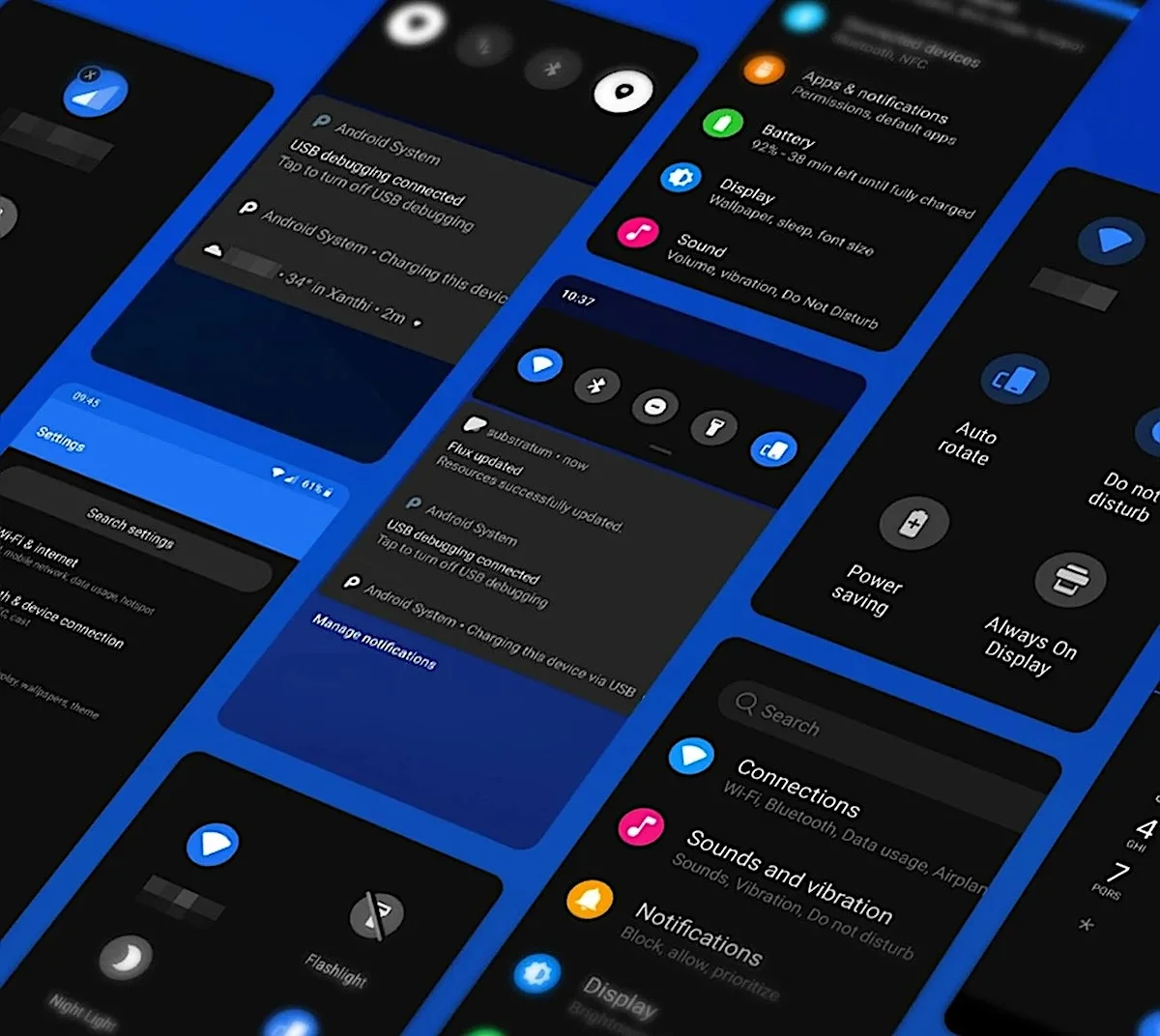 Flux won't disappoint you at all. It is designed with pixel-perfect precision and high-quality vector graphics to give your phone a completely modern look and feel. The theme lets you customize settings, notifications, dialer, and keyboard.
All these features come at a price of $1.49.
10. PitchBlack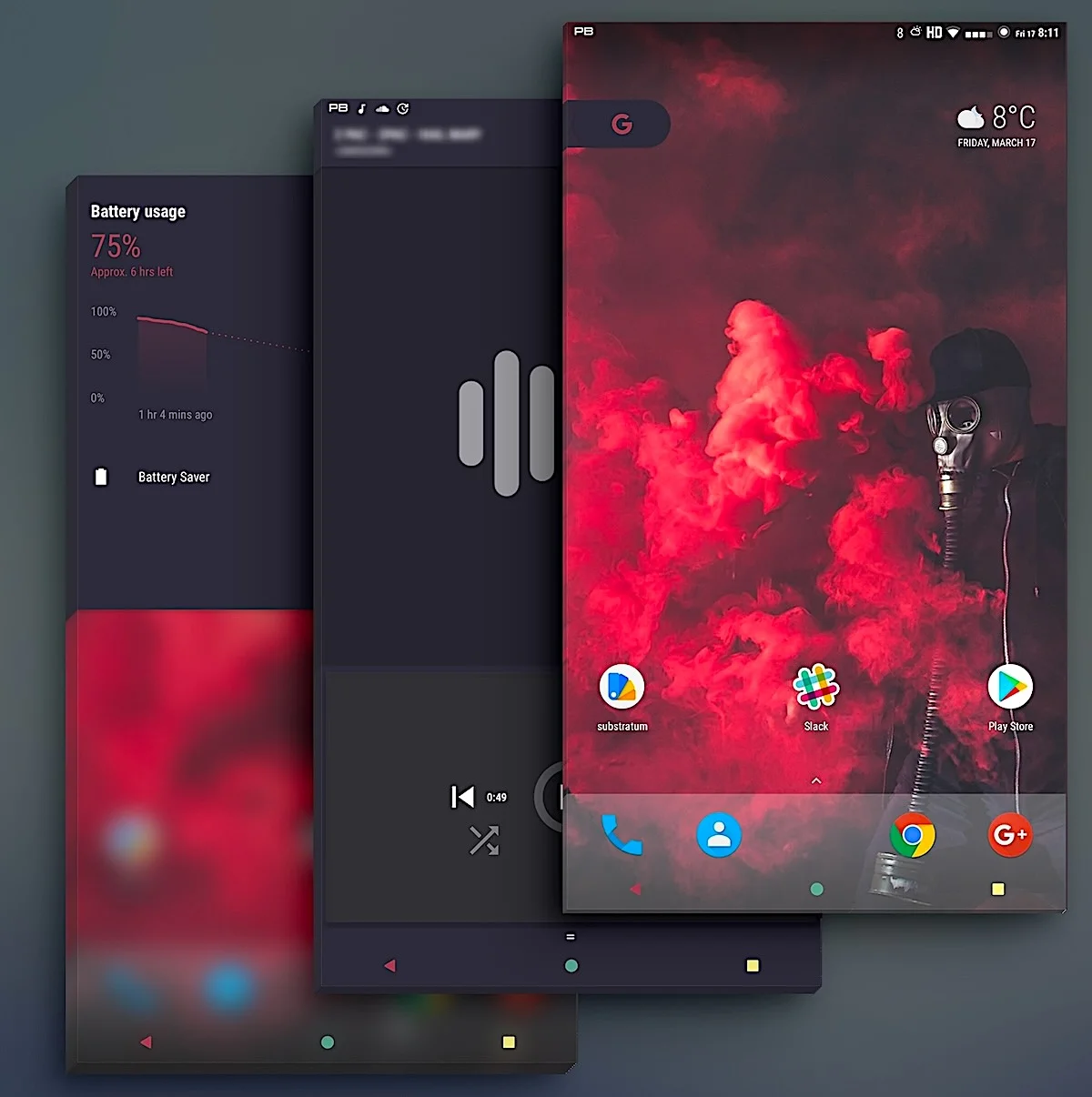 PitchBlack is a comprehensive theme that strikes a perfect balance between minimalism and materialism and offers a variety of exciting color combinations. It includes more than 12 exclusive material design themes, two types of navigation bar overlays, two boot animations, and two network indicators.
All these features come at a price of $1.99.
9. GRVY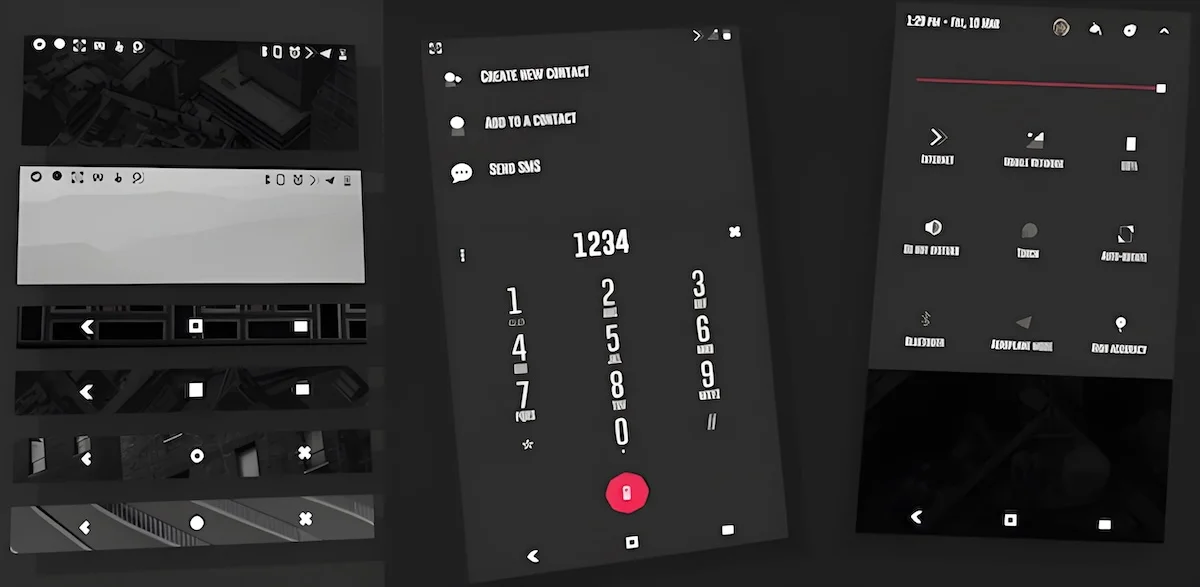 GRVY gives a retro look paired with high-quality vectorized glyphs. It comes with 40+ themed apps, and it allows you to customize almost everything, including quick settings, a power menu, and a navigation bar. Furthermore, it supports customization for 3rd party apps like Telegram, Twitter, Instagram, and WhatsApp.
8. ModernUI
ModernUI adopts the design style of Windows Phone 10, showcasing a dark background and a blue accent color. The theme offers customization for systemUI, Google Contacts, calculator, settings, package installer, and Google Dialer. Since it is based on a defined concept, you won't be able to select different accent colors.
7. J Dark Ice
This stunning theme offers various color options like ice blue (default), ice pink, ice jade, ice gold, ice silver, primary blue, green, red, and yellow. You have the flexibility to customize nearly everything, from the camera and Chrome to the calculator, inbox, settings, clock, file manager, email, and SystemUI.
6. Dark Matter
The Dark Matter theme aims to give a completely futuristic look to your device. It pays attention to every aspect and detail. All icons are built with pixel perfection and are of high quality. It supports icons, the navigation bar, contacts, Google apps, settings, and third-party apps like Facebook and WhatsApp.
5. Iris Monet
Crafted with meticulous attention to detail, Iris Monet introduces a unique and visually pleasing experience. It intelligently adapts to your smartphone's wallpaper, automatically selecting accent and background colors that harmonize with your chosen background.
For the price of $1.99, the theme brings support for various third-party apps and an unparalleled level of customization.
4. Livicons
Livicons incorporates a collection of unique vector icons to breathe new life into your Android device's interface. The theme isn't limited to just the system UI. It extends its design influence to third-party apps, ensuring a consistent and unified theme across your entire Android experience.
It is priced at just $0.49.
3. Liv Dark
Liv Dark introduces gradients, pixel-perfect UI components, and an enhanced Material UI design. It goes beyond just system elements, extending its design to various apps.
If you have an AMOLED screen, you can choose full black backgrounds everywhere by selecting the AMOLED background option from the Android system overlay.
It is priced at $0.99.
2. Domination Theme
Domination Theme can transform your Android interface into a brilliant, dark, and clear/translucent aesthetic. It offers a departure from the stock Material Design by incorporating black backgrounds and darker-than-stock Material colors for the action bar, status bar, and accents.
You can customize the color, background, and navigation bar, which include options like Accent Nav Bar Icons and a Custom Home Button featuring the DOMINATION logo.
The theme is priced at $1.99.
1. Swift Dark Substratum Theme
With over 200 handcrafted overlays, this theme focuses on using a specific shade of dark gray for backgrounds while maintaining the original accent and primary colors of the apps it modifies. It provides a consistent and aesthetically pleasing dark theme across various applications.
The cost of Swift Dark is $1.99.
More to Know
What are the benefits of using Substratum?
Using Substratum for theming and customization comes with several benefits:
1) Since Substratum operates at the system level, you can customize a range of visual elements on Android, including system UI, app interfaces, and status bar.
2) You get precise control over the appearance of UI elements. From adjusting color schemes to changing system fonts, Substratum offers a granular level of customization.
3) The platform allows you to mix and match different themes and overlays, facilitating a modular approach to theming.
4) Substratum has an active and creative community of users and developers. This means themes are regularly updated, and new ones are continually developed.
Jum'at Barokah#A13#Iconify
Substratum theme Onigiri by @modestCat0309
Mambu Iconpack & Wallpaper by me pic.twitter.com/89zfgKbpXE

— (@oxtfdsgn) July 14, 2023
Are Substratum themes compatible with the latest Android updates?
The compatibility of Substratum themes with the latest Android versions depends on multiple factors, such as developer updates, Android system changes, and community support. You should check the theme's compatibility and the developer's notes before applying a theme on your newly updated Android device.
Can I mix and match different Substratum themes and overlays?
Of course. One of the advantages of using Substratum is the ability to mix and match different themes and overlays to create a personalized look for your device.
Experimenting with various themes and overlays is part of the customization process. If you face any issues, you can easily revert to the previous theme.
My Homescreen today
•Kwgt by AniSet
•iconpack by @sry_nmblss
•h2i by @andro_idfans
•other substratum theme pic.twitter.com/QOkj3m6BP2

— kacajendela (@Just3Why) July 19, 2022
Is Substratum legal and safe to use on my Android device?
While Substratum itself is a legal and safe theming engine, you should be cautious when downloading themes from third-party sources. It is recommended to avoid themes from untrusted or unknown sources to minimize the risk of malware or other security issues.
Read More
19 Best Smart Notification Apps for Android Users
15 Best Alarm Clock Apps For iOS and Android