The National Basketball Association, or NBA, is the most popular and best professional basketball league globally. Its popularity can be perceived by the fact that more NBA players make the list of highest-paid athletes than any other sports.
As a basketball and, in this particular case, NBA fan, you've probably wondered about questions such as, who are the greatest players or the greatest teams ever to play the game. While the exact answers to these questions may differ from one source to another, there are few constants that always remain the same. Another question that is often thrown into the mix is who the tallest NBA players of all time are? Today, we'll look into it.
Basketball is considered one of the most physically demanding sports in the world, and it requires players to have superior strength, agility, speed, and endurance to succeed. However, the most important physical attribute needed in this game is height.
According to the 2019-20 NBA Roster Survey, the average NBA player height is close to 6'7". The tallest player in any basketball team is usually the center, also called the big man. Offensively, they are expected to score points close to the basket while blocking opponent shots in defense. Due to their height advantage, centers are traditionally better rebounders on both ends of the court.
14. Priest Lauderdale
Height: 7 feet 4 inches
Priest Lauderdale is a former American-Bulgarian basketball player who spent two seasons in the NBA. He was selected by the Atlanta Hawks in the 1996 NBA Draft as the 28th overall pick due to his massive 7'4 stature and a long wingspan.
However, Lauderdale was traded to the Denver Nuggets the very next season. There he averaged 3.7 points per game, 0.4 blocks, and 2.6 total rebounds.
13. Boban Marjanovic
Boban Marjanovic during his time with the Philadelphia 76ers | Image Courtesy: Eric Hartline-USA TODAY Sports
Height: 7 feet 4 inches
Career Points: 1434
Career Rebounds: 930
Boban Marjanović, who is currently playing for the Dallas Mavericks, is one of the tallest NBA players of all time and the second tallest active player in the league above his fellow teammate Kristaps Porziņģis. Born in Serbia, Boban started his professional career with a local ball club in 2006.
After spending a fair amount of time with Serbian and Russian clubs, Boban signed with the San Antonio Spurs in 2015. Since then, he played with three different NBA teams before finally landing with the Mavs.
Both his parents are of average height, which led to the speculation that his extraordinary height is due to a pituitary condition, which causes gigantism.
12. Ralph Sampson
Ralph Sampson (the tallest among the players) during his time with the Virginia Cavaliers (college basketball)
Height: 7 feet 4 inches
Career Points: 7,039
Career Rebounds: 4,011
When Ralph Sampson came into the NBA in 1983, he was expected to become a great scorer and even drew comparisons from the all-time great Wilt Chamberlain.
In his rookie season (1983-84) with the Houston Rockets, Sampson averaged 21 points, 11.1 rebounds, and 2.4 blocks per game. The performance earned him the much-coveted NBA Rookie of the Year Award, for which he was voted unanimously (one of the only five players to do so).
In the next season, Ralph Sampson was shifted to the power forward position due to the arrival of a 7-foot center and future Hall of Famer Hakeem Olajuwon. Their partnership elevated the Rockets from their previous seasons' slump as they reached NBA Finals in 1986.
Sampson's performance led him to four NBA All-Stars (1984-87), and was voted All-Star Game MVP in 1985. In 2012, Sampson became the tallest former NBA player to be inducted into the Naismith Memorial Basketball Hall of Fame, until he was replaced by Yao Ming.
11. Rik Smits
Height: 7 feet 4 inches
Career Points: 12,871
Career Rebounds: 5,277
The 1990s Indiana Pacers teams were among the greatest in the franchise's history. The Pacers, led by five-time All-Star and future Hall of Famer shooting guard Reggie Miller, was considered one of the most resilient teams in the Eastern Conference. After Reggie, the second most valuable Pacers player (for the most part), was a 7'4" center, Rik Smits.
Smits was selected by the Indiana Pacers in the 1988 NBA Draft as the second overall pick and spent his entire career playing for the Pacers. He maintained double-digit points per game average in each of his twelve regular seasons while getting his career-high of 18.5 PPG in the 1995-96 season.
Rik Smits made his first and only NBA All-Star appearance in 1998 alongside fellow teammate Reggie Miller (his fourth).
10. Mark Eaton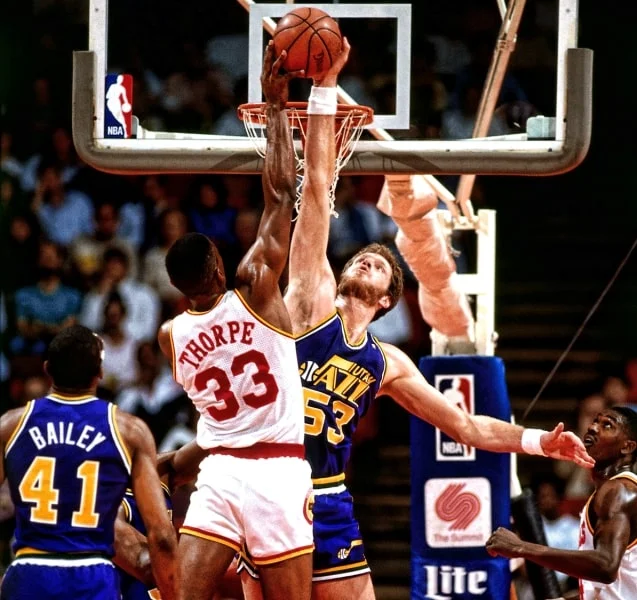 Mark Eaton blocking a shot attempt by Rockets' Otis Thorpe | Image Courtesy NBA/Utah Jazz
Height: 7 feet 4 inches
Career Points: 5,216
Career Rebounds: 6,939
Mark Eaton is perhaps one of the best defensive centers in the NBA's history, and much of its credit goes to his massive 7'4" stature. Eaton spent his entire professional career, consisting of eleven seasons, with the Utah Jazz.
In his rookie season, Eaton piled up an impressive 275 blocks (franchise record) in 81 games. The next season, he led the league with 4.28 blocks per game. However, Eaton's best performance came in his third season, in which he blocked 456 shots in 82 games, an NBA record 5.6 blocks per game, and grabbed his career-high 11.3 rebounds per game.
For his all-round defensive performance during the 1984-85 season, Eaton was awarded the NBA Defensive Player of the Year and made it to the All-Defensive First Team. Eaton led the league in blocks four times and made an All-Star appearance in 1989.
9. Tacko Fall
Tacko Fall against 6'9"Cavaliers forward Dean Wade | Image Courtesy: Michael Dwyer/AP
Height: 7 feet 5 inches
Tacko Fall is the tallest basketball player in the NBA today. In the 2019 edition of the NBA Draft Combine, Fall set a new record for the largest wingspan (8'2") and highest standing reach (10'2") in the event's history.
Due to his height, Tacko Fall is considered by many as a gifted shot blocker but lacking in quickness and agility. He entered the 2019 NBA draft, but after going undrafted, he was signed by the Boston Celtics later that year.
8. Sim Bhullar
Sim Bhullar (left) | Image Courtesy: Reuters/ED Szczepanski-USA Today Sports
Height: 7 feet 5 inches
Bhullar is a Canadian basketball player who has spent most of his professional career in Taiwan's Super Basketball League. However, his career started in the NBA, albeit his time there was brief. He is one of the three active players on this list.
Bhullar initially signed with the Sacramento Kings in August 2014 but was waived in just three months. The next year, he entered a 10-day contract with the Kings, during which he made his first NBA game appearance.
At a listed weight of 360lb (163 kg), Bhullar was much heavier than any other tall man (at or above 7'3" height) in the NBA's history.
7. Pavel Podkolzin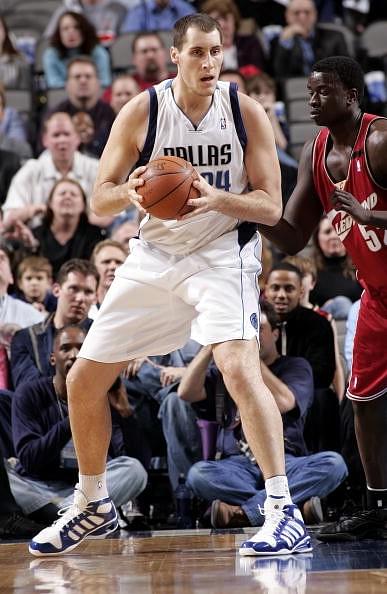 Height: 7 feet 5 inches
Pavel Podkolzin is a former Russian basketball player who spent two seasons with NBA franchise Dallas Mavericks from 2004 to 2006. At 7'5", Podkolzin is the tallest Russian basketball player ever.
He was selected by the Utah Jazz in the 2004 NBA draft as the 21st overall pick and was traded to the Dallas Mavericks. After appearing in just six games over two seasons, Podkolzin was waved by the Mavs in August 2006.
Like many exceptionally tall athletes, Pavel Podkolzin suffered from acromegaly, a pituitary disorder that triggers the body to produce excess growth hormone, causing gigantism.
6. Charles Goodrich Nevitt
Height: 7 feet 5 inches
Career Points: 251
Career Rebounds: 239
Charles 'Chuck' Nevitt started his professional basketball career with the Houston Rockets in 1982. He spent nine seasons in the NBA with five different teams over eleven years from 1982 to 1994. Chuck Nevitt is mostly known for his remarkable height.
There is nothing spectacular about Nevitt's NBA career. As a bench player, he made appearances in just 155 ball games over nine seasons (out of possible 648). He was unable to make it to the starting lineup in any of them.
Nevitt's career-high points per game average were 3.8, which he achieved in his rookie season. It was his best season in terms of blocks per game (2) and rebounds per game (2.8) as well. In the 1984-85 season, he won the NBA championship with the Los Angeles Lakers and became the tallest player to own an NBA championship ring.
5. Yao Ming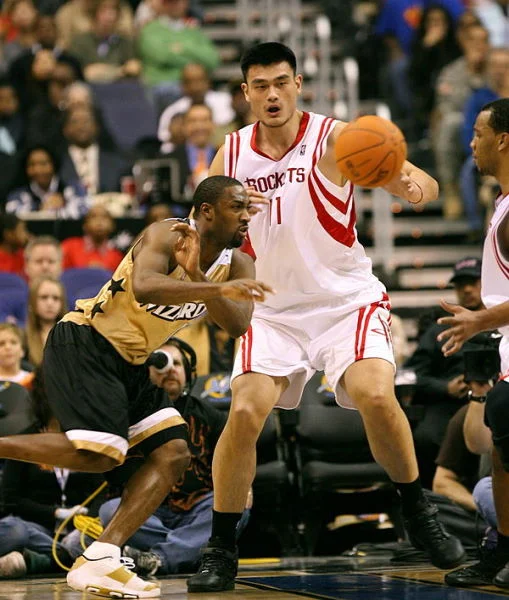 Yao Ming during a Rockets match in 2006 | Image Courtesy: Wikimedia Commons
Height: 7 feet 6 inches
Career Points: 9,247
Career Rebounds: 4,494
Yao Ming is a former Chinese basketball player who played in the NBA for nine seasons from 2002 to 2011. Yao was born into a family of former basketball players, who were both above 6 ft. 2 in. height. He started playing ball games at the age of nine when he was already standing at 5 ft. 5 inches.
After a five year stint with the Chinese ball club, Shanghai Sharks, Yao entered the 2002 NBA draft and was selected by the Houston Rockets as the first overall pick. Yao Ming's physique, strength, and defensive abilities made him one of the best and most formidable centers of his time. At 7'6", he was almost unguardable near the post. His career field goal percentage was .524.
In 2016, Yao Ming became the tallest NBA player to be inducted into the Naismith Basketball hall of fame, replacing 7'4" Ralph Sampson.
4. Shawn Bradley
Shawn Bradley | Image Courtesy: BYU University
Height: 7 feet 6 inches
Career Points: 6,752
Career Blocks: 2,119
Born in 1972 in Landstuhl municipality, Germany, Shawn Bradley started showing signs of explosive growth from a young age. In his first year of high school (age 17), Bradley was already standing at 7 ft. 5 in. In 2018, a genetic study conducted on Bradley's DNA revealed that his remarkable height is not caused by a disease (which is often the case) but a result of having almost every known genetic element that positively influences an individual's height.
Bradley started his professional career in 1993, after being drafted by the Philadelphia 76ers as the second overall pick. Before going professional, Bradley played only one year of college basketball (NCAA), during which he displayed exceptional shot-blocking ability.
Bradley was an inconsistent scorer and, despite his height advantage, an average rebounder. However, he remained an effective shot-blocker for most of his career, averaging more than two blocks per game in ten of his ten seasons in the NBA.
3. Slavko Vraneš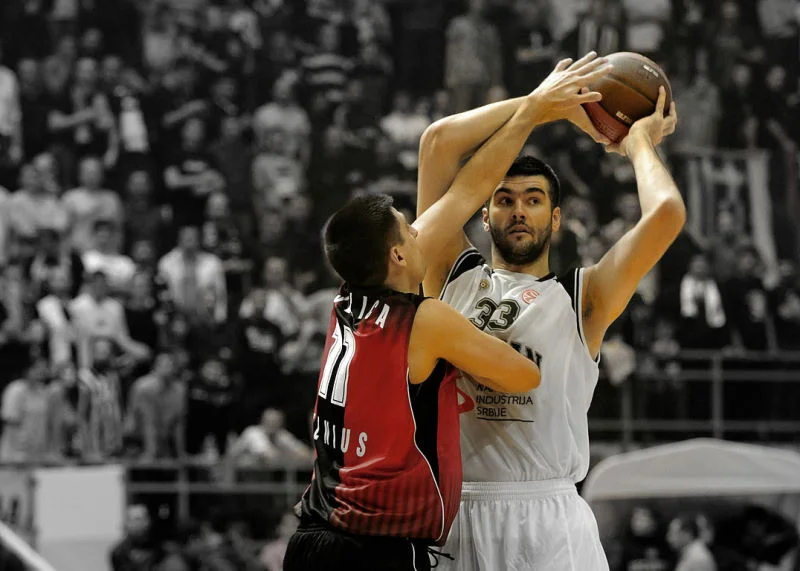 Slavko Vraneš in a Euroleague game in 2010 | Image Courtesy: Rudolf Getel/Flickr
Height: 7 feet 6 inches
Slavko Vraneš is a Montenegrin former basketball player who spent most of his career with different ball clubs in Europe and Asia. In his two-decades-long career, spanning from 1997 to 2018, Vraneš won league championships on six separate occasions and was crowned Eurocup champion in 2011. At 7 ft. 6 in., Slavko Vraneš is one of the tallest basketball players ever.
Though Vraneš is not known for his time in the NBA and played just one game, he was part of two NBA teams' rosters. In 2003, Vraneš was drafted by the New York Knicks as a second-round pick but was wavered a few months later. He then signed a 10-day contract with Portland Trail Blazers in January 2004, where he played his first and only NBA game.
2. Manute Bol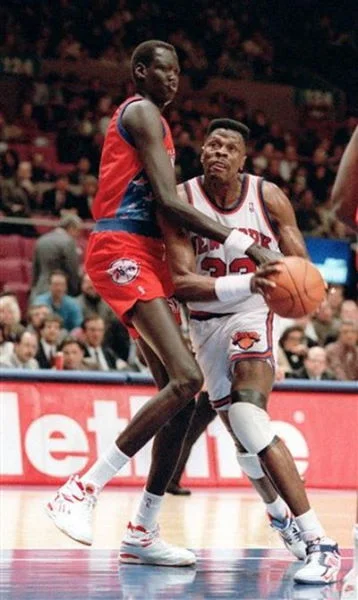 Manute Bol defending Knicks Patrick Ewing | Image Courtesy: Jim Sulley/Associated Press
Height: 7 feet 6 inches
Career points: 1,599
Career Rebounds: 2,647
Manute Bol was a Sudanese-born basketball player who spent twelve seasons in the NBA with four different teams. With a listed height of 7 ft. 6 ft, Bol was one of the tallest NBA players of all time.
He started his NBA career in 1985 after being selected by the Washington Bullets (now Wizards). Bol led the league in blocks in his rookie year, averaging a career-high of five blocks per game. He also holds the NBA record for the second-highest blocks (397) in a single season. His remarkable shots blocking ability was greatly helped by his height and a massive 8 feet 6 inches arm span, which remains the longest in NBA to date.
After his first three seasons with the Bullets, Bol was traded to Golden State Warriors, where he led the league for the second time in blocks per game. His NBA career came to an end in 1994, after a brief second stint with the Warriors, due to his reoccurring injuries.
Read: 15 Tallest Buildings In The World
1. Gheorghe Muresan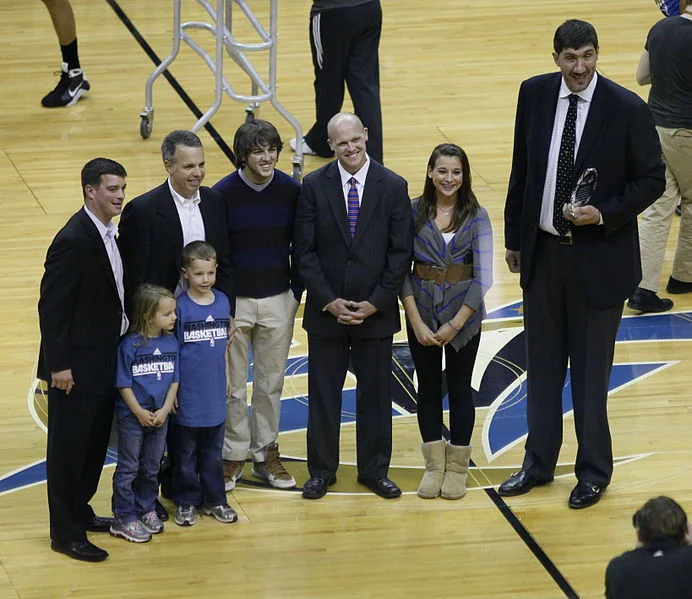 Gheorghe Muresan (far right) at Verizon Center in 2010 | Image Courtesy: Wikimedia Commons
Height: 7 feet 7 inches
Career points: 3,020
Career Rebounds: 1,957
At 7 feet 7 inches, Gheorghe Mureșan remains the tallest basketball player to ever play in the league. A Romanian national, Gheorghe started his professional career in 1992 with Élan Béarnais, one of France's most successful basketball teams.
The next year, in 1993, Gheorghe was drafted by Washington Bullets as a second-round pick. He played in the NBA for seven years, from 1993 to 2000, averaging 9.8 points per game, 6.4 rebounds per game and boasted a high field goal percentage of .573.
In the 1995-96 season, Gheorghe led the league in field goal percentage (.584) and achieved career highs in average rebounds, steals, assists, blocks, and points per game (14.5). He was named NBA's Most Improved Player that season. The Romanian dominated the league in field goal percentage again in the 1996-97 season. His NBA career was cut short due to a string of injuries from which he could not recover fully.
Read: The 8 Tallest Mountains In The World
Early in his professional career, Gheorghe was diagnosed with a rare hormonal disease called acromegaly, which causes gigantism. He received treatment in 1993 after being selected by Wizards, which stopped his further growth.