Textsheet was a top-rated online educational website that allowed students to download homework and science projects for free. It was paramount in helping students to find solutions to problems for their academic studies.
Launched in 2005, it quickly became popular among school and college students. Millions of students around the globe started using it to save time and complete the assignments on time.
Unfortunately, Textsheet is no longer available. The site was taken down for violating rules and regulations set by the Digital Millennium Copyright Act (DMCA). It was copying paid content from other educational websites.
For students, the absence of the Textsheet left a seemingly unfillable hole when it came to finishing homework and research papers. However, hundreds of similar services have emerged to help fill that hole and give students the academic leg up they need.
Below, we have listed the best and most reliable Textsheet alternatives that provide all sorts of solutions and can even help you with your research paper.
13. SparkNotes
Price: Free (ad-supported) | $4.99 annually
Plus Point: Almost all titles have an interactive quiz; Download any study guide to the mobile device
SparkNotes is an asset you can turn to when you are confuzzled. It provides thousands of guides, containing thorough summaries and insightful critical analyses.
SparkNotes is one of the best platforms for English literature, art, and creative writing. There is a section called "No Fear Shakespeare," which gives side-by-side translations of Shakespeare into plain English.
Although its database is dedicated to art and literature, the platform also contains guides to math, biology, chemistry, computer science, physics, philosophy, history, and the US government and politics.
Furthermore, SparkNotes Test Prep offers content and services related to ACT, GRE, and PSAT/SAT I and II standardized tests. There are some quick quizzes so you can test your retention before the test.
12. BookFinder
Price: Free
Plus Point: Searches from 150+ million books for sale; unbiased results; no commission
BookFinder has been helping readers buy books online since 1997. It's a meta-search engine that scans over 100,000 inventories of booksellers located around the world. It searches from more than 150 million books for sale — new, used, out-of-print, rare, and textbooks.
The site saves your time and money by telling you which booksellers are offering the best prices and selection. When you find a book, you can directly buy it from the original seller without paying any commission.
The search engine primarily focuses on English, Italian, Spanish, French, German, and Dutch language titles. Try it; you will appreciate its precise and unbiased results.
11. EssayPro
Price: Starts at $11 per page
Plus Point: Customer-oriented writers; all papers delivered on time; 30-day revision policy

EssayPro is a custom paper writing service with over 20 years of experience in the essay writing industry. It employs a large team of skilled writers, and their rating is based on previous work and customer reviews. So before hiring a writer, familiarize yourself with his/her track record in detail.
You can order any type of essay (such as admission essay, annotated bibliography, article review, business plan, and case study) for school, college, university, or doctorate.
The service is completely reliable: if you are not satisfied with your paper, you can ask for an unlimited amount of free revision and rewrites within the first 30 days. Your paper will be reviewed by a quality assurance team for errors and plagiarism.
If you are still unsatisfied with your paper, you can ask for your money back. This means you don't have to worry about the quality of the paper and the deadline.
10. Quizlet
Price: Free | Quizlet Go costs $35.99 | Quizlet Plus costs $47.99
Plus Point: Contains over 3 billion study sessions and 350 million study sets
Quizlet makes it easy to study, practice, and master what you are learning. It is designed for both teachers and students. It offers its services in four different ways:
Relevant, customizable resources: The app and website provide high-quality GCSE revision resources based on exam board specifications. You can easily customize resources as per your needs.
Ready-made, self-marking quizzes: There are thousands of quizzes in the Test Mode, which can be customized to individual levels.
Learn with flashcards: Put your memory to the test and race against the clock in a game of "Match." You can also share flashcards with your classmates and friends.
Various learning styles: There are 8 study modes to allow students to find a revision method that works for them. This makes learning more personalized.
More than 50 million students use Quizlet to improve their results. Although the free version is ad-supported, you can upgrade to Quizlet Go to study without distractions. Quizlet Plus gives you even more premium features, such as rich text formatting, offline access, and progress insights.
9. MyAssignmentHelp
Price: Depends on the difficulty and length of the assignment
Plus Point: 24/7 assistance; assurance of timely delivery.
MyAssignmentHelp is a premium tutoring, essay writing, assignment writing, dissertation writing, and research paper writing service provider for schools, colleges, and universities.
In addition to providing custom writing help, the platform also helps students acquire useful knowledge from the subject experts. Their tutors make sure that each order is written from scratch and delivered on time.
While they have writers available for almost all subjects, they provide expert guidance on law, literature, math, and science. All professional writers have acquired Ph.D. credentials from reputed universities.
8. Studylib
Price: Free
Plus Point: Plenty of learning options, such as short-term learning and review difficult terms
Studylib offers a somewhat different approach to finishing assignments. Unlike Textsheet, it emphasizes efficient learning strategies so that students can learn faster and retain knowledge for longer.
The platform boasts a large community-driven educational library, where students can read, download, and print study materials for free. It also includes extras like "Flashcard Explorer" featuring all common subjects, including science, math, engineering, social science, humanities, history, business, and foreign language.
There is an option to make personalized flashcards by inserting your own visual and audio elements. For fast learning, you can add flashcards to the Chrome Startpage using their Chrome extension. It shows you a stream of flashcards each time a new tab is opened.
7. College Board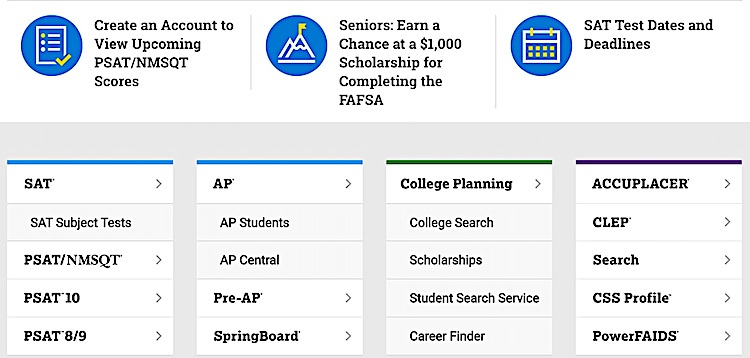 Price: Free
Plus Point: Explore AP courses; Study up on majors and career pathways
College Board might not help you with your homework, but it offers invaluable tools and resources that help you decide where you go to college and how you pay for it.
College Board is not an association of college, but it is led by members of 6,000+ colleges, universities, and other institutions. It helps over 7 million students every year make the jump from high school to college.
Login to the website, and you will find plenty of free library-like resources on college planning and career mapping. There are quizzes (primarily designed for SAT students), lesson-notes, and course guides from top management schools.
All in all, the platform is a one-stop-shop to:
Get familiar with benefits, such as college credit and making your application better.
Learn how to approach teachers about enrolling.
Explore certain courses, from calculus to history and beyond.
6. Coursera
Price: Free | Course certificate costs $48.99 | Specialization certificate costs $499.99
Plus Point: Explore new degree programs from top universities; Stream lecture videos online any time
Coursera provides massive open online courses (MOOC) aimed at unlimited participation and open access via the web. It works with several universities and organizations to offer professional courses, online certification, and degrees in various subjects.
With Coursera, you can learn the latest skills, such as graphic design, business analytics, computer programming, etc., and get ready for a career in high-demand fields like AI and cloud engineering.
It contains plenty of options, including free courses and university degrees at reasonable prices. Everything is available online. You can apply what you learn with self-paced quizzes and hands-on projects, and get valuable feedback from a community of learners.
As of now, Coursera offers over 3,900 courses and specialization, more than 20 degrees and MasterTrack certificates, and 13 professional certificates.
5. Study
Price: $299.99
Plus Point: Contains over 35,000 high-quality educational video lessons with text transcripts
Study.com provides massive open online courses and degrees for students. It's a premium educational platform offering personalized adaptive learning and tools for educators to engage their students in class and at home.
There are thousands of microlearning courses in subjects like math (algebra, calculus, trigonometry, geometry), science (chemistry, physics, biology), English (literature, writing, grammar), history, psychology, social science, business, and more. It also provides resources for SAT and ACT prep.
All courses have 5-15 minutes of animated video lessons. You can access these lessons directly from the website or install an Android/iOS app to study on tablets or smartphones. All videos have text transcripts, which help you review difficult topics.
All course materials are developed by curriculum developers, subject matter experts, and professors, and reviewed by independent evaluators and faculty panels.
4. Slader
Price: Free | High School Semester Plan costs $12
Plus Point: Simply scan your textbook barcode or search the textbook to find answers
Students stumped by science or math questions in their textbook can consult the Slader app or website to not only get comprehensive answers but also understand how to actually arrive at those answers.
The platform provides millions of free step-by-step solutions to all the questions in popular textbooks in college, high school, and middle school. While it is best known for helping students in upper-level math, high school math, and science subjects, you can also find solutions for various social sciences, literature, and English textbooks.
To get rid of ads on the web and in the app, you need to purchase a High School+ subscription, which gives you access to expert-verified solutions and one-sheeters. The College Subscription, which costs $8 per month, gives you access to advanced upper-level books along with expert-verified solutions.
3. Khan Academy
Price: Free
Plus Point: User-friendly interface; Well-designed and trusted content; Personalized learning
Khan Academy is a non-profit educational organization that provides practice exercises, study materials, and short lessons in the form of videos. All of its resources are free and can be accessed via the website or Android/iOS app.
It is packed with thousands of interactive exercises, in-depth articles, and expert-created videos in science, math, humanities, and economies. You can learn at your own pace: first, fill in gaps in your understanding and then accelerate your learning.
There are plenty of online courses for preparing for standardized tests, such as AP Chemistry, Praxis Core, SAT, MCAT, and LSAT. Khan Academy also provides basics of programming, algorithm, cryptography, and coding lessons on its website.
2. Course Hero
Price: Premium subscription starts at $9.95 per month
Plus Point: Contains over 40 million course-specific study materials; Easy offline access to previously viewed content
Course Hero is so true to its name. It offers practice problems, study guides, class notes, videos, and step-by-step explanations for every subject you are studying — from accounting to psychology, history to biology, economics to literature, and everything in between.
The platform offers 24/7 access to online tutors. Ask any question about a subject, and a tutor will respond within 15 minutes. Search for study guides, test prep, and exact course notes from over 10 million students and educators at 16,000 schools.
You can use its Android or iOS app to gain offline access to previously-viewed resources and get alerts for new resources based on your previous searches. If you are stuck at math equations, use the free math solver to get answers right away — it's totally free.
For students who don't want to spend money, there is an option to earn free unlocks and tutor questions: just upload your original study materials to help other students. For every 10 documents submitted, you earn 5 unlocks or 3 tutor questions.
Read: 12 Best Language Learning Apps Of 2020
1. Chegg
Price: Subscription starts at $19.95 per month
Plus Point: Highest number of users and study materials; Get answers to almost anything
Chegg is ultimately the reason why Textsheet is not available and would never be available again. Textsheet.com copied a large amount of content from Chegg. After several reports and complaints, copied content was removed from the server and the website was shutdown.
Based in Santa Clara, California, Chegg provides physical and digital textbook rentals, online tutoring, textbook solutions, and writing services.
Books: Buy books with 21-day risk-free returns
Solutions: Learn how to solve a problem step by step
Writing: Create or get an expert to review your paper
They provide guided video walkthroughs and practice sets for thousands of problems. You get instant and on-demand help from experts on any subject, including physics, statistics, economics, finances, algebra, calculus, accounting, chemistry, biology, and computer science.
Read: 10 Fun Math Games That Will Make You Smarter
The company has 2.9 million subscribers, with services accounting for almost 80% of revenue. You can search for both internships and scholarships on the websites and typically pay to access a particular service.