Bikes for the Bikers are just like the Maxwell's equations for a physicist, they just can't live without it, that simple. Apart from the fact that we should thank him for his contributions even now, we should also be grateful to different companies and firms for producing these hot two wheeler chicks.
Moving ahead, we can say that a vehicle based on its price tag, style can have an important impact in a particular social space. They are expensive but fast and that gives the feel of adrenaline rush to its rider. Now without keep you waiting, we let you to have the best time with the Fastest Bikes in the World.
15. Honda VF1000R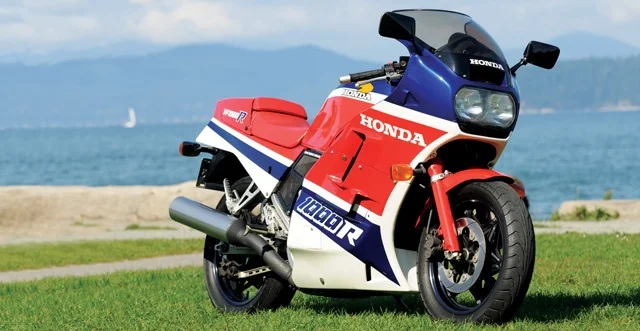 Top Speed: 150mph (240 km/h)
In March 1984, Honda introduced the VF1000R in the European Market. The main motivation behind the creation of VF1000R was that Honda wanted to design a piece that can compete with Daytona 200 and AMA F1 class, having all of the innovative and modern technology that had been used in the AMA F1 class.
But unfortunately this was not to be the case, as the finished bike weighed nearly 600 pounds with half a tank of fuel, almost 85 pounds heavier than the VF1000F model, and for this reason was rarely used in competition, and struggled to be competitive when it was used. It had a 998cc, four stroke, V-four cylinder engine, which can produce the power of 130 HP at 10500 RPM.
Read: 15 Most Amazing Vehicles With Unique Designs
14. Ducati 1098S
Image credit: wikimedia
Top Speed:  169 mph (273 km/h)
Ducati has a long history of producing elegant sport bikes since the 1940s. In 2007, the Italian company launched their newest 1098S model. It has a powerful 1099cc twin cylinder engine which produces a power of 160 HP with 90.4 ft-lb torque.
The 1098S inherited several key features from its predecessor, the 999 model, and the revival of older Ducati design in new 1098 was well received by the its fans much later, which was earlier criticized. With the top speed of 169 mph, it can cover a quarter mile in just 10.9 seconds at the speed of 213.2 km/h. In 2008, it won the "Best Bike of the Year" by the SWA.
13. BMW K 1200S
Top Speed: 174 mph (278 km/h)
The German Automotive giant BMW launched a specially designed K series motorcycle named K1200S in 2004. The K1200S has an inline four-cylinder liquid cooled 1157cc engine, which can produce 164 HP at 10250 RPM. It can reach 100 km/h in merely 3.0 seconds.
Shortly after the launch of the K1200S, several problems were identified with the new engine, as the result they recalled the defective units until the beginning of 2005, when corrective changes were put in place.
12. Aprilia RSV 1000R Mille
Top Speed: 175 mph (281 km/h)
Aprilia is an Italian motorcycle company and a familiar figure in the racing world. Aprilia produced the RSV 1000R Mille from 1998 to 2003. Its 998cc V-twin engine was manufactured by Rotax an Austria based company.
Actually, the RSV Mile was the first large displacement motorcycle produced by Aprilia, although it is small compared to many modern race bikes. In terms of acceleration, it can cover the distance of 60-140 km/h in 10.2 seconds.
11. Kawasaki Ninja ZX-14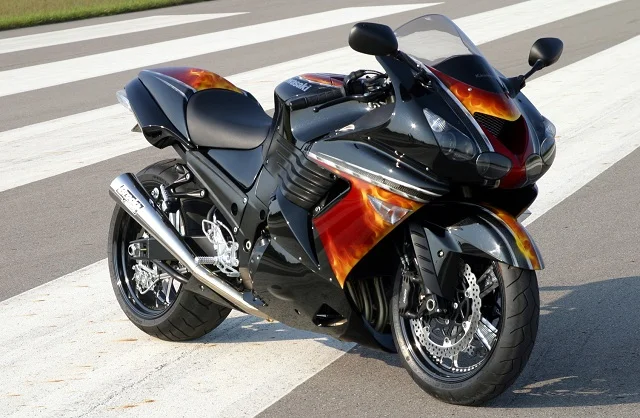 Top Speed: 186 mph (299 km/h)
The Kawasaki Ninja Zx-14 (or ZZR1400 in some markets) was first launched at the 2005 Tokyo motor Show. The ZZR14 is incorporated with the 1441cc 4 cylinder, liquid cooled, DOHC, engine, capable of accelerating from 0–60 mph in 2.5 seconds.
Due to a dispute, the potential speed was electronically limited to 186 mph after an agreement between the Japanese and European manufacturers. The motorcycle also appeared in an episode of Fifth Gear on October 30, 2006.
10. MV Agusta F4 1000R
Top Speed: 187 mph (299 km/h)
MV Agusta F4 1000 R was the second mass produced bike of F4 1000 class which was released in 2006. It is powered by a 998cc liquid cooled 4 cylinder engine with 16 radial vales. It has major upgrades from the previous F4 1000S bikes with Brembo Monobloc radial brakes, a carbon-nitride coated Marzocchi upside down fork and an upgraded Sachs rear shock absorber. With the total weight of 192 kg it provides the maximum power of 186 BHp at 12900 rpm.
9. Yamaha YZF R1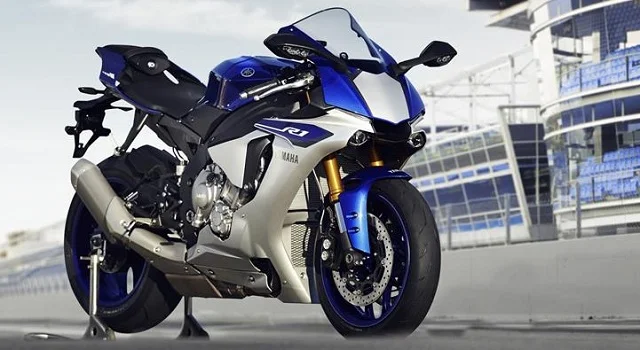 Top Speed: 186 mph (300 km/h)
Yamaha YZF R1 was manufactured in Japan. It has a six speed transmission and multi clutch. It was first launched in 1999 and the present R1 saw only minor changes. The engine has forward inclined parallel 4 cylinders, 20 vales, DOHC and liquid cooled that can produce a power of 128.2 HP. With great handling capability it looks like a true racing bike.
8. Kawasaki Ninja ZX-12R
Top speed: 187 mph (301 km/h)
The Kawasaki Ninja Zx-12R was a sport bike produced from 2000 to 2006. Kawasaki intentions to compete with the Suzuki's Hayabusa led to the launch of the ZX-12R. It has a 1199cc inline four cylinder engine producing power of 161.2 hp and 91.2 lb-ft torque. From 2000-2005 it remains the fastest production motorcycle in the world.
7. Honda CBR 1100 XX Blackbird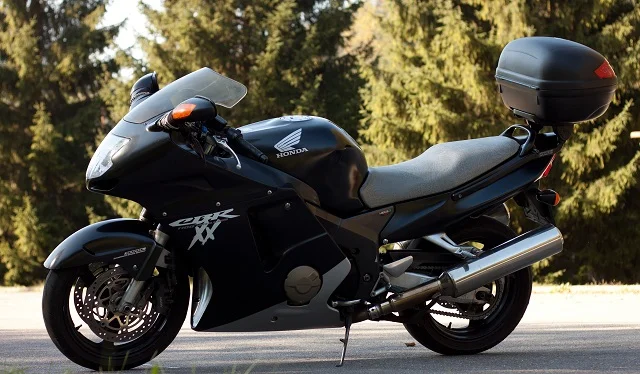 Top Speed: 190 mph (305 km/h)
Honda CBR 1100 XX Blackbird was produced from 1996 to 2007. It was solely intended to compete with the Kawasaki Ninja ZX-11 for the fastest production motorcycle in which it succeeded after two years of its launch. The Honda CBR 1100 XX has a 1137 cc, 4 valves per cylinder and liquid cooled engine. It has an output power of 153 HP at 10000 RPM. The bike has a dual counter balance shaft which makes the ride more smooth and comfortable.
6. Suzuki Hayabusa GSX1300R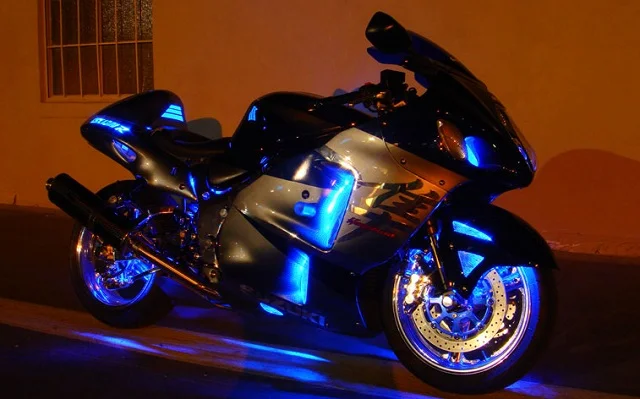 Top Speed: 188-194 mph (1999)
The Suzuki Hayabusa GSX1300R or just simply Hayabusa is manufactured by Suzuki since 1999. After launch it immediately acclaimed the world's fastest production motorcycle, currently it is the sixth fastest bike in the world of all time.
In the year 2000, due to regulatory issues in the European market, the Japanese company agreed to limit the maximum speed to 186 mph. The bike (1999 model) was powered by a 1,299 cc, 4 cylinder, DOHC, 16 valves and liquid cooled engine. It produces the power of 197 HP at 6750 RPM.
In 2008, the company launches a slightly revised version of the GSX1300R, with a larger displacement and modified bodyworks. The new GSX-1300R-K8 can top at 186 mph.
5. Ducati Panigale 1199 R
Top Speed: 202 mph (325 km/h)
Ducati unveiled the all new Panigale 1199 R for the first time at the 2011 Milan motorcycle show. Its internal frame is made up of titanium and carbon fiber, and track only exhaust reducing the total weight up to 364 pounds. It is equipped with an 1199 cc liquid cooled V-twin engine which delivers 195 horsepower and 98 pounds-foot of torque. Ducati claimed that this is the most powerful two cylinder motorcycle in the world.
4. Lightning LS-218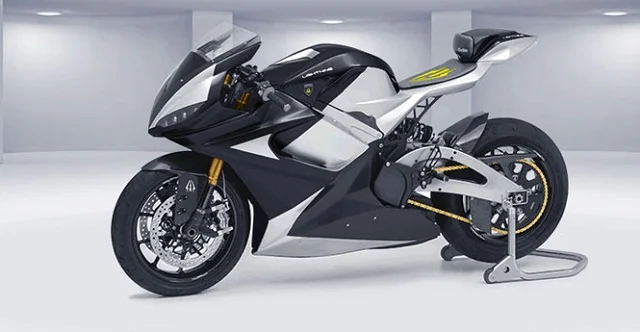 Top Speed: 218 mph (351 km/h)
The Lightning LS-218 is an electric bike manufactured by the Lightning Motorcycle since 2011. In 2013 it became the fastest electric superbike after hitting a record speed of 350 km/h at Bonneville Speedway. It is powered by IPM liquid cooled 150kw+ 10,500 rpm electric motor, with 200 horsepower and 168 pounds-foot of torque; it can reach 100 km/h in just 2 seconds.
The battery pack comes with 3 options with different range capacity. An average 380V 12 kwh battery pack can have 100-120 mile range per charge.
3. Kawasaki Ninja H2R
Top Speed: 210 mph (340 km/h)
The Kawasaki Ninja H2R is the current fastest production motorcycle in the world. First produced in 2015, the Ninja H2R has a centrifugal-type supercharged 998cc inline-4 DOHC engine, providing 310 hp at 14,000 rpm. At the 2014 Intermot motorcycle trade show, Kawasaki announced that Ninja H2R would be produced in addition to the street-legal Ninja H2, it's only other variant. According to Cycle World calculations, the H2R can theoretically overcome aerodynamic drag and reach up to 250-260 miles per hour.
2. MTT Turbine Superbike Y2K
Top Speed: 250 mph (402 km/h)
The MTT produced Y2K Superbike is the first ever turbine powered street legal motorcycle. Earlier models were powered by Rolls-Royce-Allison Model 250-C18 turboshaft engines producing 320 HP and 425 ft/lbs of torque. The new generation is equipped with a 420 HP turbine engine with approximately 500 ft/lbs of torque and with several key modifications. The motorcycles are produced exclusively on demand from the buyers.
1. Dodge Tomahank
Hypothetical Top Speed: 300 mph-420mph
We haven't only included the Tomahawk, but placed it as the fastest bike because of several reasons. Firstly, we are not saying that it is actually the fastest and most powerful bike, although it looks so, it's just hypothetical. Secondly, Dodge claimed that the bike can reach the top speed of 300 to 420 miles per hour; assumptions based on horsepower and gears, and were debunked by motorcycling experts and media.
Read: 15 Most Expensive Bikes In the World
So, the point here is we feel it right to put Tomahank in the top of the mountain and yet reminding that it is not.The bike is equipped with 8.3 L V10 cylinder 90 degree V type engine and 2 speed manual transmission with 500 HP power. Only nine bikes were built and all of them have been sold. No road test what so ever been published to prove their claim.