A lawyer, also known as an attorney, counselor, or barrister, is a professional practitioner of law who represents and advises clients on legal matters in and out of court. Some of the responsibilities of a lawyer include researching and drafting court papers, negotiating contracts, client counseling, and facilitating oral arguments in courts.
Due to the nature of the legal profession, the role of lawyers may differ from country to country. For instance, there are two types of lawyers in England — barristers and solicitors. A barrister specializes in courtroom proceedings and works mostly on advanced cases. They rarely have direct access to clients.
On the other hand, a solicitor is responsible for providing legal counseling to clients, obtaining facts regarding cases, and then briefing barristers before court appearances.
However, after 1990, solicitors in England could take part in court proceedings on behalf of their clients in certain instances. There is no such legal distinction in the United States (where lawyers are usually recognized as attorneys).
Specialization In The Profession
Lawyers in many countries, including the United States, tend to focus their practice on a specific field of law early in their careers. A specialized lawyer, or attorney, is far more efficient in catering to clients' specific needs than general practice lawyers. In the U.S., attorneys can receive board certification stating their specialization through a number of legal organizations.
Below, we have mentioned 13 types of lawyers along with their basic job descriptions that may come in handy at any time in the future.
13. Tax Lawyers
Famous tax lawyer: John Samuels (known for developing the global tax policy for General Electric during his 30 years of service. He also served as the Tax Legislative Counsel of the U.S. Department of Treasury under Ronald Reagan.)
Tax law is an increasingly complicated and rapidly changing field. Thus, tax lawyers are often hired by individuals as well as corporate entities to better local, state, and federal tax laws and analyze how they might affect them financially. Tax lawyers act in the best interest of their clients by advising them on tax filings and potentially saving money with the help of allowable tax deductions and other incentives.
If you're a business owner, a tax attorney can assist you in choosing a business ownership structure that best suits your needs since it has a lot to do with how your business will be taxed. They also assist clients during advanced and more complex tax audits instead of CPAs.
Tax attorneys can further specialize in fields including estate tax, business tax, employment/payroll tax, property, and inheritance tax, customs (import/export) tax, and international taxation.
12. Bankruptcy Lawyers

Bankruptcy petition by the city of Detroit, Michigan, in 2013 | Image Courtesy: Wikimedia Commons
Famous bankruptcy lawyer: Harvey R. Miller (known for filing and managing bankruptcy proceedings for Lehman Brothers in 2008.)
Declaring bankruptcy means that the person or organization can no longer repay its outstanding debts to creditors and is seeking a partial or complete remission/cancelation of the debt. The bankruptcy laws, which differ from nation to nation, have evolved over time.
Today, popular views on bankrupt entities lie not with dismissing all their debts but their rehabilitation by analyzing the underlying problems that lead to financial distress and taking measures to prevent it from re-occurring. This makes bankruptcy laws more complex, and thus it's recommended to hire a bankruptcy lawyer if you decide to file one.
A bankruptcy attorney with a deep understanding of laws and statutes regarding bankruptcy can create complex legal strategies, conduct negotiations with opposing parties outside the court and present your case before a court. Their main objective is to find the best possible solution for the client's monetary problem. Bankruptcy lawyers can be hired by both debtors (who are filing for bankruptcy) and creditors.
11. Real Estate Lawyers
Famous real estate law firms: Gibson, Dunn & Crutcher; and Greenberg Traurig (U.S.)
If you have ever invested in real estate or bought a property, it's more likely that you've already run into a property dispute. For many people, buying a home is most likely the biggest investment they will ever make, so it's ideal to hire an attorney who specializes in real estate while doing such transactions.
The responsibilities of a real estate attorney include preparing and handling important property-related documents such as purchase agreements, mortgage, and title (deed) documents. In many U.S. states, it's mandatory for a real estate attorney to be present at the closing (the final stage of the transfer of title from seller to buyer).
Hiring a real estate attorney can be helpful and sometimes a necessity to both the buyer and seller of the property. Apart from representing clients in the courtroom regarding real estate cases, You can expect them to resolve all kinds of property issues, including contracts, property line, and title problems.
10. Estate Planning Lawyers
Estate planning simply refers to the process and tasks involved in asset bequest/inheritance. It also includes resolving legal hurdles in proving the will of the deceased (probate) in the court of law, as well as enhancing the value of the estate by minimizing its tax burden.
An estate planning attorney allows clients to plan, arrange, and manage the assets they want to pass on after death. The most common method these attorneys use for planning the distribution of a property is by drafting wills that comply with local and state laws.
Another sophisticated tool estate planning attorneys use is trust, which is usually created to serve a specific purpose. In simple terms, by establishing a trust, the property owner entrusts their estate to a trustee who manages the trust to benefit its legal beneficiaries.
Estate planning attorneys also deal with issues regarding the power of attorney, healthcare proxy, and advanced healthcare directives.
9. Intellectual Property Lawyers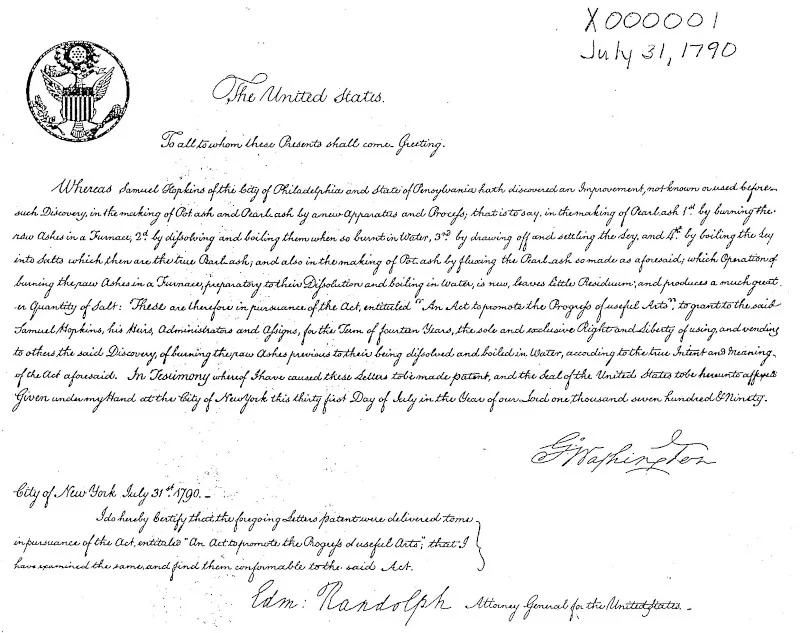 The first-ever U.S patent was issued to Samuel Hopkins in 1790, about 46 years before the USPTO was established
Famous (I.P.) lawyers: Frederick Perry Fish (involved in important patent litigation of steam turbine, airplane, radio, and telephone); Gerald D. Hosier (reportedly the highest-paid patent attorney in 2000 and 2003.)
Intellectual property (I.P.) is a type of intangible asset that is an outcome of human creativity and intellect. While several forms of intellectual property exist, the most well-known are patents, copyrights, trade secrets, and trademarks.
I.P.s have become increasingly valuable for individuals and companies who invest in them due to the amount of effort they require and the potential monetary value they carry. Since I.P.s can be used for branding a business or creating a trademark product, it's critical to protect these kinds of assets. This is where intellectual property lawyers come in.
Intellectual property attorneys spend most of their time drafting and organizing documents required for filing for trademarks or patents and then working with national patent offices, such as the United States Patent and Trademark Office (USPTO).
Such attorneys are also tasked with the enforcement of intellectual property, where they represent owners in cases of infringement and unfair uses. They also provide counseling or advice to clients on potential copyright, trademark issues in their new products.
According to Payscale.com, a salary comparison website, the median annual salary for an intellectual property attorney in the U.S. is $129,000. While more skilled and experienced lawyers can get as much as $242,000/year.
8. Personal Injury Lawyers
Famous personal injury case: Harris v. McGraw (dog bite case); and Anderson v. Pacific Gas and Electric
Personal injury refers to any kind of injury, physical or psychological, sustained by an individual. It is different from injury to property or property damage. A personal injury lawyer provides legal counseling and represents clients who have presumably suffered such injury due to negligence, recklessness, or intentional misdemeanor of another individual or an organization.
Personal injury cases come under tort law, a civil wrong, in which a plaintiff and his attorney seek private legal remedy, usually in the form of monetary compensation, against the party responsible for the harm or injury. These compensations can be in the form of medical expenses (both current and expected), attorney fees, and other legal costs. The main motive of tort law is to compensate the injured party and discourage others from committing such a felony.
Like other litigation lawyers, personal injury lawyers gather evidence to support their cases, draft motions, construct legal theories, conduct depositions, and represent clients during trials. Personal injury lawyers further specialize. For instance, a lawyer may choose to concentrate specifically on motor incidents involving all-terrain vehicles.
In the United States, personal injury cases represented 25.5 percent of all cases filed in U.S. federal district courts in 2015. However, they constitute only a small number of cases in state courts.
7. Family Lawyers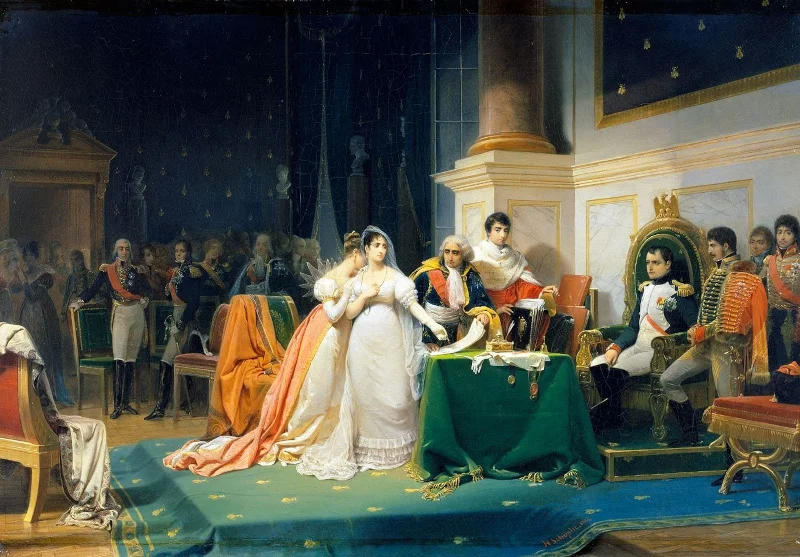 A painting depicting the civil dissolution of Napolean's marriage with his first wife, Joséphine, in 1804 under the Civil Code of the French | Image Courtesy: Henri Frédéric Schopin
Famous family lawyers: Daniel J. Jaffe (involved in the high-profile divorce case of Rupert Murdoch); Fiona Shackleton (famous for representing British Royal family members and celebrities, including Sir Paul McCartney, in family cases.)
Family lawyers, as the name suggests, are specialist attorneys who handle legal issues regarding family law. Some of the issues include legally recognized civil unions (similar to marriage), divorce, prenuptial or postnuptial agreements, paternity, and child protective proceedings.
Family lawyers are often tasked with working in different legal fields. For instance, a family lawyer working on a divorce case may have to take on real estate or estate planning duties. They may also litigate as a criminal lawyer in a child abuse case.
More often than not, family lawyers have to deal with jurisdiction issues as well. In both marriage and divorce cases where spouses come from diverse backgrounds and different states (in the U.S.), jurisdiction conflicts may arise while administering legal proceedings.
6. Criminal Defense Lawyers
Famous criminal defense lawyers: Johnnie Cochran (part of the legal team responsible for the criminal acquittal of O.J. Simpson. He also represented other famous personalities, including Tupac Shakur, Snoop Dog, and Michael Jackson); Dick DeGuerin (known for a successful defense of David Koresh, a cult leader in Texas)
Criminal defense lawyers, or simply criminal lawyers, are tasked with defending individuals and organizations who have been charged with a crime. Like other types of lawyers, criminal defense lawyers can be privately hired. However, financially strained individuals can choose government-employed lawyers, known as public defenders, to represent them.
The types of crime a criminal law handles range from theft, fraud, and driving under the influence (DUI) to domestic violence and drug-related crimes.
The job description of a criminal lawyer is to closely investigate the case, interview witnesses, develop case studies, and research case laws and statutes. They can negotiate with the prosecution to get a plea bargain for their client for lesser punishment or draft and file a motion to dismiss the charges and represent the client at trials.
5. Malpractice Lawyers
Famous malpractice cases: Dana Carvey's medical malpractice case; medical malpractice leading to Michael Jackson's death
Malpractice is any negligence by a professional who can be an architect, engineer, accountant, doctor, or lawyer. The two most widely known types of malpractice cases are medical malpractice and legal malpractice.
Medical malpractice occurs when a medical professional (including nurses and midwives) injures a patient due to negligence or dereliction of duty.
According to research published in British Medical Journal (BMJ) in 2018 by researchers working at John Hopkins Hospital, medical malpractice is the third leading cause of death in the United States after heart disease and cancer. It causes more than 250,000 deaths per year in the country. However, another study has rejected these findings.
Medical malpractice attorneys are tasked with handling lawsuits against medical practitioners on behalf of their clients, who are either patients or family members of patients. Since the medical field itself is very complex, malpractice lawyers are required to do a rigorous analysis of medical records, develop case theories, and conduct medical research by consulting experts and various medical personnel.
Legal malpractice refers to a situation where a client is harmed (in a legal sense) by negligence or breach of contract by a lawyer. One should understand that losing a court case doesn't necessarily mean the attorney committed malpractice.
An attorney is liable for legal malpractice if he fails to meet the case filing deadline or if the case is dismissed due to the lawyer's actions.
4. Corporate Lawyers
Famous corporate lawyers: Joseph Dahr Jamail Jr. (an American attorney and billionaire who was involved in several high-profile corporate cases, including Pennzoil, Co. v. Texaco, Inc.); Jack A. Wells (known for 'Wells notice,' a formal letter sent to companies and individuals by the SEC before taking legal action)
Corporate lawyers, also known as business lawyers, specialize in laws that govern businesses and companies in a country (corporate law). Elite corporate lawyers are seen as problem-solvers for companies who are well versed in taxation, accounting, securities, I.P.s rights, and bankruptcy.
A key responsibility of corporate lawyers is to manage (as an in-house counsel) a company's constitution that defines various attributes critical for the day-to-operation of the company. A corporate attorney can act as a point person in complex business transactions, negotiate deals, and conduct due diligence on behalf of a company during mergers and acquisitions. They are also tasked with handling various kinds of business disputes.
3. Immigration and Nationality Lawyers
36th U.S President Lyndon B. Johnson signed the Immigration Act into law on 3 October 1965
Famous immigration law cases: Vartelas v. Holder in 2012; and International Refugee Assistance Project v. Trump
Immigration law simply refers to a set of complex national rules, regulations, and statutes that governs how that country handles immigration. Recently, immigration has become a hot issue due to the ongoing refugee crisis in various parts of the world and the violation of migrant civil rights.
An immigration lawyer is specialized and trained in assisting immigrant families and individuals with complicated laws regarding immigration that often intersect with other legal fields such as tax law, criminal law, business law, and family law. They also represent clients in court cases.
Immigration lawyers allow individuals who are not natives to secure job opportunities in other countries by navigating them through a complicated and rather daunting legal process (e.g., the H-1B visa program). They are also hired by nonprofit organizations to tackle civil rights cases related to migrants.
International Refugee Assistance Project vs. Trump is a famous immigration-related court case in the United States that attracted the attention of the international media. The case of brought by attorneys of three organizations and several individuals challenging an immigration-related executive order in 2017 by then-president Donald Trump.
2. Labor Lawyer
Famous labor lawyers: Nancy L. Abell (named one of three most influential employment lawyers according to the National Law Journal); and Paul Lancaster Adams
Labor or employment lawyers are hired by both employers and employees to conduct negotiations between the two parties and represent them in legal disputes. Based on their specific needs, clients can choose attorneys who specialize in a specific area of this field.
Many employment attorneys work exclusively on complex employment litigation; some provide counseling and advice on job-related discrimination, harassment, and retaliation. Some employment attorneys specialize in class-action lawsuits in which one of the two parties is a group of people represented by a member.
As an employer, you can use the services of an employment attorney to resolve an ongoing strike or to defend against a lawsuit regarding unlawful termination, mistreatment, or discrimination. Employees can hire them for more or less similar reasons.
1. Civil Rights Lawyers
A sketch of an attorney and former Solicitor General of the United States, Seth P. Waxman, presents oral arguments in Supreme Court in 2019 | Image Courtesy: Arthur Lien/ Courtartist.com
Famous civil rights lawyers: Debra Katz (known for representing sexual assault and harassment cases); Amal Clooney (represented Filipino journalist and Nobel laureate Maria Ressa and WikiLeaks founder Julian Assange in human rights cases)
Civil rights attorneys counsel and represent clients on civil and political rights matters. Civil rights refer to citizens' rights that protect their freedom from other individuals, organizations, and governments. This includes protecting individual rights, including speech, religion, and press, as well as protection from discrimination.
You may hire a civil rights attorney if you believe you've been deprived of your civil rights. They are tasked with protecting the civil rights of their clients. A few instances of civil rights violations include discrimination based on race, color, gender, or nationality, abuse by a public official, and unlawful search and seizure.
Read: 8 Different Types Of Research [With Examples]
Frequently Asked Questions
How can I become a lawyer?
Like most major professions, becoming a lawyer or attorney requires a proper educational background followed by extensive training and trials. One must conclude several steps before receiving a license to practice law in any jurisdiction.
In the United States, one must go through a four-year undergraduate degree and then three years in a law school to attain a J.D. or Juris doctorate degree. American Bar Association (ABA) credited law schools require aspiring students to appear and pass the Law School Admission Test (LSAT) to be considered for admission.
The J.D. degree is a graduate-level professional degree in law and is required to qualify for bar examinations in most U.S. states. [A few states (currently four) allow you to practice law without going to a law school]. You can start taking specialized law courses along with the general coursework during your time at a law school.
Before taking the bar examination, you must consider internships and externships. During this time, you'll work in established law firms under an attorney to gain hands-on experience and basic training.
What are the best law schools in the world?
Prestigious law schools or universities around the world are ranked every year based on the level of their faculty resources, successful placements, and academic achievements of their students. Opinions of legal professionals at the highest positions (lawyers, judges) are also crucial.
The nine best law schools, as of this year, in the world are –
Harvard Law School [as per Q.S. World University Rankings and the Academic Ranking of World Universities]
Faculty of Law, University of Oxford
Faculty of Law, University of Cambridge
Yale Law School [Ranked first in USNWR rankings]
Stanford Law School
LSE Law School, London School of Economics
Columbia Law School
NYU School of Law, New York University
UC Berkeley School of Law, University of California (UCB)
Read: 12 Best Hospitals In The World
How much do lawyers earn?
According to the U.S. Bureau of Labor Statistics, the annual mean pay for attorneys as of may-2020 is $148,910, and the mean hourly pay is $71.59. The states that have the highest-paid lawyers are – California (average salary $171,550), New York (average salary $167,110), and Massachusetts (average lawyer salary $165,610).
The salary of a public defender on a government payroll ranges between $30,000 to $50,000 annually. Lawyers who work in private law firms earn more handsomely. Elite attorneys working for 15 of the most profitable law firms in the United States can charge up to $1,500 per hour.
Read: 8 Types Of Business Ownership You Must Know
The Law Society of England and Wales recommends a minimum annual salary of £22,794 ($30,500) for trainee solicitors practicing in London. In 2019, Freshfields Bruckhaus Deringer LLP (the largest law firm in Europe by revenue) became the first law firm based outside the U.S. to pay £100,000 to newly-qualified solicitors in the U.K.