The standard legal definition of a motorcycle used by different countries and government authorities is 'a two-wheel powered motorcycle.' In many cases, this definition is extended to include three-wheeled vehicles.
While there is no definite system, motorcycles are often categorized into different types based on their design and intended use. The most commonly recognized types of motorcycles are roadsters, cruisers, sports, touring, and dirt bikes. Moreover, several informal names or classification of motorbikes are used by manufacturers and popular media.
Identifying different types of motorcycles can be confusing and tiresome as many of them have no standard definition, while some have overlapping features. Thus, we have come up with our own list of principle motorcycle types, with their sub-classifications, based on their design and intended use.
Some Statistics About Motorcycles
In 2019, the total amount of motorcycles sold worldwide stood at slightly over 51 million units. The total revenue reached US$133,397.8 million. Both the sales and revenue are expected to drop in the next four years.
The three largest motorcycle companies by annual sales are Honda (Japanese) at 29 percent, Hero (Indian) at 9.8 percent, and Yamaha (Japanese) at 8.3 percent.
California has the highest number of registered motorcycles in the United States (2018).
Harley-Davidson, based in Milwaukee, Wisconsin, remains the leading motorcycle manufacturer in the United States. It is one of the oldest surviving bike companies in the country.
1. Roadsters or Standard Bikes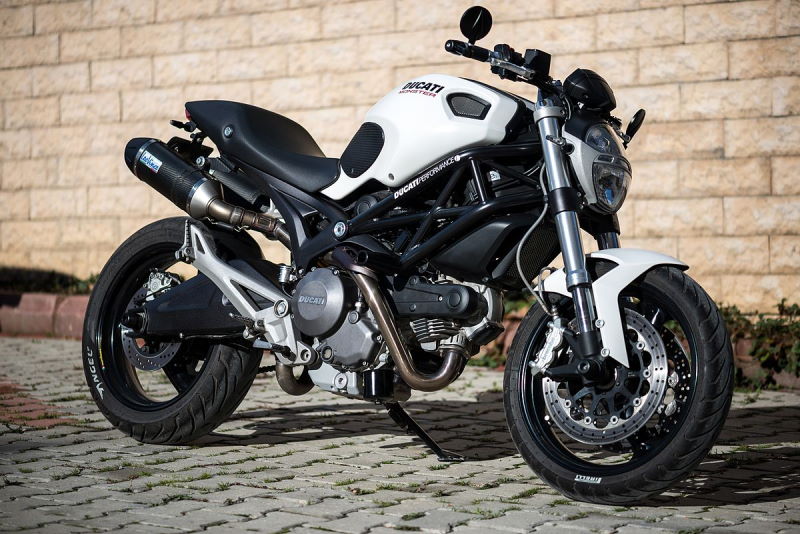 Ducati Monster 696 | Image Courtesy: Wikimedia Commons
Examples: Honda CB1100, Ducati Monster 696, KTM's Duke lineup, Ducati Streetfighter
Key Characteristics: Moderately powerful engine, economical
The standard motorcycles, also known as roadsters, are far more common than any other motorcycle type. They are characterized by a moderately powerful yet economical engine, lower costs, and an upright riding position. The standard motorcycles are often called naked bikes as they don't feature any fairings or windscreens. These bikes are suitable for beginners and inexperienced bikers.
One of the aspects of standard bikes is that they are highly versatile and can be easily customized to fulfill their owner's needs. Muscle bikes that have insanely high engine power are sometimes based on standard/naked bikes.
2. Sports Motorcycles
Triumph Daytona 675 | Image Courtesy: Greg Knapp/Wikimedia Commons
Examples: Suzuki GSX-R, Ducati 1299 Panigale, BMW S1000RR
Key Characteristics: Better performance, less efficiency, and comfort, expensive
Sports bikes emphasize higher performance, which means better acceleration, speed, braking, and handling, at the expense of riding comfort and, more importantly, efficiency. As compared to other motorcycles types, sports bikes are fitted with more powerful engines inside a lightweight but tough frame. Most sports bikes feature inline-four-cylinder or V-twin engines.
Both front and rear tires of a typical sportbike are wider (and larger) than other motorcycle types allowing better cornering at higher speeds. They may also feature body fairings to reduce aerodynamic drag. Bikes that have no body fairing are called naked bikes or streetfighters.
The footpegs in sports bikes are positioned slightly higher than those in standard motorcycles for better ground clearance. With clip-ons instead of handle bars, most sports bikes have low height handles, making riders lean forward. Although this riding position is slightly uncomfortable and can cause fatigue, it is crucial for maintaining the vehicle's structural integrity.
YZF-R1 Limited Launch Edition (2009)
Based on the size of the engine (displacement) and its intended use, sports motorcycles can be classified into three groups;
Lightweight: Bikes with an engine displacement no more than 500 CC. Ideal for beginners.
Middleweight: Mid-level sports bikes with engine displacement between 600 CC and 750 CC. Many bikes at the higher end of this category are used in motorcycle racing events.
Superbikes: Theoretically, any sports motorcycle with more than a 750 CC displacement engine is considered a superbike or hyperbike. However, to be a superbike racing motorcycle, it must have a four-stroke engine with a displacement between 850 CC to 1200 cc (for V2 engines).
3. Cruiser
BMW R18 First Edition | Image Courtesy: Bullenwächter/Wikimedia Commons
Examples: Ducati Diavel, BMW R18, H-D softail
Key Characteristics: Larger displacement engines, faster acceleration (low-end torque)
The modern cruisers have evolved from motorcycles that were designed in America between the late 1930s and 1960s. Unlike naked bikes, the footpegs in cruisers are placed in a forward position, while the handlebars are elevated so that the rider has a straightened back while riding. This makes cruisers more comfortable than any other motorcycle type, especially at moderate speeds.
A large number of cruisers produced by Harley-Davidson and other major American manufacturers are fitted with V-twin engines with higher displacements. However, inline engine variants (with medium displacements) have become more prevalent in recent years.
Moreover, a typical cruiser motorcycle engine is calibrated for low-end torque, allowing faster acceleration without frequent (gear) shifting.
Cruisers are often modified to add extra capabilities to suit their owner's needs. Some of these custom tune-ins are so popular that they have garnered unofficial nicknames, such as full-dress tourers or baggers.
Choppers (most of you may already be familiar with) are custom cruisers that are reduced or 'chopped' down from their original size. Unlike other custom motorcycles, choppers are extensively modified to the extent that they become inefficient.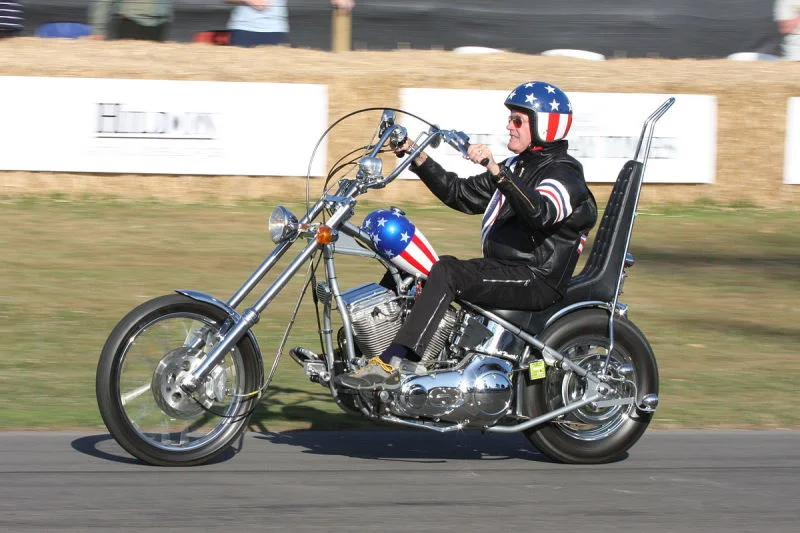 Peter Fonda rides a chopper 'Captain America' in the movie Easy Rider | Brian Snelson/Flickr
Another type of custom cruiser motorcycles is known as 'bobber.' A typical bobber has excessive parts, including the front fender and most of the rear-fender removed, to increase its fuel efficiency.
Apart from American manufacturers, cruiser motorcycles from Japanese companies such as Honda, Yamaha, and Suzuki have sizable market share in and out of the United States.
4. Touring Motorcycle
Examples: Harley-Davidson Electra Glide, Suzuki V-Strom 1000, KTM 1190 Adventure
Key Characteristics: Windshield, high-capacity fuel tanks
Any motorcycle fitted with appropriate equipment and is used for long-distance travel, or touring, is called a touring motorcycle. That's being the case; practically any type of motorcycle can be converted to a touring bike.
Touring motorcycles are identified by a windscreen above the headlight for protection against the winds, extra body fairings, and a large baggage area for carrying all kinds of stuff for long-distance tours. Tourers, in terms of specifications, are similar to cruisers with high displacement engines tuned for low-end torque and an upright, relaxed riding position.
Based on their application, touring motorcycles are further categorized into three subtypes; full-dress tourers, sports tourers, and adventure tourers.
Full-Dress Tourers
Yamaha Royal Star Venture 2006 model | Image Courtesy: Wikimedia Commons
Full-dress tourers, also known as baggers, have substantially large baggage space (panniers or saddlebags) and more body fairings than any other motorcycle type. They may include additional components that are not usually found in motorcycles, such as stereos, heated seats, backrests, and even satellite radio.
Adventure/Sports Tourers
A relatively newer type of touring motorcycle, adventure tourers are a learner version of the full-dress ones. They have a high ground clearance, attached skid plates, and knobby tires for both off-road and on-road usage.
As the name suggests, sports tourers are hybrid motorcycles that combine the capabilities of sport bikes and touring motorcycles. In other words, sports tourers match the power and performance of superbikes and, at the same time, have the comfort of touring motorcycles.
5. Dirt Bikes/Off-Road Motorcycles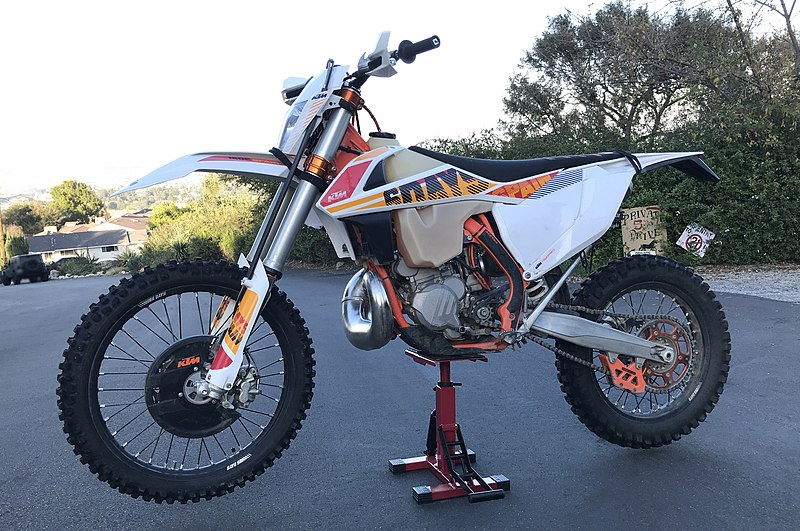 KTM 300 XC-W | Image Courtesy: Cdw1952/Wikimedia Commons
Examples: Yamaha YZ250F, KTM 300 XC-W
Key Characteristics: Smaller engines, can navigate on unpaved roads
Off-road motorcycles, often called dirt bikes, are structurally different from the basic on-road ones. They are lighter, have higher ground clearance, and are highly maneuverable. A typical dirt bike is equipped with a small, two-stroke single-cylinder engine, a moderate fuel capacity tank, and a stiff suspension. The thick and knobby tires allow them to navigate rugged terrains such as sand, mud, and loose dirt.
Dirt bikes are primarily used in off-road sporting events, such as motocross and trials, that differ from each other by format and the type of the course or circuit. Specific modifications are done to fulfill the requirement of each off-road motorcycle sporting events.
Based on these modifications, dirt bikes can be classified into different subtypes.
Motocross Bikes
Motocross (MX) is perhaps one of the most popular dirt bike racing events worldwide. These bikes are compact, lightweight, and equipped with either two or four-stroke engine with displacement between 175 CC and 450 CC.
Several other sports that have branched out from motocross, including Freestyle motocross (FMX) and SuperMoto, utilize similar bikes.
Trials Bikes
The 2017 Australian Trial Champion Kyle Middleton | Image Courtesy: trails.com.au
Trials, also known as observed trials, require competitors to navigate rough terrains (mostly rocky), and instead of speed, their accuracy and balancing skills are at test. Trials bikes are perhaps the most eccentric of all dirt motorcycles, with their seat stripped away for getting rid of the extra weight. It is designed to be ridden standing on footpegs.
With only the bare bones, trials bikes are insanely lightweight. They also have smaller fuel tanks. For enhanced throttle response, small two-stroke engines are usually fitted that have no more than 300 CC displacement.
Enduro
Enduro dirt bikes differ from motocross ones only marginally. In fact, MX bikes are often the foundation on which enduros are built. However, unlike motocross, enduro events take place on a much longer course, in many cases extended to a cross-country event, and feature different obstacles. Some racing courses even include paved road tracks.
Thus, a typical enduro bike has a high capacity fuel tank and a better fuel economy ideal for long-range motorsports. Road legal variants of these dirt bikes feature both head/tail lights and a modified (silenced) exhaust system.
Traditionally, enduros are powered by two-stroke engines with a maximum displacement of 360 CC. However, 4-stroke variants have risen in popularity out of environmental concerns and its street legality.
Track Racers
Speedway track racing bike | Image Courtesy: Wikimedia Commons/Wisniowy
Track racing is a motorcycle sport event in which participants compete on an enclosed, oval-shaped racing course. Based on the surface type of the track, motorcycle track racing can be classified into different types; speedway, flat track, grass track, and long track.
Track racing bikes are equipped with either two-stroke or four-stroke engines fueled by methanol, allowing them to operate at a high combustion efficiency (meaning more power at low fuel consumption). Moreover, track racers lack a rear suspension and have no mechanical braking mechanism in place.
Read: 8 Fastest Cars In The World
6. Dual Sport, On/Off-Road Motorcycle
Examples: KTM 690 ENDURO R, Kawasaki KLX250, Honda CRF450L
Key Characteristics: Street-legal, high-ground clearance, quite powerful
A dual-sport motorcycle is any bike that is designed for both on and off-road use. They feature vital attributes of a dirt bike, but at the same time, equipped with head/tail lights, side-mirrors, speedometers, muffler exhaust, and a number plate.
In the late 1960s, Yamaha became the first motorcycle manufacturer to develop the notion of dual sport bikes with the launch of DT-1. With a single-cylinder 250 CC engine, medium-to-high fuel tank capacity, and a progressive design, the Yamaha DT-1 pioneered an untapped motorcycle market.
KTM 690 Enduro | Image Courtesy: Wikimedia Commons/Richard Linnander
To create a dual-sport motorcycle, manufacturers use one of three methods. The first approach is to add road-legal components to an off-the-shelf dirt bike. They have a high power-to-weight ratio but are less durable. Another technique, which is the opposite of the previous one, is modifying standard/street legal bikes into more dirt-oriented ones.
The third option is to design and create an entirely new model with a custom blend of dirt and street-use components. Of course, such dual-sport motorcycles are far more durable and heavier than others.
Read: 12 Different Types Of Cars | Based On Design
7. Scooters And Mopeds
Piaggio Beverly Sport Touring 350 | Image Courtesy: Thesupermat/Wikimedia Commons
Scooters and underbones (identical to scooters but have similar drivetrain) are often considered as different types of motorcycles. In fact, many critical elements of scooter design are found in some of the earliest motorcycles. However, distinctions have been made between motorcycles and scooters in various instances.
As compared to motorcycles, scooters are lightweight and use an automatic transmission (CVT), making them much easier to ride and learn. Most scooters have relatively smaller engines, between 50 CC to 250 CC, excluding super scooters like Aprilia SRV 850. Furthermore, scooters have smaller wheels and larger storage space.
Read: 15 Most Expensive Bikes In the World with their Price Tag
Mopeds are a cross between motorcycles and bicycles. They have a slim, step-through frame design and are powered by 50 cc two-stroke engines. Some mopeds can be powered by the rider (through pedals), engine, or both.