With more than 85% of market share, Windows is the most popular desktop operating system. No surprise, it supports loads of apps and tools for each and every task – from media/entertainment to system or security. Some tools are very essential and we all know their names like Chrome, Firefox, VLC, Zip etc. However, there is another class of utilities that gets less attention. So, we've compiled a list of less known, but helpful, free Windows tools that are worth installing.
Most of these programs come with free, as well as paid version.
Communication
1. Pidgin
Pidgin is an easy-to-use, universal chat client. It supports all big clients and chat networks including Yahoo, Google talk, AIM, MSN and more. With Pidgin you can connect to all of them at once and chat with as many people as you want on multiple chat network.
2. Digify
Digify is the most inexpensive way to protect and track your data/message once it was sent to someone else. Files sent using digify are copy-protected and self-destructing, and you can unshare them even after sending.
3. Betternet
Betternet allows you to access any website in any country, by bypassing internet restrictions and all blocked websites. That means you can open any website censored by government or workplace. It also lets you surf the web anonymously while keeping your private data safe from malicious attacks.
Productivity
4. WPS Office
WPS Office offers a simple and easy-to-use interface that lets you write documents, create presentations and spreadsheets. It is packed with tons of free fonts and templates, fully compatible with Microsoft Office.
5. doPDF
doPDF creates PDF files and converts any type of printable documents (more than 400 formats) into PDF files. There is a multi-language interface to create searchable PDFs that can be indexed by search engines.
6. Free Opener
Now you don't need to spend your time downloading programs for each file type you want to open. With Free Opener, you can open more than 350 files in one application. It supports almost all kinds of audio, video and text formats.
7. Defraggler
Defraggler is one of the best defragment tools that can defrag an entire hard disk or even individual files. It shows you a health status and drive map to let you decide if defragmentation is required for drives. It supports FAT32 and NTFS file system.
8. WordExpander
This is a PhraseExpander that provides quick access to common phrases. The software eases your writing work by auto-completing words and phrases. It works with all Windows programs including browsers and text-editors.
9. Wunderlist
Wunderlist allows you to organize and share your to-do work, movies, grocery, household list and whatever you are planning, no matter how big or small the task is. You can set due dates, reminders and share your list and work collaboratively with friends and colleagues.
10. PDF Eraser
PDF Eraser lets you edit, join and split PDF files. You can also add images and text to them. It treats every PDF document as an image file which allows you to erase (or add anything) using a simple tool like eraser.
System and Security
11. Process Explorer
Windows has a task manager system that provides a lot of useful information about the program. Usually, it does the entire job but for some rare operations you need an alternative. For example, if you are trying to figure out which program is using your printer, you'll need Process Explorer. It shows you what files are in back-end use, what hardware and each program is doing.
12. Speccy
With Speccy, you can get a quick summary or dig deeper into every aspect of your computer's hardware. It shows detailed information of every single piece of hardware including RAM, processor, motherboard, sound and graphic card. Moreover, it displays real time temperature of critical components so you can spot problems before they occur.
13. MalwareBytes
You may have a good anti-virus program running all the time, but no anti-virus software catches everything. So, it's better to install a secondary program for extra security. MalwareBytes is one of them – it detects and removes worms, trojans, spywares, rootkits and other harmful malware present in your hardware.
14. AdwCleaner
If you have accidentally installed any annoying toolbar that just won't go away, all you need is this software. AdwCleaner removes all unwanted ad programs, toolbars and hijackers (hijack of browser's homepage).
15. VirusTotal Windows Uploader
The VirusTotal uploader allows you to scan any file with over 50 antivirus tools at once. Just install it and right click on any file (less than 32 MB) and select VirusTotal. The scan result will be displayed in your browser.
16. Sandboxie
Sometimes, we open the random programs or files, even though we know it's harmful. Next time, if you are going to do it, at least use protection. Sandboxie is the software that runs programs independent of the rest of your system. In this way, random programs can't access, infect or interfere with other applications. Moreover, you can use Sandboxie as a testing tool.
17. Should I Remove It?
This program helps you decide what application should you remove from your PC. It simply scans the whole computer and then ranks what should be removed to make your PC work more efficiently. This includes all sorts of bloatware and crapware such as toolbars, spyware, unwanted programs as well as different forms of malware.
18. Advanced SystemCare
Advanced SystemCare is a one click solution to clean and speed up your computer. The software does this by removing unwanted programs, optimizing registry files and boosting start-up speed. It comes with SSD optimization and multi disk defragment that will drag your drives to extend the service life and improve the system performance.
19. Recuva
Recuva helps you recover your accidentally deleted files quickly and easily. It can recover pictures, documents, music, video, emails or any other file types you have lost. You can recover from any rewritable media like external hard disk, USB stick, memory card etc.
Entertainment and Media Management
20. Irfan View
Ifran View is fast and compact graphic viewer and converter. It supports plenty of formats, languages and Adobe Photoshop Filters. It is packed with multiple useful features like painting, slideshow, multi-page TIF editing, file search, directory view multimedia player and more.
21. MediaMonkey
MediaMonkey can manage thousands of audio and video file, without bogging down. It automatically scans your files and tags them with correct album, lyrics and other metadata. Moreover, it organizes and renames audio/video files on your hard drive into a logical hierarchy, and syncs them with a wide range of portable device.
22. Virtual DJ
Virtual DJ is commonly used by DJs to replace their turntable and use digital music instead of vinyl and CDs. It has more option than other media players (like iTunes) – you can mix songs, adjust speed, crossfade from one side to the other, and apply effects like loops and more.
23. PicPick
PicPick is full-featured screen capture tool, color picker, image editor, protector, pixel ruler, whiteboard, crosshair and more. You can take screenshot of the entire window (or any specific region), edit your image and share it with everyone.
24. RIOT
RIOT (Radical Image Optimization Tool) is simple, lightweight and fast tool for optimizing pictures. It lets you visually adjust compression parameters while keeping the file size as small as possible. It comes with an effective interface to compare the original and optimized photo (along with their size) in real time.
25. Any Video Converter
As the name suggests, the software lets you effortlessly convert any video file to any format. You can rip and extract audio tracks, sounds or background music. It also supports converting audio files between different formats.
26. Lyrics Finder
Lyrics Finder aims to perform just one task – it lets you find lyrics of music files and automatically adds them to the track's metadata.
27. Tomahawk
Tomahawk is a cross-platform music player that unites your local audios, songs download, music streams, playlists, cloud music storage and radio stations in a single music collection. Also, you can connect your friends to browse and play their libraries or just listen along whatever they are playing.
28. PhotoScape
PhotoScape is easy and fun image editing software that lets you fix and enhance photos. Some of its main features include, batch editor, face search, image converter, splitter and combiner.
Cutomization and Troubleshooting
29. Ultimate Windows Tweaker
This is a freeware tweaking utility for optimizing and tweaking Windows 7 and Vista. You can use it as a portable application to customize your Windows (both 32 and 64 bit) to meet your requirements.
30. Stress Testing Tools
If you have overclocked your CPU, it's better to install some stress testing utilities like LinX and GIMPS. They can be useful when your processor is having issues. For example, if some of your programs are crashing, they can help you figure out whether your CPU is the problem or is there something else.
31. YUMI
YUMI is a multiboot USB creator that allows you to put multiple live CDs on one flash drive – that means you can create numerous antivirus utilities, operating systems, diagnostic tools and more.
32. BrightExplorer
For now, Windows doesn't offer any way to open multiple directories via tabs. BrightExplorer fills this gap by adding tabs to Window Explorer, allowing each Window to be opened in its own tab.
33. Start Screen Unlimited
Windows 8 (and above) start screen is not very customizable. For instance, it doesn't show time or network status without entering the desktop. Start Screen Unlimited fills this gap and tries to make the front screen more useful.
34. Sysinternals Suite
This is a pack of Sysinternals Troubleshooting Utilities that contains individual troubleshooting tools and help files such as CacheSet, PendMoves, PipeList, DebugView, PsPing, ShellRunas, LDMDump and many more.
35. Driver Booster
Driver Booster claims to fix and update over 400,000 windows driver. It automatically updates these driver, saving you loads of time and effort. It creates an automatic restore point before updating the drivers and it has options to automatically reboot or shutdown your machine after it's done.
36. FixWin
FixWin is a portable freeware that lets you fix and repair Windows 10 problems and annoyances. The programs has been categorized into 6 section, each representing problems with a specific components like system tools, file explorer, troubleshooters, Internet and connectivity.
Developers Tools
37. Moo0 File Monitor
In Windows, it's really hard to tell what is going on in the background. However, the default task manager shows the CPU and RAM usage. If you want to monitor file changes (and their associated data) in real time, look no further than Moo0 File Monitor. The application is capable of tracking all files without bogging down your computer's performance.
38. ChrisPC DNS Switch
If you are facing any issues with DNS provided by ISP, the quick solution is to swap it with other DNS using tools like  ChrisPC DNS Switch. It has a big list of presets from popular DNS servers that you can switch to. Also, it allows power-users to specify custom DNS servers.
39. Blender 3d
Blender is 3d graphic creation tool that allows you to perform modeling, animation, rendering, real-time interactive 3d and more. It includes camera and object tracking, rigify meta-rigging system, fracture objects, powerful video editing tool, complete node and render layer support. And yes, you can develop your own game logic.
40. Web Essentials for Visual Studio
These tools extend Visual Studio with a lot of new features that web developers have been missing for many years. If your work revolves around CSS, HTML, JavaScript, CoffeeScript or LESS, then this is a must-have tool for you.
41. DOSBox
There are some old programs that you can't run on current/new operating systems and that's where this application comes in use. DOSBox is a DOS-emulator that uses the SDL-library. It has been already ported to many different platforms such as Linux, BeOS, Windows, MacOS and more.
42. Ophcrack
Ophcrack is by far the best Windows password cracker that will find all your passwords and display them on screen. It is known to recover up to 99.9 percent passwords from Windows XP, in a matter of seconds. Any 14 character (or less than this) password that has any combination of numbers, capital and small letters should be crackable.
43. Blackbird
Blackbird is developed to reduce hours and effort spent on tweaking privacy setting by using some less-known techniques to fully disarm Windows without leaving behind even the smallest possible footprint. It helps you block Windows spyware, on both network and application level, with dynamic filtering, and without editing the Hosts file and firewall setting.
Miscellaneous
44. Wireless Network Watcher
If you think someone is stealing your Wifi network, Wireless Network Watcher is the best tool to find out. It shows a list of all devices on your network along with MAC/IP address and other information.
45. SUMo
SUMo stands for Software Update Monitor. It keeps your computer up-to-date and safe by checking for updates and patches for installed software. You can exclude the programs you don't want to track. Moreover, it automatically detects driver and beta updates.
46. Tixati
Tixati is the uTorrent alternative with no Java, no.Net. It is simple, fast and easy-to-use, and supports magnet links with extensive bandwidth reporting and management.
47. Everything
Windows desktop search engine is great, but Everything is one step ahead of that. It looks for all files and folders, including system folders and temporary files. You can also use regular expressions in your search queries.
48. WinDirStat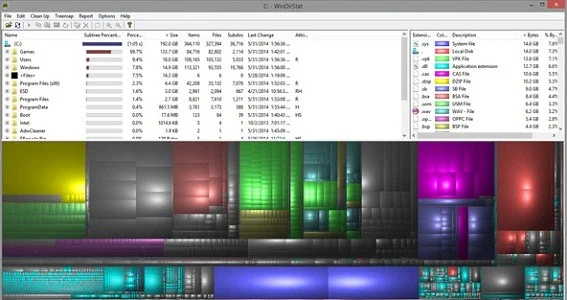 WinDirStat is a space usage data viewer and cleanup tool that scans all your disks and shows you the biggest folder, which files are taking much space, and more. There is a treemap that displays the whole contents of directory tree straight away.
49. DimScreen
All monitors allow users to control brightness level. However, if you are working in dark, the minimum brightness setting of monitor still hurts your eyes. DimScreen gives you full control to adjust the brightness/opacity of the screen, below the monitor's default level.
50. GoodSync
GoodSync is a file backup and synchronization tool that automatically backs up and syncs your data between any drive, computer and mobile device, FTP, Google drive, SkyDrive, Amazon S3 – with or without using cloud.
51. TakeOwnerShip
TakeOwnerShip is a tiny program that solves those annoying "cannot delete" and "access denied" errors. It allows you to ownership and grant full permissions of any files or folders. All you need to do is just drag-drop the file/folder to the program.
52. PeaZip
PeaZip is free file archiver and data compression software that supports more than 150 files formats. You can manage all archive types through single, easy-to-use interface. It also supports speed and compression ratio, encrypted and spanned archives.
53. RealTimes
RealTimes is story-maker software that allows you to edit the story to make them truly yours and share them with the world. It automatically searches for the best photos and videos, and you can tweak them, add your soundtracks and filters and make your story interesting and appealing.
54. Wise Folder Hider
Read: Microsoft Vs Apple: Stats and Facts
Wise folder hider hides private files, photos, audios, videos and other personal data on local drives as well as portable drives. It also has a "second password" feature that provides an extra layer of security. And yes, it does come with user friendly interface and context menu option.