On Valentine's day men shoot themselves in the foot, often with the guns that they have cluelessly bought for their girlfriends or wives as a valentine gift.
Some people express their love for each other by sending greeting cards or presenting flowers. But, for many men, buying a Valentine present often ends in disappointment and promises to do better next time. Luckily, the internet is full of resources that will help you find the right gift for your wife, fiancee, or girlfriend. We have been kind enough to gather all these resources (websites and apps) together and present them to you in one place.
22. Reserve
Reserve makes it easier to find a good local restaurant and make a free reservation at some of the best places in your city. Search a spot, instantly book your table and get ready for the amazing meal with your loved one.
21. Mouth
Mouth helps you discover and get the best and most delicious indie food products. Get small batch food and drinks, made by real people, delivered right to your door with beautiful packaging.
20. 1-800-Flowers
With 1-800-Flowers Android app, you can send flowers, plants, and gifts anywhere or anytime you want. From roses, and gorgeous flower arrangements to fruit bouquets, chocolates and more, there is something for everyone.
19. Dean & Deluca
If your loved one doesn't like chocolates, never worry. The Dean & Deluca have other food, beverages and gourmet gifts. The original store is filled with ceiling fans spinning over a wide array of products that lined the soaring white walls of this enchanted emporium.
18. Farm To People
Farm To People supports small-batch producers who infuse their products with a level of passion and attention that is quite difficult for large-scale factories to reproduce. This Valentine, speak the language of love through artisanal goods like chocolate-dipped almond coconut macarons, sea salt truffles, chocolate-vanilla bean cream sandwiches, raspberry meringues, gruyere cheese caramels and more.
17. 30 Day Relationship Challenge
This app will help you put the spark back in your old relationship. Show your partner how much you love her/him. The challenge's main aim is to motivate you to do something sweet and special for your lover for the next 30 days.
16. Minibar
Minibar is here to lift your spirits by delivering the goods – beer, wine, liquor and more. With a few taps on your phone and 30-60 minute later, Minibar will be at your door. It is available in major cities across the United Sates and the delivery is free.
15. MeUndies
MeUndies delivers world's most comfortable underwear and loungewear. This Valentine, step up your his-and-her underwear game with a brand new pair of undies delivered right to your door.
14. Math-o-gram
If you love math, you will absolutely enjoy Desmos Math-o-grams. It's a fun webpage for learning math and sending a unique Valentine's day message.
13. justWink Greeting Cards
justWink allows you to customize and send realistic greeting cards from your phone, via SMS, email, Twitter, Facebook or real mail. You can make cards that shuffle between, funny, cute, bold and heartfelt. They open and flip and make people smile just like real cards.
12. TheHolidaySpot
TheHolidaySpot contains everything you need. This includes wallpapers, animated Valentine wishes, greeting cards, personalized gifts cards and love letter, graphical novel, poem and poetries, and much more.
11. Personal Creations
Personal Creations specializes in romantic gifts year round and they have a special Valentine's day section. They offer a creative collection of personalized Valentine's day presents, which includes beautiful photo frames, gorgeous wall art, wine glasses and more.
10. Tiffany
Tiffany has a compelling collection of jewelries, watches, accessories and beautiful wrapped gifts. Currently, they only ship to addresses in the Canada, United States, Australia, Italy, United Kingdom, France, Germany, Spain, Netherlands, Ireland and Japan.
9. BloomNation
The person who makes you crazy in a good way deserves much more than a generic floral arrangement. BloomNation is a trusted community marketplace to discover and send unique bouquets handcrafted by local florists across the country.
8. Valentine's Day Quotes
The app contains precomposed lovely Valentine quote collection that makes expressing your love quite easier. It features user friendly navigation, and you don't even need an internet connection to run application.
7. Goldbely
Goldbely connects curious eater with America's best gourmet food purveyors. You don't have to spend hours searching for the most delicious, unique eats for your foodie obsessed love. They have done the work for you. Whether you want homemade chocolate truffles to melt your lover's heart or impress your main squeeze with a lobster dinner, Goldbely will deliver it fresh.
6. Max Brenner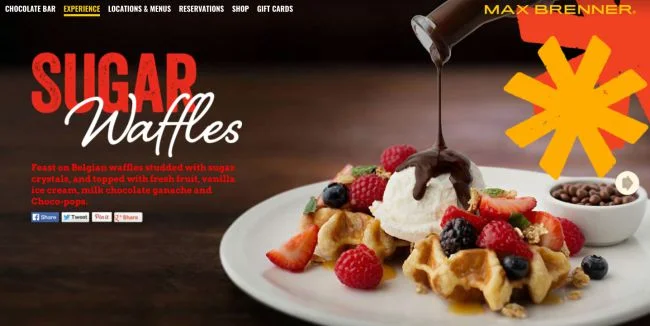 Max Brenner has unique products and desserts and iconic presentation. It is creating a new chocolate culture that encourages you to open your mind about how you connect with chocolate. It is headquartered in New York City, and operates more than 50 locations in 6 countries worldwide.
5. Ojolie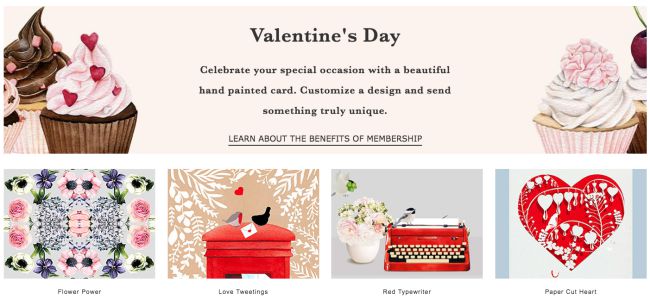 If you are far away from your partner, you can send a Valentine's day greeting via email. Ojolie cards are among the most lovely. They have impressive animating cranes and swans, classy dog kisses, cat romance, flowers and more.
4. History
Find out all things about Valentine's day, including the story of its origin, symbols and traditions. The page includes videos, infographics and informative articles on science of love, Valentine cards, great romances in history, heartwarming romantic gestures, and more.
3. OneHope
It's true that all you really need is love, but some wine and dark chocolate would be nice too. OneHope has a collection of some selected wines and gifts that will help you impress your partner.
2. Jacques Torres Chocolate
Jacques Torres takes pride in crafting fresh, hand-made chocolate using premium ingredients in original and classical combinations. Each product is created (with no preservatives, no artificial flavorings) in his wide 40,000 square foot state-of-the-art chocolate factory in New York.
1. Organic Bouquet
Read: 15+ Best Online Photo Editing Tools to Enhance Your Selfies
Organic Bouquet provides eco-friendly and organic floral gifts that include tulips, roses, sunflowers, calla lilies, blue iris, hyacinths and alstroemeria lilies. The site partners with selected flowers farms in Colombia, California and Ecuador.