Not hard to guess, your first video editor software is probably Apple's iMovie or Microsoft's Windows Movie Maker, and YouTube Video Editor (which was shut down on 20th September 2017).
Being a YouTuber is not an easy task, especially if you have joined after 2016. There are already other publishers who have established themselves on the platform by uploading quality videos, and now you have to make things more amazing to compete with them. That means you have to spend more time on your videos to make them even better and interesting.
Unfortunately, this isn't possible with basic tools, you must move to advanced yet easy-to-use editing software that can do the job. Keeping all requirements of a regular YouTuber in mind, we've gathered some useful video editing software that makes filmmaking easy and fun. Select wisely, most of them are free.
8. Filmora
Platform: Windows and OS X
Price: $44.99 per year | Free trial available
The delightful intuitive interface of Filmora makes it easy for anyone to learn how to create and edit stunning videos. It's a perfect tool for short videos and vlogs, especially for those who don't have powerful graphics cards.
Key Features
Royalty free songs library
Motion elements and transitions
Variety of filters and graphics overlays
Video stabilization and scene detection
5 Text tracks and 10 music tracks timeline
The software lets you jump through video and audio tracks one frame at a time, and make clips up to 100 times slower or faster. The split screen option, picture in picture mode, and PIP blend modes make the tool even more valuable. And yes, it does support 4K resolution.
7. Kdenlive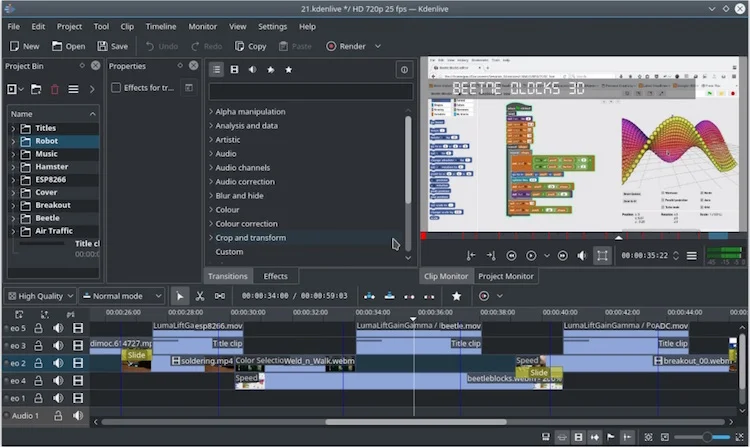 Platform: Windows, OS X and Linux
Price: Free
Kdenlive is an open-source video editor based on KDE, Qt and MLT Framework. It uses Sox and LADSPA libraries, and supports 4:3 and 16:9 aspect ratios for both NTSC,  PAL and several HD standards.
Kdenlive is capable to integrate several plugin effects for audio and video processing or creation. Also, it brings a powerful titling tool, a DVD authoring solution and could be used as a complete studio for creating videos.
Key Features
Multi-track editing (supports unlimited audio and video tracks)
Configurable interface layouts and keyboard shortcuts
Easy creation of text clips, color clips and image clips
Leap Motion for shuttle control and Webcam capture
Non blocking rendering
The tool allows you to use effects and transitions with ease, and if needed, you can create custom effect and transitions. Audio effects include phase and pitch shifting, reverb, equalization, normalization, while video effects include options for masking, distortion, blurring, obscuring, blue screen and much more.
Overall, this non-linear editor requires a bit more organization before starting, but the good thing is it's not only reserved to specialists and can be used for small personal projects.
6. Shotcut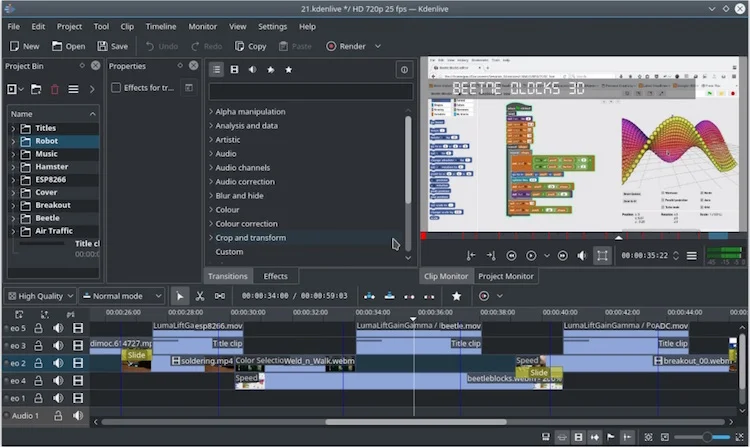 Platform: Windows, OS X and Linux
Price: Free
Shotcut proves that a decent video editing tool does not have to cost a fortune. It's an open source software with a wide range of format support and transport options. Transport control and scrubbing are backed by OpenGL GPU-based processing.
Like other tools, it uses timeline for non-linear video editing of multiple tracks. There is a recording function to edit and save webcam footage, and it can handle streaming in HLS, HTTP, RTSP, RTMP, UDP and MMS formats.
Key Features
4K resolution support and JACK transport sync
HTML5 (sans audio and video) as video source
Thumbnail and waveform caching between sessions
Mix and match resolutions and frame rates within a project
Multi-core parallel image processing (when not using GPU)
Although you can't preview a filter before applying it, removing unnecessary effects is quite simple here. Overall, it is perfect for beginners, and its wide range of export formats is the icing on the cake. Give it a try, there is nothing to loose.
5. Lightworks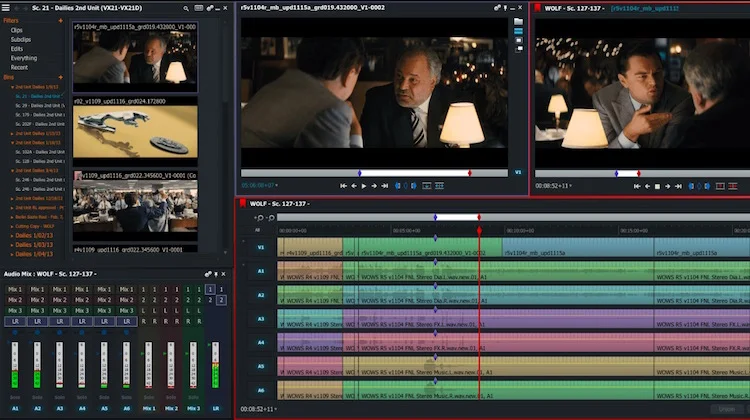 Platform: Windows, OS X and Linux
Price: $24.99 per month | Free version is available
Lightworks is a remarkably powerful editor, packed with dozens of quality tools that are enough to make your video look professional. Whatever kind of project you've in your mind, it will help you achieve it, whether its a simple short clip or a long movie requiring complex rendering and encoding.
If you're a beginner, you can use a free version that comes with all professional tools, but there is a limitation on output formats. If you want, you can purchase the package on monthly or yearly basis.
Key Features 
Easy project sharing for groups
Fast precision editing and optimized for speed
Advanced multicam editing and realtime effects
Resolution independent vector text, True 3D text with Lighting and Reflection
Videos generated are ready-made for YouTube, Facebook, Vimeo and Instagram
To build high quality videos, it gives you direct access from the editing time to over 100 inbuilt FX's and original production music and stock video from Pond5 and Audio Network. To give you the idea how popular the editor is — it has been used in many Hollywood movies over the years, including The Wolf of Wall Street, Pulp Fiction, Hugo and more.
4. DaVinci Resolve
Platform: Windows, OS X and Linux
Price: $299 | Free version available
DaVinci is one of the fastest growing software, packed with advanced audio and video tools developed for television and film post production. We recommend you this tool if you are too much into editing, color correction and professional audio post production.
It is perfect for those who work as a team. Multi user collaboration tools like chat, timeline merging and bin locking allows editors to work on the same project simultaneously.
Key Features 
Fast and responsive playback engine
Automatic facial recognition and tracking
Full multi camera editing and context sensitive trimming
Patented YRGB color science and 32-bit float image processing
Master sound with full 3D audio space and up to 1000 channels
Talking about color correction, the tool works in high dynamic range and supports wide color space formats including HDR10, Hybrid Log Gamma, Dolby Vision and more. Also, you can add third party VST plugins for even more creative options. You can get real time processing performance for up to 6 plugins per audio track.
3. Pitivi
Platform: Linux
Price: Free
Pitivi is an open source editing tool, backed by thousands of contributors having a strong interest and experience in multimedia. It inherits its capabilities of rendering media from GStreamer framework, so you can throw any format and Pitivi will process it.
The tool not only gives you access to over 70 industry-standard transitions and 100 audio/video effects, but also allows you to add true dynamism to your videos by animating all properties of effects over time with keyframes.
Key Features
Unlimited audio/video track layers
Two-stage caching video thumbnails
Custom aspect ratios and frame rates
Hardware-accelerated and touch-capable user interface
Keyframable audio/video effects and opacity keyframe curves
Last but not least useful features, is its intuitive user interface. You don't have to dive into the user manual all the time. There is nothing complicated – the design is simple and very much user friendly, and if you want, a fully searchable, topic oriented, multilingual manual is right there, at your fingertips.
2. Vegas Pro
Platform: Windows
Price: $599 | Free trail available
Vegas Pro offers everything a professional video editor needs, whether its real time multitrack video, resolution independent video sequencing, Dolby Digital surround sound mixing, complex effects, you name it.
The best thing is it does not require any special hardware configuration to run smoothly — you can operate it on almost any standard Windows computer across a wide range of hardware.
It is primarily known for its broad tool set that includes spatial arrangement of visual planes and 3D track motion compositing with control over z-depth.
Key Features
Multi-Camera and Shuffle editing
Hardware acceleration and 4K support
Streaming support for AVC/MP4 encoder
Stereoscopic and Integrated 3D adjustments
Automatic crossfades and instant freeze frame
The tool also supports several useful plugins such as OpenFX architecture, Picture-in-Picture OFX and robust video plugin architecture.
1. Final Cut Pro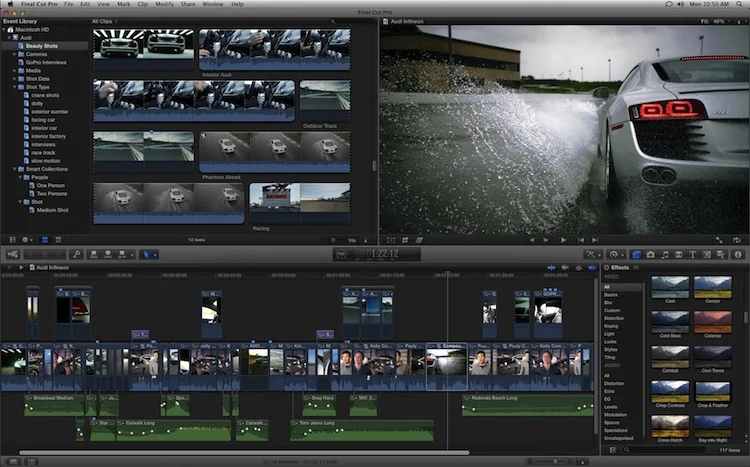 Platform: Mac
Price: $299.99 | Free trail is available
If you own a Mac, there is literally no better product than Final Cut Pro – a tool that has revolutionized the video editing industry. It shares some of its interface design and source code with Apple's default video editing software, iMovie.
Key Features 
160 energetic presets for flawless animations
Animation tools for advanced moves and effects
Powerful color grading suite with deep controls
Slip, slide, roll and nudge with frame-accurate precision
Workflow and asset manager for broadcast news and sports
The low-profile interface maximizes workspace on any monitor. Along with conventional track-based editing, the magnetic timeline offers you automatic color coding and flexible layout based on roles.
As a native 64-bit app, it takes advantage of more than 4GB of Ram, utilizes all CPU cores with Grand Central Dispatch and supports GPU accelerated processing for rendering and transcoding. And of course, it supports video resolutions from SD to beyond 4K.
Also Read: Best Video Editing Software for Multiple Purpose | Free & Paid
What's more? You can add customized transitions and motion graphics using thousands of 3rd party templates. You can even take advantage of specialized tools for tracking, 360 VR.