It happens to all of us — You are driving to work or sitting in a restaurant with friends, and there you hear a song you have never heard before. You don't catch the lyrics, and that frustrating feeling of "what song is this?" just doesn't get away easily, does it?
Well, relax! You are living in the modern era, where your smartphone can listen in with you and identify your song. All you need is a better song recognition app that can search through millions of songs to find out which one is playing near you. It's much better than the old days of trying to Google the pieces of lyrics you remember.
We've compiled a great list of music recognition services (for all platforms) that can help you discover the song you are listening to, even if you don't know the lyrics. Using the combination of two or more apps would give you an impeccable result. Make sure you are connected to the Internet while using these apps.
16. Identify Song by UniCom Technology
Platform: iOS
The app makes it very simple to identify songs playing around you. Whether you are at home or in a public space, just open the app and tap to discover. Within seconds, it will tell you what track you are listening to and who sang it — all with real-time lyrics.
Every track you discover is stored in your personal library. Connect your Apple Music or Spotify account and explore similar music across genres.
The application also works with iPad and Apple Watch and synchronizes everything with your iPhone.
15. Music Identifier by Rounding Squares BV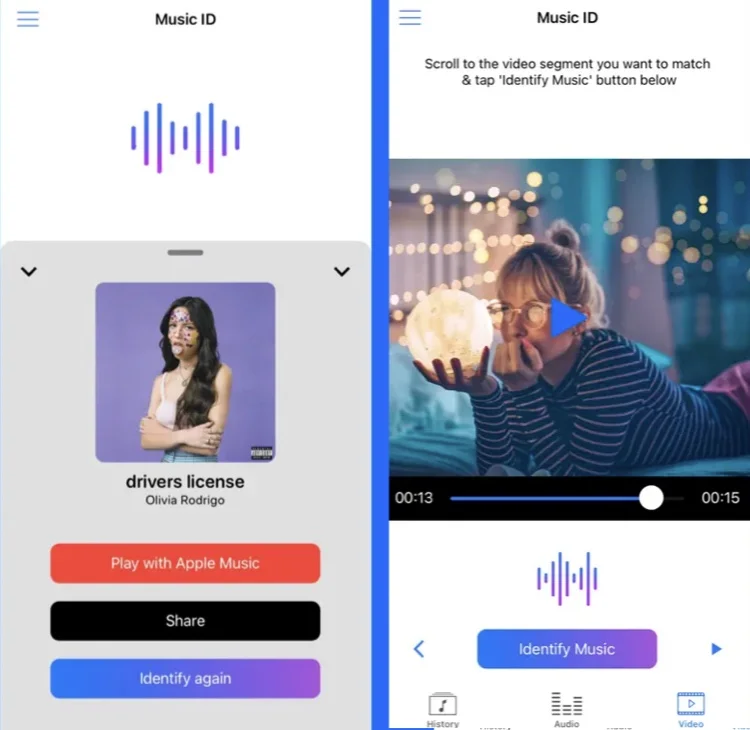 Platform: iOS
Music Identifier can recognize songs playing on your iPhone. It comes with an auto-recognition feature, which means the app starts looking for the song as soon as you open the app.
The app has a pretty large catalog that contains hundreds of thousands of songs. It can find the match within a few seconds.
Unlike most other platforms, it also has a video identification system. You can import a video from the phone gallery, select a specific portion, and tap 'Identity.' The app will tell you what song is playing in the background.
Furthermore, it keeps a record of all your discovered songs in a local playlist. You can open any track directly in Apple Music.
14. Chord Analyzer by Nicolas FOUDRAL
Platform: iOS
Chord Analyzer is a reverse chord finder available for iPad and iPhone. It is perfect for people who
don't know a chord on a score
looking for the original position for a chord on stringed instruments
looking for the best notation for a composition
It offers a bridge between stringed instruments (like mandolin, banjo, and guitar), the piano and American chord notation.
The app isn't only limited to known positions, but it also offers far more suggestions than the classic chord dictionaries. It can recognize more than 3,400 chords in all positions and inversions and provide real-time audio transcription. Play and modify them the way you want right on the app.
13. Music Recognition – Find Songs
Platform: Android
The app identifies the track you are listening to in a few seconds and shows the track's title and artist. It also works if you want to find a song by humming.
And if you are listening to an unknown track online, you can simply paste the link on the app, and it will tell you the name of the song within seconds. For popular apps like TikTok and Instagram, you don't even need to close the app — just use the pop-up song recognizer and add the discovered song to your Music playlist.
The app also recommends new music. When you find something interesting, share it with your friends through Instagram, WhatsApp, Snapchat, Facebook, and other social platforms.
12. Song Finder & Identifier By Hybrid4apps
Platform: Android
This is a free, lightweight song identification app that reveals what song is playing around you within seconds. It works with all types of music sources, be it a music compilation on the internet or radio. As long as you can hear the track, the app will help you identify it.
When it finds the song, it shows the title and artist and provides links to listen to the song on popular streaming services such as YouTube, Spotify, and Deezer.
All identified tracks are stored on your personal history page, which you can access anytime. Plus, there is a Music Map to show you where exactly you heard the track.
11. Genius
Founded in 2009, Genius is one of the biggest collections of song lyrics and crowdsourced musical knowledge. It serves over 100 million people each month through its website and apps.
There is a floating button in the bottom right of the app for recognizing songs. Just tap on it to know what music you are listening to. The home screen contains a list of songs that are the most identified items on Genius. Tap on them to see their lyrics (or download them if you want), play the music video, or share the song.
10. Midomi
Platform: Web app
Midomi is a song detector web application used to identify unknown tracks. If you have a tune stuck in your head, just hum that tune for at least 10 seconds, and it will tell you what song you are trying to sing.
The website also works if you use it when the song is playing around you. It takes some time to recognize music, but it does work. For better results, keep the volume bar up and avoid background noise.
9. BeatFind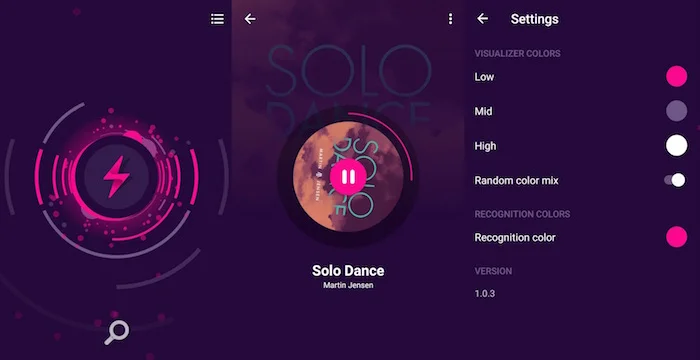 Platform: Android
BeatFind can recognize as well as visualize songs that are playing around you. Press the lightning button, and the app will throw a flashing strobe light effect in sync with the beat of the music.
There is a history tab for all recognized songs, which you can preview or stream online on popular sites like YouTube, Spotify, and Deezer. However, the app doesn't have a large catalog, so it will be quite difficult to discover less-known artists.
8. Song Finder: Music Identifier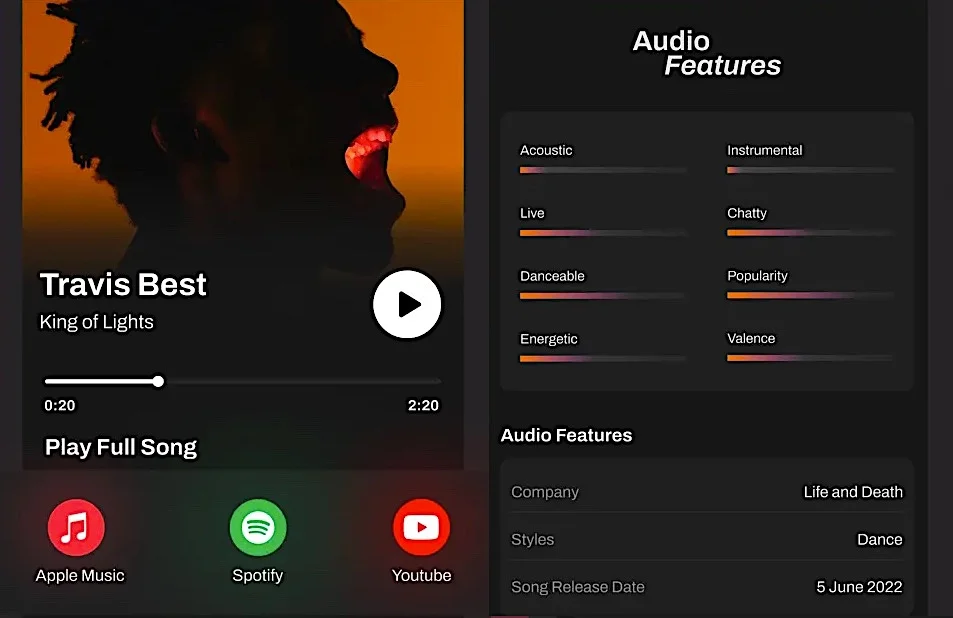 Platform: iOS
With this app, you can discover what exactly is playing around you. It shows you all the relevant details about the track, including the album, artist, and lyrics.
Once you find the song, you can open it on third-party apps like YouTube, Apple Music, and Spotify. Or watch it directly on Music Page in Song Finder. What's more interesting is you can check the popularity and audio features of the discovered track.
If you are looking for something new, browse the "What's hot" section or the "Top 50" chart. Or simply enter the title or lyrics to search from millions of tracks.
Moreover, the app can translate the lyrics of your favorite songs into 50 different languages.
7. Musipedia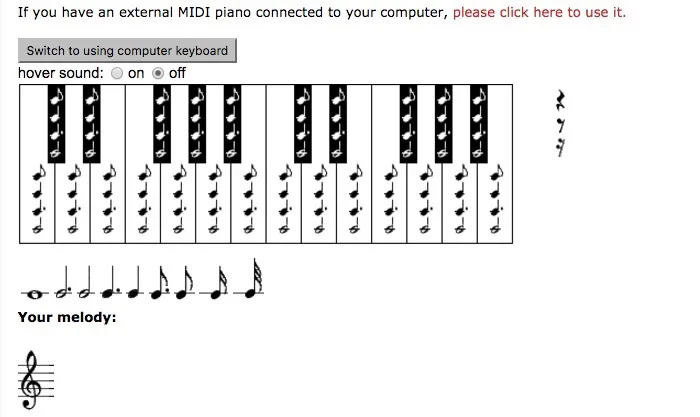 Platform: Web-based
Inspired by Wikipedia, Musipedia works best at finding classical music. Here you can search for a song either by whistling it into the microphone or playing it on a virtual piano keyboard. Unlike other apps that only find exact matching music, Musipedia can identify music containing a particular melody that you've just recorded.
6. TrackCheck for SoundCloud
Platform: Chrome Browser
SoundCloud possesses over 150 million songs to search through, which makes this platform so unique and a must-have on our list. TrackCheck for SoundCloud is a key and tempo analyzer for audio tracks. It scans music and detects tempo and key. If you own the track, you can add results to the SoundCloud database with a single click.
The extension uses sonicAPI.com web service, which brings a high-end music algorithm to the cloud. Moreover, it helps you to find other SoundCloud songs that are similar to your music in terms of tempo and key.
5. Musixmatch
Musixmatch is one of the biggest lyrics platforms where you can search and share lyrics from any track. It's a music player app with a song recognition system powered by ACRCloud. Just tap on the hamburger menu icon to open the "Identify Lyrics" option. It will discover the current playing track by matching the audio fingerprint against its database.
You can search your favorite song by title, artist, or by entering any random phrase of the song. Musixmatch also displays the translation of the lyrics (in real-time with music). So fire up the song you like and learn a new language in a fun way.
4. WatZatSong
Platform: Social music site
What if the computer fails to recognize the song you are looking for? It happens a lot, especially if you are searching for instrumentals or remixes. In that case, you can take the help of other music lovers.
WatZatSong is a social website where you can upload a short audio recording (or record it yourself by humming), and other members of the site will help you identify it. It's like a forum – suggestions won't come instantly, but most of the time, it works. The more details you provide (like music language, must style, etc.), the more it will be helpful.
3. SoundHound
SoundHound allows you to discover more about your favorite music, albums, and artists while exploring today's hottest new music. What's even more exciting is it allows you to hum tunes to identify a track. The app recognizes your humming voice very well and identifies what you are looking for, even if you are only humming a part of the song.
The app's music player gives you full-length songs and videos with real-time lyrics. It also supports hands-free searches; all you need to say is, "Hey SoundHound… what's that song?".
2. Shazam
Platform: Android | iOS | Web-based
Shazam is currently the most popular application for recognizing audio tracks. Besides finding your favorite song, you can discover more about the music and TV you love. How does it work? The app creates a digital fingerprint of the audio and matches it to its own database containing millions of tracks and TV shows.
Once it finds the match, it gives you the name of the track and artist, along with other information such as lyrics, artist biography, video, concert tickets, and recommended tracks.
In December 2017, Apple announced that it has successfully acquired Shazam in a $400 million deal. And now since it is an Apple product, it works great with Apple Watch, Mac, iPad, and iMessage, even when you are offline.
1. Virtual Assistant
If you don't want to install any app, you can use the inbuilt Virtual Assistant on your phone – Siri for iOS and Google Assistant for Android. Developers are continuously improving virtual assistants and integrating them with a lot of great third-party apps.
You can use these personal assistants to identify what song you are currently listening to. Just launch the app and say, "Name the song," "What song is this," and "Play more songs like this." You can also ask questions like "who sings this song" and give instructions like "add this to my playlist," etc.
Read More
13 Best DJ Software For Mac & Windows
11 Best Free Beat-Making Software
10 Best Song Lyrics Finder Tools