Google has released the public beta version of Android P, ninth major release of the Android OS. The final, stable version will be released in August. Till then you can expect more beta versions as time goes on.
The Android 9.0, may eventually be called Popsicle, builds in tons of improvements, but some major ones were featured at the Google I/O 2018 Keynote on 8th May. The company has partnered with several other Android developers to support this beta version.
For now, you can install it on Pixel, Xiaomi Mi, Nokia 7 plus, Vivo X21, Oppo R15, and Essential Phone. More devices will be added in coming months. And of course, once the stable version comes out, it will replace the Android O on all latest devices.
Simplicity, Intelligence and digital wellbeing are the three pillar-stones of the new release. While testing the developer preview version, we found that Google is trying to make devices adapt user's behavior through AI and its various machine learning methods.
Below we've mentioned all major changes and added features, including system updates and UI improvements, that you're soon going to see in your smartphone. 
16. iPhone X-style Navigation Gestures
With the arrival of bezel-less displays, developers have been working on methods to utilize every centimeter of the screen. Android OS now brings a new gesture based navigation system that replaces the traditional virtual navigation buttons with a small pill-shaped gesture bar.
You can open a new app switcher by swiping up on the bar. This will show you all running apps, which you further scroll through by swiping right or left on the pill. What's even more interesting is, you can interact with a particular app – like select texts – without opening it.
15. New Volume Menu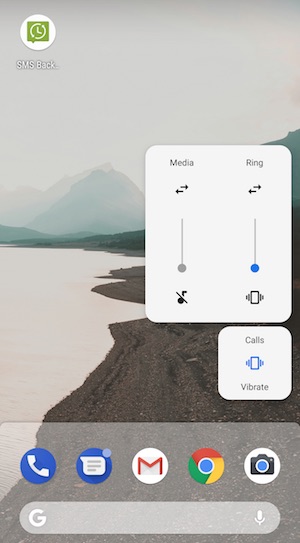 The new volume control has gotten slimmer and takes less space on the screen. Instead of a slider that drops from the display's top, the new menu pops out from the side. Also, you can easily switch the profile mode [vibrate or mute] without even having to unlock your device.
14. Call Recording Tone
Android P has a call recording tone so you can record phone calls lawfully. The system alerts all members whenever a phone conservation is being recorded. It plays a short tone at regular intervals [15 seconds] to notify the person you're speaking with.
13. Shush Mode
Google really wants to fix your smartphone addiction. Now they've made it easier to enable the DND (do not disturb) mode. All you need to do is put your phone upside down on the table (or any flat surface), and it'll automatically enter the DND mode so you can better focus on what you are doing.
Although this will disable all notifications, calls and visual interruptions, you can choose specific contacts to still get notification and calls from.
12. Wind Down
Wind Down is yet another feature-part of Google's new digital wellbeing initiative that aims to improve users' lives by balancing the use of technology. It's an automatic DND mode developed for wean users to encourage them shut their mobiles off.
Users can select their bedtime, at which their device will begin fading to grayscale, making it quite hard for them to look at the screen. Since grayscale is less stimulating for the brain, users aren't likely to feel the urge of staying on the phone. In the next morning, it will automatically revert to usual mode.
11. Security Enhancements
You can't call it an update, unless there are security improvements. Android P introduces several new security features too. This includes high assurance user confirmation of sensitive information and unified authentication dialog.
In all previous versions, apps required to take permission only once, in order to access your mic and camera. However, Android P blocks applications running in the background from accessing mic and camera. If any app tries to use them without your knowledge, it will receive nothing but system errors.
10. New Auto-Rotate Feature
The navigation bar of Android P is packed with a contextually aware button, which makes rotating apps a lot easier, even if you've disabled auto-rotate in the settings.
The new button shows up when you rotate your smartphone to an orientation it is not currently locked to. For instance, if your device is set to landscape mode and you are viewing something in portrait mode, you will see a button at the bottom. Tapping it would take your app to the portrait mode until you rotate the device back to landscape and tap the button again.
9. App Action and Slices
Slices and Actions are two new ways to interact with applications. The aim is to provide more options with less app hunting and fewer taps. To do this, Android P predicts what users want by analyzing their previous actions.
Slices are a small part of the third party apps (like interactive snippets) that display app content without even opening it. For instance, if you search uber on your phone, instead of just showing you the app, the OS will display a list of useful actions you can take within the app, like a ride to a preferred location, thus letting you skip a couple of steps in the process.
On the other hand, App Actions are links to content of the app from other part of the Android, produced from user's usage history. Let's say you open your home screen, you might see an option to call your friend (whom you contact regularly), or an option to start your daily challenge in a workout app. Such actions show up throughout the Android, including launcher, Play Store, Smart Text Selection, and Google Assistant.
8. A New Dashboard and App Timer
Android P comes with a new dashboard that tells you how often, and for how long you're using apps on your device. You can now set time limits to restrict yourself. For example, you can allow yourself to use Facebook for 15 minutes every day. Once the time limit is over, the colorful app icon will turn into a dull grayscale icon. It's a small step to improve users' productivity.
In addition to this, it will show you the number of notifications you have received, how many times you have unlocked your device, and exactly how much time you have spent on your smartphone.
7. Better Ambient Display
The ambient display now shows percentage of remaining battery subtly at the very bottom of the screen. Moreover, if you liked using weather widgets on the lock screen, you will be glad to know that Android 9.0 is bringing this feature back. Now you can display the weather information underneath the clock.
6. Easy Screenshot And 
LockDown Mode 
The power menu has two new options – "Enter Lockdown" and "Screenshot". The lockdown mode is introduced to further increase the security. Once you enable this option, your device won't be unlocked by fingerprint. You'll be required to insert passcode or pattern to unlock your smartphone.
You no longer have to press "+" and "power" button every time you take a screenshot. There is an option right in the power menu; just tap it and your screenshot will be saved in the gallery. Also, you can use inbuilt screenshot editor, called Markup, to crop and doodle on the pictures in various colors.
5. Hide Notification from Frequently Dismissed Apps
Android P features a proactive notification button that tracks the apps that have pushed notifications. After some time, you will start seeing a 'bright red button' on the right side of the notification you usually dismiss. Tapping on this button will make this app notification disappear permanently.
However, this is just a minor feature in a developer preview; it could be slightly changed or completely gone by the final release.
4. Better Messaging Notifications
Android seems to be borrowing some idea from the iOS. The new notification UI in Android P does a better job of displaying images, including a profile picture of the sender. Like in the previous version, you can expand it (drag to expand) and see some lines of conversation before tapping in your quick reply.
Although, Google has added a smart reply button inside the notification itself, it's still unclear how these texts [smart reply] are suggested.
3. Adaptive Battery and Brightness
Android P uses machine learning techniques to extend the battery life. It is based on Google's own Deepmind technology, which works by prioritizing battery power for only those apps that you use regularly.
The system relies on user's behavior to determine which apps they use, when, and assigns power accordingly. Google claims that this feature can 'anticipate action', resulting in 30% fewer CPU wakeups.
Screen power consumption has been one of the major concerns for developers, and since the market is flooding with new display technologies and people are gradually adapting bezel-less display, the task of developing battery-friendly OS has become much more complex than ever.
To handle this, Google starts using the alchemy of machine learning. The OS will learn your habits by analyzing how you set your brightness in different scenarios, and then try to perform the same for you.
Read: 22 Useful Android Build Prop Tweaks For Better Experience
2. WiFi RTT for Indoor Navigation 
WiFi RTT (stands for Round Trip Time) is a part of the IEEE 802.11mc specification. You can say it's an advanced version of WiFi that can locate the device within a couple of meters.
These high precision locations will be extremely useful in indoor navigation and home voice commands. For instance, if you're lost in the mall, your device can locate you within the building, providing turn-by-turn directions. And if you're using Google assistant at home, it knows which room you mean when you say "Switch off the lights".
1. Android Runtime Improvements
Android P brings new improvements to the ART (Android Runtime). It now uses more profile to decrease the footprint of compile code. To do this, ART utilized on-device profile data to rewrite DEX files on the device itself, which means that apps can use less system DEX memory and launch faster. According to the Google, it results in a 11 percent reduction on how frequently DEX flies get rewritten across popular applications.
Read: Android O – 17 Added Features and Changes
Other Features
Supports autofill in browsers.
All applications exchange data via HTTPS protocol by default.
Supports DNS over TLS standard protocol to increase security and user privacy.
High Efficiency Image File Format (HEIF) and VP9 High Dynamic Range (HDR) video format support.