Apple has made a number of announcements during its Worldwide Developers Conference 2017. As expected, they have released iOS 11 with some minor tweaks and new features. Although you will not feel out of place while using the new iOS, there is a lot of improvement over iOS 10. According to Apple, it opens up to astounding possibilities for augmented reality in games and apps.
We have complied all the new features and tweaks that we are most excited about. Let's have a look at what is coming with iOS 11 and what it all means.
22. QuickType Keyboard
iOS 11 introduces one-sided keyboard so you can type with one hand. Just touch and hold the emoji key, choose one-handed typing and the keys will automatically move closer to your thumb.
21. Redesigned Control Center
The looks of control center has been completely changed and now you get only a one-page view with all your controls and menus. You can add a voice menu control, dim the lights in the dining room with a tap, add home controls, and add or delete toggles. Also, you can use 3D touch to unlock even more commands.
20. AirPlay 2
AirPlay 2 is really helpful if you have a surround sound system installed in your home. With iOS 11, you can control the speakers throughout your house. Play a song in kitchen and bedroom at the same time. You will able to sync on all your speakers and adjust the volume in any room.
19. Apple Music
Apple Music is getting social – now you can see playlists created by your friends, and they can see yours. You need to make your own profile on Apple Music to see other's playlists, albums and stations they often listen to. For developers, there is an API to utilize this feature inside their apps.
18. QR Code Support
The native camera can now scan QR codes without using any third party app. When you point your device's camera at a standard QR code, you will get a pop-up prompt with the decoded text or action. If it bothers you, you can turn it off.
17. Files App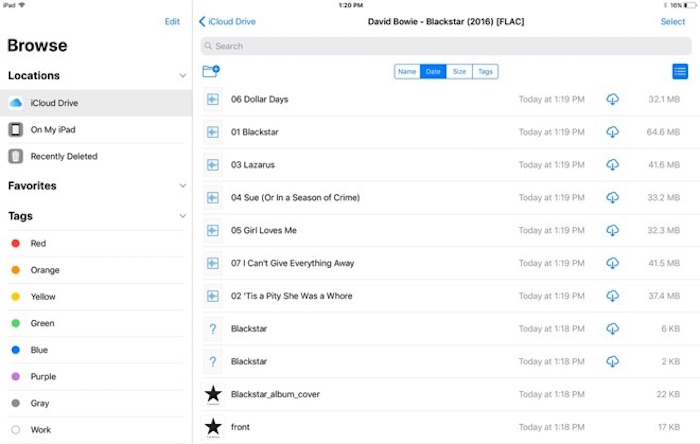 Files, a new app, is to iOS as Finder is to Mac. It lets you preview, organize, store and share files from different cloud services like iCould, Google Drive and Dropbox. Like Finder, you can add colored and custom named tags to any file in the Files app. These tags make it easier to find stuff without having to constantly organize them into folders.
16. New Dock for iPad
The new Dock for iPad provides a more flexible way to work. You can call the dock from anywhere by swiping up from the bottom. Just like Mac, you can customize it with more of your favorite apps. The dock automatically suggests apps based on your recent activities, so you open and switch between your favorite apps instantly.
15. Better Multitasking
iOS 11 introduces a new approach to multitasking on iPads. While working on one app, you can open a second app from the Dock and both apps remain active in split view. The App Switcher lets you drag the second app in Slide Over to the left. The best thing is you can run up to four apps at once, side by side.
14. Screenshot and Markup
Apple has made it much easier to mark up the things you screenshot on your iOS 11 devices. Instead of dipping back into the native camera (or any third party app) after you take a screenshot, you will be able to instantly crop and markup the picture right away.
13. Screen Recording
iOS 11 gives you the ability to record the screen of your iPhone and iPad, without using any third party app. All you need to do is toggle the "screen-recording" button displayed in the Control Centre, and record your device's display to capture an unexpected bug that keeps occurring or show off your gaming skills.
12. Drag and Drop
The new Drag-Drop feature is designed for the large multi-touch display of iPad. It allows you to move text, photos, hyperlinks and files from one app to another. Basically, you can touch and move anything, anywhere on the screen.
11. Apple Maps and "Do Not Disturb" Mode
Apple is introducing indoor maps for airports and malls in selected cities. You will be able to see which shops are on which level, navigate inside mall and airport using the indoor guidance. iOS 11 also adds lane assist system to help you stay in the right lane and navigate unfamiliar highways.
More important is new safety measure – it will use different connectivity options like Bluetooth, WiFi and even Doppler effects to determine if you are driving, and will automatically activate "Do Not Disturb". In this case, text messages and notifications won't be shown by default. However, you can set auto-replies to selected contacts to let them know you are driving at the moment.
10. Automatic App Deletion
iOS 11 comes with an option to automatically delete apps that have not been used for a specific period of time. If you are running low on storage, this feature will get rid of apps you don't use much, while preserving the related data so you can always get the app back.
9. Core ML
Core ML is a new API that provides on-device machine learning capabilities to developers and allows them to create apps that learn, predict and grow smarter over time. It supports face detecting, face tracking, text detection, barcode detection, landmarks, object tracking, barcode detection and image registration.
8. Notification and Lock Screen
The Lock screen in iOS 11 is even more powerful. You can see both missed and recent notification in one place. Pull it down from the top of the screen to get all your notifications. In addition, if you are playing music, your notifications will share lock screen space with the music widget.
7. Message App Tweaks
The app drawer located at the bottom has been altered with a cleaner and colorful look. A couple of new effects have been integrated to the effects panel. There are now more options available for including Google Maps and Apple Music. Moreover, your conversation in iMessage will sync across all your Apple devices.
6. More Versatile Apple Pencil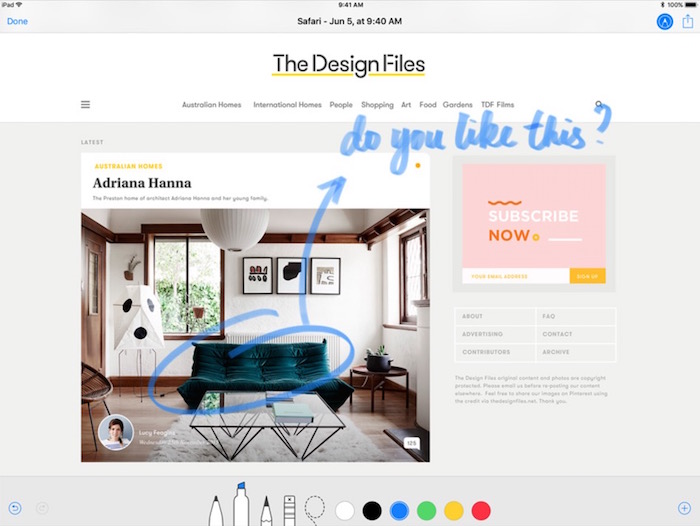 Apple Pencil has received a lot of improvements with the iOS 11 update. You can now take instant notes by simply tapping Apple Pencil on the Lock screen. Whatever you create is saved in the Notes. Also, you can mark PDF or screenshot faster, and add inline drawings in mail.
5. ARKit
iOS 11 introduces a new framework for developers, called ARKit. It uses VIO (Visual Inertial Odometry) to accurately track the surrounding. With ARKit, the device analyzes the scene presented by the camera and finds horizontal plane like floors and tables, and can track objects on smaller feature points as well. The framework senses the total amount of light available in a scene and provides the correct amount of lighting to virtual objects.
Read: 10 Things iPhone Does Better than Android
By blending surrounding information and digital objects, augmented reality takes games and apps beyond the screen, allowing them to interact with the real world in efficient ways.
4. Camera and Photo Enhancements
iOS 11 comes with new quality filters that help you make your photos more expressive. There are filters for applying classic looks to your portraiture images and for making skin tones more natural. All your captured photos will be saved in HEIF (high-efficiency image file format), instead of JPEF, reducing the file size in half without affecting its quality. Moreover, videos will now be coded in the HEVC (High Efficiency Video Coding) codec, which will save you 50 % on storage.
With the new photo app, you can turn live photos into a fun video loop or make them rock back and forth. Select the picture yourself or let the app suggest which ones would make great loops.
3. The All-New App Store
Apple has made the biggest change in the App Store since the app. They have introduced new tabs to easily discover the apps and games you are looking for. Each tab is filled with content to keep you informed and engaged.
To serve you better, the App Store is now packed with tips and tricks, how-to articles, list of download-worthy games and apps, and enhanced search results. Moreover, the app product page has been completely redesigned to focus on the details you need while deciding what to install.
Read: 30+ Useful Resources for every iOS developer
2. Siri Enhancements
Siri is more contextual aware than before. Just like Cortana, it can now answer questions based on previous conversations. It will use on-device learning to know about your habits, so it can better predict what you are going to do next.
For instance, Apple Music knows your taste, so when you tell Siri to play some music, you will hear a song you love or a song you are going to love. It can also answer your questions related to the song, like "Who is the guitarist in this song?". Not only this, Siri voice has been improved to make it sound more natural.
Siri's interface now looks like a glowing orb of aura. It is integrated with advanced translation features and supports Chinese, Italian, Spanish, German and French, and more language support coming in the future.
1. Apple Pay
Read: Microsoft Vs Apple: Stats and Facts
iOS 11 introduces peer to peer payment using Apple Pay. That means, you can now transfer money to your friends via iMessage or tell Siri to pay someone. You no longer have to deal with third party apps for payment – you can do all this inside your Message app.