At WWDC 2018, Apple unveiled its new operating system for iPhone and iPad: iOS 12. Instead of introducing more new features, this time they focused on enhancing performance and removing bugs.
While the stable version won't be available until this fall, the company showcased dozens of improvements and added features to look forward to. Ranging from augmented reality and FaceTime to privacy and security, here are all latest features you will see in iOS 12.
22. Better Portrait Lighting and QR Code Reader
Camera in portrait mode can now create a mask when it identifies an individual and neatly separates the individual from the visual.
To make QR codes easy to scan, the camera highlights them in the frame. It can also be added to control center for easy access. So when you need to scan a QR code, just swipe down the control center and tap the QR icon to launch it.
21. Closing Apps Is A Lot Simpler
In previous iOS versions, closing an app involves three steps: swipe up, long-press card in the app switcher, and tap the minus button. This has been made simpler in iOS 12. All you will need to do is swipe once and swipe up again on the app you wish to close.
20. iPhone X-like Gestures on the iPad
Apple may remove home button from iPad as well. If you are running iOS 12 on your iPad, you can swipe up from bottom (anywhere on the Dock) of the display to bring the home screen.
Also, to open the Control Center on iPad, just swipe down from the top right corner of the screen. Although all previous gestures and shortcuts still work, you might find new ones more convenient.
19. No Unwanted Screenshot in iPhone X
Every since the launch of iPhone X, users have been complaining about its problem of capturing unnecessary screenshots. It accidentally makes screenshots when you pick up your phone.
You won't be facing this problem with iOS 12, as it only works after the phone is unlocked or display is turned on for a short while.
18. Detailed Battery Information
The Battery section in Settings now gives a more detailed breakdown of how your phone's battery is being consumed. It displays usage for the last 10 days or 24 hours. You will see a new graph, showing the level of battery over time, and at what duration you are using your device the most.
17. Better Performance
You can't really call it an update until you see a significant improvement in performance. Apple claims that iOS 12 is faster, more responsive and fluid. Apps launch up to 2 times faster, swiping from lock screen to camera is up to 70 percent faster than before, typing is more responsive, and Share sheet appears quickly, especially if you're using numerous sharing extensions.
16. Two Faces To Unlock Your Phone
iOS 12 allows you to share your device with someone else. Now you can register two face ID on iPhone X, however, it's not possible to reset Face ID without clearing out both faces. This feature is more likely to come in next iPad, as well. 
15. New Format for AR File
Apple is giving a lot of emphasis on Augmented Reality; they've (along with Pixar) created a new AR file format, called USDZ (short for Universal Scene Description).
Although USDZ is an archive, it doesn't employ compression or encryption to retain the quality of original elements. To access USDZ's contents for editing tools, one need to unpack the file format.
14. Add Student ID Card To Wallet
With iOS 12 students can add their Student ID to the Wallet app. This way they can use their Apple device to access places like libraries, dorms and student events. They can even pay for snacks, dinner, and laundry using ID cards in Wallet.
13. Apple's New App: Measure
The iOS 12 comes with a new augmented reality app, named Measure, that works as a virtual ruler to measure the distance or dimensions of an element. About 7 percent of all augmented applications on the App Store are measuring apps, and it looks like Apple has decided to make them obsolete.
12. ARKit 2
Apple has revealed a new platform, ARKit 2.0, to help developers make augmented reality apps even more dynamic. It features enchanted face tracking, 3D object detection, and realistic rendering.
ARKit 2 allows multiple users to collaborate on projects (for example, renovating house) and play games. Also, developers can integrate a spectator mode, providing family and friends the best view of gameplay from a different iPhone/iPad.
Read: 18 Best Augmented Reality Apps
11. Siri Shortcuts
Siri is now capable of doing much more via quick actions that can be assigned through a new app, named Shortcuts. For instance, you can create a shortcut "Going office" and assign it some actions like turn on DND mode, remind you to bring lunch and turn off the home lights, and more.
Once you've done this, the system will execute all those actions when you say "Hey Siri, Going office". Siri also pairs your daily routine with 3rd-party apps to offer appropriate shortcuts when you need them. For example, if you regularly purchase a coffee on the way to office, Siri will learn your habit and notify you (on the Lock Screen) to place an order.
10. Apple News and Stocks
Finally, Apple is putting real work into the built-in Stocks app. They've redesigned the app to keep you updated on the stock market; it supports after-hours stock prices, and soon will be launched for iPad as well.
The app will also display some content from Apple News that might be relevant to the market and stocks you are following. With Apple News, it's now easier to jump straight to your favorite topics or find new ones. Just tap the sidebar (on iPad) or swipe down (on iPhone) to jump to your favorite channels and topics.
9. Apple Books and Voice Memos
With the updated version of Apple Books, it's easier to find, read and listen to your favorite authors. There is a new "Reading now" tab that puts all your books in one place and gives you some decent recommendations based on what you've read or search. You will love the "True Dark" mode that has been added for convenient reading.
Apple has also redesigned one of their most underrated apps: Voice Memos. Whether it's personal reminder or office presentation, they have made it easy to capture your voice memos. All your memos are sync across all Apple devices using iCloud, so you can record memos on iPhone and harness the resources of Mac to be more productive.
8. Group FaceTime
A heavily requested feature has finally arrived. Now you can use FaceTime to video chat with up to 32 people. Setting up a group call is easier than ever; you can start a call right from the iMessage group conversation, or join an active call at any moment.
To spice up your chat, you can add a variety of Animoji, filters, shapes, and text effects. The feature works on all Apple devices, except Apple Watch, where you can answer calls via FaceTime Audio only.
7. Customizable Animoji
Apple is introducing a new type of Animoji, called Memoji. You can create a Memoji to match your mood and personality. There is a new tool [Memoji Maker] that gives you countless customization options. For example, you can give yourself as many different egos or expressions as you want, and use it in FaceTime and Messages. You can send up to 30-seconds long clips.
iOS 12 is packed with 4 new Animoji, and enhanced face tracking features that can recognize when you wink or stick out your tongue. However, it is not advanced enough to trace the motion of your retina and tongue.
6. Search And Share Photos In A New Way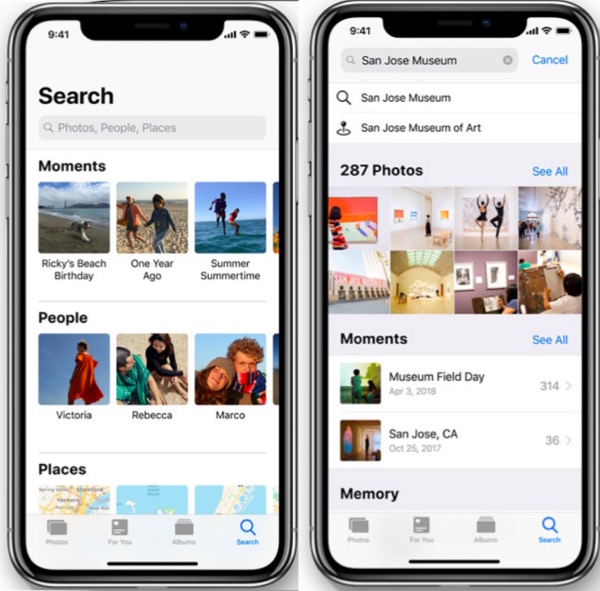 iOS 12 comes with a smart search suggestions; it shows your pictures based on categories and key events, like hiking and swimming. Also, you will be able to search photos by people and places. The Photo app indexes over four million events by location and time. Overall, you will get the exact photo you are looking for, in less time.
Developers have also introduced a new "For You" tab that displays your precious memories from the album and intelligently suggests which photo to share with whom.
5. Additional Privacy Protection
Safari prevents comment widgets and share buttons on websites from tracking your personal data without your permission. It doesn't allow advertisers to access unique settings of your device, so that they cannot annoy you by retargeting ads across the web.
4. Improved Password Management
To improve the security, iOS 12 has introduced several new password features. First of all, it will automatically generate, autofill and save strong passwords in apps and Safari browser. All of your passwords will be saved in iCloud Keychain.
Also, Siri will be smart enough to help you with your password. However, Apple didn't provide much information on how it's going to work.
Creating passwords is now safer than ever. If you are entering a password that is already being used in one of your accounts, it'll be flagged and system will notify you to not use it again. It will automatically generate a strong password and store it in Keychain for you.
To streamline two-factor authentication functionality, the system will give you an AutoFill suggestion of one-time passcode received via SMS, so you don't have to memorize or type them again. However, the feature doesn't work for third-party two-factor authentication apps like Authy.
And yes, you can easily transfer or receive passwords from nearby devices running on iOS, including Apple TV.
3. Improvements To Do Not Disturb
Apple has made several improvements to Do Not Disturb mode. Now you can set Do Not Disturb based on location and specific time frames. For instance, you can turn on this mode "until this afternoon", or at the hospital, so whenever you go for routine checkup, your phone automatically activates Do Not Disturb.
A feature named Do Not Disturb Bedtime will silence the overnight notification and faint the display until you unlock it again in the morning.
2. Better Notifications
One of the biggest improvements coming to iOS notification center is group notifications, which are now grouped by context and apps. You can tap in to look at a specific notification, and then erase the whole thread with just one swipe.
The notification management feature offers new solutions to decrease interruptions throughout the day. You can send notifications from a particular app to notification center or turn them off altogether, right from the Lock screen. Moreover, Siri can suggest you which alerts you should turn off, based on applications you do not use often.
1. Screen Time
Like Google, Apple is getting into "Digital Wellness". With a new feature called Screen Time, Apple is giving you more control over how much time you spend on your device. This includes time spent on applications, how frequently you are picking up your device, and which app is sending you the most notifications.
You can limit how much time you and your kids spend on certain apps. This is a great feature to understand and manage your phone usage. For easy access, you can set Screen Time on your home screen as a widget.
Read: What's New In Android P | 16 Biggest Changes and Features
Parents and guardians can see their child's Activity Report on their own iPhone/iPad. They can put a limit on how long their child can use the device. They can even select certain apps like Phone or Learning app that will always be available, even after the limit is exceeded. Kids can request more time to use their device. It's a great feature to reward kids after they are done with their homework.