There is absolutely no doubt that Whatsapp is the most popular messaging app in the world. It is free, powerful, and has a user base of about 2 billion, which is way more than most of the other apps currently available. But not everyone seems to be happy with WhatsApp after all.
Founded in 2009, WhatsApp Inc. was acquired by the social media giant Facebook for $19 billion in 2014. Right after its acquisition, many new messaging services saw a tremendous amount of growth in app downloads as users explored other options.
Do you know why? Apparently, users were concerned about their private data because WhatsApp has now become a part of Facebook. Since then, privacy has remained the biggest issue for WhatsApp as well as other messaging applications.
Fortunately, there are tons of other options to try. We have listed a few best WhatsApp alternatives that provide more features and an equally great user experience.
15. Facebook Messenger
Don't get us wrong, but with more than 1.5 billion users, Facebook Messenger's popularity matches Whatsapp's. However, privacy breaches have really dented their credibility over time. The Messenger does have some exceptional features, including a bot platform and M assistant capable of auto-completing several tasks for users.
But for people looking for more privacy and security, Facebook Messenger may not be on their priority list. Especially after the event where the company admitted that they regularly scan images and even some texts you send.
14. Hike
With a valuation of more than $1 billion, Hike is one of the "unicorn" startups in India. Even with the presence of giant messaging services like WhatsApp and Facebook Messenger, Hike is making forward steps each year increasing its user base. Hike is popularly known for its extensive sticker library and revamped UI.
With over 15,000 distinct stickers and a limit of 300 million stickers a day, users can better communicate with each other. Alongside stickers, Hike has a Snapchat-like story feature where you can post and share pictures, videos, and links with your friends and other hike users.
The app uses a 128 bit-SSL encryption and firewall server for text and media exchanges. Conversations between users are stored locally on their device. Hike servers don't keep backups. They also provide a hidden mode as an extra layer of protection.
13. Tango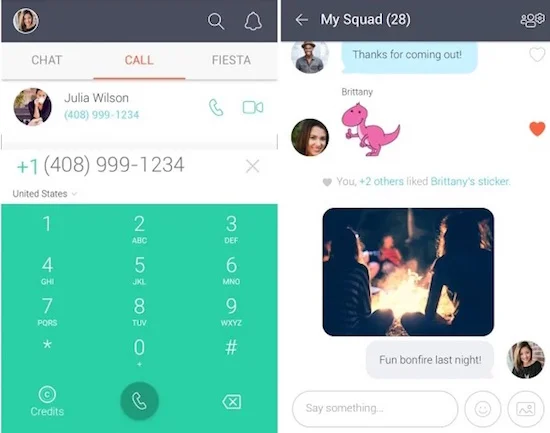 Tango is perhaps one of the simplest messaging apps available in the app store right now. Since its launch in 2009, Tango has gained a considerable amount of users worldwide. It is a free app that provides services like voice and video calls, basic texting, multimedia sharing, and video games.
Right now, the app is only compatible with android and iOS; however, before 2015, it was also compatible with PCs. Moving on, iPhone users can use its image editing capabilities to customize photos. The app is integrated with the popular GIF platform Gfycat, which allows users to converse in animated GIFs.
12. KakaoTalk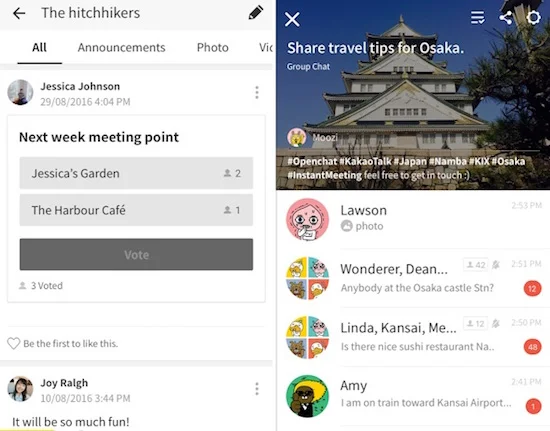 KakaoTalk is one of the many services provided by Korean internet company Kakao. It is a free, multi-platform instant messaging app that allows users to share multimedia messages, location, contact information, and web links alongside messages and calls. With KakaoTalk, you can also follow local celebrities, brands, and other media.
Other cool features include conference calls (up to five persons), polling, Walkie-talkie, and customizable themes. KakaoTalk is not a global player as 93% of its users are from South Korea.
11. Kik
Kik is a fun instant messaging app, which is favored by many users because of its anonymity. To register, you don't need your contact number, unlike some popular messaging services. According to its parent company, they don't have access to archived user data such as images and conversations, and other multimedia messages, which are automatically deleted after a while. However, there are many security flaws persistent with Kik that one should consider before trying Kik.
10. Skype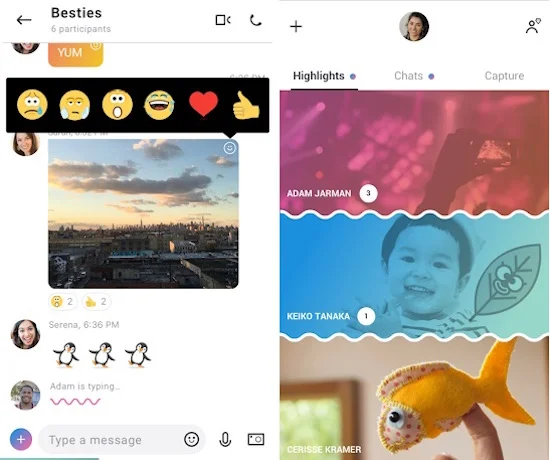 Skype is a full-fledged telecommunication software that is used by millions of people daily for personal and business reasons. It is capable of doing a wide range of things and specializes in video and voice chats between multiple devices, including the Xbox console, courtesy of Microsoft.
Skype is generally considered a safe communication software, which uses reliable encryption techniques. However, it's only recently that Skype started offering the standard end-to-end encryption for audio calls and text via a private conversation feature.
Skype is also known for its intentional eavesdropping mechanism, where law enforcement agencies can snoop in on our private conversations without any court approval.
9. Wickr Me
Wickr Me messenger allows its users to set an expiration time on already encrypted conversations. With the introduction of a secured desktop version of the app in 2014, you can now easily synchronize your messages across multiple devices. It's generally regarded as a direct rival to Snapchat.
As far as the security is concerned, all conversation done on Wickr are encrypted with each device generating a new key for each new message, ensuring that no one except the intended receiver can decipher the content. They also take down any metadata from the content relayed through the network.
8. Google Allo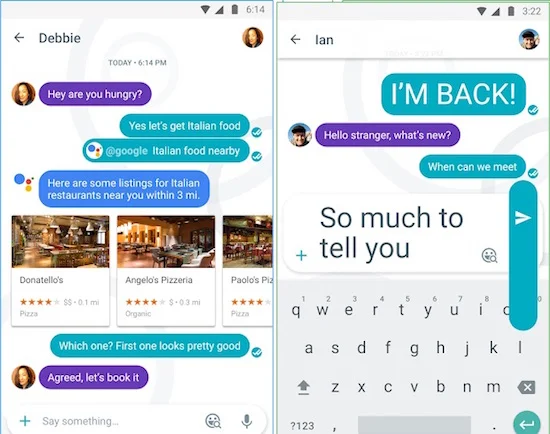 Google launched its instant messaging app Allo back in 2016. Allo relies on mobile numbers to identify users rather than social media and email accounts. It has a smart reply feature enabled with machine learning technology that suggests a possible reply to the last received message.
Allo is also among one of the Google apps where you can use Assistant to get information on weather, flights and nearby places, etc. Its other significant features include incognito mode, where you get private notifications and end-to-end encryption. However, the incognito mode does not have Google Assistant features, including smart reply.
7. Wire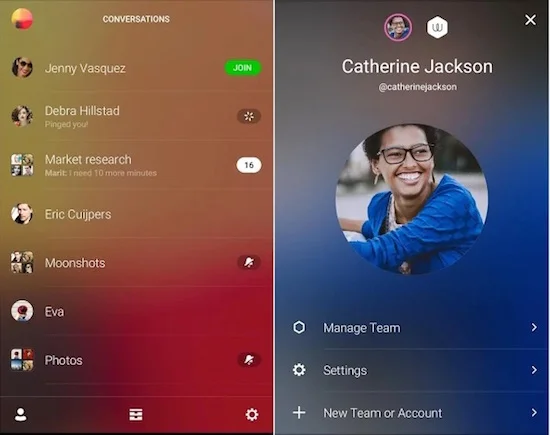 If you want to try something new and elegant, then you can go for Wire. It is a cross-platform instant messaging app that can carry text, voice, and multimedia messages over a secure connection. Wire is especially known for its better audio quality and fresh UI.
While it has a group feature, the application also provides advanced paid features that can be used by businesses. Although Wire does exercise end to end encryption protocol and additional Transfer Layer Security for client-server communication, there are several security flaws which were identified by a security researcher in 2016.
6. Viber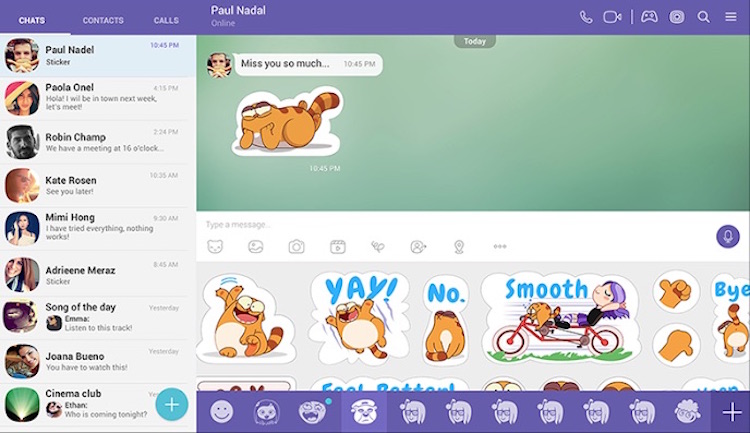 Viber is a major player in the instant messaging technology world. The application was initially created by an Israeli company, which was later sold to Rakuten, a Japanese internet company. With Viber, you get a group messaging feature with wideband audio engine, buyable sticker packs, and VoIP facility.
As far as the security is concerned, Viber added standard end-to-end encryption to their service only in 2016, but it is limited to 1:1 and group conversations.
5. Line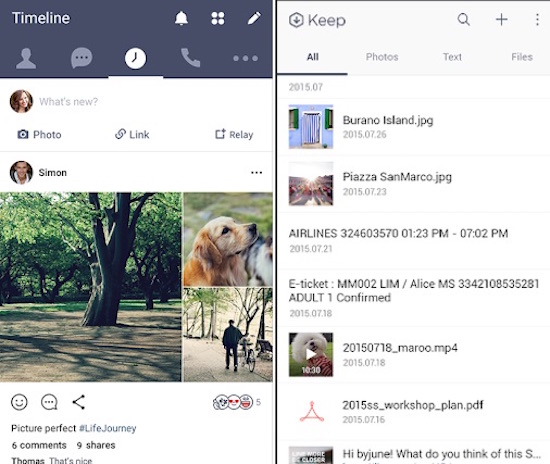 Line is a popular free instant messaging app filled with important and fun features that you can try if you haven't already. It works on multiple platforms with an option of address book sync. Alongside making voice and video calls, you can share multimedia messages in groups with a maximum of 500 people/group.
A few security flaws in Line were discovered in the past couple of years. The app has recently made end-to-end encryption compulsory for all Line users (it was optional earlier).
4. WeChat
China has achieved a tremendous amount of success in the tech industry lately, and WeChat is one of the perfect examples of this. WeChat was initially launched in 2011 under the name of "Weixin", but was renamed a year after that.
It is basically a multipurpose social media app that provides almost everything from messaging, video conferencing to video gaming, image sharing, and geotagging services. Unlike Whatsapp, WeChat does allow advertising on its platform, which is displayed in the user's Moments section.
It's, however, not much popular outside China, as 90% of its active users are in the country. There are active concerns over data privacy among WeChat users and governments of several nations, including USA, India, and Taiwan. It has also been accused of censoring important socio-political issues in China.
Read: 16 Best Smart Notification Apps for Android Users
3. Signal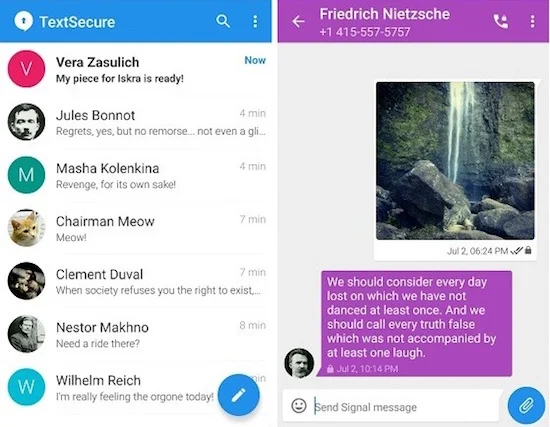 Signal allows its users to send text and multimedia messages, make voice and video calls from both android and iOS devices. It comes with a number of security benefits like a man-in-the-middle attack verification mechanism and a pass-phrase feature for your local message database. Users can also put a timer on massages. After that specific time interval, the messages will automatically get deleted from recipient's inbox. Overall the app is pretty simple and is free with no significant downside.
2. Threema
Do you have serious concerns regarding privacy over your current messaging app? If yes, then you should really know about Threema. Threema is a fully paid, instant messaging app that takes your privacy and data security more seriously.
To be more specific, Threema uses a 256-bit asymmetric ECC based encryption, which is equivalent to 2048 bit RSA. An external security audit does support their security claims. Messaging on the app is quite fast, and users can easily send multimedia files up to 20 MB. One can also create polls right inside a chat.
1. Telegram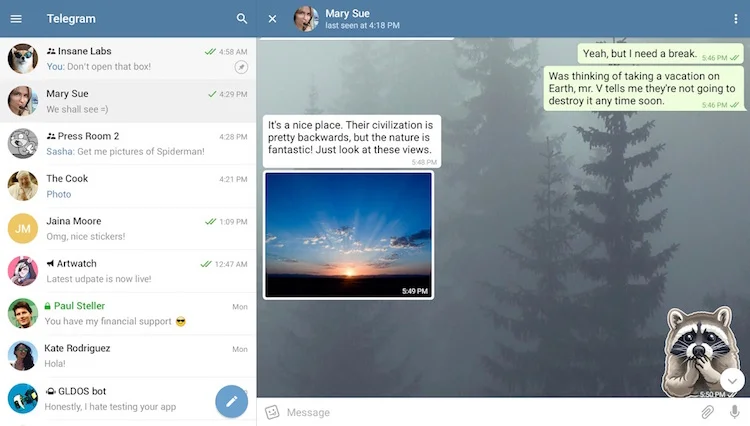 Telegram was launched by two Russian entrepreneurs Nikolai and Pavel Durov in 2013, who had previously founded the popular social network VK. Telegram supports all the basic features that any instant messaging platform should have, including text, image, videos and documents and a number of third party bots that often have AI features.
You can send messages in secret mode. In so-called "secret chats," conversations are encrypted with their own encryption service known as MTProto. Unlike its basic cloud-based messaging, conversations done within secret chat use end to end encryption and store nothing in their cloud servers. The secret chat facility is not available for channels or Telegram groups.
Read: 15 Exciting Features of Telegram Messenger App
Many cryptography experts have, however, expressed their concerns over its MTProto encryption scheme, which, according to them is an unproven technology and might be vulnerable to security bugs. The telegram has also been criticized for saving all messages, media and other data insecurely in their cloud.