WordPress is one of the highly customizable platforms that lets you mold its themes and plugins according to your needs. To do this, one needs to have programming knowledge. But not everyone is a coder. That's the reason there are hundreds of theme generators and framework available on the Internet.
Not only beginners, but professional developers are moving towards theme generator and framework based approach because it not only reduces the future workload but also offers them a strong foundation to create new themes regularly with slight modifications.
Not all theme generators are worth trying. Believe us, most of the framework out there are nothing more than a garbage pack. They would lead you nowhere, except wasting your time.
Selecting a worthwhile tool would not only make your design look more appealing, but it would also enhance your brand value. To help you get started, we have compiled some of the best WordPress theme generators and also frameworks that will help you design your own beautiful WordPress theme.
20. WPTheme Generator
Price: Starts at $29 | Free version available
This is an HTML/CSS and WordPress theme generator that allows you to build a wide range of themes, from arts to corporate, from minimalist to maximalist, and much more. To get started, they give you access to over 300 predesigned responsive themes and 1000 predesigned elements.
You are free to edit or combine them and change layout positions as you wish. Save your theme when you are done. They always update their full-featured framework as per the latest WordPress version.
19. Wonderflux
Price: Free
Wonderflux is an open-source, responsive theme framework developed for creating highly sophisticated, custom WordPress themes. It is integrated with flexible layout options and simple admin options to reconfigure your site the way you want. Also, there is a set of over 100 Hooks to embed almost any type of component and code into your theme.
18. Unyson
Price: Free
Unyson is a free plugin that has all features and components of the best WordPress template frameworks. It comes with a drag-drop page builder to let you break free from the constraints of the WordPress page/post editor and build some unique layouts.
There is a slideshow tool along with numerous predesigned sliders that make integrating interactive pictures and videos easy. Also, it has a mega-menu tool to upgrade the navigation areas of the website, portfolio tool for displaying your content, and much more.
17. Themosis Framework
Price: Free
Themosis is a custom WordPress stack that provides an object development structure and is bundled with helper classes built on the top of widely used PHP packages like Symfony and Illuminate. Users need to have some coding knowledge to work on this framework. This might be a disadvantage, but the framework gives options to build templates using pure PHP – the Twig engine or the Blade engine.
16. Hybrid Core
Price: Free
Hybrid Core is the dark horse when it comes to WordPress theme frameworks. It allows you to create themes with complex functionality without too much coding. However, if you don't want to write lines by yourself, you can add pre-coded features in your themes.
Structured data, page performance, and user experience are the three main key factor that defines your website – Hybrid Core covers them all.
15. Theme.works
Price: Starts at $79
Theme.works comes with a design tool that lets you choose among a wide range of headers, slideshows, portfolios, forms, footer, and much more. There are hundreds of different design combinations you can create (each in less than a minute) by simply dragging and dropping the elements. You can then customize things like colors, fonts, backgrounds, header images, menu, and typography.
14. Runaway
Price: Free
Runaway is an independent framework, child-theme generator meant to facilitate the development of WordPress themes. It comes with group theme options, drag-drop, and click-and-pick controls. You can generate custom input types for specific functionalities and even add new functions (as extensions) to its modular structure within a single click.
13. iThemes Builder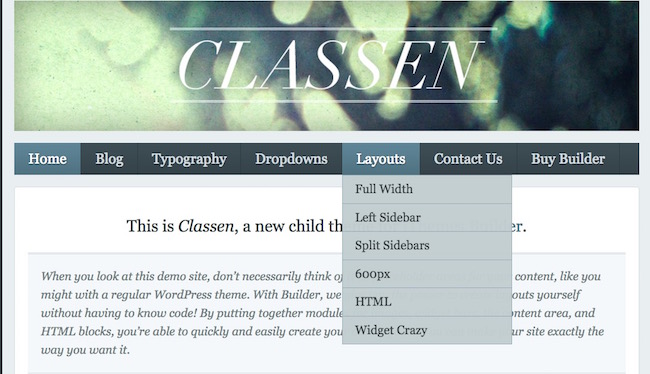 Price: Starts at $80
With iThemes Builder, you can create WordPress sites quickly and easily by making your own layouts. You can select from the building blocks of a predesigned website by inserting elements like content are, header, images, navigation, sidebar, footer and more. There are tons of themes to give you an idea about typography, structure and suitable color palettes. Furthermore, blocks are special functionality add-ons for particular contents.
12. Cherry Framework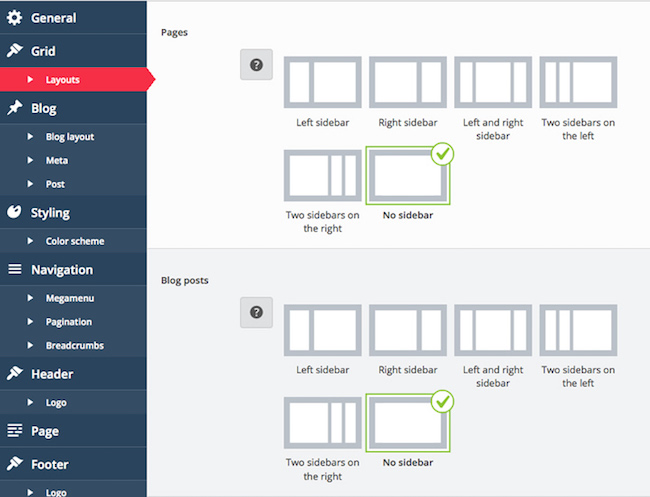 Price: Free
Powered by Bootstrap, Cherry framework is a flexible module system for multiple website categories. Unlike other frameworks, it lets you switch off all unnecessary options so that nothing will distract your attention. It's an open-source tool that supports multiple shortcode variations, static area builder, responsive design and various 3rd party plugins.
11. Themify Flow
Price: Free
Themify Flow is a framework that helps you create responsive themes by simply dropping in the layout modules and configuring the options. It gives you complete control of styling for every element on your site using the Styling panel, which displays the live preview of the design side-by-side. Design as many templates as you want, each template can have its own version of header, sidebar, and footer.
10. Gantry
Price: Free
Gantry comes with a powerful yet easy-to-use layout manager that ensures the controlling layout is a highly visual experience. Based on a responsive grid system, this lightweight framework supports LESS and SCSS. Some of its features, like YAML-based configuration, off-canvas panel, powerful inheritance capabilities, mega-menu support, and built-in picker of icons, images and fonts are worth mentioning.
9. Ultimatum
Price: Starts at $55
Ultimatum is a flexible WordPress Theme builder that lets you use any widget by just dragging and dropping them to your desired location in the layout. Its CSS editors allow you to define styling with ease, by filling the forms and adjusting the settings. Moreover, it supports Bootstrap for crafting themes and mobile web apps.
8. Roots
Price: Free
Roots provides an end-to-end product lineup that takes care of everything about WordPress development. It offers 3 different but interrelated products. One of them is Sage – a starter theme that lets you create better themes faster with enhanced development tools. The tool is recommended for developers only, as it involves writing some lines of codes.
7. Headway
Price: Starts at $89
Headway is a simple, drag-drop WordPress layout builder that allows you to control almost every element of a theme's design, including layout, color, fonts, and typography. This isn't only built for non-coders; developers can take advantage of the live CSS editor, create child themes and custom block types. Developers can even sell their custom blocks in the Headway Marketplace.
6. TemplateToaster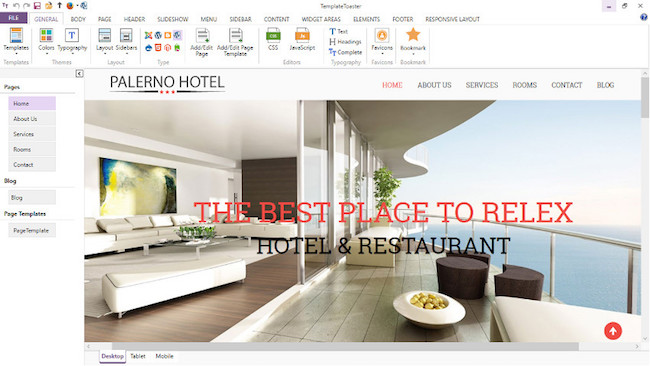 Price: Starts at $49 | Free trial available
TemplateToaster provides advance WordPress Theme design options like custom widget area design, custom page template design, using a Canvas where you can easily hatch designs by dragging and dropping elements. There are hundreds of color schemes, stock images, lock, graphics, menu, and fonts to choose from. You can try this tool by downloading the free trial.
5. Cornerstone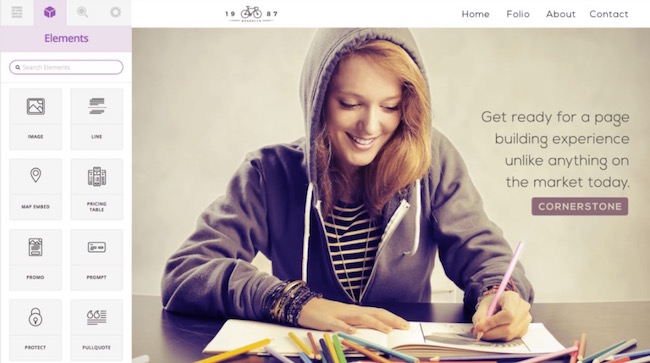 Price: $39
Conerstone is one of the most versatile page builders that works flawlessly on both pages and posts in WordPress. Every pixel in Cornerstone is thoroughly laid out to make a simple two-sided interface – the work area and the preview area. The work area allows you to edit text on the fly, fine-tune and control the parameters of almost all elements.
4. PageLines
Price: Starts at $59.95 | Free version available
PageLines is the easiest way to create and customize WordPress sites. It comes as a WordPress plugin that integrates seamlessly without breaking any code. It supports responsive design and a huge library of backgrounds, images, fonts and third party script integration. The premium version gives you access to all professional-grade extensions, support forums and other services for web professionals.
3. Genesis Framework
Price: Starts at $59.95
Genesis framework comes with unlimited support and theme options, well-documented support system, hundreds of stunning child themes and well-optimized search engine-friendly code. It strikes the best balance between power and affordability.
The tool is recommended for intermediate or advanced developers who want a trusted platform on which they can create new child themes and sell them. Furthermore, they have a large active community of developers, so you can always turn to for advice when you get stuck.
Read: 25 Best WordPress Cheat Sheet for Developers
2. Divi Builder
Divi is a fast and intuitive front end editor for building WordPress sites. It makes each element customizable and syncs global items across multiple pages. The tool has 46 different content elements. Mix, alter, match and create anything you can imagine. New rows and columns types fit together automatically. You can jump-start your work by using one of the 20+ pre-designed layouts.
1. Themify Builder
Price: Starts at $39
The Themify Builder is a powerful yet easy-to-use page design for WordPress. It helps you design any layout that you can image, using the drag-drop interface and watch it side-by-side as you build in a live preview panel. To help you get started, they have included over 40 professional designs. Import a layout and modify each element the way you want.