Founded in 2006, Yeti has gained a reputation for manufacturing high-quality outdoor products such as soft coolers, vacuum-insulated drinkware, ice chests, and related accessories.
Today, the company generates more than $1.6 billion in annual revenue. It has 700+ employees, and the revenue per employee ratio is about $2.27 million.
But what makes Yeti so successful?
Yeti products are known for their exceptional quality and durability. The company uses innovative design elements and rigorous manufacturing processes to develop reliable products.
Yeti coolers, for example, are built using high-quality materials and roto-molding technology, which makes them robust and capable of withstanding harsh outdoor conditions.
Their products are usually priced at a premium compared to some competitors. This premium pricing strategy has worked in their favor. They have also developed partnerships with numerous retailers (both online and offline), expanding their reach and availability to consumers.
Yeti has built strong brand value over the past few years, associating its products with outdoor adventures. Their products, especially drinkware and hard coolers, are quite popular among campers, hunters, fishermen, and other outdoor enthusiasts.
While Yeti is a big brand, its product range seems limited. Most of its products are priced higher than similar items available in the market. This makes Yeti less attractive to consumers who are mindful of their budget.
Luckily, Yeti is not the sole player in the market. A number of good companies are competing for their own share of the spotlight.
Let's take a look at the top Yeti competitors that are shaping the outdoor product industry and giving customers an array of options to consider.
9. Bison Coolers

Founded in 2011
Headquarters: Fort Worth, Texas, United States
American-made coolers for outdoor enthusiasts
While Bison Coolers makes numerous outdoor products (including drinkware, bags, and chairs), it is known for producing high-quality coolers at reasonable prices. These coolers are made with high-density polyethylene plastic and insulated with a thick foam layer.
Their flagship models can keep ice for up to 5 days in ideal conditions. They are very durable and capable of withstanding rigorous environments. They are also resistant to scratches, dents, and ultraviolet rays.
The company gives a lot of importance to customization. It offers options for customizing appearance the appearance of coolers, water bottles, growlers, bags, and hats. This can be appealing to customers who want a personalized touch.
Their product lineup covers a price spectrum, starting as low as $20 (for 12 oz stainless steel drinkware) and reaching up to $600 (for a 125 QT cooler).
8. Cabela's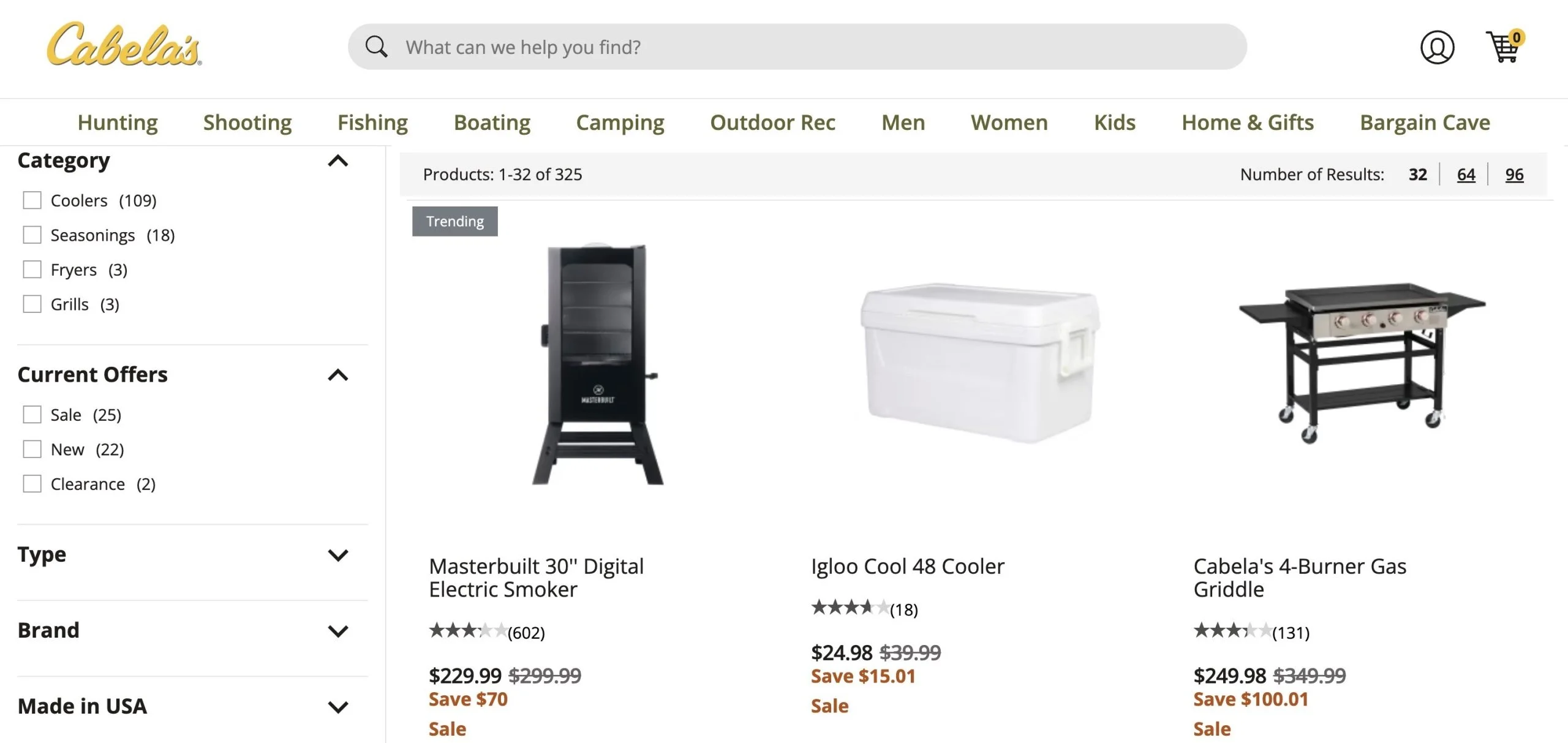 Founded in 1961
Headquarters: Sidney, Nebraska, United States
Outdoor gear and equipment retailer
Cabela's specializes in camping, boating, fishing, hunting, and other outdoor recreation merchandise.
While the company has more than 165 stores in the United States and Canada, it also operates an online store with a huge catalog. It sells various outdoor products, including coolers, camping equipment, firearms, apparel, and hunting and fishing gear. It also has multiple specialty departments like the taxidermy department and wildlife and nature displays.
As per customers' reviews, Cabela's offers great value for money. Their prices are competitive and often available at discounts.
In 2017, Cabela's was acquired by a major outdoor retail company, Bass Pro Shops. The merger formed one of the biggest outdoor retail conglomerates in the United States.
7. Arctic Zone
Founded in 2005
Headquarters: Chicago, Illinois, United States
Creates innovative insulated products
Arctic Zone specializes in designing and manufacturing soft-sided insulated products, such as lunch bags, coolers, drinkware, and other containers built to keep foods and drinks hot or cold.
The company has a rich history of being the first to bring new and exciting innovations to the world of soft-sided insulated products. A few notable "firsts" include
Removable hard plastic liner
Collapsible rolling coolers
Zipperless coolers with hard-liners
Titan Deep Freeze high-performance coolers
Dual-compartment lunch bags
Compared to other premium brands, Arctic Zone products offer effective insulation performance at lower costs. They are designed to be convenient to use, with features like shoulder straps and leak-proof zippers.
Moreover, the company constantly updates its products' designs and features to meet customers' evolving needs while maintaining its commitment to quality and innovation.
6. Orca Coolers
Founded in 2012
Headquarters: Nashville, Tennessee, United States
High-performance roto-molded coolers
Orca Coolers manufactures rugged, high-performance coolers that can maintain low temperatures for extended periods.
These coolers are made using the roto-molding manufacturing process, which involves melting plastic inside a rotating model to create a seamless, one-piece construction. It results in a product with exceptional durability and insulation properties.
The heart of Ocra's product efficiency lies in its insulation. They are usually lined with high-quality polyurethane foam insulation, which helps minimize temperature transfer (and thus, contents inside the cooler remain unaffected by external heat/cold).
They come in various sizes, from 20 quarts to 140 quarts, and offer many useful features, such as a drain plug and a dry storage compartment.
Moreover, Orca's products are highly customizable. You can choose from multiple colors and even add custom text, logos, or graphics to create a cooler that reflects your unique style.
These features and customization options make Orca Cooler a favorite choice for outdoor enthusiasts, adventurers, and professionals.
5. Pelican
Founded in 1976
Headquarters: Torrance, California, United States
High-performance protective cases and coolers
Pelican Products Inc. manufactures high-performance protective cases, advanced portable lighting systems, and rugged outdoor products.
Their protective cases are engineered to safeguard delicate and valuable equipment. They are designed to be dustproof and waterproof, often meeting stringent IP (Ingress Protection) ratings.
Pelican coolers are rugged and designed to keep contents cold/hot for extended periods. Their heavy-duty backpacks, duffel bags, laptop cases, and other travel accessories can withstand the rigors of outdoor and professional use.
They also produce flashlights, lanterns, headlamps, and specialized lighting systems for different applications like search and rescue or industrial use.
Unlike other similar brands, Pelican has a strong global presence. They have manufacturing facilities and distribution centers worldwide, allowing them to efficiently serve customers on a global scale.
As for financial performance, the company is growing fast. In 2022, it generated $460 million in annual revenue. Given its workforce of approximately 1,300 employees, the company's revenue-per-employee ratio stands at $353,846.
4. Hydro Flask
Founded in 2009
Headquarters: Bend, Oregon, United States
Stylish and insulated water bottles
Hydro Flask is renowned for its insulated water bottles, beverage containers, and related accessories. It gained popularity for its commitment to creating innovative, high-quality products that can keep beverages hot or cold for extended periods (for up to 24 hours).
The company has developed its own insulation technology called TempShield. It involves double-wall vacuum insulation to maintain the temperature of beverages. It also prevents condensation on the exterior of the container, keeping your hands dry.
Hydro Flask utilizes eco-friendly materials and processes to minimize their impact on the Earth. Their products are built to be reusable, promoting a reduction in single-use plastic consumption.
In 2016, Hydro Flask was acquired by a global consumer product company, Helen of Troy Limited. The acquisition helped the company expand its product line and reach a wider audience.
Today, it generates more than $14 million in annual revenue.
3. RTIC Outdoors

Founded in 2009
Headquarters: Bend, Oregon, United States
Affordable and rugged coolers
RTIC, short for "Return To Ice", was founded by twin brothers John and Jim Jacobsen with the aim to create products that rival premium brands at a more affordable price point.
Today, RTIC prides itself on creating high-quality coolers, drinkware, bags, and related accessories. All are designed to be high-quality, durable, and affordable. These products come in different colors and sizes, catering to various customers' preferences and styles.
The company emphasizes environmental sustainability and uses recycled materials in its products. It's a certified B Corporation, which means it meets high standards of social and environmental performance, accountability, and transparency.
RTIC actively engages with its customers and followers through social media and events. This engagement strategy cultivates a strong sense of camaraderie among its customers, fostering a feeling of inclusiveness. It also encourages users to share their outdoor experiences involving RTIC products.
2. Igloo

Founded in 1947
Headquarters: Katy, Texas, United States
Classic and versatile coolers for all occasions
Igloo has a long history of manufacturing insulated containers, drinkware, and outdoor equipment. The name "Igloo" reflects the company's focus on manufacturing insulated products that can maintain temperatures (similar to how an igloo structure provides thermal insulation).
The company has introduced several innovative features in its products, including advanced cooling systems and enhanced insulation technologies. For example, they have incorporated advanced foams with higher insulating properties that effectively trap heat or cold within coolers.
Igloo has also integrated thermal reflective lining into some of its products to bounce back radiant heat and preserve internal temperatures for a longer duration.
Their products, especially hard and soft coolers, are known for their durability and affordability. They are sold in over 100 countries around the world.
1. Coleman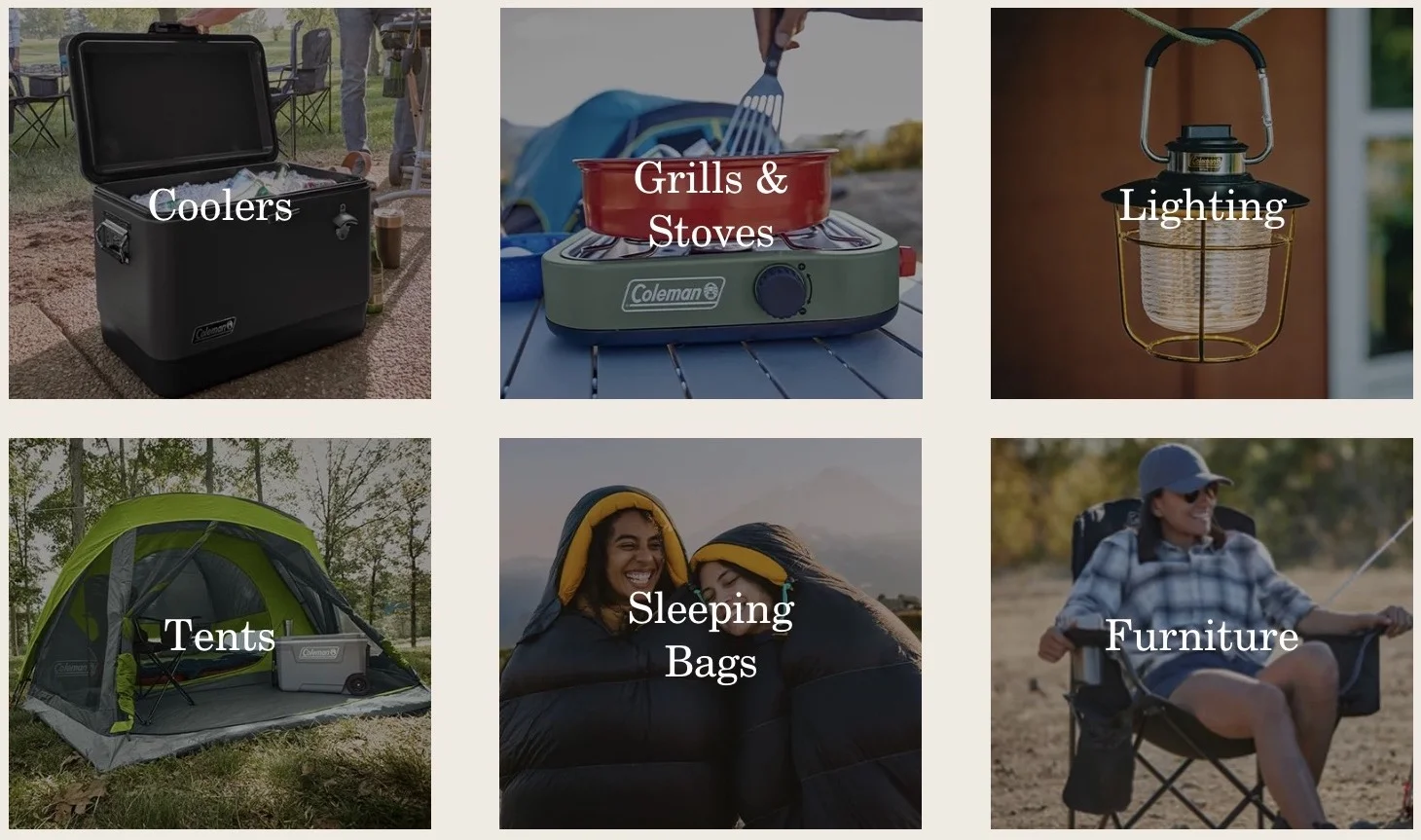 Founded in 1900
Headquarters: Katy, Texas, United States
Reliable outdoor gear and camping equipment
Coleman is a big brand with approximately 3,500 employees and 12+ decades of operating history. It initially started as a manufacturer of gasoline lanterns and gradually gained recognition for its innovative approach to outdoor lighting.
Today, the company produces camping gear, outdoor cooking equipment, coolers, lanterns, flashlights, camping chairs, shelters, and other outdoor accessories.
Coleman's legacy is rooted in its innovations in camping equipment and outdoor lighting solutions. One of its most iconic innovations is the Instant Tent, which revolutionized tent setup with its quick and simple assembly design.
The brand has been successful in creating a strong sense of community among outdoor enthusiasts. Many people have fond memories of using Coleman products during camping trips and outdoor activities.
Unlike Yeti, which focuses more on high-end coolers and drinkware, Coleman has a comprehensive product line to cater to a broad range of outdoor activities and budgets. Their products appeal to a diverse customer base, including casual campers and budget-conscious outdoor enthusiasts.
In terms of sales, its estimated annual revenue is $900 million, and the revenue per employee ratio is $257,000.
Other Equally Good Yeti Competitors
10. K2 Coolers
Founded in 2011
Headquarters: New Iberia, Louisiana, United States
K2 Coolers produces roto-molded coolers, drinkware, and outdoor accessories. These products are made in the United States with high-quality materials, and they come in various sizes (from 20 quarts to 140 quarts) to suit different needs.
Their flagship products are roto-molded coolers, some of which feature wheels, a drain plug, and a dry storage compartment.
While K2 coolers are designed to keep contents hot or colder for longer durations, their drinkware products (like bottles, tumblers, and cups) are often equipped with features like vacuum insulation and spill-resistant lids.
The company also produces outdoor accessories, such as cooler dividers and tie-down kits, to improve the usability and organization of K2 coolers. However, these accessories account for only a tiny portion of their annual revenue.
11. Corkcicle
Founded in 2011
Headquarters: Orlando, Florida, United States
Corkcicle gained popularity for its unique approach to designing products that combine functionality, aesthetics, and sustainability. It is now a well-known brand for vacuum-insulated containers, tumblers, and drinkware.
The company also manufactures related accessories like tumbler straws and ice molds, and has a line of apparel and home goods.
These products are sold in 100+ countries through multiple channels, including the company's own website, Amazon, and other retailers. They have also partnered with several high-profile brands, such as Williams-Sonoma, Target, and Bed Bath & Beyond.
As of 2023, Corkcicle boasts over 35 granted patents across a range of countries, including the United States, the United Kingdom, China, Japan, Germany, France, South Korea, and Australia.
12. Blackstone Products
Founded in 2008
Headquarters: Logan, Utah, United States
Blackstone Products manufactures high-quality griddles and other outdoor cooking equipment. Their griddles are known for their cooking performance, versatility, and durability.
Most of these griddles feature a flat, smooth cooking surface that allows for even heat distribution and precise control over cooking temperatures. They are commonly used for preparing different meals, from breakfast items (eggs and pancakes) to lunch and dinner (burgers, vegetables, and more).
These griddles come in different sizes and configurations and are often equipped with multiple burners, adjustable heat zones, and additional features to enhance the cooking experience.
The company has partnered with backyard masters, pro chefs, and the everyday home cook to craft products that meet their highest standards.
You can find these products on Amazon, Walmart, The Home Depot, Wayfair, Ace Hardware, Target, BJs, RCWilley, TrueValue, and other fine retailers in the United States.
13. Engel Coolers
Founded in 1962
Headquarters: Jupiter, Florida, United States
Engel Coolers describes itself as a "gold standard in high performance, durable, and affordable coolers." It specializes in designing and manufacturing roto-molded coolers that can keep items hot or cold for extended periods in various outdoor and demanding environments.
Since these coolers are built using roto-molding technology, they have a seamless, rugged structure and can effectively withstand hard conditions, impacts, and ultraviolet rays exposure.
They come in many different sizes to cater to various customers' needs, from small personal containers to large ice chests suitable for longer trips.
Besides coolers, the company also produces accessories like drinkware, cooler dividers, dry boxes, and baskets to complement its primary product line.
As for distribution channels, Engel products are available for purchase through their official website, online marketplaces, authorized dealers, and outdoor retailers.
14. Stanley
Founded in 1913
Headquarters: Seattle, Washington, United States
Stanley has a rich 110+ year history. It gained fame for developing the all-steel vacuum bottle, a product that significantly improved beverage insulation and became an iconic piece of outdoor gear.
The company produces tumblers, mugs, flasks, thermoses, and water bottles of different sizes and styles. From large thermoses to compact travel mugs, their product range is extensive.
Stanley's products have been used by generations of hikers, campers, adventurers, and outdoor enthusiasts. For example, the classic Stanley vacuum bottle is one of their best-selling products.
15. Tervis
Founded in 1946
Headquarters: Venice, Florida, United States
The name "Tervis" is a combination of two words: "temperatures" and "versatility". It's a third-generation American-owned and -operated firm known for manufacturing a range of drinkware.
Their products are made with high-quality materials like acrylic and stainless steel. Besides insulation performance and durability, Tervis's major selling point is its customization options.
You can choose from various patterns, themes, and designs to personalize your drinkware. This has made Tervis products a popular choice for gifts, sports enthusiasts, and individuals seeking to showcase their unique personal preferences.
With more than $115 million of annual revenue, Tervis is one the leading players in the drinkware market. The company has a strong balance sheet and is well-positioned for continued growth in the coming years.
16. Grizzly Coolers
Founded in 2002
Headquarters: Decorah, Iowa
As the name suggests, Grizzly Coolers primarily focuses on creating heavy-duty coolers for outdoor enthusiasts, campers, hunters, and anglers.
Most of their coolers feature an airtight gasket seal (that helps maintain a consistent internal temperature) and non-slip rubber feet (that prevent containers from sliding and keep them securely in place).
While rotationally molded coolers are the core of the company's lineup, it also manufactures drinkware and related accessories like ice dividers, dry goods trays, baskets, and replacement parts such as gaskets and latches.
Unlike the majority of other brands, Grizzly produces its heavy-duty coolers and outdoor gear domestically (in the United States).
17. RovR Products
Founded in 2016
Headquarters: Boulder, Colorado
RovR Products is dedicated to creating items that enhance outdoor experiences, particularly when it comes to keeping food and beverages cold during picnicking, camping, tailgating, or other outdoor activities.
Their main products are wheeled coolers and soft coolers, which come in different sizes to suit various needs, from personal use to larger group outings.
Wheeled coolers, for example, feature 9-inch all-terrain tires, a dry bin to organize goods, and a comfortable padded handle. They are available for purchase through the company's official website, authorized dealers, and select retail outlets.
Frequently Asked Question
Is Yeti a financially strong company?
Yes, Yeti is a stable company with a strong balance sheet. It generates an annual revenue of 1.6 billion and a gross profit of $700 million. The company is cash flow positive, and its total assets are worth over $1.07 billion.
Moreover, Yeti products are in high demand, especially among outdoor enthusiasts. This demand is unlikely to disappear anytime soon, as more and more people continue to engage in outdoor activities.
Are Yeti coolers really worth the investment?
While Yeti coolers have higher price tags compared to similar brands, many people consider them worth the investment for the following reasons:
They can withstand rough conditions because of their exceptional build quality
They have excellent insulation that keeps your food and drinks cold for extended periods
They often retain a good resale value due to their reputation
How does Yeti compare to other premium cooler brands like RTIC and Pelican?
Pelican, RTIC, and Yeti are all well-known premium cooler brands, each with its own strengths and target audience.
Although Yeti is often considered the benchmark for quality and performance, its products have a higher price tag. RTIC coolers offer a balance between performance and affordability. Pelican coolers, on the other hand, are known for their durability and exceptional insulation. Their heavy-duty coolers are preferred for extreme outdoor adventures.
Are there any eco-friendly alternatives to Yeti products for environmentally conscious consumers?
There are plenty of companies that cater to environmentally conscious consumers. The most notable ones are:
Hydro Flask

offers reusable stainless steel drinkware and coolers

Klean Kanteen

is committed to decreasing plastic waste and promoting eco-friendly practices

MiiR

is a certified B Corp that commits a portion of its revenue to social and environmental causes

Corkcicle

creates reusable stainless steel drinkware with an emphasis on style and sustainability

Kula Coolers

' products are made with recycled materials and insulated with plant-based foam
Why you can trust us?
We thoroughly analyzed over 25 competitors of Yeti that offer similar outdoor products and accessories. It took about 20 hours to do the complete research. Finally, we decided to shortlist 17 companies based on their unique selling points, product range, and market presence.
We DO NOT earn commission from any of the featured companies. Moreover, we have two independent editors who have no influence over our listing criteria or recommendations.
Read More