We have seen several advances in digital communication and artificial intelligence in the past decade. However, call centers staffed by human agents remain critical to building excellent customer service and gain customer trust.
According to the Statista report, the global contact center market was valued at $339 billion in 2019, and it is expected to reach $496 billion by 2027. While most large organizations have their own call center, they struggle to provide agents with the system they need to effectively assist customers.
For those organizations, guided agent scripting software can make all the difference when it comes to ensuring the highest level of customer experience.
Guided Agent Scripting software simplifies the business complexity through a well-defined business workflow logic and ensures the highest level of customer experience, all while maintaining regulatory compliance.
What exactly is Call Center Script, and what are its benefits? 
Call center scripts are pre-designed response guides that help agents efficiently interact with customers. They provide steps to troubleshoot typical issues, help representatives answer technical queries and protect the organization in case of legal-compliance issues.
The primary objective of any call center script is to assist representatives in providing correct information to customers and solving their problems as soon as possible. It can also help agents build rapport with customers.
While creating such scripts takes a lot of effort, it reduces the call resolution time, drops human errors, increases the quality of service, and builds a consistent omnichannel experience across platforms.
A good call center scripting software allows agents to assist customers quickly and provide accurate information in an easy-to-understand format. If customers are happy with your support, they are more likely to subscribe to your service or upgrade their current plans.
Below we have listed some of the best call center scripting tools that ensure your customers receive a decent quality of service, no matter who they speak with or when they call.
9. 8×8 Contact Center
Price: Starts at $87 per user per month
The Contact Center developed by 8×8 is a cloud-based call center specially designed for small companies. It makes it easy for businesses to establish a valuable connection between agents and customers.
It provides all essential call center functionalities, including interactive voice response (IVR), voice recording, and logging. An AI-powered virtual assistant delivers consistent and efficient support while reserving valuable agent resources for more high-payoff interactions.
Besides a standard call center system, the platform supports various interaction mediums like email, webchat, web callback, and voicemail. Agents can share their contact numbers with customers to solve long and complex queries.
Pros 
Intelligent call routing
Auto-attendant, music on hold, & voice mail
Integrations with all leading CRMs
Cons
Difficult to add/change virtual numbers
Substantial lag in call re-direct to mobile
The software uses 'skill-based routing' to assign interaction efficiently — it directs customers to agents with a suitable skill set, decreasing transfer as well as call-resolution time. Admin can monitor call operations in real-time and access historical data for metrics analysis.
8. VICIdial
Price: $400 per server per month plus the cost of minutes | Free trial available
VICIdial is an open-source contact center solution with a full-featured predictive dialer. In addition to inbound/outbound and blended phone calls, it can handle website chat and inbound email — all from a single screen.
You can either install the software on your computer or use the hosted service. It also provides a mobile application (for both Android and iOS phones), which displays certain popular real-time reports from the VICIdial contact center suite. The interface is available in 16 languages, with plenty of options to customize the agent screen.
Pros 
Three-Way calling within the agent application
Provides detailed reports to track agent efficiency
The community is extremely helpful and encouraging
Cons
UI looks outdated
It can get expensive, as you pay for minutes
The software provides more than 2,000 configuration options, including agent permissions and customization of distinct call flows. A few exclusive features are offered to all hosted clients for free:
Custom servers optimized for call centers
Agent audio soundboards
Cellphone number scrubbing
High-level data encryption
A single installation can process more than 2,000,000 calls per day, with over 500 agents handling internet communication and phone calls from customers. It is being used by over 14,000 businesses in over 100 countries around the world.
7. Zingtree
Price: $25 per user per month| 30-day trial available
Zingtree is an online tool for building interactive decision trees and troubleshooter, which helps companies provide quick and efficient customer support.
It works in a very simple way — you build a script and agents follow it to deliver accurate information in a timely manner. And the best thing is you don't need to have technical skills to build interactive scripts, no matter how complex they are.
These scripts will keep your agents on track during complicated chats or calls with easy-to-follow instructions. They make it easier for agents to figure out what to say and how to solve customers' problems in less time.
Pros 
Simple to build, maintain, and follow scripts
Integrates with a wide range of CRMs
Keeps agents on track during complicated calls
Cons
You cannot download trees as PDF or high-quality image
Could be time-consuming to set it all up
You can even create customer-facing decision trees that provide useful information without someone picking up the phone. These scripts can be inserted into a CRM or launched from a browser.
6. PhoneBurner
Price: Starts at $149 per user per month | Free trial available
PhoneBurner is a cloud-based platform that increases outbound sales performance and productivity. It merges power dialing with contact management, smart lead distribution, email tracking, detailed reporting to facilitate sales growth.
The software automates (or streamlines) tedious tasks to improve both the quality and quantity of live conversations. For example, it eliminates manual dialing, drops pre-recorded voicemails in one click (without letting you wait for the beep), tracks email engagement, and allows admins to intelligently distribute leads to sales representatives.
The platform is easy to use and highly customizable. Agents can start dialing from anywhere, with no special device. They can dial from local area codes, get dedicated inbound numbers, and transfer calls to other numbers using any phone or PhoneBurner's softphone.
Pros 
Automates time-consuming tasks
Smart lead distribution function for admins
Great user interface
Cons
Call numbers in the United States and Canada only
Quite expensive than other similar products
You can create custom reports to analyze how your agents are performing. Extract metrics that matter most so you can evaluate training needs, reward top performers, and take actions to increase your revenue.
5. Voiptime
Price: Starts at $45 per user per month
Voiptime is an all-in-one cloud contact center solution that helps small and medium-sized companies process leads more effectively and automate communication with customers.
It provides all the necessary information that agents need to have to answer even the most tricky questions. There is an option to select different scripts for processing inbound and outbound calls and web chats. Each case may have different blocks for carrying out certain tasks (knowledge base, poll, HTML iframe).
Agents can send messages during or after the call to remind customers of the order confirmation, agreed meeting, or anything else.
Voiptime has a built-in CRM, which can be opened in a separate script iFrame block. This helps agents view client data and order details during the conversation without juggling between tabs.
Pros 
Live agent monitoring
Three dialing modes: Progressive, Preview, Predictive
Construct IVR scripts to improve caller navigation
Cons
No mobile application
One account can have only one phone number
The software allows you to oversee your agents' work during the shift and trace the best-performing individuals and team KPIs (key performance indicators). You can also analyze data received from all customers to plan further collaboration and make more informed business decisions.
4. Freshcaller
Price: Free | Premium version starts at $15 per user per month | 21-day trial available
Freshcaller allows companies of all sizes to set up, launch, and manage their call center from within their Freshdesk accounts. It's an integrated phone channel for all Freshdesk users.
The software provides phone numbers in over 90 countries. It doesn't require any phone equipment and is extremely easy to operate. You can set-up your business call center in a couple of minutes and focus on increasing your revenue instead of worrying about the complexities of managing the call center.
Within each plan, the set of features are tailored to different user roles. For example, Agents have access to in-call functions (hold, transfer, mute, etc.), conferencing, call notes. Supervisors get access to live dashboard, reports, and service level monitoring. And admins can access IVRs, call queues, call recordings, and other advanced call metrics.
Pros 
Easy to set up
Comes with a sales module
Voicemails and Missed calls get automatically converted into tickets
Cons
No handset hardware support
Looks dated
Unlike traditional telephony systems, Freshcaller supports smart escalations (queue callback, smart answer voice bot, etc.), business and non-business hours routing, and holiday routing.
It also has a mobile application (both Android and iOS) that allows agents to attend calls on the go. Customers can use this app to create tickets, listen to recordings, and make call notes.
3. RingCentral Contact Center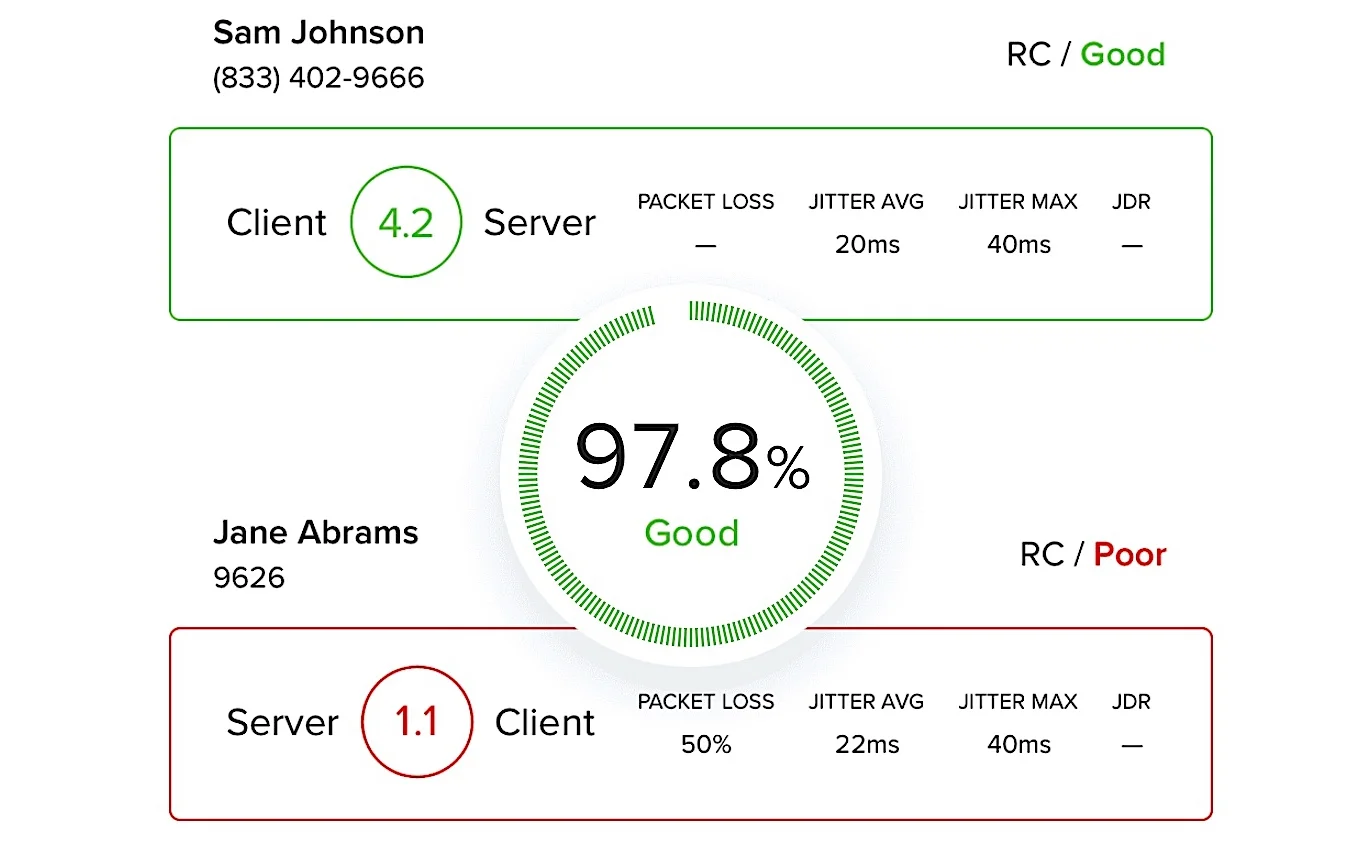 Real-time dashboard to proactively monitor call quality
Price: Contact sales for demo
This cloud-based contact center enables businesses to strengthen customer loyalty by drastically enhancing the overall call center experience. From click-to-dial to one-click video conferencing, everything is readily accessible via a single, easy-to-use platform that works across mobile devices and office sites.
With omnichannel functionality, RingCentral Contact Center allows you to provide service where it matters most to your customers. Your agent can start conversations on social media, email, chat app, or any other digital channel. Whether you have hard or softphones, your agents can quickly respond to customer questions.
In order to resolve issues faster, RingCentral Contact Center is equipped with AI digital routing technology, which can recognize 72 languages as well as speech intent, message types (private or public), text semantics, and email metadata, and route digital messages accordingly.
It also comes with Workforce Management functionality which automatically optimizes agent schedules to minimize idle time and maximize coverage so agents are not idle during quiet times and customers are never left unattended during peak times. 
Pros 
Voicemail- and data-driven routing
Omnichannel real-time and historical reporting
Pre-built CRM integrations to Salesforce, Microsoft, Zendesk
Cons
Call quality is not always up to the mark
Expensive for what it is
With an advanced reporting system, you can visualize the performance of your contact center, run root cause analysis, and slice and dice data to make informed business decisions.
2. Dialpad
Price: Starts at $15 per user per month | 14-day trial available
Dialpad comes with various advanced features that help you streamline your business communication and improve productivity. It is built entirely from the ground up on the Google cloud platform to provide unmatched flexibility, mobility, and security.
Its automatic call distributor (which utilizes routing protocols and IVR system) leads to answer instead of runarounds, positioning agents to succeed each time they pick up an inbound call.
The built-in voice intelligence technology uses natural language processing and voice recognition to provide instant recommendations and detailed post-call notes and transcripts. It detects customer sentiments, letting supervisors know when support or sales call takes a wrong path so they can intervene and improve call outcomes as necessary.
Pros 
Blocks spam calls
Voice Intelligence performs live sentiment analysis
Launch HD video calls right from the app
Cons
The voice-to-text is not always accurate
Sometimes two call windows pop up when making/receiving calls
For maximum productivity and end-user efficiency, Dialpad directly integrates with popular business-critical cloud apps, including Salesforce, G Suite, and Zendesk. 
1. Five9
Price: Starts at $100 per user per month
Five9 is the leading provider of cloud contact center platform, serving thousands of customers and helping small and medium-sized businesses transition from premise-based software to cloud. It increases contact center productivity without the capital expense and maintenance costs of premise-based systems.
The platform provides all features you need to run an effective inbound, outbound, or blended omnichannel contact center, including telephony, IVR, quality monitoring, real-time and historical dashboard, and CRM integrations.
It ensures that qualified staff is in place at the right time during the shift to quickly and effectively handle your customers. You can interact with customers over their preferred channel (SMS, chat, email, mobile, voice, video, or social) and move them seamlessly between channels.
Read: 9 Helpdesk Software For Small Business
The software generates over 120 standard reports, including both historical and real-time reporting options. The allows you to easily monitor the contact center, manage agents and queues, and respond immediately to changing scenarios.
Pros 
Omnichannel customer service
Excellent reporting and data download features
Full and feature-rich set of Sales optimization capabilities
Call recording & real-time quality monitoring tools
Cons
Backend and admin settings are not as intuitive as the frontend user experience
Its integration functionality helps you get the most from all of your apps and systems: you can leverage your current systems using cloud APIs, web connectors, and pre-designed CRM connectors.