Millions of people use Evernote for note taking, organizing and archiving. In 2016, Evernote made some big changes in their pricing plan, limiting the free (basic) account to just two devices, and raising the price of premium account.
Obviously this was not a great news for users who rely too much on Evernote to gather resource for projects, and keep track of thoughts and ideas throughout the day.
If you don't want to spend that much or your requirements aren't fulfilled by Evernote, you can try some other similar apps. Fortunately, there are tons of alternatives on the Internet, but choosing the best one might give you a headache. To make this easy for you, we've selected some of the best Evernote alternatives with impressive power and flexibility. Choose wisely.
18. Org-mode
Org-mode is a note taking tool for Emacs, geared towards keeping todo lists, authoring documents and planning projects, all in a text format.
In Org-mode, you can easily navigate through headlines, fold/unfold sections or subsections, cloak in/out a task, and build custom tables. Even with big .org flies and thousands of tasks, it's easy to focus on what you need to do for each context. The inbuilt agenda views shows the deadline schedule of each task, TODO lists and stuck projects.
17. Thinkery
Price: Free
Platform: Web-based, iOS and Android
Thinkery deserves every bit of praise it gets. It's a truly lightweight tool for taking and organizing rich-text notes and Todos. It features powerful search option, customizable tags and a beautiful text editor.
You can either use the tool separately (or offline), or sync other devices. The web version works well, but you might find some errors in apps.
16. Falcon
Price: $4.99
Platform: iOS and Mac
Falcon is a simple, markdown based note-taking application that allows you to write short notes, journals and research in a plain text format, and read them in clean and beautiful previews. If you like, you can add pictures, and search notes by content or tags with notebooks.
The app comes with two themes, Light and Dark (can be modified on Mac). For coders, preview panel supports code-highlighting for multiple programming languages.
15. Turtl
Price: Free
Platform: Mac, Windows, Linux, Chrome extension and Firefox add-on
Turtl gives you a private space to keep your notes, bookmarks, logs, images, passwords, documents and anything else you want to keep safe. You can share the specific files with others and everything else will stay fully private.
Turtl's tagging and filtering features make it a perfect tool for personal/professional projects. The design is quite unconventional, it might take you a while to grow into its structure.
14. Laverna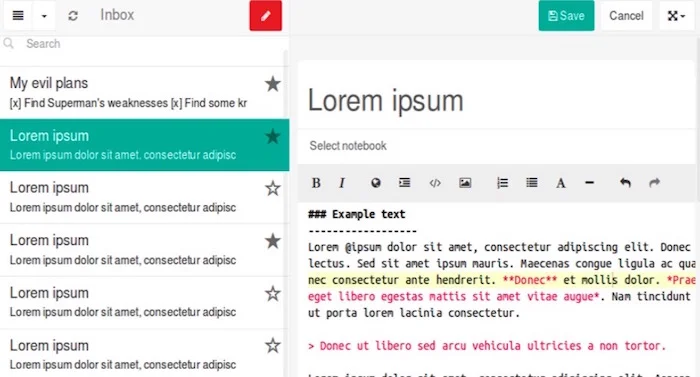 Price: Free
Platform: Web-based, Mac, Windows and Linux
Laverna is an open source note taking application built on JavaScript. It comes with Markdown editor and encryption support. There are three modes of editing – Preview, Distraction free and Normal mode. If you prefer to stay anonymous, don't register, simply open the app and start writing.
The tool saves all your notes in browser's database, like localStorage and indexedDB, so only you've access to them. You can even sync it with cloud storage services, including Dropbox and RemoteStorage.
13. Nuclino
Price: Starts at $5 per month | Free trial available
Platform: Web-based
Nuclino is a simple, real-time collaboration platform for organizing and sharing knowledge in teams. You can use inbuilt board, graph and tree-view to explore and organize your knowledge visually.
The app gives you minimal, distraction-free editor. Reading and writing modes are combined, and supports all essential hotkeys. Overall, it's great for meeting notes, product requirement, docs and decisions.
12. Quip
Price: $30 per month (team of 5) | Free trial available
Platform: Web-based, Mac, Windows, iOS and Android
Quip is for those who need powerful workflow collaboration and organize their work from any device. It is great for launching initiatives, creating documents and spreadsheets, and working closely with teammates.
To make your communication efficient, Quip offers one-to-one messaging service and push notifications alongside your work. Furthermore, you can easily link to any document, spreadsheet, folder or chat room for easy access.
11. InKredible
Price: Free
Platform: iOS and Android
Inkredible aims to make handwriting experience on tablets as good as pen on paper. It is designed for people who prefer note-taking on a tablet with a stylus or finger, so if you are less impressed with Evernote's text-centered interface and want something bit more handmade, try InKredible.
The app features realistic inking effect, automatic palm rejection without any special pens or settings and provides minimalistic and distraction-free handwriting experience.
10. Write
Price: $9.99
Platform: Mac and iOS
Text formatting, passcode lock, tags, you name it, the Write app has everything Evernote has, plus, live word counts, distraction-free writing, and syntax highlighting.
Since the tool is packed with optimized scrolling performance, you can easily work on big documents. The other useful features is "document statistics" that provides you with valuable stats about the document you're currently working on. This includes total number of sentences, characters and even the reading speed.
9. TagSpaces
Price: Free | $45 per year
Platform: Web-based, iOS, Android, Mac, Windows and Linux
TagSpaces helps you organize your ebooks, pictures, music, notes and invoices in the same way on all platforms. With tags, you can do better research and manage personal projects. It runs completely offline on your PC, smartphone or tablet and doesn't require online registration. To sync your data between devices, you can use cloud services like Dropbox and Nextcloud.
You can tag files by a simple drag-drop action and assign different colors to each tag. Furthermore, with the web clipper (for Chrome) you can save webpages in HTML and MHTML formats for later use.
8. CintaNotes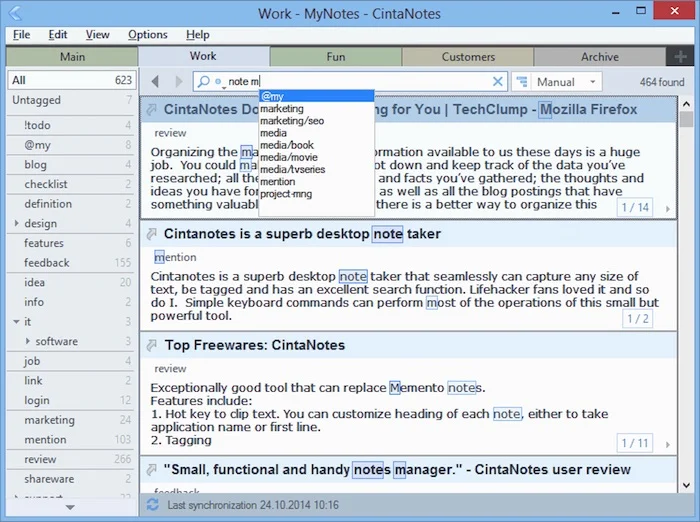 Price: Free | $39
Platform: Windows
With CintaNotes, you can quickly capture any text from the webpage or any app by highlighting the text you want to keep. Use tags to organize notes into a tree-like structure and if you don't want to waste your time on tagging things, don't worry, CintaNotes has Rules for automatically organizing notes by tagging or moving them between sections based on user-defined conditions.
Although it is available as a portable app so you don't have to install it, there's no online version. Moreover, there is no limit on the number of devices though, so if you are a dedicated Windows user, there will be no obstacle.
7. Nimbus Note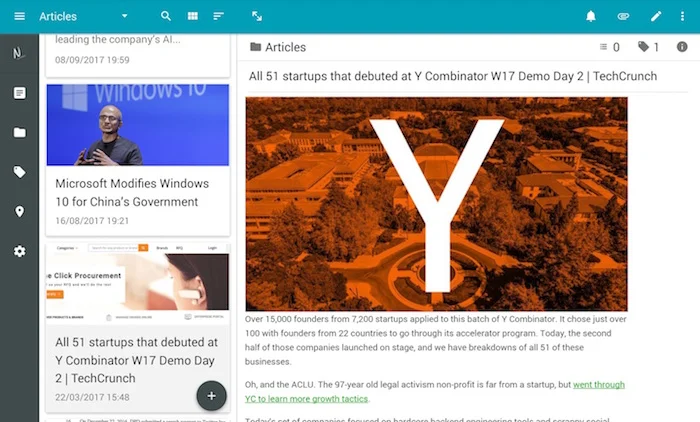 Price: Free
Platform: Web-based, Windows, iOS and Android
Nimbus Note lets you create and edit notes, customize screenshots, save webpages and instantly share them with your friends and colleagues. It's a solid contender, not just because it looks better, but it does about everything Evernote does, except workflow collaboration.
The app gives you complete control over your workflow – you can use Geo-tag notes on the map, add to-do lists, use time, location and phone reminders to be timely reminded about your tasks. So if you are often taking notes away from work and want something simple, it's for you.
6. Dropbox Paper
Price: Free | Starts at $8.25 per month
Platform: Web-based, iOS and Android
Dropbox Paper is the new kid in the market and it's giving tough competetion to big players, including Google Docs and Microsoft OneNote. It is made for collaboration with real time editing and comments.
Technically speaking, it's an online word processor, more like Evernote when it comes to handling content. Your content can really flow from check boxes to texts to pictures to code snippets, and there is no real restriction on the way you can stack elements together. Even layouts are handled automatically. The free version is limited to 2 GB of storage.
5. Google Keep
Price: Free
Platform: Web-based, iOS, Android and Chrome extension
If you prefer the 'sticky notes' style over 'texts on page', then Google Keep is the perfect option. It is fantastic for mobile note-taking, but if you like dedicated PC application, this is absolutely not for you.
With Google Keep, you can add notes, pictures, lists and audio. For instance, if you need to remember to pick up some groceries, simply set a location based reminder, and the app will automatically pull up your grocery list when you reach the store. And because it runs on Google server, you don't need to worry about security.
4. Box Notes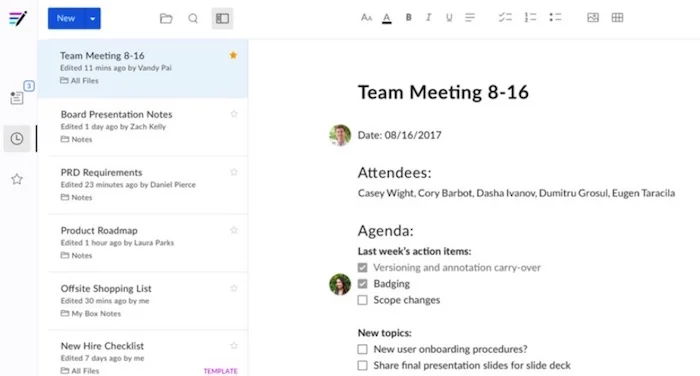 Price: Free | Starts at $5 per month
Platform: Web-based, Mac and Windows
If your project depends on too much collaborative workflow but you're not completely satisfied with Evernote's collaborative features, try Box Notes. It is designed for taking notes, organizing business reviews and writing newsletter from any device, and securely share it with anyone.
The tool supports up to 20 simultaneous editors working together, and you can add comment for particular users so they automatically get notified. The free version gets you only 10 GB of storage.
3. Microsoft OneNote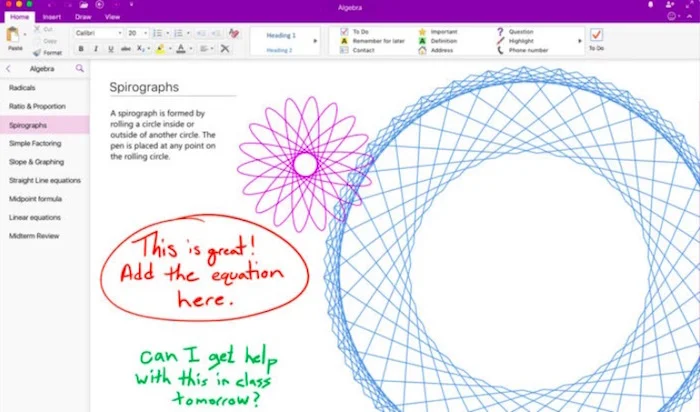 Price: Free
Platform: Web-based, iOS, Android, Mac, Windows and Chromebook
As Microsoft defines "Idea takes shape in OneNote" – a superb product as far as you are concerned about availability of notes in all your devices. It allows you to draw, write or type with the free form feel of pan to paper. You can even take handwritten notes and convert them to typed text later.
The tool is exceptionally good at highlighting what is important and express ideas with shapes and colors. And yes, don't forget to tag your notes so you can easily get back to them later.
Read: 15 Pomodoro Technique Apps To Increase Your Productivity
2. Simplenote
Price: Free
Platform: Web-based, iOS, Android, Mac, Windows and Linux
Simplenote lives up to its name – light, clean and simplest way to keep notes. One thing that makes it different is developers have not wasted any energy making useless functions that you will never use. All they have created is a streamlined note taking application that's quick organizing and pleasing to the eye.
Notes are organized using customized tags. However, you can pin special notes to make them stay at the top of the list. There is a Markdown mode for formatting, and it takes periodic snapshots so your work doesn't get erased, even if you forget to save.
1. Bear
Price: $1.49 per month | Free basic version
Platform: Web-based, iOS and Mac
Bear is a beautiful, flexible app that allows you to link nodes to each other to create a body of work and use hashtags to organize your thoughts. It automatically recognizes elements like emails, color, addresses, and URLs. All notes are stored in portable plain texts and multiple export options are available.
Read: 10+ Best Programming Software | for writing code
The application comes with elegant themes and typography to make your writing look great. There is an advanced markup editor that highlights more than 20 programming languages. Moreover, it supports in-line image, rich previews while writing so you see prose, instead of code.