PDF file format is used to present and exchange documents reliably across different platforms. It can incorporate a wide range of document styles, from media-based documents to text-heavy manuals and official forms.
Fortunately, there is no shortage of applications that lets you view PDF documents in your smartphone. However, most of the apps available on the Play Store aren't worth using. Their lack of features and lengthy load time could leave you searching for an alternative.
A good PDF reader app does more than just opening filing: it offers a variety of annotations, navigations, and cloud storage options. To help you find the best alternative, we have gathered some decent PDF reader apps that provide dozens of features and satisfactory experience.
12. EBookDroid – PDF & DJVU Reader
Price: Free
Plus Point: Supports various document formats, flexible font mapping
EBookDroid is highly customizable document viewer that comes with dozens of extra tools, such as text selection and highlighting, free-hand annotations, and external dictionary support.
To provide the best reading experience, the app allows you to customize the layout of each document. You can split pages, instantly zoom to a specific column, and automatically or manually crop margins. These features work on all types of documents, whether it's a book with wide asymmetric margins or two-faced xerox.
11. 3D PDF Reader
Price: Free
Plus Point: Supports U3D and PRC (3D PDF) formats, precisely displays solid geometry
This app makes it possible to view and interact with 3D PDF data directly on your smartphone and tablet, without being tied to your desktop.
3D PDF Reader is impressively accurate: it displays 3D contents on smartphones the same as on desktops with Adobe Reader. Advanced features like Product Manufacturing Information, hiding and isolating components in an assembly, creating complex section cuts and support for multiple views make this app much more than just a PDF viewer.
10. Librera – PDF and eBook Reader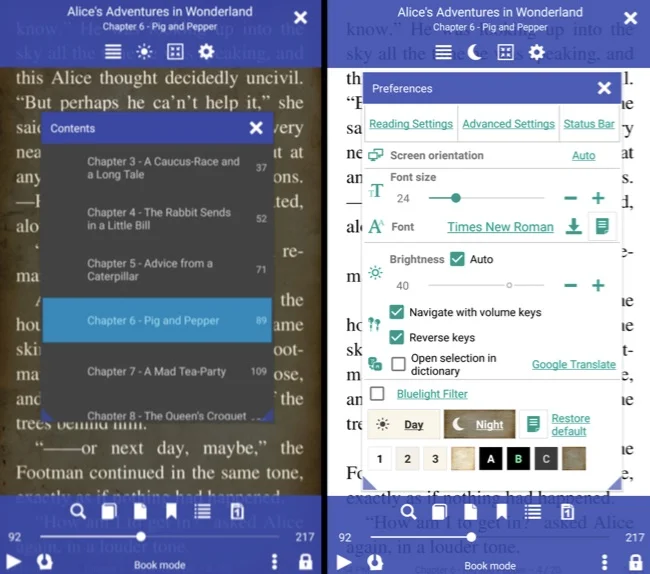 Price: Free | $2.99
Plus Point: Accurate PDF text reflow, can present content in the form of nested hierarchy
Librera is a lightweight reading application that features multiple themes, accent colors, and day and night display mode for comfortable reading. It supports reading out loud, using the default text-to-speech engine of your device.
The app supports page splitting, intelligent white space cropping, automatic scrolling at a custom speed, and there is an option to prevent accidental page dragging. The pro version allows you to open books packed in zip-format, share any page as an image, and export notes to a file. Frankly, the additional features are not worth buying unless you want an ad-free experience.
9. Moon+ Reader
Price: Free | $4.99 with in-app purchases
Plus Point: Supports almost all ebook formats, dual page mode for landscape screen
Moon+ Reader is a popular e-book reader that comes with plenty of features and visual options. You can choose from over 10 different themes featuring both day and night mode. It also features real page turning effects with 5 page-flip animations.
To make reading more comfortable, the app lets you configure more than 20 different operations. For instance, you can adjust brightness by sliding your finger along the screen's left edge and balance the scroll settings as per your need.
The pro version gives you access to additional features, such as shake the device to speed, reading statistics function, and more beautiful themes fonts, and background images.
8. PocketBook Reader
Price: Free
Plus Point: Supports all popular ebook formats, plenty of reading settings
PocketBook Reader is a comfortable ebook reading app that allows you to build your own personal library where you can read ebooks with many additional features. To save your time, it automatically scans external storage and presents all files (pdf, fb2, mobi, epub, audio) under one roof for easy access.
The app features convenient search in books, even with a barcode scanner. The access to notes and navigation inside the book is quite straightforward. There is a reflow feature to easily reformat the text according to the screen size. And for users who like to listen, there is a Text-to-Speech function.
7. Google PDF Reader
Price: Free
Plus Point: Optimized for both portrait and landscape viewing, best when paired with other productivity apps
This is probably the simplest, lightweight PDF reader app developed by Google. It's specifically developed for environments where Google Drive cannot be deployed. It offers the same features in a standalone app with exceptional viewing quality.
You can search, zoom in, select particular text for copying, and print documents when your device is connected to a printer. Functions are quite limited but the app is really fast and easy-to-use. Overall, if you need an app just to read PDF documents, this is your best bet.
6. ReadEra
Price: Free
Plus Point: Neatly organizes documents, open files from ZIP archives
ReadEra is one of the most simple and elegant apps that you can use to read any book or text documents stored on your device's memory. You can organize them by their kinds or authors, mark them as favorites, or tick them as 'to read' or 'read'.
It autosaves your progress as you read and offers you several page modes and themes to choose from. With this app, you can enjoy almost all books (of any format) in a very convenient way.
5. Gaaiho PDF Reader
Price: Free
Plus Point: Exceptionally fast launching and displaying speed, handles huge documents with ease
Gaaiho PDF Reader does not get as much attention as big names like Adobe and Xodo, but it is definitely worth a closer look. It's a feature-rich app with full support for all content embedded in a usual PDF file, such as multimedia, links, and form-filling.
It allows you to view PDF package, attachments, and encrypted documents. You can add comments anywhere, mark up PDF content using Draw Tools, and access cloud files via Dropbox or use WebDAV servers to upload/download documents easily. And yes, don't forget to switch on the night mode while working in a dark room.
4. Foxit Mobile PDF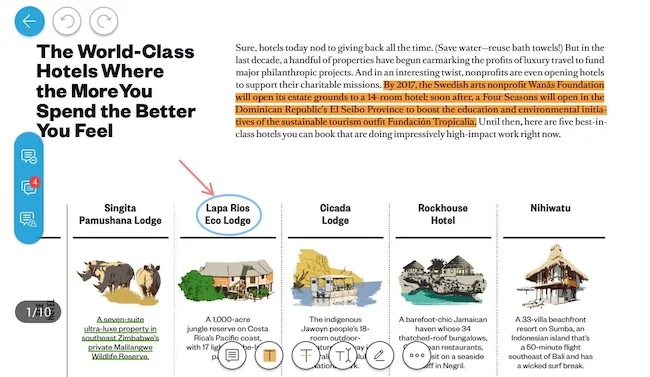 Price: Free | Premium version costs $7.99/month or $129 one-time fee
Plus Point: Read PDFs out loud, generate 2D barcodes for ultraforms-enabled PDF forms
Foxit is an easy-to-use PDF reader that lets you view, annotate, and protect your file with ease. You can adjust brightness and change the background to read comfortably in all situations.
Unlike other apps, it works with ConnectedPDF – a breakthrough technology that powers document security, intelligence, and collaboration services for PDF files. While the core functionality is free, premium version unlocks more advanced features, such as merging multiple PDF files, converting to other formats, adding passwords and digital certificates, and more.
Read: 18 Best Evernote Alternatives For Quick Documentation
3. WPS Office Suite
Price: Free | Premium version costs $29.99/year
Plus Point: Convert PDFs to editable file formats instantly, cloud support for cross-platform work
WPS Office Suite is like Microsoft Office minus all the stuff you don't really use. It has the ability to create spreadsheets, PowerPoint presentation, memos, and Word documents. It comes with all essential PDF features and allows you to convert a variety of documents to PDF files and view them natively.
The premium version gives you ad-free experience and unlocks additional features, such as PDF merge/split and PDF signature. Overall, if you need a PDF reader and an office app, this is a good way to kill two birds with one stone.
2. Adobe Acrobat Reader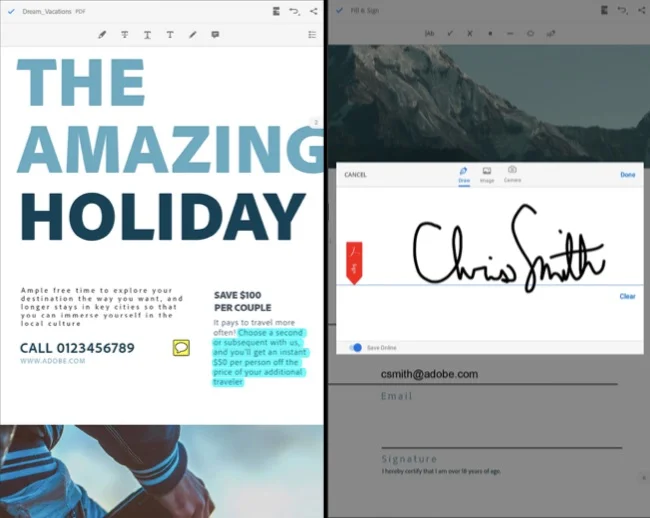 Price: Free | Subscription service costs $12.99 per month
Plus Point: Global standard for reliably viewing PDFs, excellent document compatibility
Adobe's Acrobat Reader is a common choice for a lot of users because it offers more than enough functionalities for most situations. You can put comments on PDFs using drawing tools and sticky notes, highlight text with annotation tools and respond to annotations in the comment list.
Everything else — such as, scanning and sharing documents — works more or less exactly as you would expect. The subscription service unlocks PDF editing features along with Creative Cloud storage option. Obviously, the app works with other Adobe services and products.
1. Xodo PDF Reader & Editor
Price: Free
Plus Point: Take notes on blank PDFs, High levels of zoom, No downloads or signups required
Xodo PDF Reader & Editor comes with a fast rendering engine for high-quality viewing and smooth scrolling. It allows you to highlight/underline text, write directly onto the PDF file, fill forms, sign documents, create new PDFs directly from the camera, and sync changes with Google Drive and Dropbox.
Read: 15 Best Note-Taking Apps To Boost Your Productivity
Unlike other apps, it lets you collaborate on a PDF with others to annotate concurrently in real-time. It also features a powerful file organizer, multi-tab document viewing, and a night mode for reading in low-light conditions.