Tesla Motors may be one of the hottest car companies out there today, taking major parts of the world by storm, but it wasn't the case several years ago. Launched with a unique vision, Tesla motors wanted to prove that people need not to compromise in anything to drive electric cars and they can actually be better, faster and even luxurious than traditional gasoline powered cars. But this led to a series of troubles for the company, both financially and legally.
Though the company now produces the model S — their pride — the company once started with the disastrous Roadster, if anyone can remember it. Since then Tesla has been on the up, raising standards, changing minds and leading the innovation. One cannot talk about Tesla without 'its father' Elon Musk. Without this adventurous businessmen no one could imagine the rise of Tesla and SpaceX.
Enough with the all the introduction, let's get started with the facts. Here are 20 of the most intriguing facts about Tesla Motors that Musk followers and Tesla owners must know.
20. Power Off!
It may sometimes annoy you, but after owning a Tesla Model S and Model X, you do not need to turn the car off. Why? Because you can't (maybe with some internal tweaks, don't know). After parking, the car will automatically go to sleep mode just like a laptop after shutting the lid off.
19. Tesla Roadster Numbers
The first hundred units of Tesla's Roadster were produced within a month, with one unit costing 100,000 U.S dollars.
18. The First All-Electric Sedan
Tesla Model S
After Roadster, the company needed something to lift their status among its buyers and gain the market share, to solve many critical internal problems within the firm. In 2012, Tesla initiated their sale of the iconic Model S.
At that time, the car became the first ever premium all-electric sedan, which quickly gained the status of company's best selling car, breaking records in every category. With the perfect combination of safety, performance and more importantly efficiency, Tesla's model S has actually raised the bar of world's expectations of cars that we will see in the near future.
17. "Roadster was a Complete Disaster"- Musk
During the 2016 annual shareholders meeting, Elon Musk admitted that the first Tesla model the Roadster was an absolute disaster. In 2008, Tesla motors sued the popular British car show Top Gear after their negative review on the Roadster, in which the host Jeremy Clarkson could be seen complaining about the low range of the car. The British court, however, dismissed all claims filed by Tesla.
16. Tesla's 'Park itself' feature
Tesla is currently providing its Model X and Model S user what we like to say 'park itself' feature, where with the help of a summon app you can direct your car to park itself automatically in the garage and pick you up in the morning.
15. Tesla' Internet of Things
Tesla cars are enable to receive software updates over the air. Just like a smartphone, whenever your car company releases a new software update, whether it's minor changes or major tune ins, you can receive these updates with just a touch of a button.
14. It's Already Vast Network of 'Superchargers'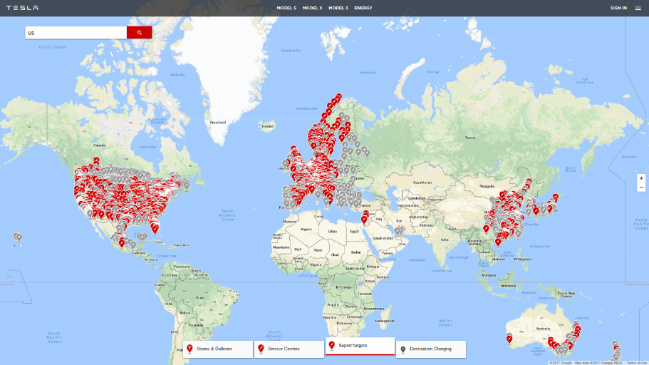 To provide their customers and Tesla owners with fast charging of their cars, the company has started building a giant network of 'supercharger' stations all over the world. At these stations, Tesla car owners can re-charge their cars for longer journeys in very short time. For some users, recharging at these stations is absolutely free.
13. You Tesla can Protect you against Bio-hazards
Biohazard Bubble Tesla Image Courtesy: Tesla
Yes, you heard that right. Tesla's Model S and Model X, both have a unique defense mechanism to protect its riders against any bio-hazards while they are in the car. With the help of HEPA air filtration system, which is specifically designed to stop harmful viruses and bacteria from entering the cabin, medical-grade air is delivered to the inhabitants inside the car. The car deploys three different mechanisms to generate a suitable air pressure inside the cabin to safeguard the occupants.
12. Tesla Model E Controversy
Companies cancel their trademark applications for various reasons. Either they don't have future plans to use the name of logo, or it might be a legal strategy to reduce risk and for a complete makeover. But sometimes it can lead to a clash between the two different companies and that's what happen between Tesla and the giant car making company Ford. These two companies have been engaged in a tug of war regarding who could legally use the name Model E.
To read More you can check out this article on Fortune.
11. Model X is the Company's most expensive basic variant
Tesla's Model X is now the safest sports utility vehicle in the car industry. Designed not as a conventional SUV, but as a family friendly sports car. Since the company has discontinued the production of basic Model X 60D, the model X's starting price has now reached up to $90,000 approx for the 75D, an increase of $12,000.
10. Tesla's Stock Leap
The company went public in 2010, when they announced their Initial Public Offering and since then, except for occasional dips, company's stocks have risen to a staggering 1000%.
9. Self Driving Hardware and Technology
Inside Tesla Model S
In October 2016, the biggest electric car company announced that all of their new cars will now have self driving technology. At that stage, Tesla vehicles had 8 cameras, providing all around visibility of up to a rage of 250 meters and 12 state of the art sensors to go the panoramic vision. A powerful forward-radar was also available, which could work in extreme conditions like heavy rain, fog and dust.
8. Most of the Company's New Innovations are open Source
If you think that Tesla is just another automotive company doing what all big companies do, then think again. In 2014, Elon Musk declared that all of their patent information will be open source. 'This company was created for sustainable transport' said Elon Musk.
'If we do create irresistible vehicles, but place intellectual property landmines to repel others, we are actually acting to contradict our own goal.' The company also made it clear that they will not exercise lawsuit on those who wants to use their technology in good faith.
7. Most Expensive Tesla So far
Till date, the company's most expensive car is an upgraded model S. At a staggering price of $205,000, it overshadows its factory version by nearly $100,000. The car was modified by T-sportline, an official Tesla tuner. Above its baseline, the car has almost $90,000 worth of upgrades including a remarkable interior, carbon fiber body kit and specialized wheels.
6. $465 million loan to Tesla in 2009
Shortly after going public, the company was awarded the much needed grant from the Advanced Technology Vehicle Manufacturing loan program under the president Barak Obama. The total sum of the loan was about $460 million, with the help of which Tesla constructed its current production facility in Fremont, California.
As a surprise to most of them, Tesla paid back the entire loan amount in 2013, nine years earlier than the payment deadline. After paying the amount, Musk offered a big thank you to US taxpayers, he said 'I hope we did something that would make you proud'. Apart from Tesla, other big companies like Ford and Nissan also received a hefty amount of loan to fund their various new assets and create jobs.
5. Tesla Was First Automotive Company to be Launched from Silicon Valley
Tesla Headquaters at Palo Alto
There is no denying in the fact that silicon valley has mostly favored tech companies like Apple, Alphabet inc., and many others related to the internet world, but this part of the nation is not that popular for the vehicle making companies.
Tesla is now making its own Detroit in Palo Alto, California. For a moment, if we just consider the nature of this company as a highly innovative and 'risk taking' firm, there is actually a very little difference between other silicon valley big shots and Tesla.
4. Tesla Model S P100D is the Third Fastest Accelerating Production Car
Tesla launched their most successful Model S in 2012. As of 2017, model S variant P100D holds the record for the fastest acceleration of any production cars. In ludicrous mode, a Model S P100D can reach 60 mph in just 2.28 seconds, though the number of times a driver can use the mode is restricted as of now. Tesla's Model S is now the best-selling car in Norway, Europe.
3. The Tesla Gigafactory 1 Factory will be World's Largest Battery Factory
Image Courtesy: Tesla.com
Tesla announced the mega plan for the world's largest factory by volume back in 2013. The company has plans to produce electric cars at a rate of 500,000 units per year after its completion. To achieve this, the Gigafactory 1 will probably require almost all of the world's supply of lithium-ion to produce batteries. In 2014, the Japanese electronics company, Panasonic announced that they will invest around $5 billion in the factory.
Read: Cars That Brought the Revolution in Automobile Industry
2. Musk almost sold Tesla Motors to Google
In 2013, Tesla almost became a subsidiary company of Alphabet Inc., as Elon Musk was about to sell his company to Google's founder Larry Page due to company's bad capital health caused by a series of defects in their new products. Tesla's shares also took a serious plunge after just 2 years of its IPO.
At the time when he discovered the reason behind this mishap, he fired many senior staffs and promotes hungrier and passionate youngsters to control the damage. In one extreme step, he also pulled staff from every other department in the company and assigned them to the sales department to start selling cars as they were struggling to turn pre-orders into purchases.
1. Tesla Motors Was not Founded by Elon Musk
Martin Eberhard (left) and Marc Tarpenning (on right)
Read: 13 Inspiring Automotive Startups That Predict Bright Road Ahead
The company was founded in 2003, by two silicon valley engineers, but Elon Musk was not one of them. During the company's initial days, it was spearheaded by Martin Eberhard and Marc Tarpenning. It was only during the Series A funding in 2004, that Elon Musk became one of the principle owners of the company after leading the funding round. He was joined there by JB Straubel and a retired English footballer Ian Wright.