Nike started as a distributor for the Japanese shoe company Onitsuka Tiger. Today, it is the world's largest supplier of athletic shoes and apparel and a significant producer of sports goods.
In this SWOT analysis of Nike, we delve into the company's core attributes, analyzing how its strengths have made it a market leader, addressing its weaknesses, exploring potential opportunities for growth, and acknowledging the challenges it faces to maintain its reputation in the highly competitive sportswear industry.
Let's uncover the strategic insights that have shaped Nike's journey to success, what factors affect its business model, and see how it thrives in the ever-changing world of sports shoes and clothing.
Company Profile
Started in 1964
Founders: Bill Bowerman and Phil Knight
CEO: John Donahoe
Headquarters: Beaverton, Oregon, United States
Number of employees: 83,700+
Annual Revenue: $51.22 billion+
Gross Profit: $22.29 billion+
Market Capitalization: $170 billion+
How Did It All Start?
Nike's origin can be traced back to the early 1960s when Phil Knight (a student at Stanford University and a middle-distance runner) had an idea of importing low-cost, high-quality shoes from Japan to the United States.
He reached Bill Bowerman (a track-and-field coach at the University of Oregon) with his proposal, and they both agreed to start a distribution business.
They travel to Japan to meet with Onitsuka Tiger, a Japanese shoe company (now called ASICS). They negotiated a deal to become an exclusive distributor of Onitsuka Tiger shoes in the United States.
In January 1964, the two men formed a company named "Blue Ribbon Sports" and started selling Onitsuka Tiger shoes at track meets and events. In 1966, they opened their first store in Portland, Oregon.
However, the turning point for the company came in 1971 when Blue Ribbon Sports decided to open its own line of footwear items. To align with this change, Knight and Bowerman rebranded the company and registered it as "Nike Inc."
Since then, the company has witnessed impressive growth. Over the decades, Nike has introduced creative design and launched innovative footwear products that appeal to athletes and sports enthusiasts.
Today, Nike is one of the world's most recognizable brands. It employs more than 83,700 people, which includes a strong research and development team that is always looking for ways to improve its products.
In terms of market capitalization, Nike is among the 50 largest companies in the world.
Mission Statement and Vision Statement
Nike focuses on bringing inspiration and innovation to each athlete in the world. They believe that everyone has the potential to be an athlete, regardless of their physical abilities or skill levels.
Nike's vision is to maximize human potential through all possible means. Their vision statement reflects their commitment to pushing the boundaries of technology and inspiring people to reach their potential in fitness, sports, and beyond.
Quick Summary of Nike's SWOT Analysis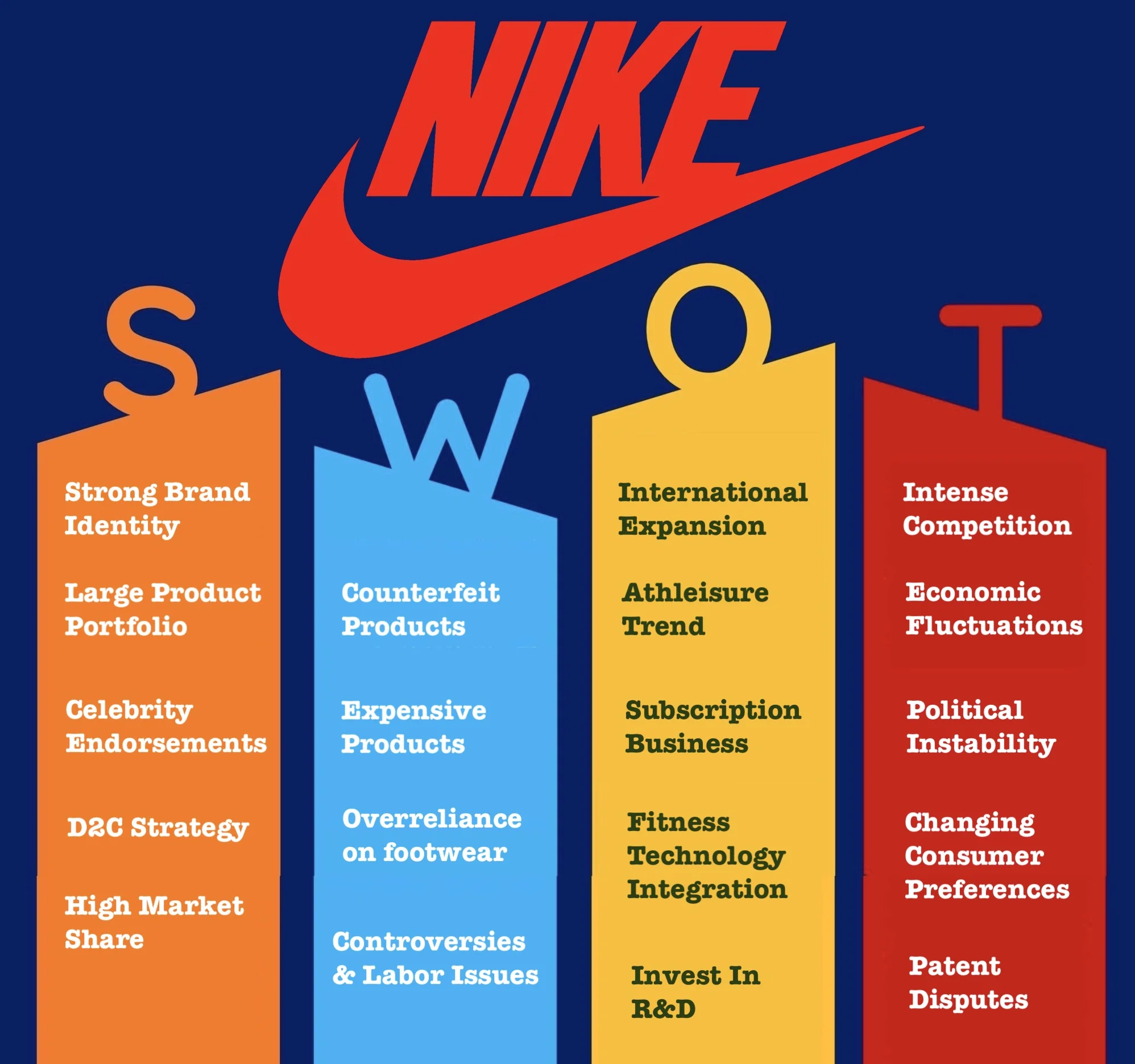 STRENGTHS
1. Strong Brand Identity
Known for its strong association with sportswear products and athletic performance, Nike consistently ranks high in several brand value rankings. It has an estimated brand value of $31.3 billion.
Nike's "smoosh" logo is instantly recognizable — its simple and memorable design has become synonymous with the brand's identity.
2. Extensive Product Portfolio
Nike's vast product portfolio caters to a wide range of athletic and lifestyle needs. It includes footwear, equipment, apparel, and accessories designed for various sports and activities.
The Nike Pro line, for example, focuses on performance-grade training apparel. These Pro products are designed for athletes engaging in intense training and competition.
Jordan Brand, Converse, and Hurley International are some of the key parts of Nike's product portfolio.
Nike also collaborates with popular athletes, designers, and other brands to develop special collections and limited-edition releases. Such collaborations often create significant buzz and generate demand among consumers
3. Vast Distribution Network
Nike reaches consumers in over 190 countries. Its large distribution network consists of three main channels:
Wholesale

: Nike sells its products to wholesalers, who then sell them to retailers. The wholesale distribution channel accounts for about 80% of sales.

Direct to consumers

: Nike has its own retail stores and online platform to sell products directly to consumers. It accounts for nearly 20% of sales.

Global brand divisions

: Nike's global brand divisions sell products to retailers in specific regions, ensuring that their products are available in all substantial markets.
Nike's strategic approach to distribution has been a key part of the company's success. It has allowed the company to get its products to consumers quickly and efficiently.
4. Focus on Innovation
The company actively invests in research and development and introduces new technologies and materials to enhance performance and comfort for athletes.
For instance, Nike's Flyknit technology uses strong yet lightweight strands of yarn and different types of knit patterns to create a breathable and comfortable shoe.
Nike has over 26,000 patents globally, out of which about 20,500 are active. The majority of these have been filed and granted in the United States, followed by China and Europe.
5. Strong Online Presence
In addition to 1,050+ retail stores worldwide, Nike has a robust eCommerce platform. The company sells its products directly to consumers through its website and mobile application.
Their online store, which attracts more than 141 million visitors per month, offers a convenient way to browse and buy products from the comfort of your home.
The company also leverages social media platforms to market its products and engage with consumers directly. It has over 302 million and 5.2 million followers on Instagram and Twitter.
6. Good Profit Margins
Nike's profit margin has remained consistently high over the past few years. In 2023, its gross profit margin was 43.52%, its operating profit margin was 11.5%, and its net profit margin was 9.9%
These impressive profit margins have allowed the company to invest heavily in marketing and R&D, and maintain its position as one of the leading brands in the athletic footwear industry.
7. Direct-to-Consumer Strategy
The company has been investing in a direct-to-consumer strategy for many years. They have opened new retail stores, launched new mobile apps (for both iOS and Android), and expanded their online store. They have also been focusing on data analytics and personalization technology.
This strategy has several advantages. For example, it
Allows Nike to develop a closer relationship with customers,
Collect data about customer preferences and offer a personalized shopping experience using this data, and
Capture more profit from sales.
8. Celebrity Endorsements
Nike has collaborated with numerous athletes and professional players from various fields to create impactful marketing campaigns. Some of their most famous endorsers include:
Michael Jordan

: He has been with Nike since 1984. The collaboration led to the creation of the well-known Air Jordan line of basketball shoes, which revolutionized the sneaker industry.

Cristiano Ronaldo

: He has been a prominent face of Nike's football-related campaigns since 2003.

LeBron James

: He has been with Nike since 2003. The LeBron James signature shoe line and related apparel have been extremely popular among basketball fans.

Serena Williams

: She has been the face of the NikeCourt line of tennis apparel and shoes since 2003.
9. Sponsorship and Partnerships
Nike sponsors numerous sports leagues, events, and teams across the world. This helps in increasing brand visibility and fostering strong connections with the athletic community.
For example, Nike is the official provider of NFL jerseys and on-field gear. This partnership with the NFL gives the company significant exposure during football games.
Nike's "Just Do It" campaign is one of the world's most popular campaigns. First introduced in 1988, it has become synonymous with the Nike brand and its core values of motivation, determination, and athletic achievement.
In 2022, Nike spent $3.85 billion on advertising and promotion. That same year, the company generated $46.71 billion in global revenue.
10. High Market Share
Nike has held a significant market share in the athletic footwear (38.23%) and apparel industry (16.2%), and it is increasing gradually year over year.
| | |
| --- | --- |
| Year | Athletic Footwear / Athletic Apparel (Market Share %) |
| 2022 | 38.23 / 16.2 |
| 2021 | 37.7 / 15.9 |
| 2020 | 37.2 / 15.6 |
This shows Nike's ongoing influence in the industry, despite increasing sales for competitors.
11. Sustainable Initiatives
The company has been actively working on sustainable efforts, focusing on reducing its water and energy use and utilizing environmentally friendly materials such as recycled polyester and organic cotton.
By 2025, Nike aims to
Reduce greenhouse gas emissions by 0.5 million tons
Divert 100% of waste from landfills within its extended supply chain
Reduce freshwater usage by 25% (per kilogram of textiles produced)
12. Experienced Management Team
Nike's leaders deeply understand the athletic footwear industry and have a proven track record of success.
For example, John Hoke III (currently the Chief Design Officer) joined Nike in 1992. He now leads the entire design team that includes over 1,000 products and graphic designers, fashion designers, industrial designers, as well as architects and digital content designers.
WEAKNESSES
1. Counterfeit Products
The company has been dealing with counterfeit products for decades. These fake products are often made of inferior materials and can pose a safety hazard to consumers.
Nike shoes are among the most counterfeited goods in the world. In fact, a whopping 88% of the sneakers on the list of the 25 most counterfeited footwear brands are Nike shoes.
Air Jordan 1 Retro High OG Dark Mocha is one of the most counterfeited sneakers. While its replica costs about $130, the legitimate ones sell for more than $500 on resale sites.
2. High Product Costs
Nike's products are quite expensive compared to its competitors. Its average price for a pair of sneakers is $110, compared to $85 for a pair of Adidas sneakers and $70 for Under Armour sneakers.
High costs limit the accessibility of Nike products to price-conscious consumers, especially in price-sensitive markets.
3. Dependency on Third-Party Manufacturers
Nike does not own any factories, and it outsources all of its manufacturing to third-party suppliers and contract manufacturers located in various countries.
While this is a common practice in the apparel industry, it may lead to supply chain disruptions, quality control challenges, and reputational risks.
Any negative issues arising from the actions of suppliers (like environmental controversies or labor violations) could reflect poorly on Nike's brand image, even if Nike is not directly responsible for those actions.
4. Product Overexposure
Product overexposure refers to the risk of saturating the market with too many product variations. It can make the brand seem less exclusive.
Also, too many Nike sneakers and their slight variations could end up competing against each other for sales. This may lead to cannibalization, where sales of one item eat into the sales of another, eventually affecting overall profitability.
5. Controversies and Labor Issues
Nike has faced many controversies and labor issues over the years, including sweatshop allegations in the early 1990s, child labor accusations in the mid-1990s, human rights abuses in the mid-2000s, and factory conditions and safety concerns in the past few years.
While the company has taken several initiatives to resolve those issues (such as increased transparency, auditing of manufacturing factories, and partnering with firms focused on labor rights and sustainability), it still faces scrutiny from labor rights advocates and consumers regarding the ongoing labor issues in its supply chain.
6. Product Recalls
The company has recalled several products over the years due to quality issues and safety concerns. Some of their most notable product recalls are
In 2019, Nike recalled their special edition of Air Max 1 featuring the Betsy Ross flag design due to racial connotations associated with the flag.
In 2014, Nike recalled the LeBron Zoom Soldier 8 Shoe after receiving complaints about the strap coming loose during use.
In 2014, Nike recalled the first-generation FuelBand fitness tracker due to its inaccurate tracking measurements.
7. Regional Market Differences
Nike operates in over 190 countries, and each region has its unique market dynamics and unique consumer preferences regarding fashion, sports, and athletic styles.
In addition to these regional differences, Nike has to deal with climate and seasonal variations as well as economic conditions that impact consumers' purchasing power and buying behaviors.
8. Overreliance on footwear
Nike's footwear products account for most of the company's overall revenue. In 2022, Nike generated $29.14 billion in revenue from footwear items, which represents about 66% of the company's total revenue.
The overreliance on footwear items has been a cause for concern for many investors. This is because
The footwear industry is cyclical, which means Nike's revenue and profits can be volatile
The industry is highly competitive
The industry is becoming increasingly commoditized, making it more difficult for brands to differentiate their products
9. Average customer service
Nike has a mixed reputation for its customer service — while some customers have encountered negative experiences, others have had more satisfactory or decent encounters.
Nevertheless, the company has often been criticized for its poor customer service. Consumers have complained about long wait times, a lack of responsiveness to complaints, and difficulty getting in touch with their representatives.
OPPORTUNITIES
1. International Expansion
The company can expand into new markets, such as Asia and Africa. Since these markets are growing rapidly, there is a large potential for Nike to increase its sales.
Nike generates over $7.5 billion and $5.9 billion from Greater China and Asia Pacific regions. Considering the growth in these markets and Nike's popularity, the company can easily grow its sales at a CAGR of over 9%.
2. Direct-to-Consumer Sales
The company can leverage DTC sales to strengthen its brand, develop deeper relationships with consumers, and increase profit margins. It should continue investing in eCommerce platforms, apps, and loyalty programs to offer a seamless and personalized shopping experience.
In the fiscal year 2023, Nike's digital sales grew 17% in North America and 24% in Europe, the Middle East, and Africa.
3. Growing Athleisure Trend
The global athleisure market is expected to exceed $330 billion by 2030. Nike can capitalize on this growing athleisure trend by adapting its product offerings and marketing strategies to cater to the preferences of customers who seek both style and comfort in their everyday wear.
The company can introduce new lines of athleisure wear that seamlessly blend athletic functionality with fashion-forward designs, such as versatile hoodies, joggers, and casual sneakers.
4. Women's Market
The women's sportswear market has seen significant growth in the past, and the trend is likely to continue in the coming years. It is estimated that the women's activewear market will reach $269 billion by 2029.
Nike can implement targeted strategies that cater to the unique preferences and needs of these customer segments.
5. Health and Wellness Trend
The company can capitalize on increasing fitness and active lifestyle product demand. As people become more health-conscious and prioritize physical well-being, Nike can establish itself as a brand that not only offers performance-oriented sportswear but also actively promotes a comprehensive approach to health and wellness.
It can collaborate with health and wellness experts, fitness trainers, nutritionists, and mindfulness coaches who can add credibility to Nike's offerings and offer customers guidance and valuable resources on their wellness journeys.
6. Enter the Subscription Business
Introducing athleisure subscription services can be a great opportunity to increase customer loyalty and drive repeat purchases.
These services offer convenience to consumers who want to regularly update their wardrobes without the hassle of shopping. Nike can curate personalized shipments based on individuals' styles and preferences.
Regular shipments would build anticipation and excitement among subscribers. Plus, this would lead to recurring revenue streams and increased predictability and stability in Nike's revenue.
7. Acquisitions and Strategic Alliances
Nike can target startups and partnerships that align with its core business objectives and complement its existing product offerings. The company has already made dozens of acquisitions and formed strategic alliances in the past. The most notable ones include
Acquisition of Hurley International in 2002
Acquisition of Converse Inc. for $305 Million in 2003
Strategic Alliance with Apple to launch the Nike+iPod in 2006
Acquisition of Zodiac (data analytics firm) in 2018 to enhance its direct-to-consumer strategy
Read: 33 Biggest and Most Expensive Tech Acquisitions Of All Time
8. Fitness Technology Integration
Nike's products can be integrated with fitness tracking technology to tap into the growing market for fitness enthusiasts and strengthen customer engagement.
The company has already been doing that for years. They have developed the Nike Training Club app, a comprehensive fitness platform that provides a wide range of workouts, personalized training plans, and guided exercises.
They have also integrated adaptive fit technology into footwear, allowing wearers to adjust fit and comfort through a mobile app. The Nike Adapt line, for example, features self-lacing technology, offering a personalized fit for athletes during different activities.
Nike has partnered with tech companies to develop products that can effectively enhance athletic performance. These include GPS running watches, heart rate monitors, and smartwatches with fitness tracking functions.
By continuously improving these fitness apps and connected products, Nike can stay at the forefront of the sportswear and fitness industry.
9. Focus on Sustainability
According to a study conducted by Boston Consulting Group, about 83% of consumers believe that companies have a responsibility to address climate change. The World Economic Forum found that about 71% of consumers are concerned about the environmental impact of their purchases.
As consumer demand for sustainable items grows, Nike's emphasis on sustainability can further strengthen its brand reputation and competitiveness in the sportswear industry.
10. Invest in research and development
Nike has a long history of investing in R&D to drive innovation and stay ahead of the competition. These investments have led to new technologies like Flyknit and Zoom Air.
The general areas where Nike has focuses its R&D efforts include:
Footwear technologies, including cushioning systems, sole materials, and performance-enhancing features
Apparel innovations like advanced fabrics, designs, and manufacturing technique
Digital commerce and data analytics to analyze trends and customer preferences
Sustainable materials and manufacturing processes
The company also explores emerging technologies (like 3D printing, AR, and VR) to explore new possibilities in product design, customization, and customer experiences.
THREATS
1. Political Instability In Some Countries
Like many multinational companies, Nike may face challenges associated with political instability in some countries. Political instability may arise from government changes, geopolitical tensions, economic crises, civil unrest, or unexpected events.
For example, the Hong Kong protests in 2019 disrupted Nike's sales and operations in the area. In 2014, there were reports of a factory strike in Vietnam that affected Nike's supply chain.
2. Economic Fluctuations
Economic downturns can impact consumer spending on non-essential items like sportswear. This can ultimately hurt Nike's sales and profits.
Recessions, like the one that happened in 2008, increase unemployment rates. This makes it more difficult for Nike to find workers, which can lead to production delays and higher costs.
3. Trade Wars
Trade wars between the United States and other countries (especially China and Europe) could disrupt Nike's supply chain and decrease its profit margins. It could also result in Nike losing its market share to foreign competitors.
For instance, the 2018-19 US-China trade war led to increased tariffs on Nike's footwear and accessories. This impacted the company's profitability and made its products less competitive.
This is because the imposition of tariffs and trade barriers on imported goods can significantly increase companies' production and distribution costs.
4. Changing Consumer Preferences
Rapid changes in consumer preferences and fashion trends can lead to shifts in demand for specific product categories or styles, potentially leaving Nike with reduced sales or excess inventory.
For example, the trend for athleisure wear has grown in recent years, and this has resulted in increased competition for Nike from brands that specialize in athleisure wear, such as Under Armour and Lululemon.
Also, the growth of eCommerce platforms has made it easy for customers to shop for sportswear products from various brands. This has pressured Nike to invest in online e-commerce technologies and compete on price and convenience.
5. Patent Disputes
Nike has been involved in numerous patent disputes over the decades. These disputes are complex and lengthy legal processes, and the outcomes can have significant implications.
In some cases, patent disputes may lead to licensing agreements, settlements, paying damages, or ceasing the use of patented technology. Some of the most notable cases are:
Nike vs. Adidas (2012)

: Nike sued Adidas for patent infringement of its Flywire technology.

Nike vs. Skechers (2018)

: Nike sued Skechers for patent infringement of its Air Zoom technology.

Converse vs. Competitors

: Converse, a subsidiary of Nike, has been involved in numerous legal disputes with competitors over its Chuck Taylor All-Star sneakers.
6. Negative Publicity or Controversies
The company has been involved in numerous controversies over the years, including child labor concerns, sweatshop allegations, and the Betsy Ross flag controversy.
Nike has also faced criticism for its sustainability practices and environmental impact. Concerns have been raised about its carbon footprint, waste generation, and use of certain materials.
In today's modern era, controversies or negative incidents can quickly go viral on social media platforms, potentially damaging Nike's brand value and causing a public relations crisis.
7. Cybersecurity Threats
Like all brands with a significant online presence, Nike is susceptible to cybersecurity threats, including data breaches, DDoS attacks, malware, and social engineering attacks.
Read: 14 Different Types of Computer Viruses
8. Intense Competition
Nike operates in a highly competitive market. Its top competitors are:
Adidas
With over 17,000 stories in 170+ countries, Adidas has a strong presence in the soccer market. While Nike has the edge over Adidas in terms of market share and revenue ($51.21 billion vs. $23.43 billion in annual revenue), Adidas is a strong competitor and is not far behind.
Under Armour
Under Armour is growing rapidly and is gaining market share. It focuses primarily on performance apparel, including moisture-wicking fabrics, compression wear, and other technologies developed to enhance athletic performance. As of 2023, its annual revenue is approximately $5.9 billion.
Puma
Puma has been successful in marketing itself to millennials and young adults, particularly those interested in street culture and fashion. It has also been repositioning itself as a luxury brand by launching a number of high-end products. Last year, Puma's sales reached nearly $9.35 billion.
Reebok
Reebok is focusing on its strengths, such as its heritage and association with fitness. The company has launched retro sneakers, partnered with celebrities, and expanded its market in China and India to grow its revenue. It is well-positioned to continue to grow and give tough competition to Nike (especially in developing regions).
Additional Analysis
Nike's Growth Timeline
1964: Bill Bowerman and Phil Knight founded Blue Ribbon Sports in Portland, Oregon
1972: The company changes its name to Nike, Inc
1972: The company unveils its first Nike-branded shoes, Nike Cortez, at the US Olympics Trials
1980: Nike goes public
1984: Nike launches Air Jordan Line in collaboration with Michael Jordan.
1988: Nike introduces its iconic "Just Do It" slogan
Early 1990s: The company expands its product offering to include sports apparel, accessories, and equipment
1996: Nike launches its first online store
2003: Nike acquires Converse for $305 million
2006: The company collaborates with Apple to develop the Nike+iPod Sport Kit
2012: Nike introduces a proprietary Flyknit technology, setting new standards in athletic footwear design
2015: Nike introduces the Women's division, focusing on female sportswear and athleisure products
2018: Nike introduces the self-lacing Adapt BB basketball shoe
2020: The company launches the "Move to Zero" sustainability campaign aiming to reduce the environmental impact of its products and operations
2021: Nike's market capitalization reaches $280 billion for the first time
2023: Nike launches first localized app in China
How owns Nike?
Nike is a publicly traded company listed on the New York Stock Exchange, which means its ownership is distributed among various institutional investors, mutual funds, asset management firms, and individual shareholders.
The largest shareholder of Nike is its co-founder, Phil Knight, who owns about 22% of the company through various entities. The largest institutional investors are The Vanguard Group (with a 7.1% ownership share) and BlackRock (with a 5.5% ownership share).
Financial Analysis
Nike's financial performance has been quite strong over the past few years. It has been growing its revenue and profits at a steady pace.
The company's profit margin hovers between 11% and 13%, and its debt levels are relatively low.
| | |
| --- | --- |
| Year | Revenue (in billion) |
| 2018 | $36.3 |
| 2019 | $39.1 |
| 2020 | $37.4 |
| 2021 | $44.5 |
| 2022 | $46.7 |
Although Nike faces numerous external risks (such as economic slowdown, trade war, and continuously changing consumer trends), it has proven itself in all market phases. The company has a strong track record of innovation and growth, and it's set up for continued success in the future.
Product Failure
Like any large and innovative company, Nike has had its share of product launches that didn't meet customers' expectations. The most notable failed products or product lines in Nike's history include
Nike Shox

: Introduced in 2000, these shoes featured a spring-loaded cushioning system

Nike SB Koston 1

: It was a signature skateboarding shoe endorsed by professional skateboarder Eric Koston

Nike FuelBand

: Launched in 2012, this wearable fitness tracker failed to grab customers' attention

Nike Free

: These shoes were criticized for being too minimalist and uncomfortable

Nike Air Pippen II

: Endorsed by NBA star Scottie Pippen, these shoes didn't become as popular as expected
Global footwear market
The global footwear market size is expected to exceed $725 billion by 2032, growing at a CAGR of 5.9% from 2023 to 2032.
The major factors behind this growth include the growing population, rising disposable income (especially in developing countries), advancements in footwear technology, and increasing demand for comfortable and stylish footwear options.
Conclusion
In conclusion, Nike benefits from its strong brand recognition, extensive product offerings, and strategic partnership and sponsorship. Its commitment to research and development leads to innovative products that cater to athletes' evolving needs and preferences.
The brand is synonymous with performance, quality, and style.
It has countless opportunities for growth, such as expanding into international markets, capitalizing on growing athleisure trends, and integrating existing products with fitness tracking technology.
The company also faces numerous threats and challenges, including economic fluctuations, trade wars, patent disputes, and ever-changing consumer preferences.
Read More
33 Small Business Ideas For Teens
Amazon Swot Analysis [Detailed View]