In today's highly competitive market, recruiters can't just rely on searching and filtering applications. They need to have an effective strategy to attract and hire the best candidates for their open roles.
Recruiting top talent requires a combination of creativity and diligence. While big organizations have dedicated teams and tools, mid- and small-sized firms have to rely on recruiters to source suitable candidates for them.
However, technology has made it easier to find the best candidates for specific job positions. There are several tools available in the market to streamline recruiters' work.
Below, we've listed some of the best sourcing tools for recruiters that can help them screen and shortlist candidates more efficiently. The list includes software, platforms, and innovations available for recruiters to attract culturally and professionally diverse individuals.
9. Carbonmade
Price: Free for recruiters
Rating: 8/10 from 100+ customers
Carbonmade is the perfect place to hire designers, illustrators, and comic artists. The platform contains millions of professional, personalized portfolios.
Unlike other platforms that contain tons of resumes, Carbonmade shows you the work of applicants. This means you can look into the work of designers, architects, photographers, copywriters, and other creative types.
You can also search for top specialties, such as 3D modeling, animation, editorial design, fashion design, fine art, product design, typography, and more.
Pros 
Easy-to-use interface
Contains portfolios of millions of creators
Search specialties like 3D art or character design
Cons
You won't find programmers or engineers
8. Gem
Price: Starts at $49 per month
Rating: 9.5/10 from 200+ customers
Gem is an all-in-one recruiting platform that allows you to find, engage, and nurture top talent. It integrates well with LinkedIn, email, and applicant tracking systems.
Gem is not just a sourcing tool but also a Candidate Relationship Management system. This means it allows multiple recruiters to collaborate without stepping on each other's toes. It also offers a few automation functions when it comes to following up with inactive candidates.
The platform tracks each recruiting touchpoint, giving you detailed analytics on what's working and what's not. More specifically, you can track how applicants enter and funnel through each step of the hiring process.
Pull reports on race/ethnicity to see how your efforts impact diversity. Analyze conversion rates and forecast your hiring trajectory. And then share the custom insights with your senior business partners.
Pros 
Automatically tracks all outreach
Visualize and manage your talent pipeline
Prioritize diversity with sourcing
Measure return on investment for sourcing
Cons
Sometimes it does not pick up details (like the company name) on its own
7. Interseller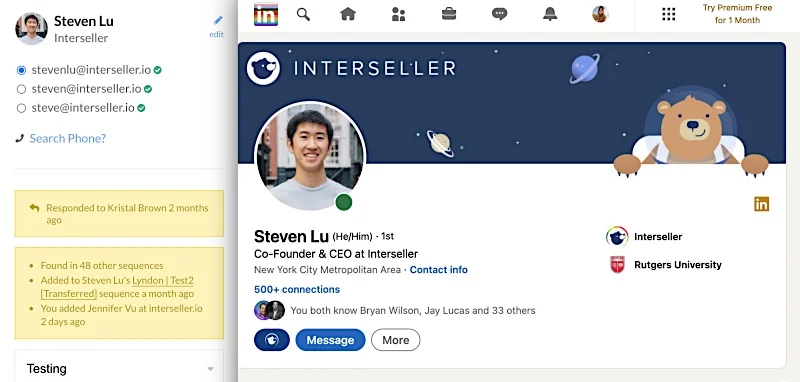 Price: Starts at $100 per month (includes 250 email lookups)
Rating: 8.5/10 from 150+ customers
Interseller is a New York-based SaaS company that lets you source contacts using a Chrome extension to find accurate personal and work emails across LinkedIn, Github, Indeed, Crunchbase, and automatically add them to your email sequences.
The tool integrates with your email account, ensuring email sequences are being sent directly from your inbox. You can customize your messages and synchronize contact and email activity to your linked CRM (Customer Relationship Management system).
With a 95% accuracy rate and 80% coverage rate, Interseller provides the most up-to-date personal emails. It excels in contract flexibility and delivering a great user experience.
As soon as you sign up, you get a dedicated product support team to take care of your onboarding process and optimize your experience from the get-go.
Pros 
Easy to configure and use
Lookup and verify emails
Source via Chrome extension
Good customer support
Cons
CRM integration could be improved
6. Pipl Search
Price: Starts at $298 per month
Rating: 8.8/10 from 100+ customers
With Pipl Search, you can collect data from different sources like the Internet, public records, archives, and directories. It finds information about a person with just their first or last name and location.
Pipl reveals contact details from social networking platforms as well as professional connections. It also shows an integrated map view (which displays work addresses) and metadata cards that tell you where the data came from and when it was acquired. Added details like age, languages spoken, current and past jobs enable you to know your potential applicants.
The platform contains more than 3 billion identities and 100 billion identity elements (including email address, education, work experience, mobile, landline phone, etc.) across over 150 countries.
Pros 
Great for verifying identities and contact details
Improve Advertising reach and match rates
Access alternate employee contact information in case of emergencies
Ethically and legally sourced
Cons
Some data (like phone number) is not accurate
5. Slack
Price: Free | Pro version starts at $2.67 per month
Rating: 9.1/10 from 50,000+ customers
Slack is a cloud-based collaboration tool that puts all of your team communication in one place. But did you realize it can also be used for recruiting?
Using Slack, you can streamline your hiring plans, track your progress, and make informed decisions by ensuring your recruitment team stays in the loop at all times. It also lets you keep candidates in the loop, so you offer them a great recruiting experience and build your employer brand.
On top of that, you can join relevant Slack communities where you can find experienced interviewers and learn about new tools to make better hires. ResourceForHumans, for example, has 14,000+ HR leaders to share advice and ask questions.
All in all, Slack allows you to manage all hiring processes from a single place and grow your workforce the right way.
Pros 
Align on and finalize job requirements
Rich set of tools and options
Easily manage internal referrals
Integrates with several other collaboration and office tools
Cons
You may get overwhelmed by notifications if you don't customize your alerts
4. Hunter.io
Price: Free for 25 searches per month | $49 for 50 searches per month
Rating: 8.4/10 from 1,500+ customers
Hunter.io is an email hunter tool that helps you find the contact information associated with any domain. It makes it easy for sales, recruiters, and marketers to reach out to other professionals.
The tool crawls the web and indexes publicly available professional email addresses. Then, it provides this data to its users via a simple user interface. More specifically, it has three features:
Domain Search

shows business email address with confidence scores, department filters, and detailed sources.

Email Verifier

validates email addresses at multiple levels. It checks domain information, mail server response, and compares the data with its unique base of professional email addresses.

Email Finder

puts everything (email formats, verification, and other signals) together to find the right contact information.
Hunter also has a bulk domain search, email finder, and verifier, which is quite handy for businesses dealing with large amounts of data.
Pros 
Indexes more than 100 million email addresses
Minimalist design and straightforward functions
Fairly priced
Cons
Only provides emails that have business domain addresses
3. Talent Bin By Monster
Price: Starts at $249.00 per year
Rating: 8.1/10 from 150+ customers
Talent Bin is a technical talent discovery platform that crawls trusted websites and collects hard-to-find technical profiles.
More specifically, it gathers data from more than 100 sources across the open web and performs Big Data analysis to create interpreted composite profiles. It's a perfect platform for creating profiles of software engineers and finance and healthcare professionals. 
TalentBin makes the hiring process easy. It allows recruiters to create pipelines for specific job requisitions and provides a complete view of candidate resumes. Recruiters can see all communication history with candidates, including the notes or comments they might have added while reviewing each candidate's profile.
Overall, Talent Bin helps you execute four tasks with ease:
Discover in-demand talent
Reach out to tech professionals
Use integrated tools, such as email open tracking and click tracking, to maximum efficiency
Hire hard to find talent faster
Pros 
Powerful visual boolean search
Dynamic templating and Email personalization
Tracking & Analytics
Automated follow-ups
Cons
Sometimes the information is outdated
2. AngelList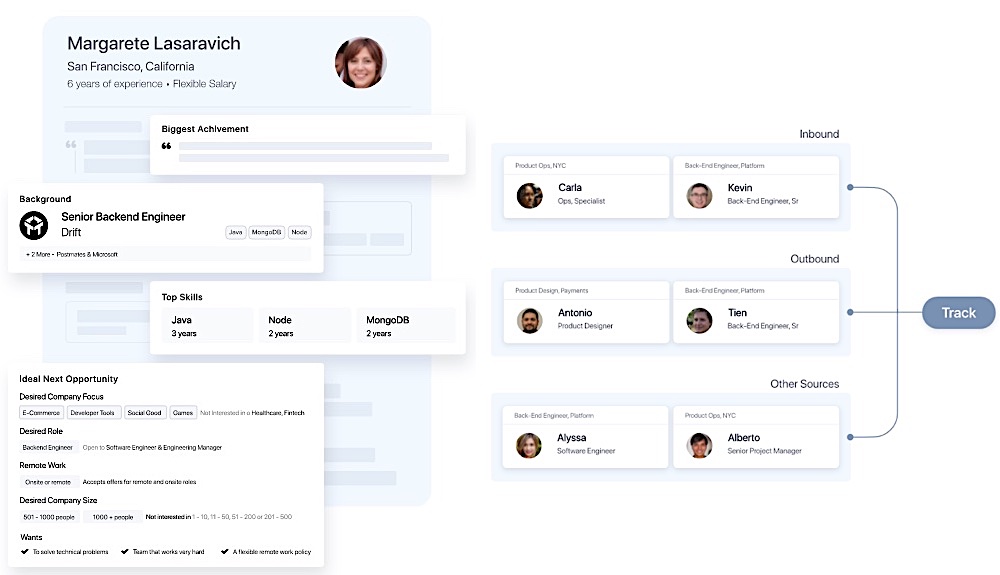 Price: Free (with limited access to candidates) | Pro version starts at $250 per month
Rating: 8.2/10 from 200+ customers
AngelList is one of the largest platforms where people can research the fastest-growing companies, invest in startups, and find a job they love. Recruiters can post jobs, shortlist candidates, and manage talent pipeline, all in one place.
You will find millions of candidates on this platform, including 750,000+ developers and 170,000+ designers. Build your company brand, post jobs, track each application, and manage your candidate pipeline.
AngelList's inbuilt tools help you find applicants uniquely qualified to meet your requirements. For example, Source's candidate signals allow you to find and vet qualified applicants faster and increase your hiring rate. With one-click scheduling, you can invite applicants to schedule time directly on your calendar.
AngelList connects talents with startups, i.e., 35,000+ recruiting firms with over 2.3 million candidates and 5 million registered users. Stripe, Twitch, Robinhood, and over 100,000 startups have used this platform to hire talented people
Pros
Access to 2.3 million candidates
Advanced search filters
Collaborate with team and keep track of candidates with shared notes
Transparent and full of data
Cons
Search process can be confusing to new recruiters
1. Hired

Price: Starts at $995.00 per month OR $9,500 per hire OR 15% of first year salary
Rating: 8.9/10 from 2000+ customers
Hired brings job seekers and recruiters together. Recruiters can create a company profile and browse candidates.
The platform allows you to search through a large database of highly qualified applicants, each pre-vetted for skills, experience, and salary requirements. Since their algorithms are trained on millions of successful matches, they can find you the right candidates for your specific job requirements.
Unlike conventional resumes, Hired gives you real-time world skill assessments upfront so you can find the perfect candidate faster. See their work preferences and expectations upfront to have more transparent negotiations.
More than 90,000 interviews are conducted through this platform every year. The company claims that they save you 45 sourcing hours per hire.
Pros 
Remote hiring filters
Role-based assessments
80% applicant response rate
See applicants' salary expectations and work preferences upfront
Cons
Read: 13 Best Market Research Tools You Must Use
Other Equally Good Sourcing Tools
10. Avature
Best for enterprise companies having 5,000+ employees
Avature is the most complete, configurable SaaS platform for talent acquisition and talent management. It provides solutions for managing campus recruiting, employee referrals, and recruitment events.
The platform uses artificial intelligence to make your hiring process more efficient. It can automatically recommend qualified applicants or search through large databases to find hidden talents.
Its applicant tracking system allows you to build multiple career websites with customized branding and application processes. This helps you attract different audience segments based on applicants' experience levels or professional interests.
You can also use workflow-integrated online calendars to schedule interviews. It automatically syncs with Google and MS Outlook Calendar.
11. Improver
Price: 10 free credits per month | $15 per month for 50 credits (you need one credit to reveal contact details of a single profile) 
Improver finds private email addresses from Linkedin accounts. It screens candidate profiles and matches them to your job specifications.
All you need to do is install a Chrome browser Extension, sign up on the Improver website, and then open a Linkedin profile and click on the Improver tab. It will automatically fetch emails and phone numbers on the webpage.
The best thing about this tool is it provides personal verified emails, not "guessed" corporate ones. It can also update outdated information in your system, such as current position, CV, company, etc.
12. SmartRecruiters
Price: Free for up to 10 active job postings
SmartRecruiters is a modern talent acquisition suite that empowers recruiters to hire talent on-demand. It is designed for small businesses looking to scale quickly within a limited budget.
Using its simple yet powerful interface, you can quickly post jobs, review a candidate, or remove an applicant from consideration within a few clicks. You can also collaborate with your business partners to discuss, evaluate and hire candidates as a team.
Besides job posting, the platform features recruiting campaigns, interview scheduling, advanced search filters, screening assessments, and an applicant tracking system. SmartRecruiters also has a hiring success team, which offers training services to help businesses reach their recruiting goals.
Companies like McDonald's, LinkedIn, Visa, and Equinox use this platform to make recruiting a competitive advantage.
13. Zoho Recruit
Price: Free version lets post one job at a time | Standard version costs $30 per month
Zoho Recruit is a full-featured applicant tracking system designed to provide end-to-end hiring solutions for corporate HRs, staffing agencies, and temporary workforce. It has a wide range of functionality covering the entire recruitment process, from sourcing and screening to interviewing and onboarding candidates.
This cloud-based system includes resume parsing, customized company careers pages, automated job board posting, and interview scheduling. You can customize every aspect of your workday and automate tedious tasks like sending emails, updating the interview status, and more.
If you are opting for the free trial, you can use the sample data to see how the system works. If you are migrating from another platform, Zoho Recruit can import the data for you. In both cases, you can take a tour of the platform to get a head start.
Read: 9 Helpdesk Software For Small Business
Frequently Asked Questions
What is the 360 recruitment process?
The 360 recruitment service, also called the full-cycle recruiting service, involves delivering a seamless, all-encompassing recruitment service. This means the recruiter handles the entire hiring process from start to finish. This involves identifying business needs, shortlisting applicants, overseeing applicants' interview process, background screening, and onboarding.
What are the most effective recruiting methods?
There are several proven methods of recruitment out there, which recruiters can use to attract top candidates —
Placing job adverts on employer review sites like Glassdoor, Indeed, Vault, and CareerBliss
Search talent pool databases for applicants
Collect data from LinkedIn and other professional networking sites
Use employee referrals
Offer internships and apprenticeships
Put ads on niche sites that target the candidate profiles you are looking for
Read: 15 Best Note-Taking Apps To Boost Your Productivity
How much does a Senior Recruiter make?
In the United States, the average salary of a senior recruiter is $76,000 per year. The average bonus is $5,500 which represents 7.2% of the salary, with 50% of recruiters reporting that they receive a bonus each year. Los Angeles, New York, Denver, Dallas, and Houston are the highest paying cities.